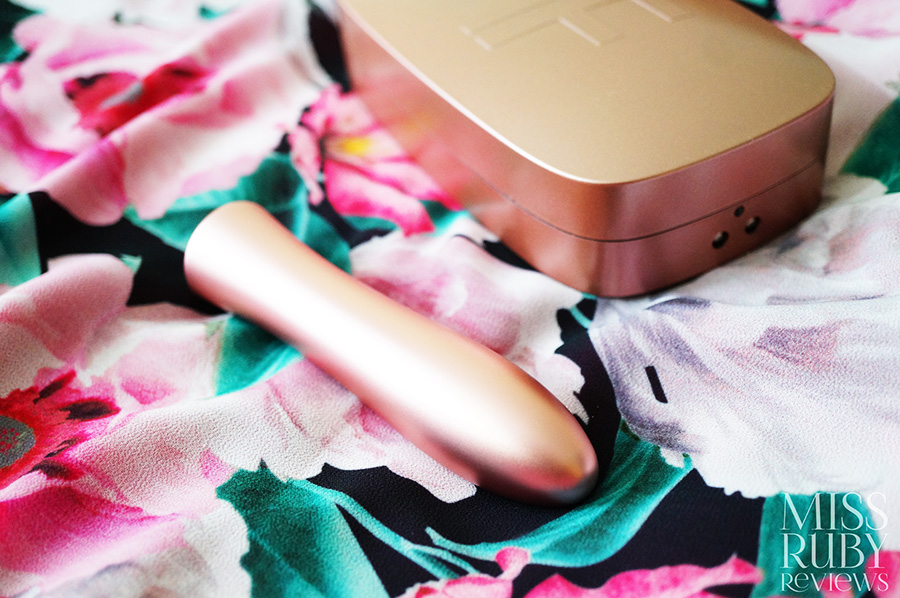 A beautiful new chic design from a brand that brought me one of my favourite toys. Read on for my FemmeFunn Bougie Bullet review!

Physical Details | How to Use | Packaging | Material and Care | My Experience | Overall
Physical Details
The FemmeFunn Bougie Bullet is a palm-sized clitoral vibrator. Heavy and hard with a tapered tip, it's ideal for firm, pinpoint stimulation.
The Bougie is made from anodized aluminum, so this is one interesting bullet vibe. The vast majority of bullet vibes are made from ABS plastic or silicone, making them light and quick to heat up. This material, on the other hand, feels like it has grandeur and a cold, cold heart.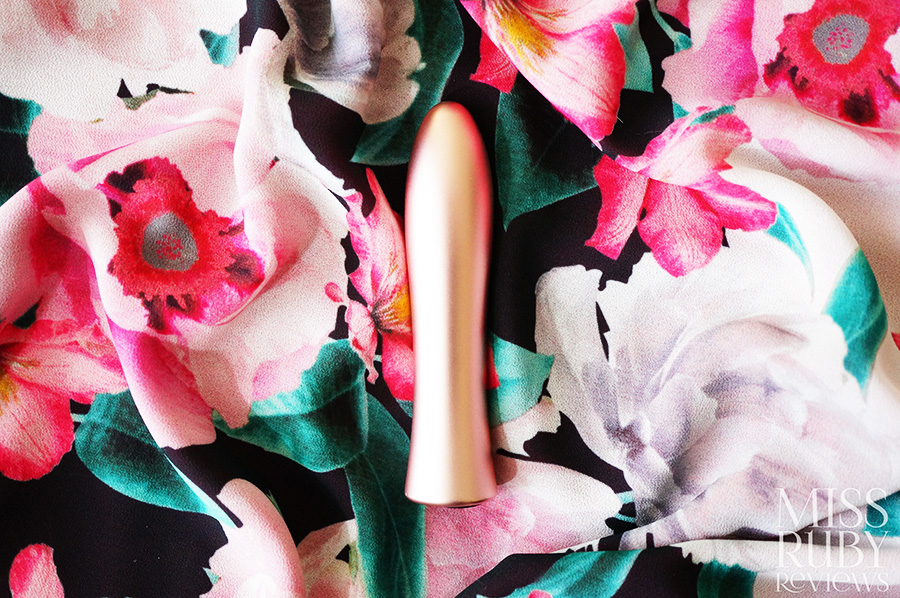 Above: The Bougie Bullet has an elegant design and a hard, aluminum body. 
Rose gold in colour (I was wondering when rose gold would start creeping into the sex toy world) and under 5″ in length, the Bougie Bullet is an elegant, classic item.
I usually talk about vibration strength in this section, but today you'll find it under "My Experience" below.
How to Use the FemmeFunn Bougie Bullet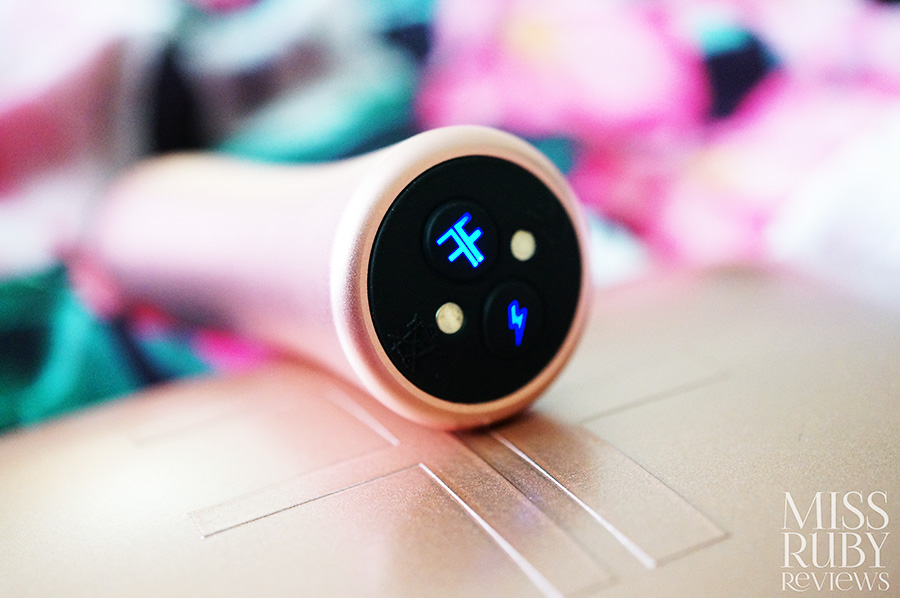 Above: The Bougie has two buttons (ꟻF and ϟ). The charging pins are also located at the base. 
Turn on the FemmeFunn Bougie Bullet by pressing the ꟻF button for 2 seconds. A blue light will turn on; the Bougie is in standby mode.
Keep pressing the ꟻF button to go through each of the 20 modes.
Apply. Though designed for clitoral use, it can be used anywhere and against whatever body part you have (except anally, as it doesn't have a flared base). It provides firm, pinpoint stimulation.
Pressing the ϟ lightning button will activate Boost mode; the Bougie will go to its most powerful speed for 10 seconds then go back to what it was before.
When you're finished, just hold the ꟻF button again for 2 seconds.
Packaging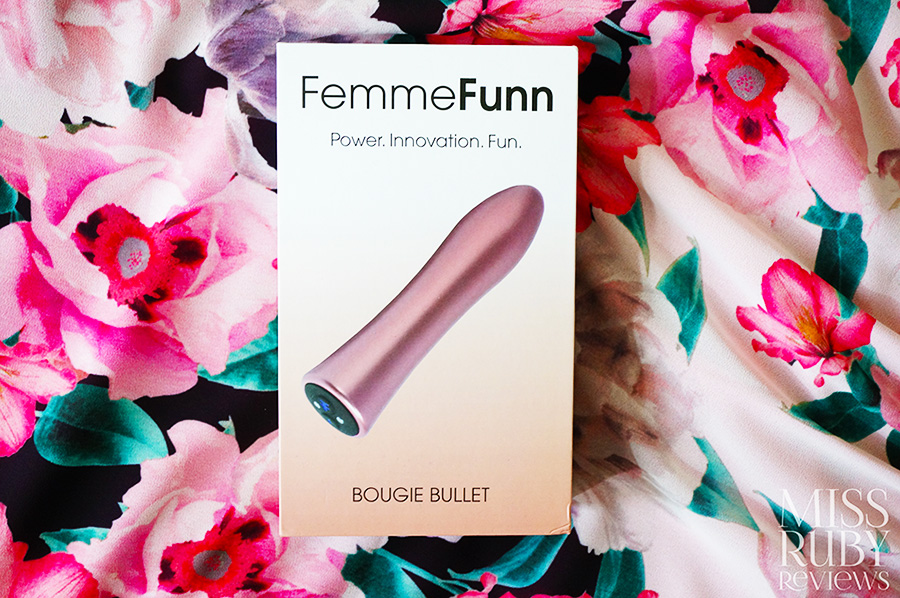 The FemmeFunn Bougie Bullet is packaged simply in a rose gold box.  The packaging won't win awards, but it does the job fine enough.
Inside, you receive the Bougie Bullet, a USB charging cable, a slip of paper with instructions, and a hard shell plastic case. I love the case — it houses the bullet securely, has a spot for the charging cable, and doubles as a charging container so you can charge your bullet discreetly.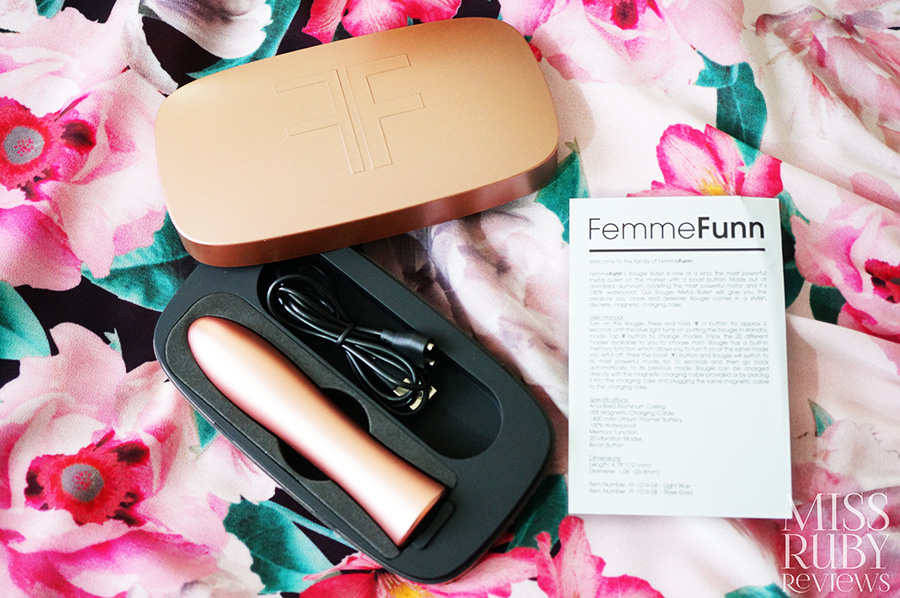 Above: The Bougie Bullet comes with a charging case, cable, and instructions.
Material and Care
The FemmeFunn Bougie Bullet is made of anodized aluminum. It's heavy, stiff, and cold, but it's elegant and bodysafe. It feels matte and smooth to the touch.
Because it's waterproof, I simply wash my Bougie Bullet with warm, soapy water. If you want to add lubricant, you can have your pick — water-based or silicone-based should be fine.
To charge, connect the USB charging cable to the base of the Bougie bullet. Alternatively, you can put it in the case and attach the cord to the side of the case (the bullet will charge inside the case). Plug the other side of the cord into your computer or a USB wall adapter.
My Experience with the FemmeFunn Bougie Bullet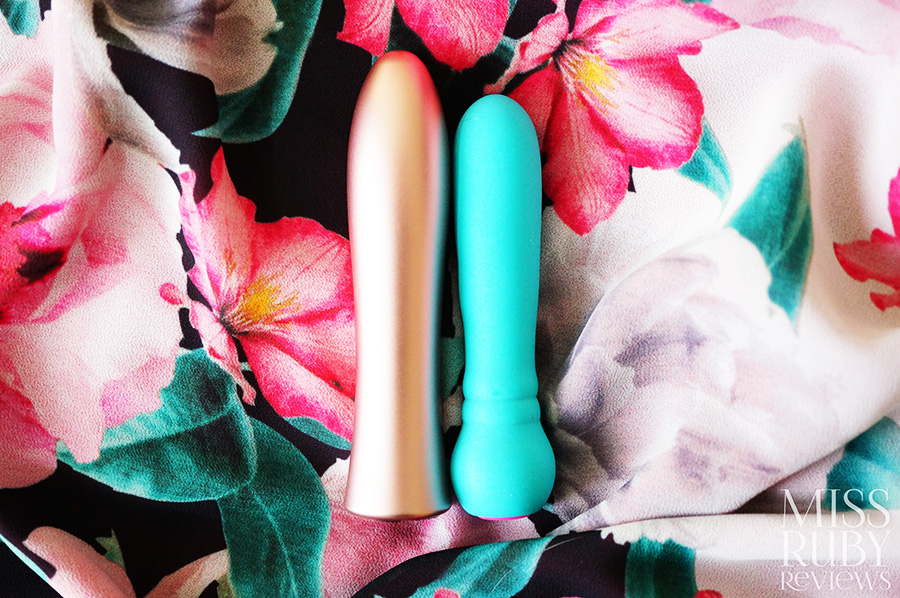 Above: The FemmeFunn Bougie Bullet (left) and the FemmeFunn Ultra Bullet (right).
I was ridiculously excited to try the FemmeFunn Bougie Bullet. FemmeFunn's earlier creation, the FemmeFunn Ultra Bullet, remains one of my regular toys; it never fails me, the battery lasts forever, and it always gets me to orgasm quickly.
So it was a priority for me to try FemmeFunn's newer, more fancy, and more expensive product.
The Ultra Bullet rings in at $49 USD (though you can get it down to $41.50 with coupon code RUBYFUNN at Peepshow Toys). The Bougie Bullet, on the other hand, is $99 USD (minus 10% with RUBY at Peepshow Toys).
So the Bougie Bullet is double the price.  Heck, it's even more expensive than the legendary Tango. Against the Ultra Bullet, I wanted it to be double the stronger, quieter, or something. Double better somehow.
I tried hard to love the FemmeFunn Bougie Bullet. But against the Ultra Bullet, it just falls short.
Yes, it's more elegant and pretty, and it certainly feels more luxurious.  But I personally find that the vibrations, while similar in strength to the Ultra Bullet, are so buzzy that it renders the vibe unusable. So while it's strong, I don't find it the right kind of strong… My hand goes numb within 30 seconds, and my clitoris follows after.
Buzzy isn't always bad. Some vibrators have so much sheer strength that even a lot of buzz isn't an issue (for example, the Magic Wand has underlying buzz, but it's so ridiculously strong that I orgasm before experience any numbing).
In all the times I've tested this vibe, I've been disappointed. It's acceptably quiet, and acceptably strong, but the buzz just kills it for me. I don't know how FemmeFunn, who can obviously make a good, rumbly motor, produced such a buzzy one. The Ultra Bullet felt deep and satisfying, but the Bougie Bullet just feels frustrating. (I wonder if the Ultra Bullet feels rumblier because it's coated in silicone? I don't know.)
Sorry, FemmeFunn: I still love your Ultra Bullet, but the Bougie Bullet is a flop for me.
FemmeFunn Bougie Bullet review – Overall thoughts
While pin-point and firm can usually get me to orgasm, this vibrator can't. That isn't to say that no one can get pleasure from this. People that have a higher buzz tolerance than I (or even just simply prefer a buzzy motor) could love this toy. But for most users, I really recommend just sticking with the cheaper, more rumbly version: the Ultra Bullet.
To purchase the FemmeFunn Bougie Bullet, head on over to Peepshow Toys. And remember! You can get 10% off ($10 USD) with coupon code RUBY
And see below for my FemmeFunn Bougie Bullet review summary!

FEMMEFUNN BOUGIE BULLET - REVIEW SUMMARY
OVERALL - 3
3
$99
PROS
Elegant design
Bodysafe
Rechargeable and waterproof
Reasonably quiet and strong
CONS
Shop Now

Last Updated on March 18, 2023 by Miss Ruby