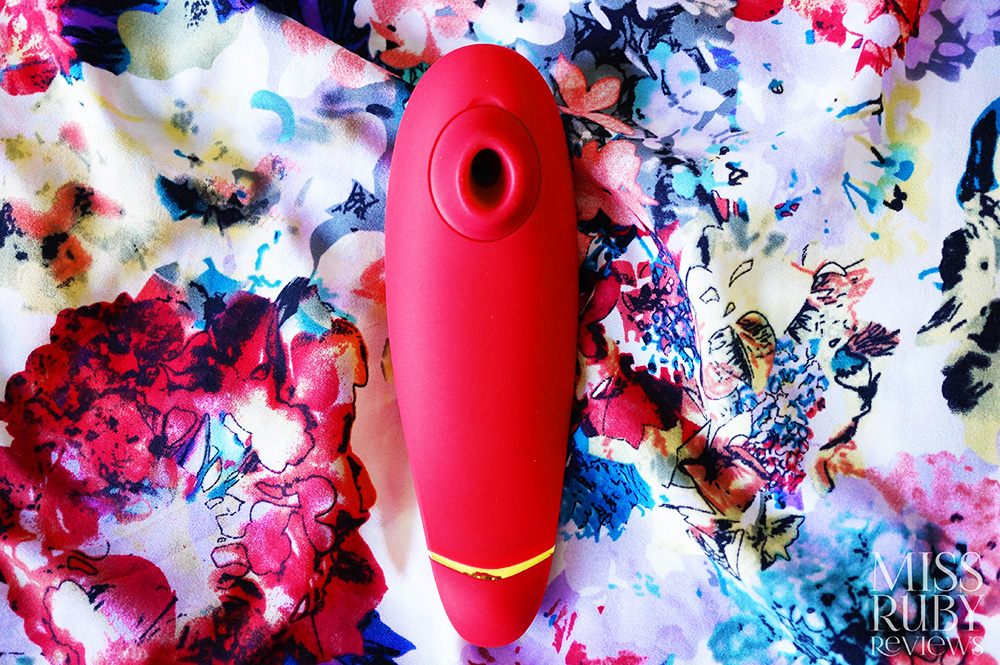 A fancy, oh-so-pretty version of one of my favourite toys. Read on for my Womanizer Premium review!

Physical Details | How to Use | Packaging | Material and Care | My Experience | Overall
Physical Details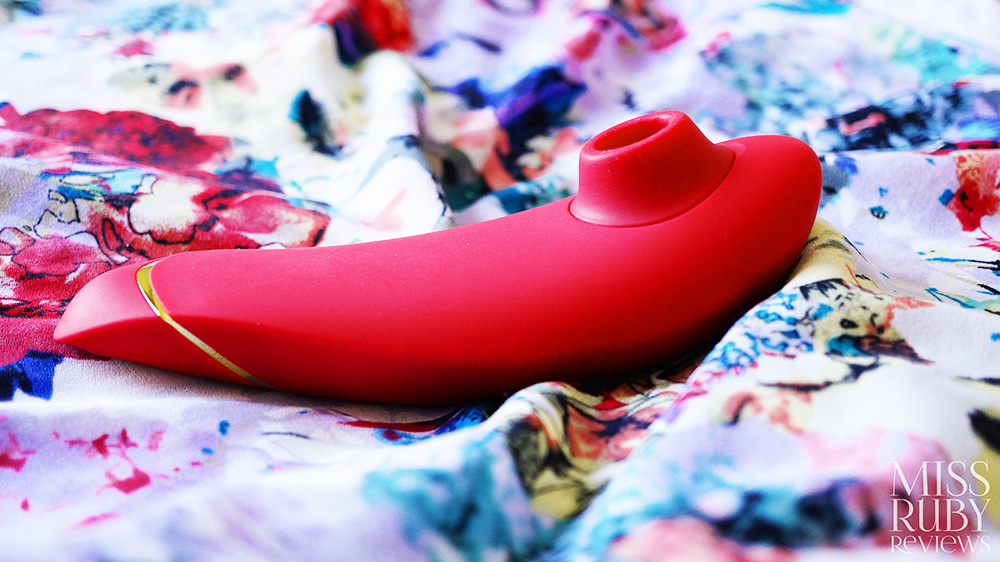 The Womanizer Premium is a stunning rendition of my current favourite pressure-wave toy, the Womanizer Classic (reviewed here).
I reviewed the Womanizer Classic last year, and it was one of my favourite toys of 2018. Still, it only came in a bright Barney-the-Dinosaur purple. The Womanizer Premium, on the other hand, comes in this luxurious deep red colour, as well as white and black. In all versions, a band of gold runs around the handle.
It looks fantastic, and I think this is the most attractive Womanizer model I've reviewed to date.
If you haven't heard of this before, pressure wave technology provides touchless clitoral stimulation, which makes your clitoris feel like it's being sucked by air. It's a bizarre, incredible, and effective sensation, and this technology has spread to many brands (though Womanizer was the first to pioneer it).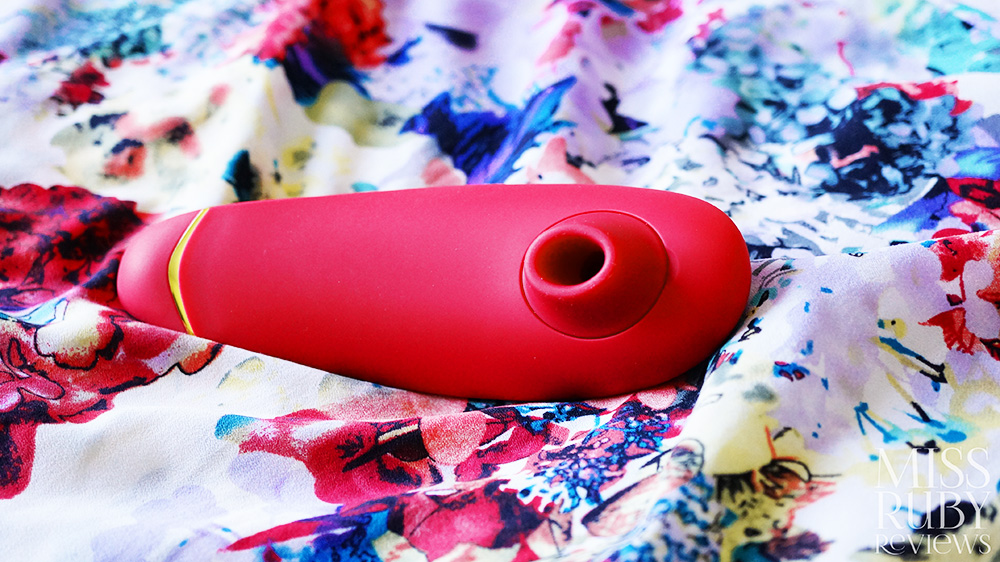 The Womanizer Premium comes in 3 colours: gorgeous red, white, and black.
How to Use the Womanizer Premium
Turn on your Womanizer Premium by pressing the power button for 2 seconds. If you're using it on your clitoris, spread your lips apart so your clitoris is easy to access. Then place the cup-like head over your clitoris (the aim is to get the tip of your clitoris to rest inside the hollow cup of the head).
You'll want a really tight seal; the more vacuum-sealed, the better. If the fit doesn't seem quite right, you can try the other head that's included in the box.
Increase or decrease the intensity using the + and — buttons. There are 12 intensity modes in total, which is more than the Womanizer Classic.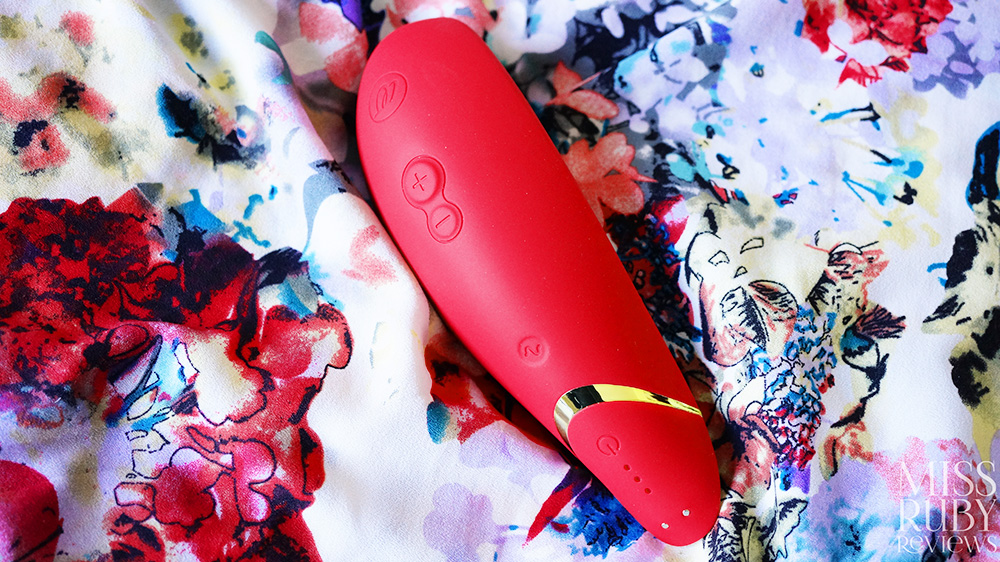 Womanizer Premium buttons (top to bottom): Increase, decrease, autopilot, and power.
Charging takes about 2 hours, and a full charge gets you up to 4 hours of playtime. I found it neat that the Womanizer Premium shows you the battery status when it's turned on. Three LED lights lit up (at the base of the toy) means it's fully charged; two LEDs equals a half charge, and one LED means the battery is nearly empty.
To charge, simply connect the USB charging cable to the two metal pins at the base of your toy, then connect to your computer or a USB wall adapter. When it's charging, the LED lights will blink.
Packaging

The Womanizer Premium arrives in a peach and red box. IThe design gives me strong… make-up vibes? It's not overtly sexy or explicit, which I like.
Inside the box, you receive the Premium, an extra head, a USB charging cable, a manual, and a drawstring pouch.
Material and Care
The Womanizer Premium is coated in soft, silky silicone. The gold band around the base appears to be gold-coloured ABS plastic (but it doesn't feel cheap). The head is also made of silicone.
These materials make the Premium a very bodysafe toy: non-porous, non-toxic, and as good as it gets in the sex toy world.
The Womanizer Premium is waterproof. To wash, I find it easiest to remove the silicone head and wash it with warm, soapy water. Womanizer also recommends that you spray some sex toy cleaner into the exposed pressure chamber of the toy's body, switch it on, and immerse it in warm water. Remove from water, turn off, let dry, and put the head back on.
If you'd like to add lubricant (which I recommend), try a good quality water-based lubricant like my favourite Sliquid H2O.
My Experience with the Womanizer Premium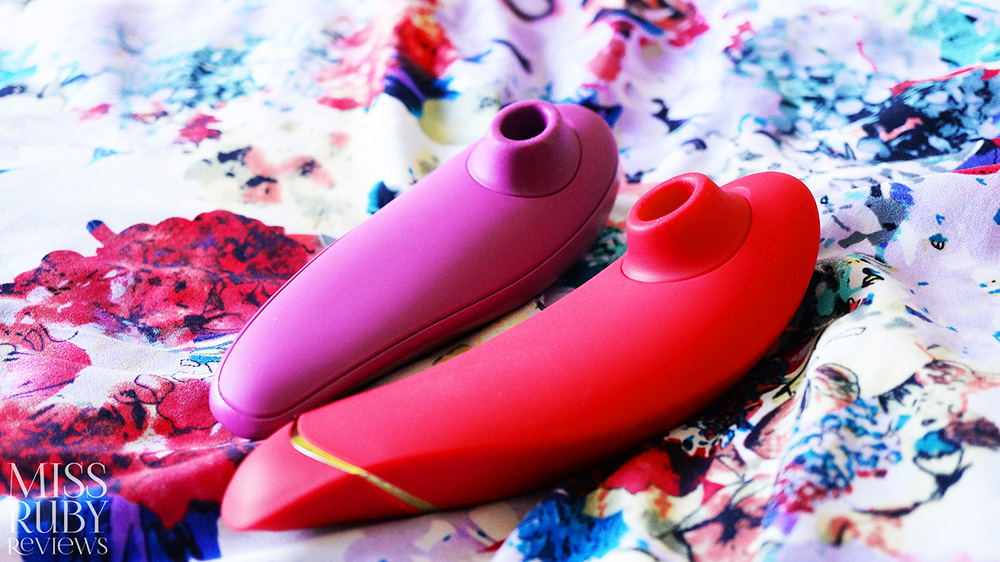 The Womanizer Classic (left) and the Womanizer Premium (right)
I was maybe a bit biased going into this review. I already knew the Womanizer Premium was going to work for me. Unless it was bizarrely weaker than the Classic, there's really no way it wasn't going to be a hit… the Classic's design and function really work for my body.
And I was right – testing this toy, I've had some fantastic orgasms. But I also do with the Classic, which is $70 USD cheaper — so is this upgrade worth it?
Well, the Womanizer Premium has three features that set it apart from the Womanizer Classic.
First, it has an expanded range. The Premium has 12 levels of intensity, whereas the Classic only has 8. While I found the top levels to feel the same on both toys, the Premium definitely has a much softer first level. If you're someone with a super-sensitive clitoris, or you just like to start super slow, you might prefer the Premium for this reason. For me, personally, I'm fine with the 8 levels that the Classic has, so the 12 levels aren't a giant selling point for me.
The Womanizer Premium features a larger range, a smart silence mode, and an autopilot mode. 
Second is the Smart Silence mode. It's on by default. This means that your product won't activate unless it's near your skin. Even if the device is turned on, if it doesn't sense a surface near its head, it won't use any pressure waves. Smart Silence always starts from the level that was last used. If you don't like this mode, you can deactivate it by pressing + and — buttons (together, for about 2 seconds).
I LOVED this feature. I first worried it'd be buggy, but I had no problems with it. It's a sensitive feature, so I found it more likely to turn on when I didn't mean it to than to turn off when I didn't want it to (which would be much worse). I love how discreet it makes this toy — if you need to be quiet super quickly, you can just lift it away from your skin and it'll go quiet, rather than panicking to find the power button.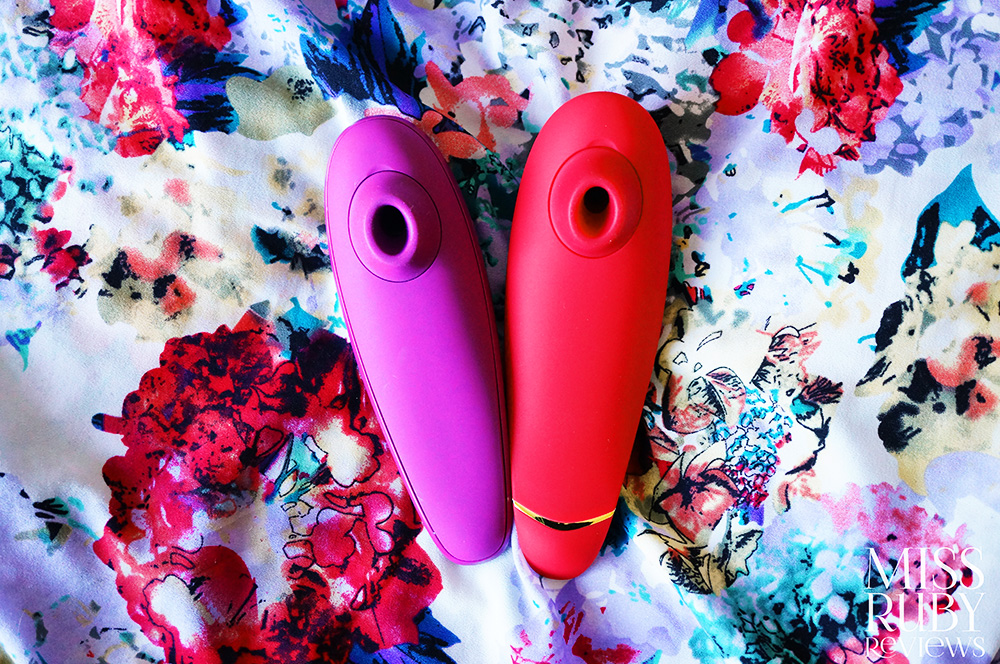 The Womanizer Classic (left) and the Womanizer Premium (right)
The third feature that sets the Premium apart from the Classic is the Autopilot Mode. Simply press the ~ button to activate Autopilot. This mode takes you progressively up the intensities, and it decides by itself when to take you to the next level. There are three variations (which you can cycle through by pressing +.
I found this to be a fairly slow process – it slowly ramps you up, then slowly ramps you down. It's essentially a slow wave pattern (like that you'd find in a vibrator). It's an experience in being teased; I was much too impatient to keep it up, but if you like the idea of being out of control and letting something else decide when you can orgasm, then you'd love this feature.
Any other differences between the Womanizer Premium and the Classic? Weirdly, the Premium is slightly louder than the Classic at the highest levels.
Side note: If you're thinking of gifting the Womanizer Premium, it also comes in the We-Vibe Tease & Please Collection (Womanizer Premium plus the We-Vibe Sync, which is the best partner toy I've tried to date).
Womanizer Premium review – Overall thoughts
I hands-down recommend this toy. The Womanizer Premium is a glossier, jacked-up version of the Womanizer Classic.
It'll be tough deciding if you want to make the $70 jump from the Classic to the Premium. On the one hand, it's essentially the same toy as the Classic — if it works as well on you as it does on me, it'll give you strong, touchless orgasms. On the other hand, you'll definitely want to upgrade to this version if:
You want a prettier, more elegant toy (especially if you're gifting it).
You want the Smart Silence mode (which I love — this is a big selling point for me)
You want the Autopilot feature
You want a wider spectrum of intensities.
That said… if you're new to pressure wave toys and you simply want to see if they work for your body, and you're okay without all these bells and whistles, just stick with the Classic.
To purchase the Womanizer Premium, head on over to Peepshow Toys. And remember! You can get 10% off ($20 USD) with coupon code RUBY
And see below for my Womanizer Premium review summary!

WOMANIZER PREMIUM REVIEW SUMMARY
OVERALL - 10
10
$199
PROS
Touchless orgasms, woo!
Elegant design
Handy Smart Silence and Autopilot modes
Greater number of intensities
Bodysafe
Rechargeable and waterproof
CONS
Shop Now