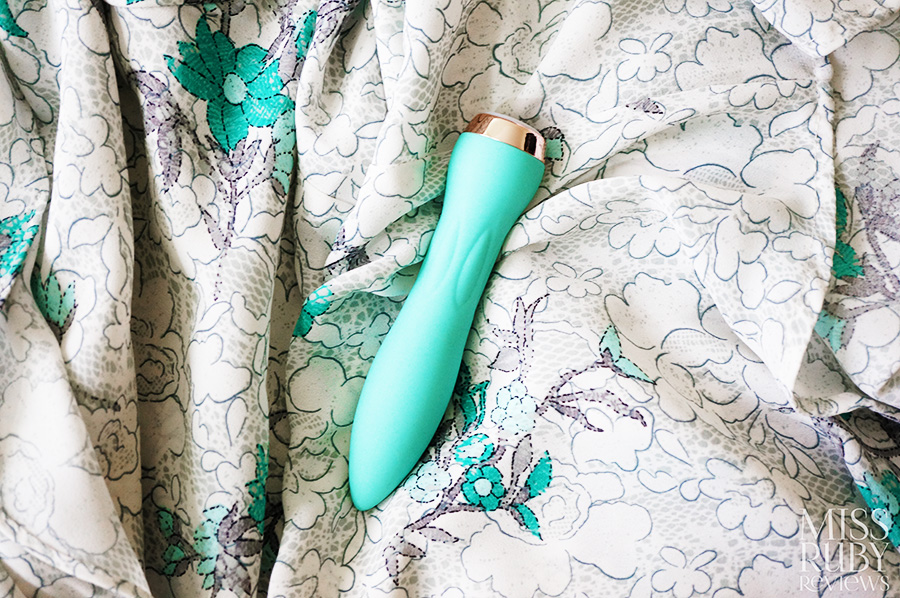 Another pin-point, firm, body-safe vibrator. Plus relatively affordable. But does it stand out from the masses? Read on for my 60SXOhh review!

Physical Details | How to Use | Packaging | Material and Care | My Experience | Overall
Physical Details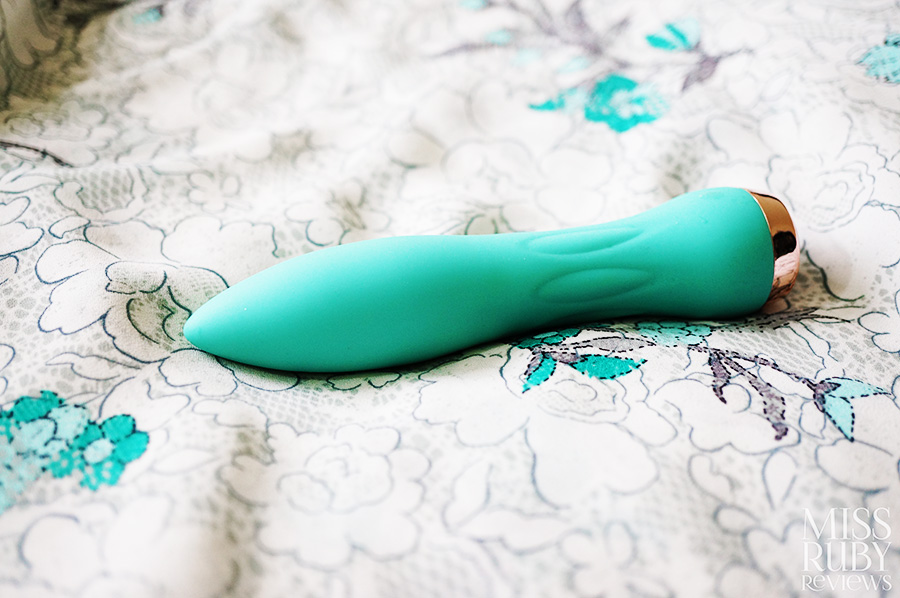 Design
The 60SXOhh is a palm-sized silicone, waterproof, and rechargeable vibrator. Without scale, these images make the 60SXOhh look large, like a G-spot vibe. But it's actually quite petite, about 5 inches tall and 1 inch wide. Scroll down for the comparison shot with the We-Vibe Tango and the FemmeFunn Ultra Bullet.
Overall, the body is firm, but not completely rock hard. That narrow little tippy tip? Soft and squishy, baby. This makes the 60SXOhh ideal for those that love firm, pin-point stimulation, but appreciate a little cushion as well.
Style-wise, this toy is sleek and streamlined. No big seams, no loud textures — the rocket-shaped body swoops down and has a couple subtle designs near the base, where your fingers wrap around, but nothing else.
I got mine in cyan, which is a nice airy pastel shade of turquoise.  You can also get it in black, pink, and purple.
Strength and Sound
Yep, the 60SXOhh is strong. It's stronger than your typical bullet vibrator, around the same as the Ultra Bullet.
It's also fairly buzzy (definitely buzzier than the Ultra Bullet). Buzzy vibrations feel more surface-level than rumbly vibration. If you're anything like me, your hands will start feeling funny/numb within a few minutes, an inevitable temporary symptom of holding a buzzy vibrator whose vibrations travel down the handle. It's not unbearably buzzy though (ie, like the one I reviewed last week).  When there's enough strength and just a hint of rumble, vibrators like this can still give a lot of pleasure.
Noise-wise, the 60SXOhh is moderate/mild. It's nowhere near as noisy as a mains-powered wand vibrator, but it's not what I'd call whisper quiet. That said, it's unlikely that you'll be able to hear this through walls or a closed door.
How to Use the 60SXOhh Vibrator
Above: The ▲ ▼ arrow controls, plus the two metal pins for charging. 
To turn on the 60SXOhh, press one of the arrows at the base of the toy (either one). It'll turn on with a blue light.
Use the up and down arrows to move through the 7 increasingly strong speeds and 13 patterns.  (whichever button you pressed to turn it on becomes the increase button).
Apply. Though designed for clitoral use, this toy of course can be applied to whatever body parts you have (ie, penis, nipple). However, I think it's too small for effective G-spot stimulation. Don't use it anally as it doesn't have a flared base.
Once finished, hold down the decrease arrow for a couple of seconds to turn this off.
Packaging – 60SXOhh review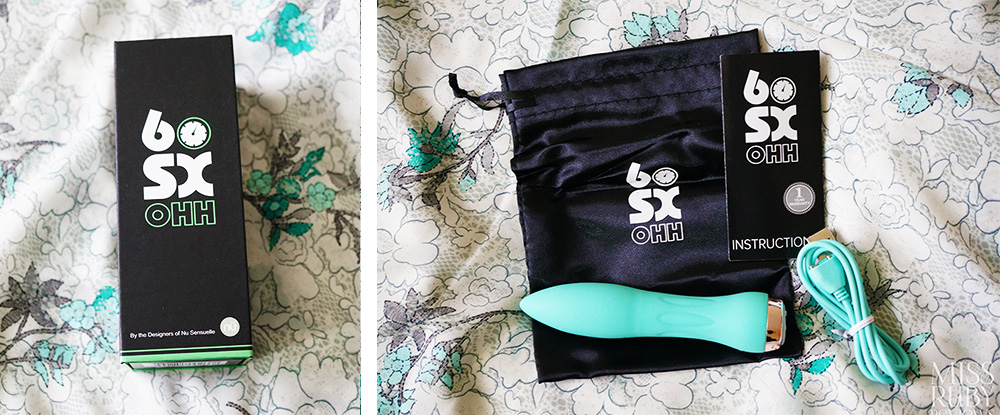 Above: The 60SXOhh's packaging and contents. 
The 60SXOhh is packaged simply in a black box (accented with the colour of the toy itself. In this case, cyan).
Inside the box, you receive the 60SXOhh, a short instruction manual, a USB charging cord (colour matches the toy), and a satin drawstring pouch.
When I opened the box, the 60SXOhh itself lay snugly in a black textured/velveteen holder.  This was an unfortunate packaging choice. The holder gives off hundreds of its tiny little fuzzes, which meant that, straight out of the box, the 60SXOhh looked like it was covered in tiny black hairs. Update: I've since been told that the packaging has been changed to plastic casing, so future customers shouldn't have this issue.
Material and Care
The 60SXOhh is coated in silicone, making it bodysafe, free of phthalates and non-porous.  The gold disk around the base of the toy is ABS plastic.
For everyday cleaning, I wash this in warm, soapy water. If you want to add lubricant, be sure to use a good quality water-based one like Sliquid.
To charge the 60SXOhh, use the charging cable (included); connect the magnetic side to the pins at the base of the toy, then plug in the other side to your computer or USB wall adapter. A blue light will flash while it charges. Each charging time (2.5 hours) will get you about 30-40 minutes. SXOhh recommends charging every 1-2 months to protect the life of the lithium battery.
The 60SXOhh comes with a 1-year limited warranty.
My Experience with the 60SXOhh Vibrator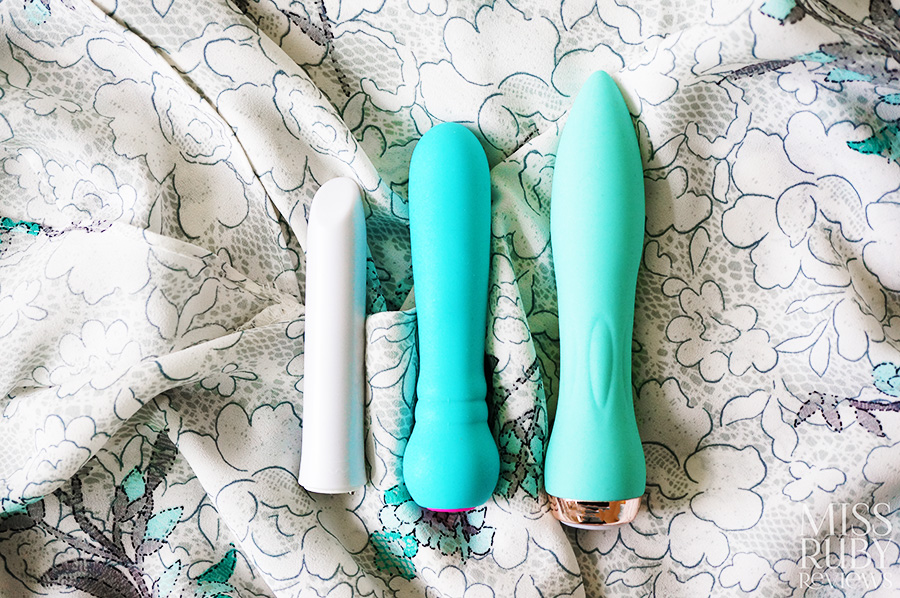 Above (left to right): We-Vibe Tango, FemmeFunn Ultra Bullet, and 60SXOhh
Palm-sized clitoral vibrators are probably my favourite to review. I tend to keep them the longest and use them the most — they're just so portable and discreet — a tiny black sleeve at the back of the bedside drawer, or a small tube in your purse.
Because I review them so often, any small vibrator has the challenge of living up to some of my established favourites… I can't help but compare them.
In use, the 60SXOhh doesn't disappoint. Orgasms come quickly — I'm talking 30, 40 seconds max. This toy has the features I need —  firm, pin-point (such a great cushioned pointy tip!), and strong. I love that the body is rigid, unlike the FemmeFunn Ultra whose body twists and bends. It has a softer tip than the Tango, and has more handle space as well.
But yes, it is buzzy. Where does that leave things?
For this toy, I get quick orgasms but I don't get many continuous, multiple orgasms. The buzz level stops me for trying for 3 or 4, but I don't mind. Thanks to the strong motor, the 60SXOhh still gives me effortless orgasms, so I'll take what I can get.
The regular retail price is $69. This put it more expensive than the Ultra Bullet, but cheaper than the Tango. Right now, it's on sale for $59, and there's also a 10% off coupon code promised if you sign up for the company's newsletter. For a body safe and strong vibrator with this many features (including a warranty), I think this is a fair price point.
Overall thoughts – 60SXOhh review
So does the 60SXOhh stand out from the masses?
Yes. It's strong, firm, pin-point, and bodysafe, plus ticks off the waterproof and rechargeable boxes — all for under $70 USD.
In general, this is one I recommend. It leans on the buzzy side though — strong, but buzzy. If you know you hate any sign of buzz, stay away.
To purchase the 60SXOhh vibrator, head on over to sxohh.com.
And see below for my 60SXOhh review summary!