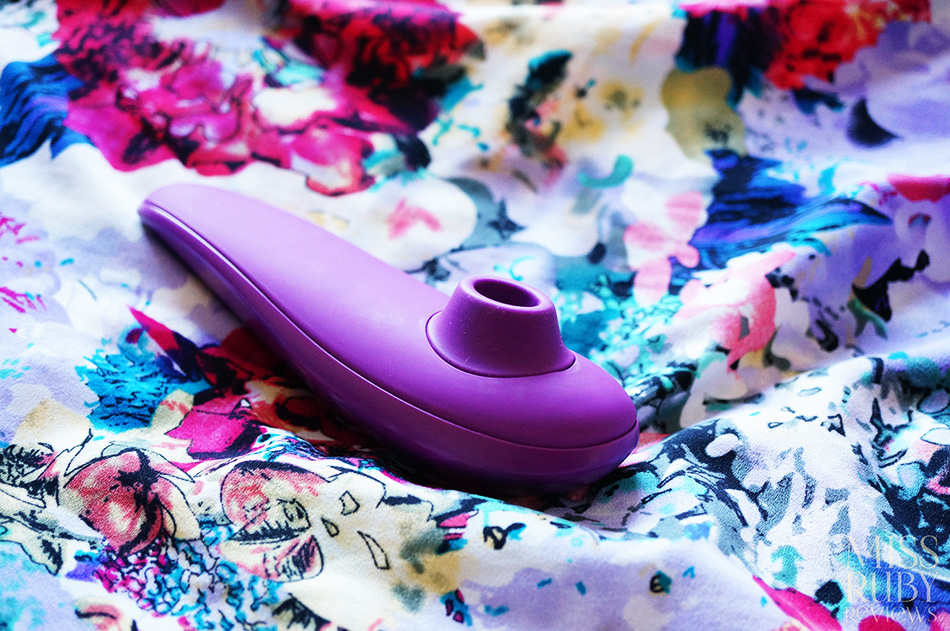 I was crushed when I found out that my favourite pressure wave toy, the Womanizer Pro40, was being discontinued. This new product, the Womanizer Classic, is the replacement and so I was itching to see how it measured up! Read on for my Womanizer Classic review!
Physical Details | Packaging | Material and Care | My Experience | Overall
Physical Details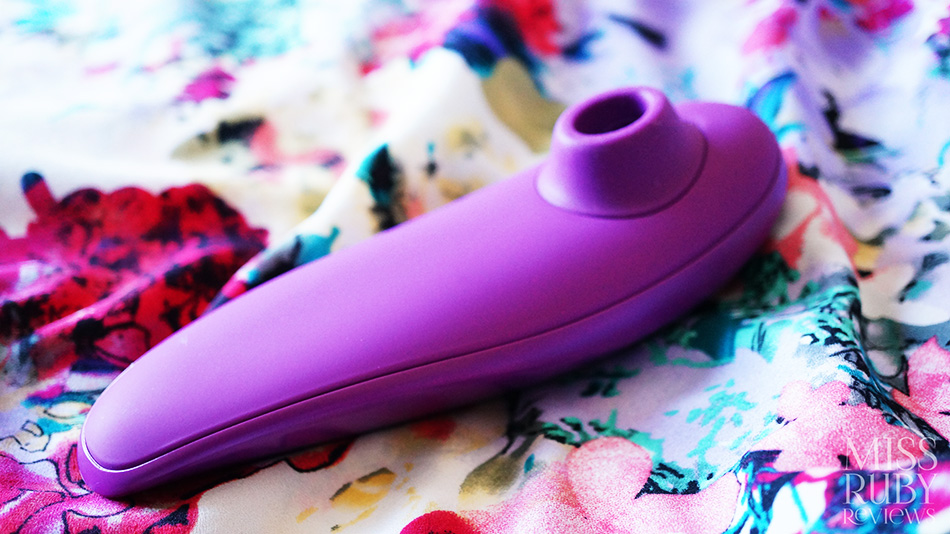 The Womanizer Classic is one of Womanizer's newest products in their short (but epic) history. For those of you who are new to this brand, Womanizer makes toys that use pressure wave technology. Their Pleasure Air Technology provides touchless clitoral stimulation, which makes your clitoris feel like it's being sucked by air (palm-sized cunnilingus!).
The technology is pretty bizarre, but super effective, and there have been countless mimics (most notably by Satisfyer and LELO) ever since their first product. Womanizer was, though, the original and this "Classic" model is their revamped flagship product.
I've tried several pressure-wave toys, but up until now my favourite has been the Womanizer Pro40. Womanizer quietly discontinued it some months ago, leading me to anxiously wait for its replacement: the Womanizer Classic. As such, much of this review will be in comparison of the previous Womanizer Pro40.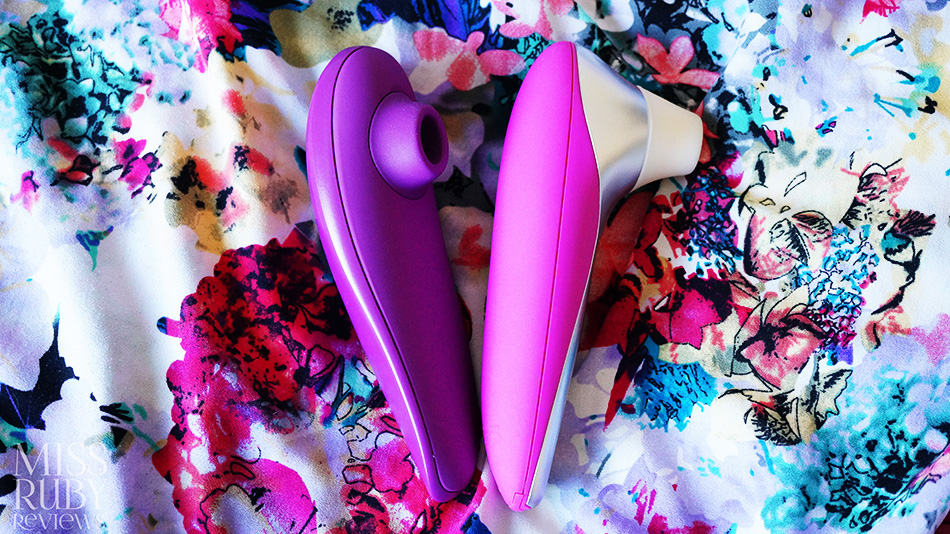 (Left to Right) Womanizer Classic and Pro40 (discontinued)
The Womanizer Classic has a new look
Look squashed to you? The Womanizer Classic has gone away with the long, protruding, ear-examination-object-like design. The new removable silicone head (the part that you put against your clitoris) is a lot flatter and closer to the base.
The body is otherwise the same overall size as the Pro40.
The controls have moved to the outside ridge of the body, on the opposite side of the silicone head. We still have three buttons: power, +, and –, but they're now smaller.
There's no longer any orange glow from the head when you turn it on.
Colour wise, the Womanizer Classic only comes in purple. It's very much a Barney the Purple Dinosaur purple, which I'm not a huge fan of, but I didn't much like the Pro40's fuchsia either. (if your budget allows it, the Womanizer Premium  pictured below in "My Experience" comes in a lovely red, white, or black).
Still waterproof and rechargeable, like the Pro40.
I usually talk about intensity/sound here, but I'll discuss that below in "My Experience."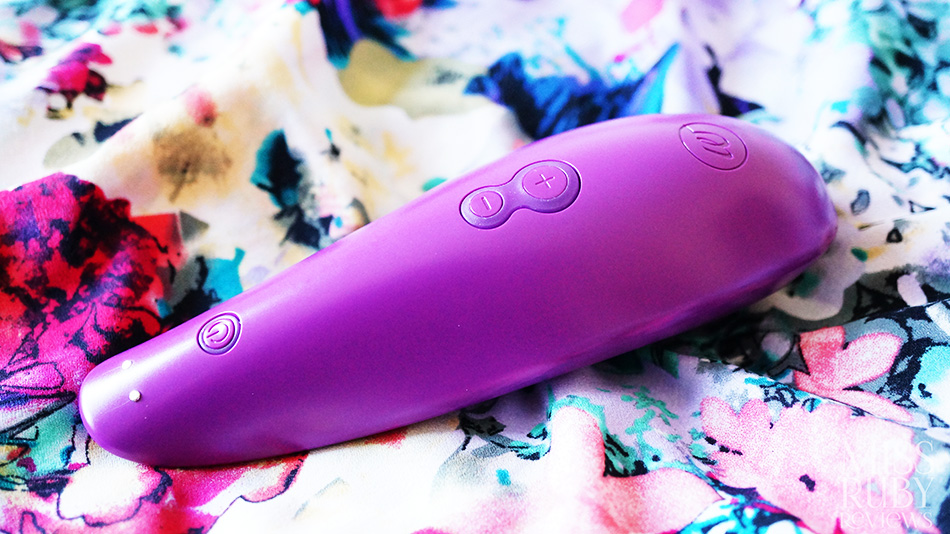 How to use the Womanizer Classic
Turn on your Womanizer Classic by pressing the power button at the base of your toy for 2 seconds. Expose your clitoris (or nipple, or penis, or wherever you'd like to use this) and place the silicone head over your clitoris.
Once positioned, use the +/– buttons to increase or decrease the strength. Hold the Womanizer in place (don't move it around — you want that suction seal!).
If the head feels too big around your clitoris, you can try the extra silicone head that was included in the box.
If your Womanizer Classic has a flashing light, it needs charging. To charge, connect the included USB charging cable to your PC or a USB wall adaptor and allow the magnetic end to snap to the two tiny metal dots on the base of your Classic. During charging, the on/off button will flash. When it's fully charged, the button will stay lit.
Packaging
I'm a fan of Womanizer's new packaging. The Pro40's packaging was fine, albeit reminiscent of a hair product's packaging. The new packaging is more elegant and fancy. Inside the box, you receive the Classic, an instruction manual, an extra silicone head (size Small, which is smaller than the one that comes on the toy), a black storage pouch, and a USB charging cable.
Material and Care
The Womanizer Classic is made from ABS plastic (the body) and silicone (the head). Silicone is a fantastic material for sex toys… though still soft, it's non-porous and non-toxic. This toy is bodysafe.
This Classic is again totally waterproof (and feels better underwater), so cleaning is pretty simple. To wash, remove the silicone head and rinse it in hot, soapy water. Then switch on the Womanizer itself and immerse it in warm water for 60 seconds. Remove and shake, keeping it switched on until the last droplets sputter out.
If you'd like to add some lubricant, I recommend my favourite silicone-safe water-based lubricant, Sliquid H2O.
The rechargeable battery is pretty solid on this toy, and I haven't found I needed to pre-charge it right before use.
My Experience with the Womanizer Classic (and how it compares to the Pro40)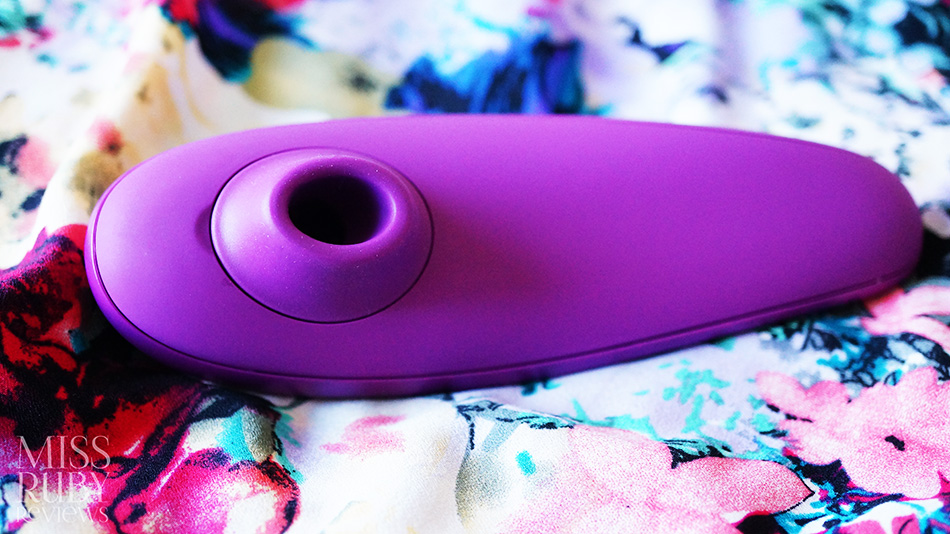 Alrighty then. Just how DOES the Womanizer Classic hold up when put against my beloved Pro40?
The Womanizer Classic is just as intense.  The Classic has 8 intensity levels (same as the Pro40). While the lowest intensity level seems stronger than the Pro40's lowest mode, neither my thumbs nor my clitoris can pick up any difference in intensity at the highest level. My clitoris can't really handle that 8th level — it's way too intense for me. I'm happiest at the 5 or 6th levels.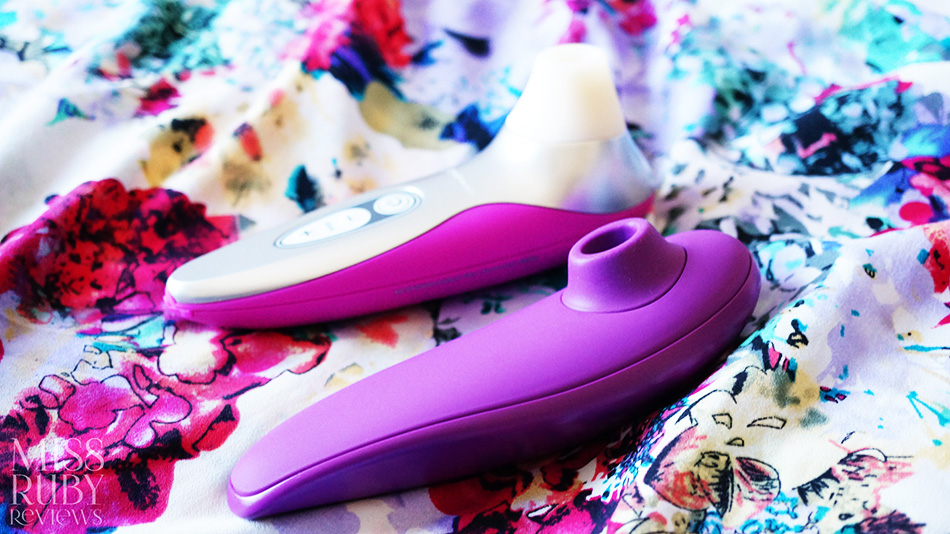 (Top to bottom) Womanizer Pro40 (discontinued) and the Classic. 
The Womanizer Classic gives me orgasms just as easily.
For me, orgasms with the Classic are also a no-brainer absolutely guaranteed experience.  There's a reason these things are so popular: the orgasms are strong, they're quick, and they can feel most intense than orgasms from digital stimulation.
The weird and wonderful thing about air pressure wave technology is that you don't get numb or oversensitive after an orgasm like when using a conventional vibrator. So instead of 1 or 2, I can have 4 or 5 pretty quickly. This was also the case with the Pro40, and I'm relieved that my body responds the same way to this model. Huzzah!
The Womanizer Classic sounds better.
While both Mr. Ruby and I agree that the Classic is as quiet as the Pro40, the Classic has a deeper, rumblier purr. When holding them up side-by-side, the Pro40 seems, by comparison, to have a high-pitched whirring. In any case, I wouldn't worry about anyone hearing this through walls/a closed door.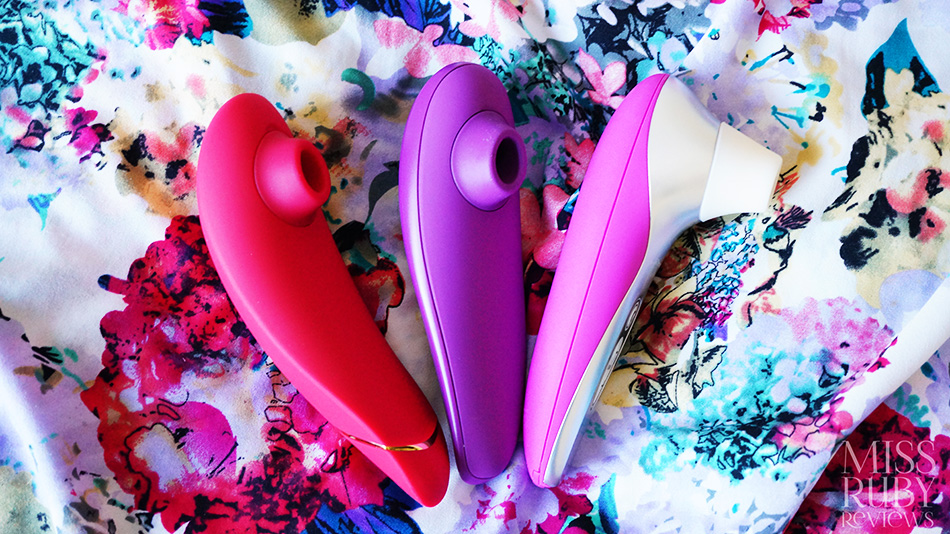 (Left to Right) Womanizer Premium, Classic, and Pro40 (discontinued)
So does the flatter head make a difference? 
I have a pretty puny easily-accessible clitoris, and I didn't find much of anything to note when comparing it with the Womanizer Pro40's longer, protruding head. For those of you with a super long clitoris, the hole in the silicone head still extends inwards considerably. As long as your clitoris is no longer than 1 inch, it should all fit inside. However, for those of you with a deeply embedded clitoris (one that is hard to get to and isn't easily exposed), you might find it harder to locate yourself with this flatter head design.
I was curious and tried to use my longer Pro40's removable head on my Classic's body. At the highest level, the Classic didn't give as much suction as when that head is used on the Pro40 (which it's designed for). It was not a perfect fit, so I couldn't get the suction seal I needed. It's also possible that the motor is a bit weaker and the flatter head compensates for that (a shorter tunnel for it to work). Either way, when using the appropriate head for each toy, I still feel like they have the same top intensity.
Womanizer Classic Review – Overall
I love the Womanizer Classic, just as much as I adored the Pro40. And seeing as the Pro40's design is discontinued, it's safe to say that this is now the pressure wave toy I'll be most recommending to my readers. It's strong, pretty quiet, and does the damn job well. If you're curious about pressure wave toys, folks, put this one on your Christmas wishlist!
To purchase the Womanizer Classic, head on over to Peepshow Toys. To get 10% off your whole order, use the coupon code RUBY.
See below for my Womanizer Classic review summary.
REVIEW SUMMARY
Overall Experience - 10
10
$129
PROS
Intense
Quiet
Discreet design
Waterproof
Rechargeable
CONS
People with a hidden/embedded clitoris may find it harder to get stimulation with this flatter design
Shop Now

Last Updated on March 18, 2023 by Miss Ruby