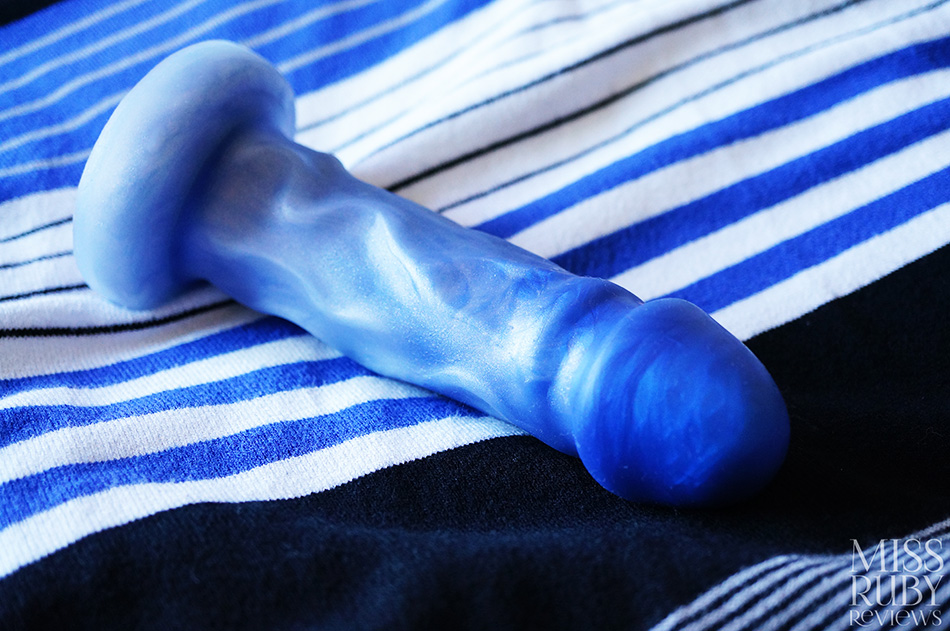 A new indie dildocrafter has been blowing through the sex toy industry for the last year or so: Uberrime. Stunning designs, platinum-cure silicone, and now even Peepshow Toys carries their products. The Uberrime Splendid Gentleman caught my eye with its stunning textured designs. Read on for my Uberrime Splendid Gentleman review!

Material and Care | My Experience | Overall
Uberrime Splendid Gentleman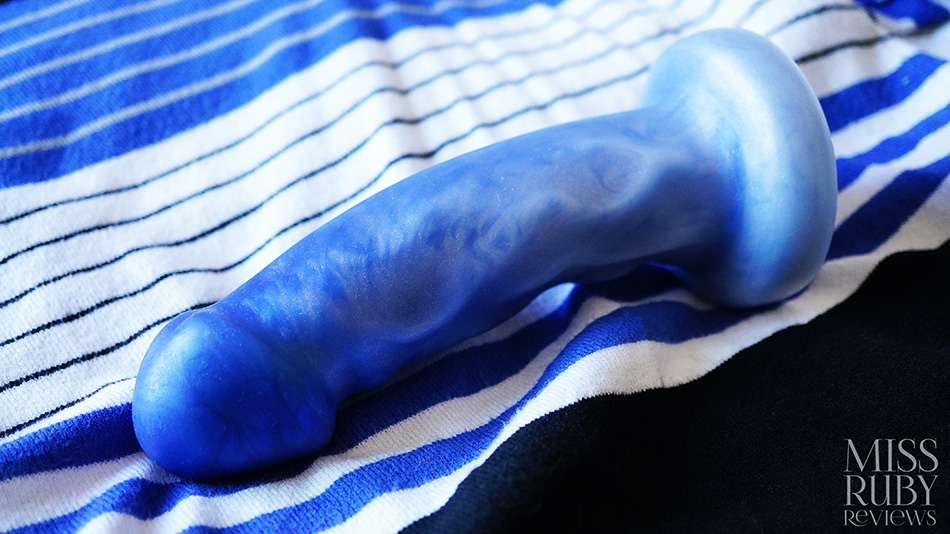 The Uberrime Splendid Gentleman is a dual-density dildo designed for G-spot or prostate stimulation. Dual density dildos are pretty much the best thing since coca-cola. I've reviewed a few dual-density toys before (most notably RealDoll and VixSkin) and I can't get enough of them.
Dual-density dildos, for those of you who don't know, are made up of two layers. In the center of the dildo is a firm layer of silicone, which provides structure. Coating this firm inner core is a squishy outer layer of silicone. When you squeeze the dildo, it's satisfyingly soft, yet firm. The head is completely squishy.
This is what I'd consider a medium size dildo. Despite this, it feels pretty sizeable in use.
1.75" head diameter
1.6" shaft diameter
6″ insertable length
7″ total length
Design-wise, the Splendid Gentleman is semi-realistic. It has a prominent head and coronal ridge. Running down the shaft are exaggerated bulging veins that add a textured sensation. The shaft flares out to a wide base, making this dildo safe for anal use and O-ring strap-on harness compatible.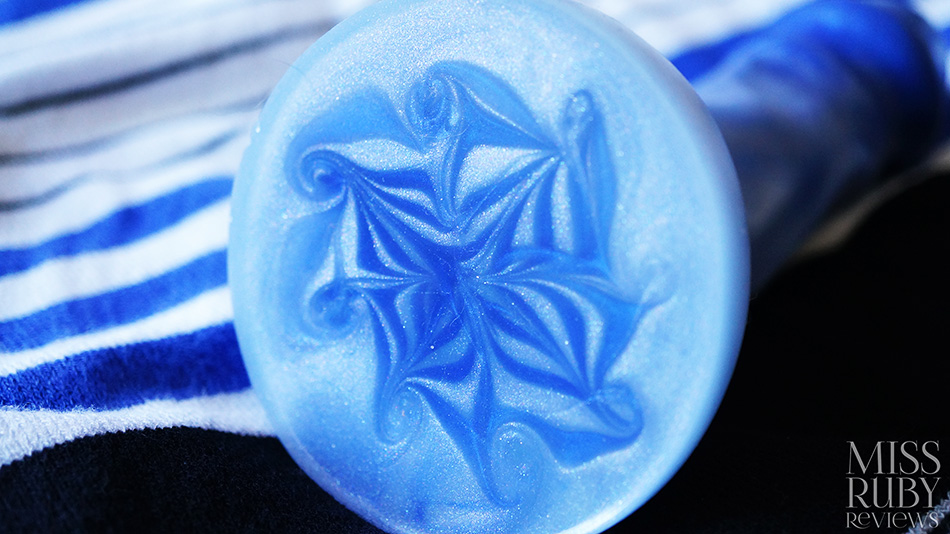 My version is the color "Sapphire Blue to Pearl White", and it's absolutely breathtaking. The two-color transition marble really has an icy, chilled winter-dragon aesthetic, with a strong blue head that fades to a cool-blue base. Peepshow also sells it in "Pearl Pink to Pearl White" and "Amethyst Purple to Pearl White." I may be biased, but I think the blue is just perfect. Of course, as all of Uberrime's products are handmade in the USA, no two products will be exactly alike, so you may see some variation in your own copy.
Material and Care
The Uberrime Splendid Gentleman is made from platinum-cure silicone, making it non-porous, non-toxic, and body safe. This specific silicone has a matte, draggy texture to it, one that collects dust.
For everyday cleaning, I just wash this in warm, soapy water before and after each use. If you want to sterilize (i.e., to share with a partner or to use anally), I recommend rinsing with a 10% bleach solution or boiling it in a pot of water for 15 or so minutes. You can also chuck it in the dishwasher — silicone is heat resistant.
For those of you who know shore firmness of silicone, the soft outer layer is Ecoflex Shore 0050 and the firm inner core is Dragon Skin Shore 20.
My Experience with the Uberrime Splendid Gentleman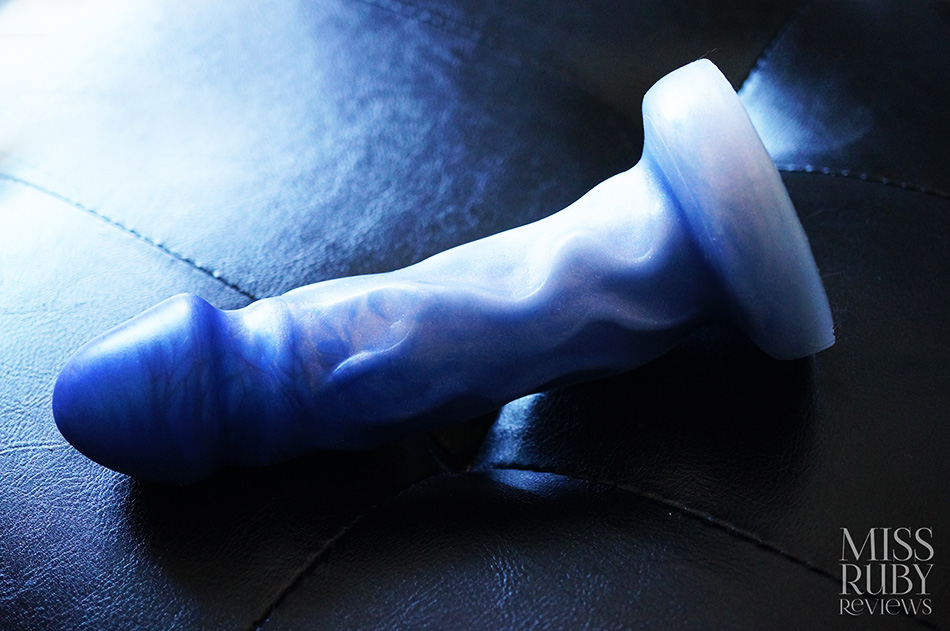 Sensation wise, the Splendid Gentleman dildo is INCREDIBLE.
Seriously.
If you like texture even a little bit, stop, check your bank account, and consider buying. The big, bulging veins that run down the shaft provide some intense, impossible-to-ignore texture. If you're not a fan of texture, then this may be a sensation overload for you. I typically enjoy a smoother experience, but the Splendid Gentleman won me over. The veins aren't sharp or jabby – they're raised, but smooth, so I don't find it uncomfortable at all.
But it's that coronal ridge that makes this one of my favorite dildos of this year. The coronal ridge is tall and protruding, and that's what the G-spot needs. Coupled with that lovely G-spot curve in the shaft, the G-spot stimulation with this dildo is what my vagina considers spectacular.
Above: Essential Gentleman (top) and Splendid Gentleman (below)
With glee, I also discovered that (on a really smooth surface, like ceramic tile flooring), the Splendid Gentleman's base can hold suction. Not for a super long time, but if the surface is flat enough and I slap it down with enough oomph, then it sticks pretty well for a few minutes. Bonus!
It would be fantastic if Uberrime could offer this model with a concave hollow in the base of their dildos to make a legitimate suction cup.
The silicone is suuuuper draggy, I do have to say, and that could annoy you. Coupled with such a circular cross-section (which makes it feel larger and harder to first insert), this is definitely one for when you're very warmed up. I strongly recommend you use a good quality water-based lubricant with this toy, such as my favorite Sliquid.
Uberrime Splendid Gentleman Review – Overall
This is a must-have toy if you love texture and you want a girthy, dual-density body-safe dildo for G-spot or prostate stimulation. You can purchase the dual-density Uberrime Splendid Gentleman for $89 at Peepshow Toys plus use coupon code RUBY for 10% off.
Enjoy!
See below for my Uberrime Splendid Gentleman review summary.