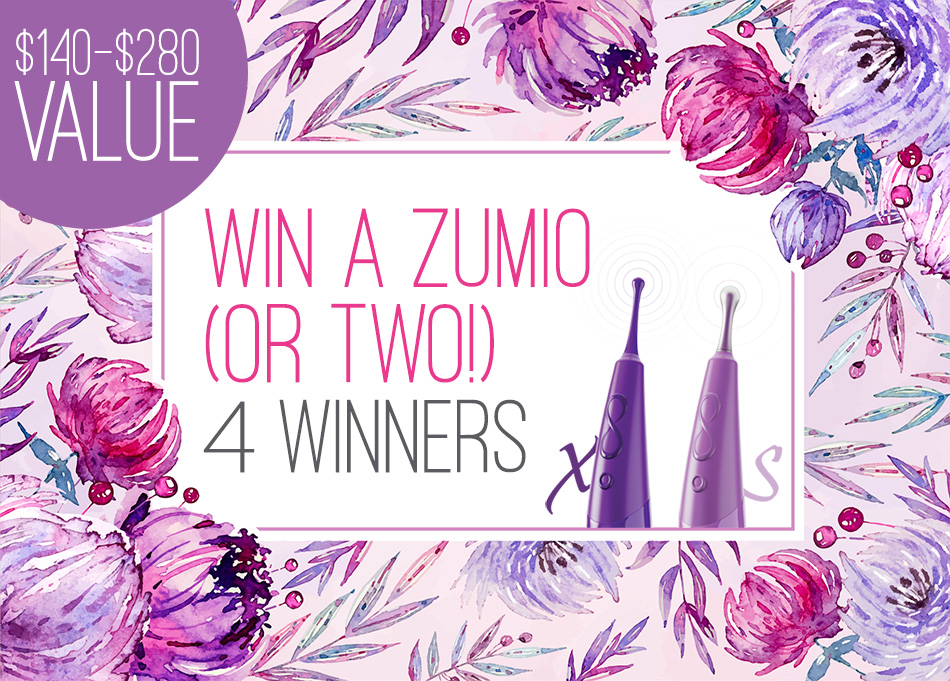 This autumn, 4 lucky winners will get their hands on a super powerful toy that's been rocking the sex toy world!
THE SPONSOR: Zumio
Zumio is the creator of the Zumio X and the Zumio S, two intense, hyper-focused pleasure products. Zumio has been superb to chat to and work with. Thanks so much to Zumio for offering to sponsor $700 USD worth of toys for my Autumn 2019 giveaway!
THE PRIZES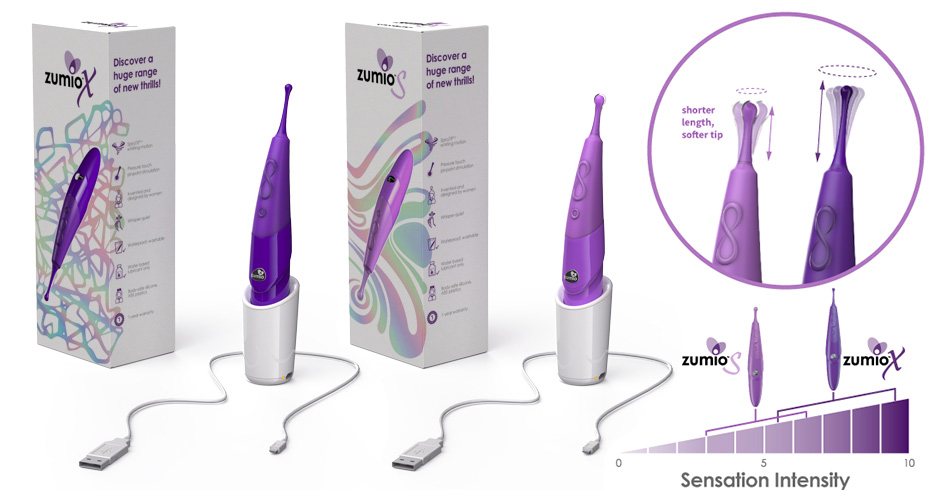 There will be 4 winners:
Features of the Zumio X and Zumio S:
These are both powerful pin-point stimulators that spin around in tiny circles for intense sensations.
For use on clitoris, labia, nipples, or penis.
Award winning, unique design that gives fierce orgasms.
Waterproof, rechargeable, and bodysafe construction.
Retail price for each: $140 USD
I've reviewed both the Zumio X and Zumio S and LOVED them. They're incredibly intense and definitely a knock-your-socks-off kind of toy. Though the S and the X look similar, they're quite different, so be sure to read my comparison review so you know which one you want. From my review:
It's like the force and magnitude of the Magic Wand being laser-beam focused into the tip of a pencil, and it knocks the wind out of you. Wow.
SMALL PRINT
This contest will run from October 1 to October 31, 2019.
One (1) winner will receive one Zumio X and one Zumio S. Three (3) winners will choose either a Zumio X or a Zumio S.
You must be 18 years or older to enter.
Open USA, Canada, UK and EU only.
The winner is responsible for all border customs/duties fees if they occur.
The winners will be randomly drawn through Gleam and contacted by me by email within the 1st week following the giveaway. The winners have 48 hours to reply to me with their address otherwise a replacement winner will be drawn.
The winners agree to provide me with their name, email, and shipping address that I will forward to Zumio, who will ship directly to the winner.
ENTER BELOW
Update Nov. 1, 2019
Thank you so much to everyone who entered! All four winners have been drawn and confirmed. Congratuations to Clara, Joe, Dickie, and SomethingsOk for winning!!
Graphic Credits: Banner design elements by Freepik