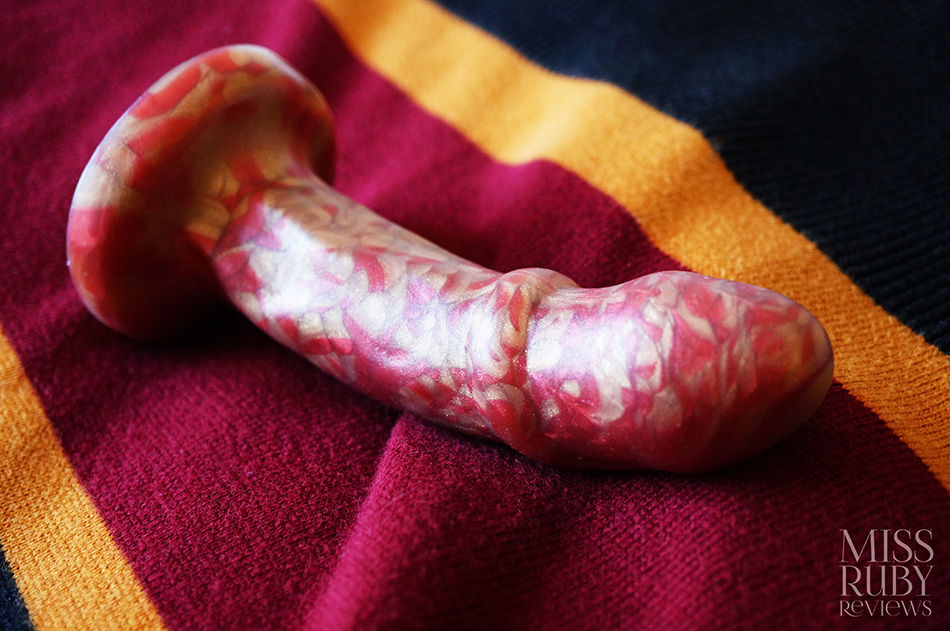 Back again with another Uberrime creation! This time it's the beautiful Uberrime Essential Gentleman, a smoother, harder, less textured dildo than the Splendid Gentleman I reviewed last week. Read on for my Uberrime Essential Gentleman review!

Physical Details | Material and Care | My Experience | Overall
Physical Details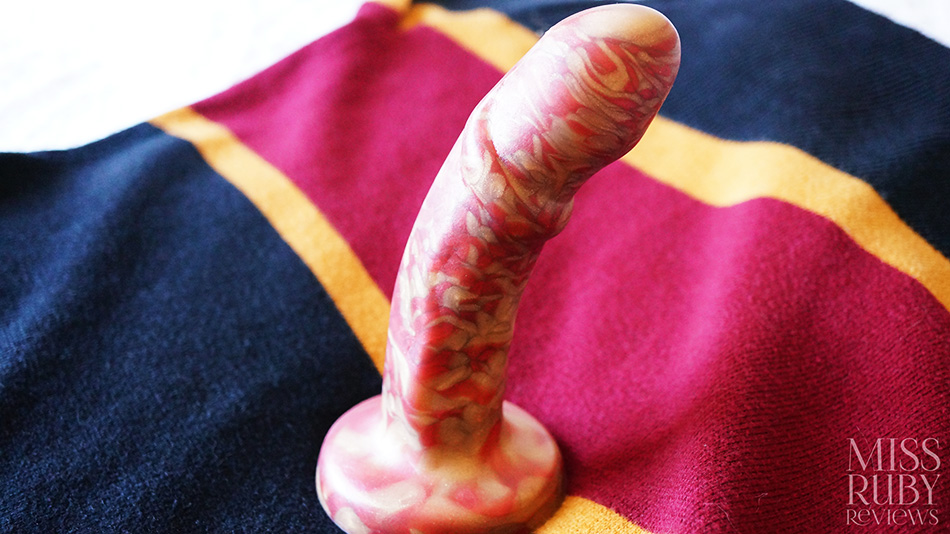 The Uberrime Essential Gentleman is a single-density dildo optimized for G-spot and prostate stimulation. It has a gently curved shaft and a pretty bulbous, oval head. Though its coronal ridge is subtle, it has a raised ring a couple of centimeters below (I think to be reminiscent of gathered foreskin). Below that point, you get a whack of texture: raised, exaggerated veins.
The dildo then expands to a flared base, making this anal-safe and O-ring strap-on harness compatible.
This is a fairly moderate/medium-sized dildo. It is narrower than the dual-density Splendid Gentleman.
Maximum diameter: 1.6 inches
Average shaft diameter: 1.5 inches
Usable length: 5.5 inches
Total length: 6 inches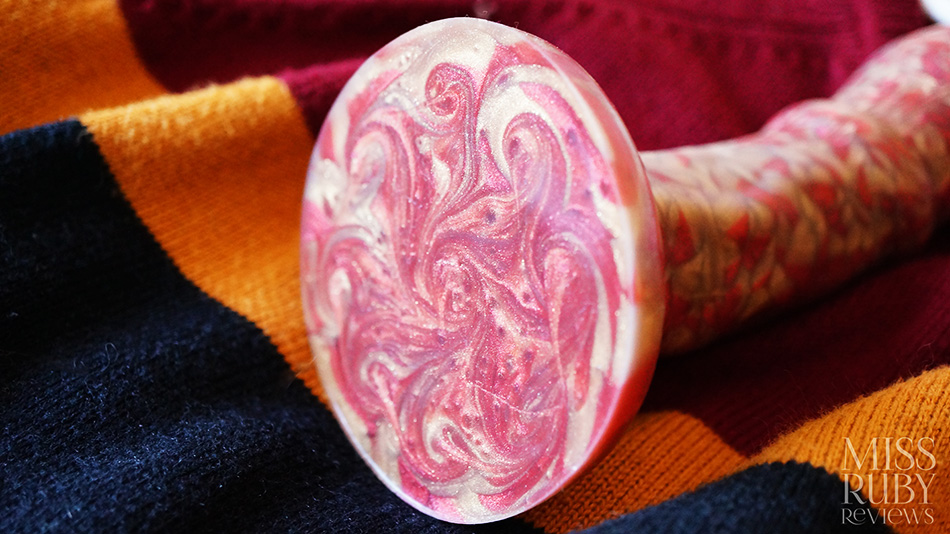 My version is the color "Devil Red and Forged Gold." It gives off strong Gryffindor vibes, with swirls of copper red and dark gold. Of course, as all of Uberrime's products are handmade in the USA, no two products will be exactly alike, so you may see some variation in your own copy.
Peepshow Toys also sells the Essential Gent in "Metallic Aster Purple and Gold" and "Metallic Pink and Cosmos Black Glitter pigments." Out of the three, I really think the Red/Gold is the most attractive, but that might because I love anything with Harry Potter colours (if I could only now get my hands on dildos for the other house colours…).
Lastly, on really smooth surfaces, the Uberrime Essential Gentleman 's base can also hold suction. Not for a super long time, but it's held for me for up to 5 minutes at a time.
Material and Care
The Uberrime Essential Gentleman is made from platinum-cure silicone, making it non-porous, non-toxic, and body-safe. This specific silicone has a matte, draggy texture to it, one that collects dust.
For everyday cleaning, I just wash this in warm, soapy water before and after each use. If you want to sterilize (i.e., to share with a partner or to use anally), I recommend rinsing with a 10% bleach solution or boiling it in a pot of water for 15 or so minutes. You can also chuck it in the dishwasher — silicone is heat resistant.
For those of you who know your silicone, this silicone is Dragon Skin Shore 10A.
I also recommend you use a good quality water-based lubricant with this toy, such as my favourite Sliquid.
My Experience with the Uberrime Essential Gentleman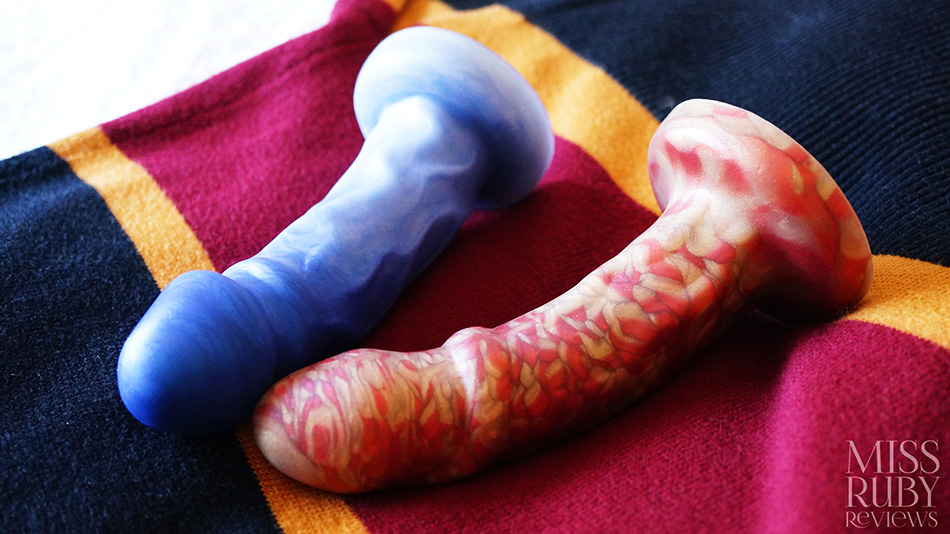 Above: Splendid Gentleman (top) and Essential Gentleman (below).
When I tested the Splendid Gentleman, I really really liked it for its texture, girth, intense coronal ridge, and dual-density.
My experience with the Essential Gentleman is different. Still good, but different.
If you can't decide which one to purchase, the biggest difference between the two is that the Essential Gentleman is smoother and harder. Though there are veins for texture near the base, and though it has that raised ring below the head, the overall experience is much less textured. If you know you're in love with textured toys, the Splendid Gent might be more your thing.
G-spot wise, this still packs a punch. That little ring below the head, plus the curved shaft, target my G-spot pretty easily, and when combined with one of my favourite bullet vibes, orgasms come quickly and strongly.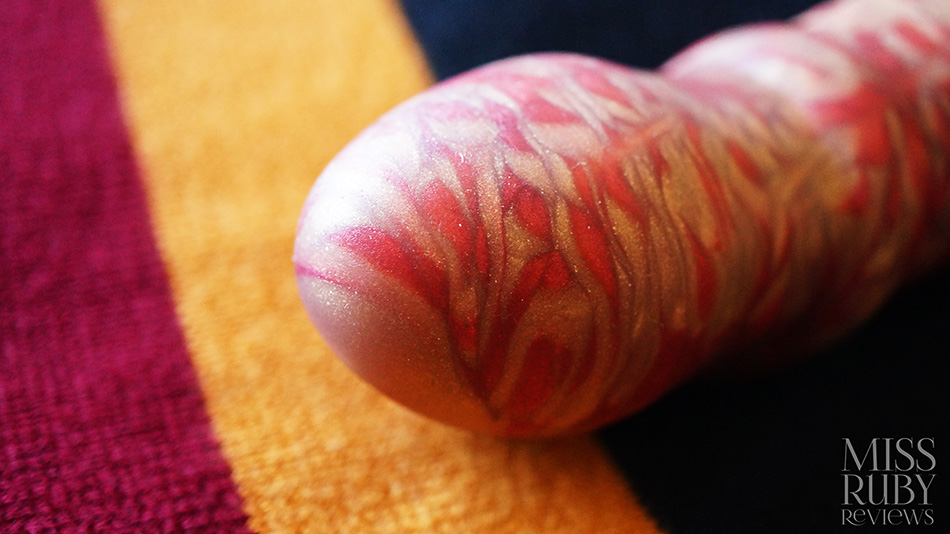 It's also narrower than the Splendid Gentleman, and its head is more oval, making it easier to insert and get going.
But…. the Essential Gentleman is a lot harder. Compared to the Splendid Gentleman's dual-density structure, I'm left a bit wanting. The firm body does intensify G-spot pleasure, which is much appreciated, but I love dual-density dildos because they're so comfortable and squishy and amazing, and I'll always grab a dual-density dildo if I have the choice. So between the two, I just can't help loving the Splendid Gent more.
Uberrime Essential Gentleman Review – Overall
The Essential Gentleman is a solid G-spot dildo if you enjoy smooth, hard dildos. Compared to the Splendid Gent, it's also easier to insert.  Though it does feel great (as do my orgasms), I can't bring myself to love it as much as I do the Splendid Gent.
But if you love those hard, textureless rides, you can purchase the Uberrime Essential Gentleman for only $52.20 at Peepshow Toys with coupon code RUBY (10% off).
See below for my Uberrime Essential Gentleman review summary.