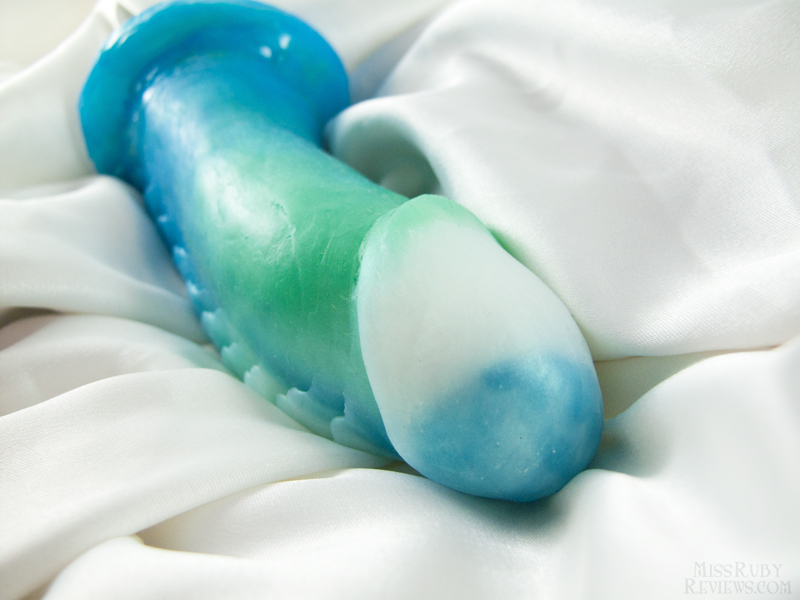 I look at this dildo and I can almost hear the ocean waves…
Physical Details | Shipping and Packaging | Material and Care | My Experience | Overall
Physical Details
Because I always feel the need to state the obvious, this is one beautiful dildo. I mean, really, really really beautiful.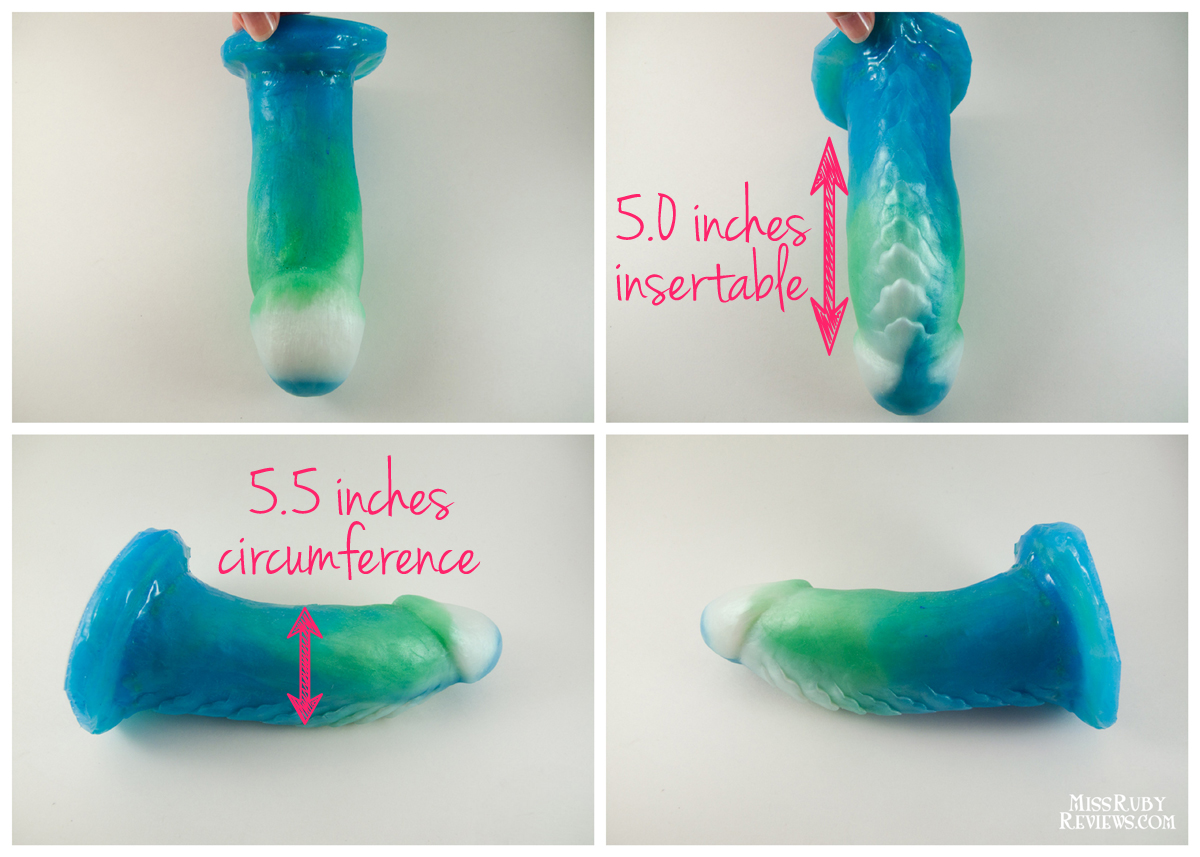 Design:
The Male Nereid is fantasy sea-themed dildo. From most angles, its shape is realistically human. There's a realistic head with a subtle coronal ridge.  The shaft tapers upwards, but overall there's no curve in the shaft. The underside bulges to form a ridge, giving it a deliciously chubby look. The 5 inch shaft isn't long, but it's definitely girthy at a 1.75″ diameter.
The realism ends there. On the underside of the shaft, there's a row of scalloped scales running all the way down to the base. They're quite ornate, and they almost look real, as if you could actually pull or peel them back.
The overall result is simple, yet effective. It's clearly a humanoid design, but the scales on the underside gives it a definite fantasy spin. For people who are on the fence about fantasy dildos, this anthro design makes for a great stepping stone between human and fantasy.
And we need to talk about the colour. Seriously. Wow. I asked for blue, sea green, and white. The result is almost a marbled effect, with splashes of blue in the head. Overall, though, the pearl white fades into green and then blue. It came together so perfectly, and the colours are seriously vibrant. They're bright and rich and beautiful.
And they're pearly. If you look carefully at my pictures, you'll see that the silicone has a definite pearly (almost iridescent) sheen to it. The colours catch the light and shine.
By the way, these dildos are custom-made, meaning that if you message Brandie through Etsy, you get to ask her what colours you'd like your dildo and she'll make it for you.
As if I didn't need another reason to like it, the base flares out at the bottom, making this O-ring harness compatible and safe for anal use. If you ask Tails and Portholes for a suction cup base, she'll actually hollow the base so that it forms a suction cup.
It's sooooooooo squishy….squi….squuiiiiissshhhhh…..! @CoyoteWalker pic.twitter.com/VfCSCcrG1z

— Miss Ruby (@MissRubyReviews) July 22, 2015
Firmness:
But it gets even better. This dildo has dual-density. Like in the Tantus O2 range, there's a soft squishy outer layer that surrounds a firm inner core. The inner core ends at the coronal ridge, leaving the head completely squishy. This gives it a very life-like feeling. Unlike the Tantus O2 line, however, this dildo is super super super squishy. The inner core is firm, but the outer layer is thick and squishy, much more so than the Tantus' dildos. It's really easy to bend the shaft in half and twist it around, but the inner core ensures that it always bounces back upright.
I'm a HUGE fan of squish, and this is likely the best squish I've ever felt in a dildo. I've had soft squishy silicone, sure, but never this soft combined with dual-density. It's a bit addictive. And sexy. Thank you, Tails and Portholes, thank you.
Issues: 
Tails and Portholes is a new store. It's also an indie operation, and right now there are a few aesthetic glitches in the production. There are a few air bubbles. My base is asymmetrical. There are definitely some things that need to be refined as Tails and Portholes continues to perfect their process. None of the issues take away from my enjoyment of the product. They don't render the dildo useless or unsafe in any way. If you are worried about the bubbles trapping anything, throw your dildo in the dishwasher or boil it to sterilize it.
Note that my dildo was made in early June 2015, so purchases after this point will likely see less of these aesthetic flaws. Also, if you're interested in this dildo, I highly suggest that you hop to it and order one soon because currently the price is low. You may get a few air bubbles, but I suspect Tails and Portholes won't be selling these at $35 a pop once they sort out these issues. This price is ridiculously cheap for a silicone dildo. I can imagine that their price will double or triple once they've sorted out these little issues.
Shipping and Packaging
My order was placed on June 8th and it was shipped on June 10th. For a custom-made dildo, that's very very quick. I received the package on June 18th.
The dildo was packed in a simple clear plastic bag. I also received a Tails and Portholes business card, a note on cleaning and care, and a scale necklace made from leftover silicone from my dildo's casting process.
Material and Care
The Tails and Portholes Male Nereid is made from 100% platinum-cure silicone. As such, it is non-porous and non-toxic. Brandie recommends using toy cleaner or boiling it. I personally boil it for about 5 minutes because, this way, I know that anything trapped in the air bubbles is sanitized. If you plan to use this anally or share it between partners, definitely sanitize it between uses. You can do this by boiling for 5 minutes, wiping it down with a 10% bleach solution, or running it through the dishwasher.
As this is a silicone product, don't use a silicone-based lubricant. I recommend a water-based lube.
My Experience
I just finished my final test of this dildo and my fingers are struggling to type, so forgive any typos.
Okay. Umm. I like it.
The Tails and Portholes Male Nereid dildo feels fantastic. When I insert it, it's immediately satisfying. For something so average-sized-looking, it's surprisingly girthy and fulling. Its squishy girth stretches me as it goes in and, once it's sitting inside of me, its body seems to conform and mold to my vag. This is thanks to the squishy silicone; when my walls cling to it, it compresses slightly because its outer layer of silicone is so soft. If you haven't experienced soft silicone like this,  this dildo at $35 is the way to do it.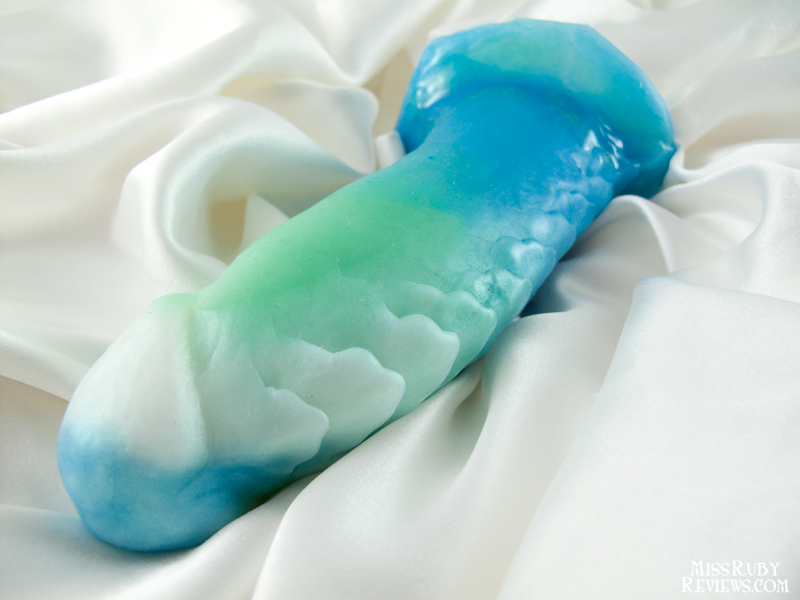 I also find that its length is perfect for my body. At 5 inches long, it just stops short of my cervix. Bodies differ, so you may experience differently, but it's perfect for me. This length means that I can thrust it fast and hard without worrying about it hitting my cervix. If your vaginal canal is slightly shorter than mine, and the tip of the dildo does hit your cervix, it shouldn't feel painful anyway. The head is so squishy that it should just nudge and compress against your cervix, not causing any pain.
And for those that love suction cups, you'll be pleased to hear that this suction cup works fantastic. I've had no issues with it whatsoever.
For a mostly-straight dildo, this packs an impressive punch when it comes to stimulating the G-spot. This doesn't specifically target the G-spot, but my G-spot certainly gets a lot of attention from its shape, especially during fast thrusts. It's kind of the perfect mix, actually. Some G-spot specific dildos will sacrifice filling you up completely because it'll need to focus on the G-spot, which results in a shallow penetration. This dildo fills me up AND gives me solid G-spot stimulation. Huzzah!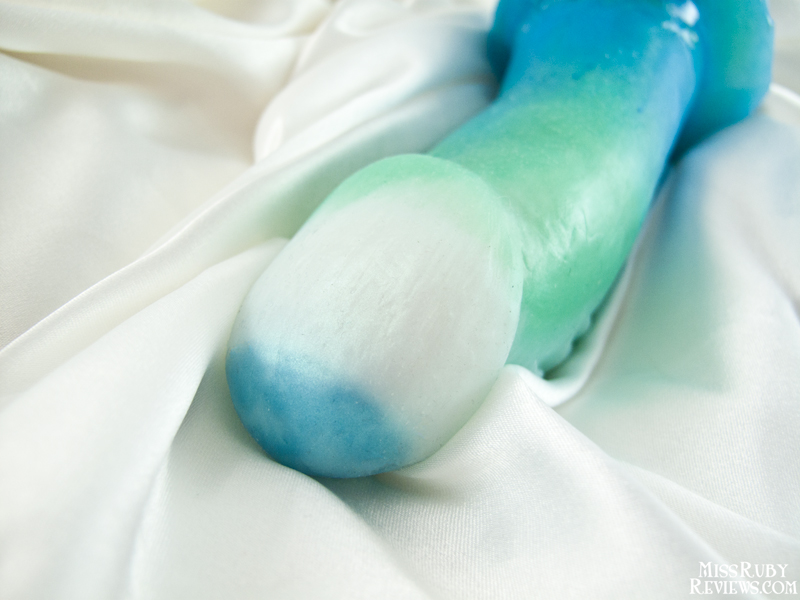 Despite any issues I may run into with the underside ridge, for the record, I have earth-shattering orgasms when I'm using this dildo. I can't orgasm via my G-spot alone, but clitoral orgasms feel 10x more powerful with good penetration. And this dildo delivers. When I use this dildo vaginally with the Magic Wand on my clitoris, my vagina is in a very very happy place. My orgasms with this are so strong that, if my partner is using the dildo on me at the time, he literally stops being able to move the dildo because my body clenches it so firmly and holds it in place (another perk of having such a girthy shaft). During the first night I tried it, it was so good that I only stopped using it after no less than 5 toe-tingling orgasms.
Overall
In short, I'm extremely happy with this dildo. I find that the Tails and Portholes Male Nereid provides me with things I adore: girth, squish, and solid G-spot stimulation. Texture-junkies will enjoy the scaled underside. Though I'm a fan of how the scales look, I find their texture to be sometimes distracting.
Lastly, I can't believe it's only $35 right now. That is seriously amazing for a dual-density dildo made from platinum-cure silicone, especially one that performs as well as this one does. So hop to it before her prices rise!
And for people interested in seeing how feels from a male perspective, you can head on and check out Perineum Plunders' review.
To buy the Tails and Portholes Male Nereid, head on over the Tails and Portholes Etsy store page.
Last Updated on March 14, 2020 by Miss Ruby