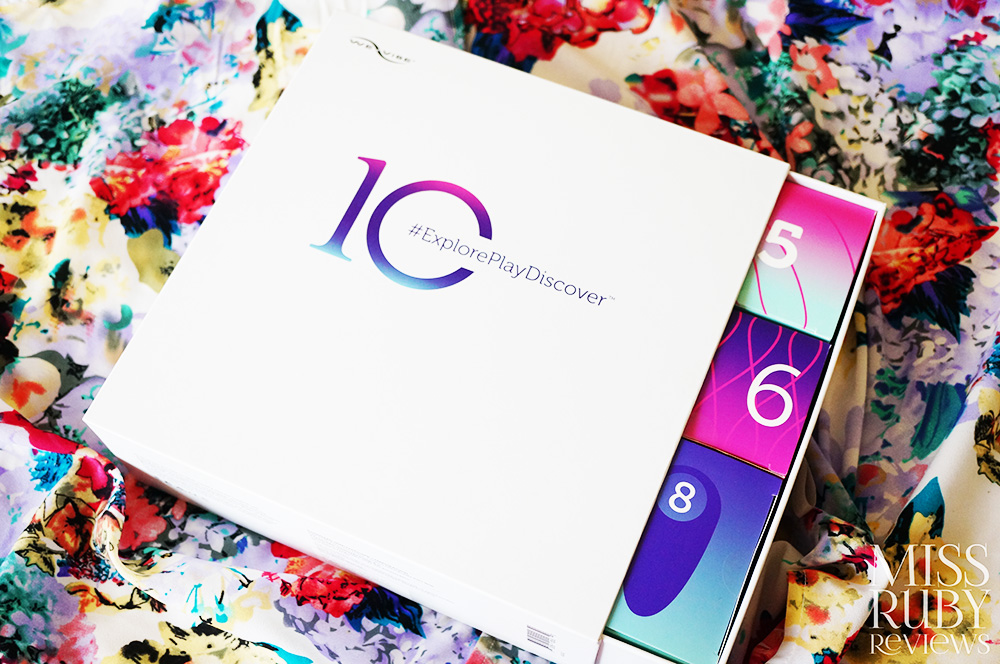 Thinking about a Christmas gift? The Discover Box by We-Vibe is a gift set that could make someone very very happy… Read on for my We-Vibe Discover Box review!
About the We-Vibe Discover Box (review)
The We-Vibe Discover Gift Box (alternative link here if We-Vibe is out of stock) is a collection of 10 pleasure objects and accessories. Bundles like this are very much about discovering surprises as you go along. Heck, it's even a small adventure. I forced myself not to read through the online product page because I wanted to feel like I was "discovering" the set when it arrived. And thanks to that super clean, simple image-free packaging, I could keep the surprises to the very last second.
Packaging for the We-Vibe Discover Box (review)
This slideshow requires JavaScript.
The packaging is simple and clean. The collection is encased in a thick white box. The box is more or less blank, just featuring a big number "10". On a removable sleeve, in small print, We-Vibe lists the contents of the box.
The box slides open like a drawer. Inside, there are 10 small boxes, each with a letter and abstract designs that hint at their contents.
I opened each box in true advent-calendar fashion, going chronologically. Read on for spoilers! 🙂
#1: We-Vibe Lube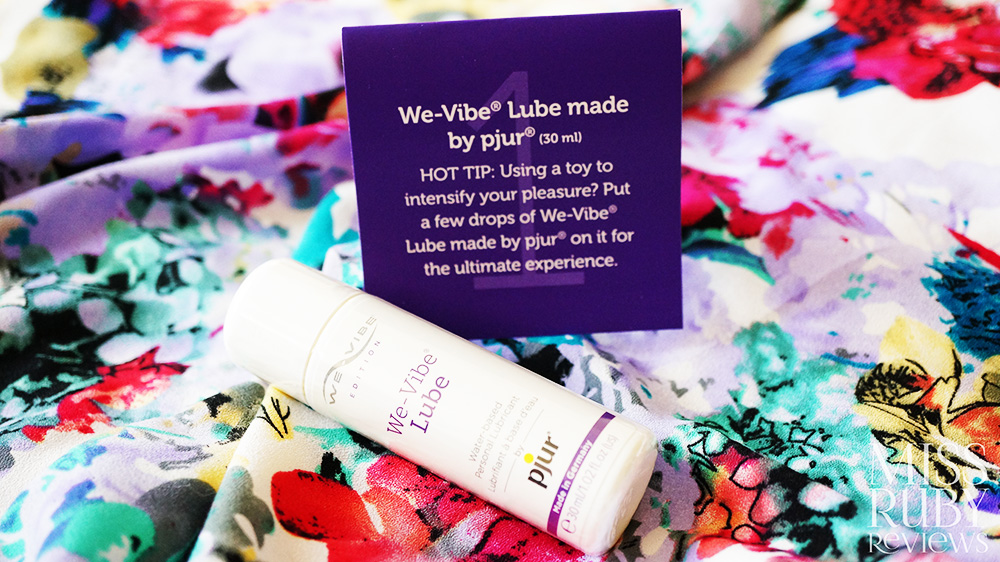 The first box in the We-Vibe Discover Gift Box contains a 30 mL bottle of We-Vibe Lube by pjur. It's water-based, made in Germany, and We-Vibe's recommended lubricant. I've used this lubricant before, and found it pretty good – it's fairly thick, and isn't sticky or tacky or goopy. A small amount goes a long way, and it doesn't have a strong scent.
It does have glycerin, mind you, and some users might be sensitive to that. Other ingredients include water, xanthan gum, benzyl alcohol, sodium benzoate, potassium sorbate, and citric acid.
The card in the box reads:  HOT TIP: Using a toy to intensify your pleasure? Put a few drops of We-Vibe Lube made by Lovehoney on it for the ultimate experience.
Separately, it's also available at We-Vibe here in a 100 mL version for $22 USD.
#2: Tickler
The second box in the We-Vibe Discover Gift Box contains a black feather tickler. It's small, includes a wristband, and very very very soft. Though I personally don't use ticklers (both my partner and I are unbearably ticklish) I can see the appeal. If your skin can handle a light, feathery touch, it could be used for gentle sensory play.
The card in the box reads:  HOT TIP: Incorporate this tickler into your fantasy play or tease it around your partner's most sensitive zones for extra excitement. 
#3: Tango by We-Vibe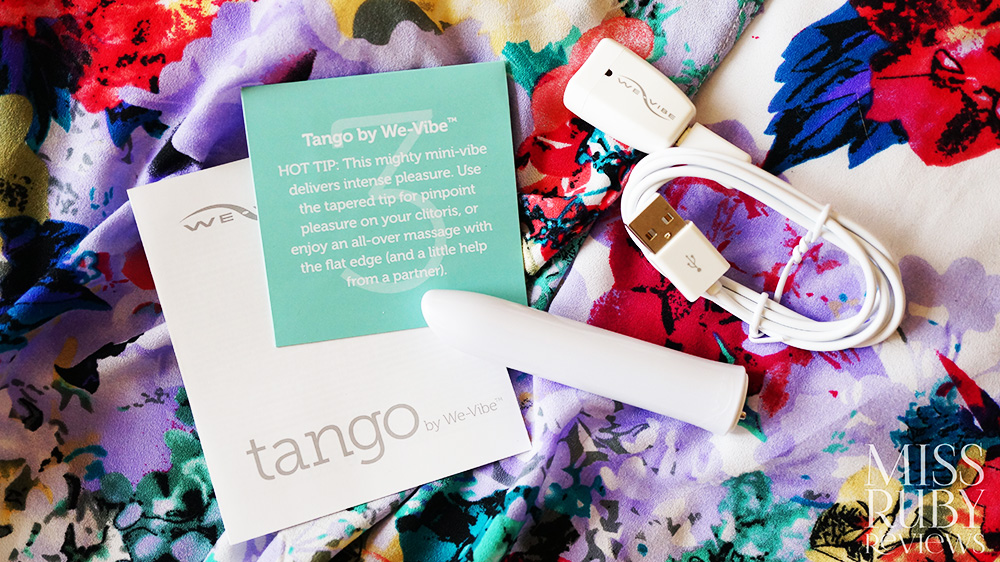 Box number 3 in the We-Vibe Discover Gift Box unleashes arguably the best product in the entire collection: the We-Vibe Tango. After reviewing thousands of dollars worth of vibrators, I still believe the We-Vibe Tango is the best bullet-style vibrator on the market.
I bought the blue standalone version years ago, and it was one of the first toys I reviewed. It's rechargeable, body-safe, has 8 vibration modes, and is totally waterproof. This toy rocks my world, and I'm so thrilled to have a second one!
This We-Vibe Tango is a plain, clean, white colour. It comes with the USB charging cord and the instruction manual. It's designed for pin-point clitoral use and it is MEGA intense.
The Tango retails by itself for $79 USD, making it one of the top ticket items in the collection. Even if you already had the Tango (like I did), having a second one on hand is never a bad thing.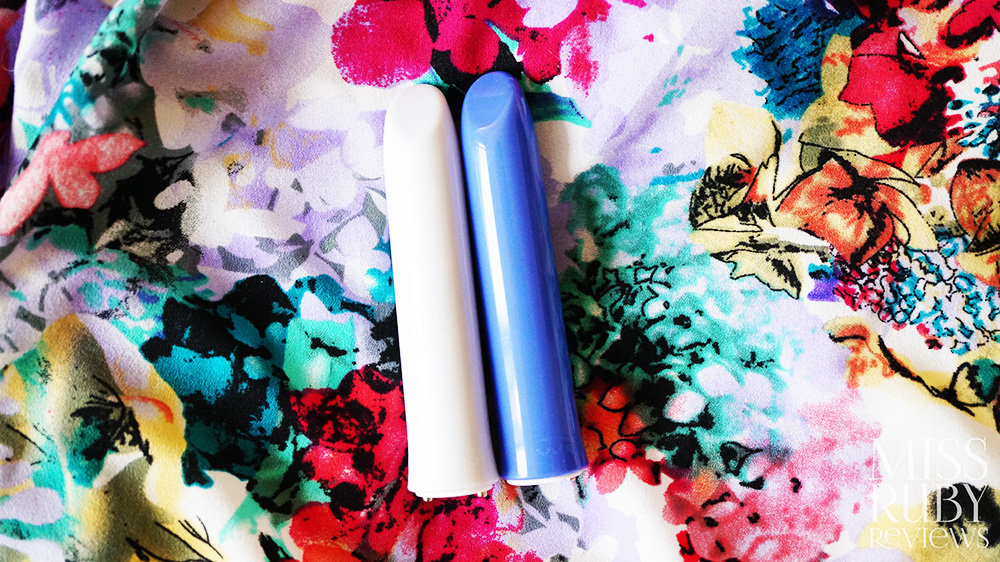 Above: White We-Vibe Tango included in this set and the blue We-Vibe Tango sold separately 
The card in the box reads:  HOT TIP: This mighty mini-vibe delivers intense pleasure. Use the tapered tip for pinpoint pleasure on your clitoris, or enjoy an all-over massage with the flat edge (and a little help from a partner). 
#4: Sexy Dice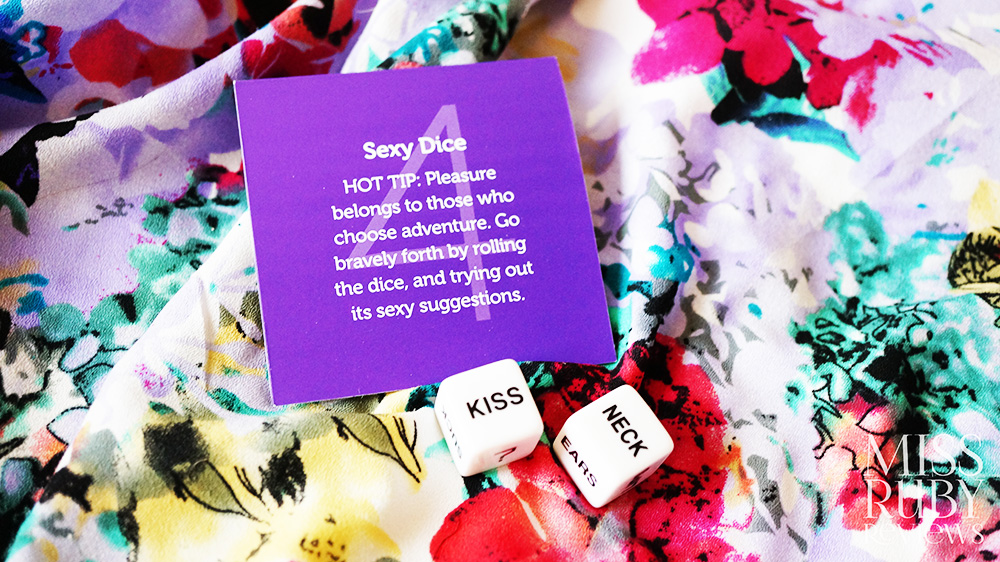 The fourth box holds a pair of dice. One die is an action word, and the other is a body part. They're not particularly explicit combinations, and some will be a little silly (i.e., blow lips). Still, they're cute.
Here are all sides:
First Die:
Lick
Touch
Kiss
?
Suck
Blow
Second Die:
Lips
Navel
Hand
Ears
Thigh
Neck
The card in the box reads: HOT TIP: Pleasure belongs to those who choose adventure. Go bravely forth by rolling the dice, and trying out its sexy suggestions.
#5: We-Vibe Couples Vibrator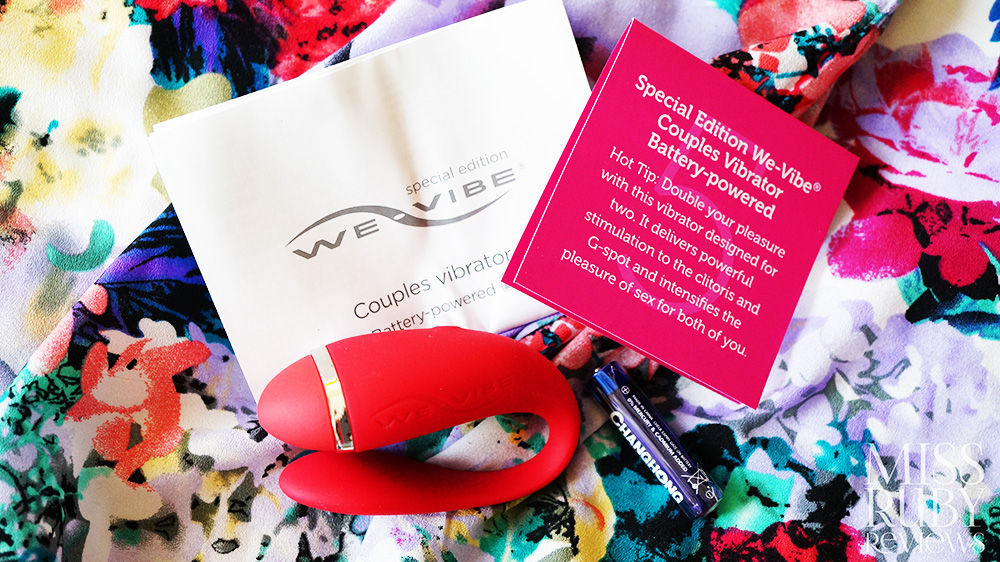 The fifth item in the We-Vibe Discover Gift Box is a red, silky battery-operated couples vibrator.
This C-shaped design is what launched We-Vibe into the spotlight years ago: a thin arm slips inside the vagina, while the thicker arm wraps around to rest against the clitoris. It holds this position during PIV (penis-in-vagina) sex. Typically with We-Vibe's couples vibrators, both arms vibrate, which adds G-spot stimulation and adds pleasure to the partner's penis.
In this case, though, there's a vibrating motor in the thick clitoral arm, and some of those vibrations travel to the thin internal arm, but I can't distinguish a second motor in that thinner arm. There's 1 vibration strength (not terribly strong, though at least quiet), so this definitely isn't like the amazing We-Vibe Sync that I reviewed a while ago. It also doesn't stay in place as well as the Sync, possibly because this toy is a lot more bendy/flexible. Lastly, it's not waterproof, so I recommend wiping it down with a damp cloth before and after each use.
I don't think this is the best toy in the collection but, hey, it's a bodysafe way to try a C-shaped PIV vibrator. It's also very elegant: it's a beautiful shade of red, and feels luxurious in your hand. If you enjoy the experience, consider upgrading to the Sync, which I consider to be the best toy in this genre.
The card in the box reads:  HOT TIP: Double your pleasure with this vibrator designed for two. It delivers powerful stimulation to the clitoris and G-spot and intensifies the pleasure of sex for both of you. 
#6: Kegal Ball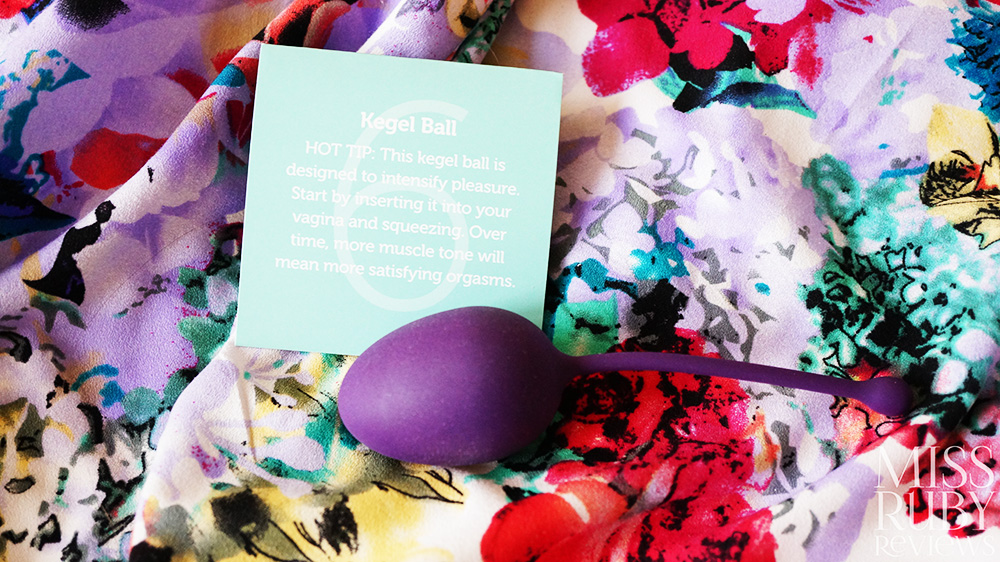 The sixth toy in the We-Vibe Discover Gift Box is a kegel ball.
It's deep purple, silky silicone, and has a long silicone cord for easy removal. The ball itself has a very slight amount of squish to it, and the product is almost completely seamless.
It doesn't have an internal weighted ball rolling around like the Luna Beads, and it's not super heavy, but it's a fair introduction to Kegel exercise products if you haven't used one before.
The card in the box reads: HOT TIP: This kegel ball is designed to intensify pleasure. Start by inserting it into your vagina and squeezing. Over time, more muscle tone will mean more satisfying orgasms. 
#7: Massage Candle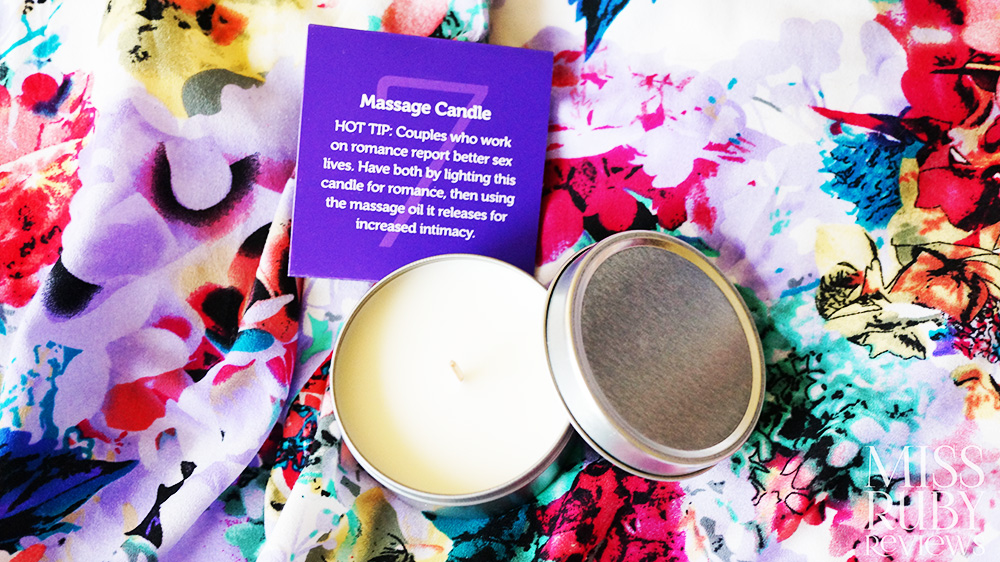 The seventh item in the We-Vibe Discover Gift Box is a massage candle, and it smells divine. It's vanilla scented, and when lit will release some oil that can be dripped and used for massage.
The card in the box reads:  HOT TIP: Couples who work on romance report better sex lives. Have both by lighting this candle for romance, then using the massage oil it releases for increased intimacy. 
#8: Womanizer Starlet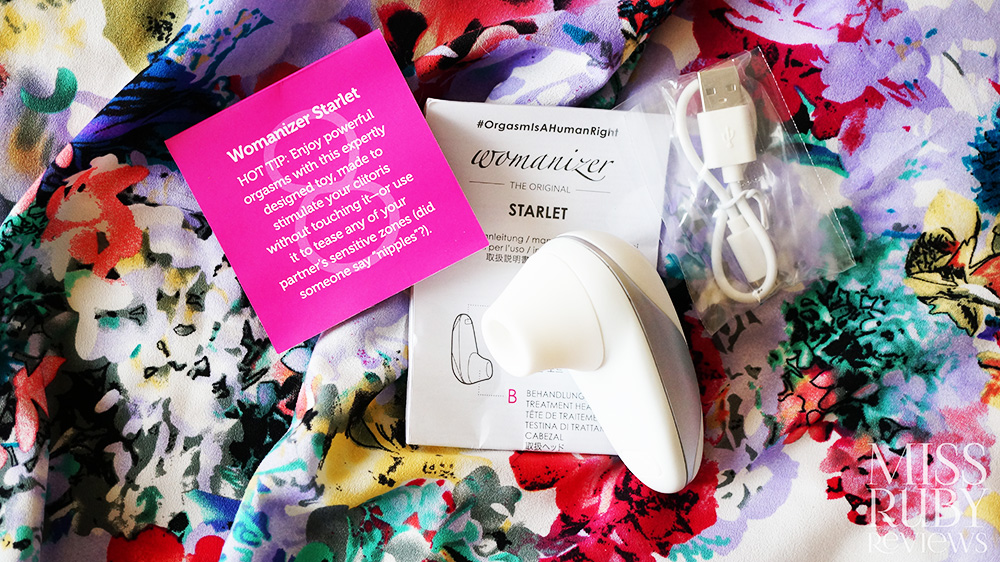 Another high-ticket item in the We-Vibe Discover Gift Box is the Womanizer Starlet. This is a touchless massager: it uses air pressure waves to create a suction-like effect on the clitoris, and the results can be amazing.
From my original review:
The Starlet pleasures the clitoris without any direct contact — instead, it uses a series of pressure waves (tiny little micro-suctions). Sound wonky? Maybe. But it works.
While the Starlet isn't my favourite Womanizer model (the Classic is), it's still a great little toy, and pleasurable. It's waterproof, rechargeable, and bodysafe. It tends to retail separately for around $80 USD, so it's nice to see it included in this bundle. In the box, you receive everything you would if you bought it separately: the Womanizer Starlet, a USB charging cable, and the instruction manual.
The card in the box reads:  HOT TIP: Enjoy powerful orgasms with this expertly designed toy, made to stimulate your clitoris without touching it – or use it to tease any of your partner's sensitive zones (did someone say "nipples"?).
#9: Dusk by We-Vibe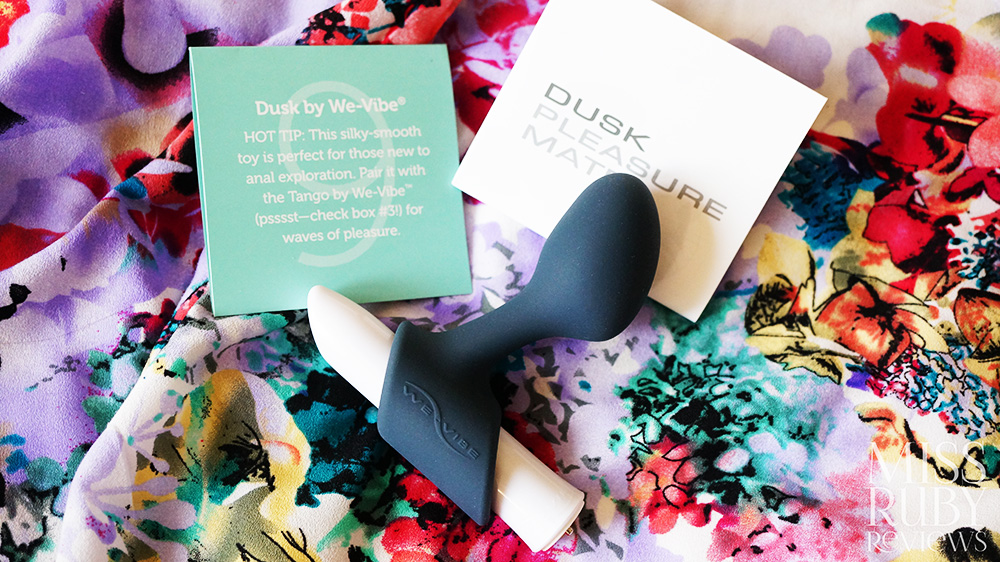 Next in the queue is the Dusk Pleasure Mate, which is a slate grey, silky, silicone attachment. This is meant to be paired with the We-Vibe Tango, which slips through a sleeve at the base.
The Dusk is designed for G-spot and anal stimulation. I don't use toys anally, but I was super curious to try it as a vaginal plug. The Tango's vibrations travel to the Dusk's body quite well, and that bulbous head is fantastic for targeting the G-spot, especially when I squeeze those muscles.  This is definitely one of my favourite toys in this bundle.
The card in the box reads:  HOT TIP: This silky-smooth toy is perfect for those new to anal exploration. Pair it with the Tango by We-Vibe (pssst — check box #3!) for waves of pleasure. 
#10: Silky Sash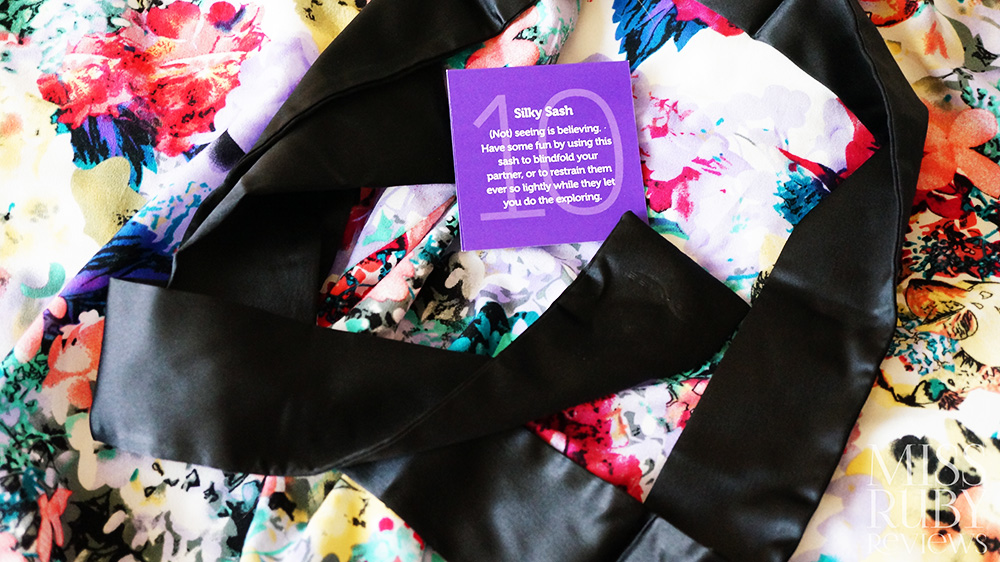 Finally, we come to the end of the journey! The tenth and final box is home to a black sash, just over 4 feet long. I was hoping that this was a storage bag instead, because that would have been super handy, but a sash can come in use too.
The card in the box reads:  HOT TIP: (Not) seeing is believing. Have some fun by using this sash to blindfold your partner, or to restrain them ever so lightly while they let you do the exploring. 
We-Vibe Discover Box review – Overall thoughts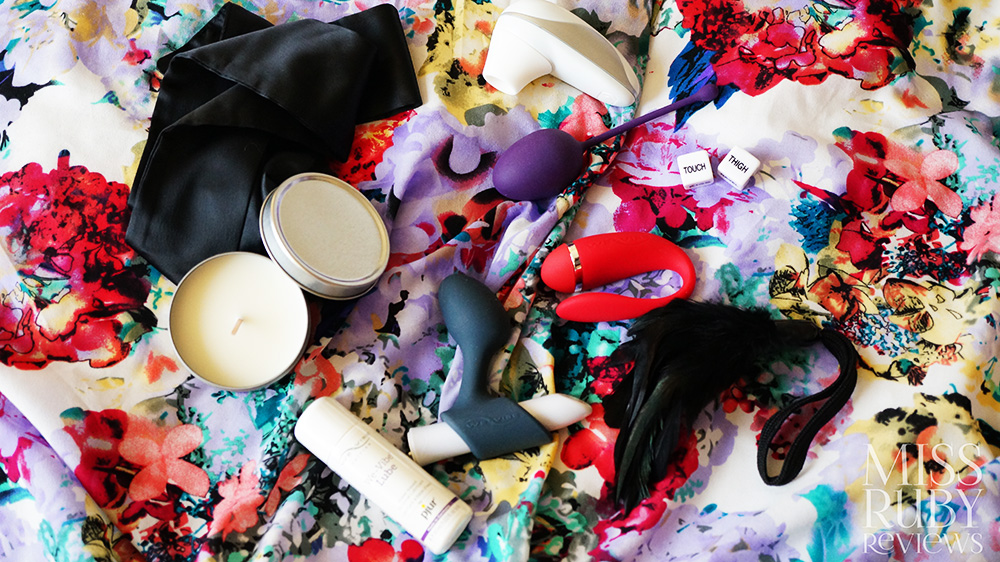 Above: all the items together in the We-Vibe Discover Gift Box
And there we have it. We-Vibe Discover Gift Box is, in my opinion, a pretty cute option for a gift. The Tango, the Starlet, and the Dusk are the best items, but it's nice that it included some essentials (like lube) and fluffier accessories like the candle and the dice.
The We-Vibe Discover Gift Box's estimated full value is $350 USD, but it sells for $249 USD and $289 CAD directly through WOW Tech (We-Vibe/Womanizer). Free shipping is included.
If this set is out of stock at We-Vibe, you can get it 50% off at one of their distributors here ($119 USD).
Yes, this is a pricey bundle. But even I loved receiving and unboxing it, and I'm someone that's used to receiving lots of toys. It's a lovely collection.
See below for my We-Vibe Discover Box review summary.
We-Vibe Discover Box review summary
OVERALL - 9.2
9.2
$119
PROS
Great for gifting
Love that it includes the Tango, Dusk, and Starlet
CONS
Wish it came with a storage pouch
Shop Now