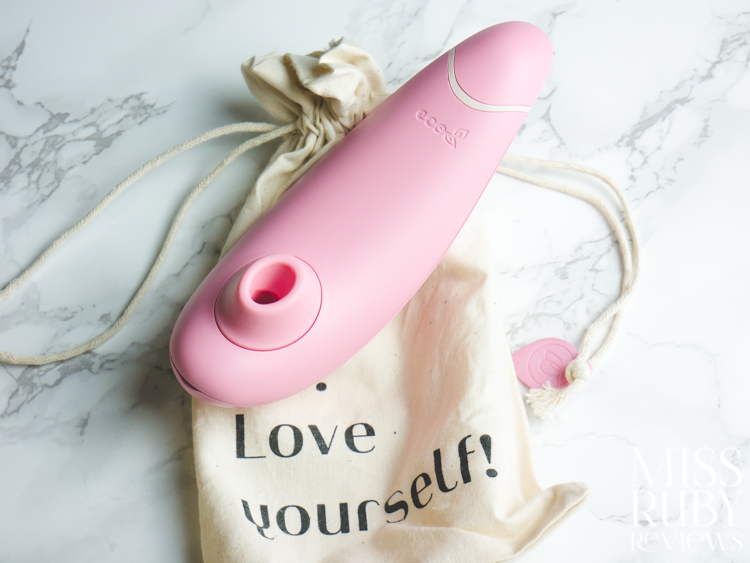 A sex toy for those who want to try to make greener choices. Read on for my Womanizer Premium Eco review!

Design | Eco-Friendly? | How to Use | Packaging | Material and Care | My Experience | Overall
Design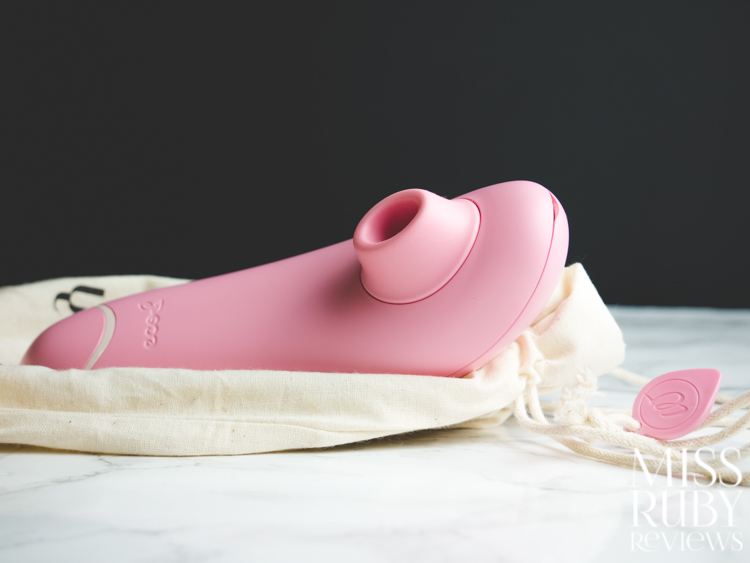 The Womanizer Premium Eco is one of Womanizer's latest offerings with Pleasure Air technology. 
Toys with Womanizer's Pleasure Air Technology stimulate the clitoris without touching it. Instead of vibrating like a conventional sex toy, a chamber inside the toy make pressure waves that feel like gentle suction. Because it's touchless, the orgasms almost feel spontaneous, but very powerful. And without any physical touch, the clitoris doesn't desensitize after the first orgasm like it sometimes does with vibrators, so you can keep going on to enjoy several more orgasms.
I've reviewed several such toys to date. But what makes the Womanizer Premium Eco special is that it takes steps to be more environmentally friendly than other sex toys. It limits the amount of ABS plastic it uses, instead opting for a Biolene body (a bio-based material I'd never heard of before). Its packaging is made from 100% recycled materials, and Womanizer has even promised to plant a tree for every Premium Eco they sell.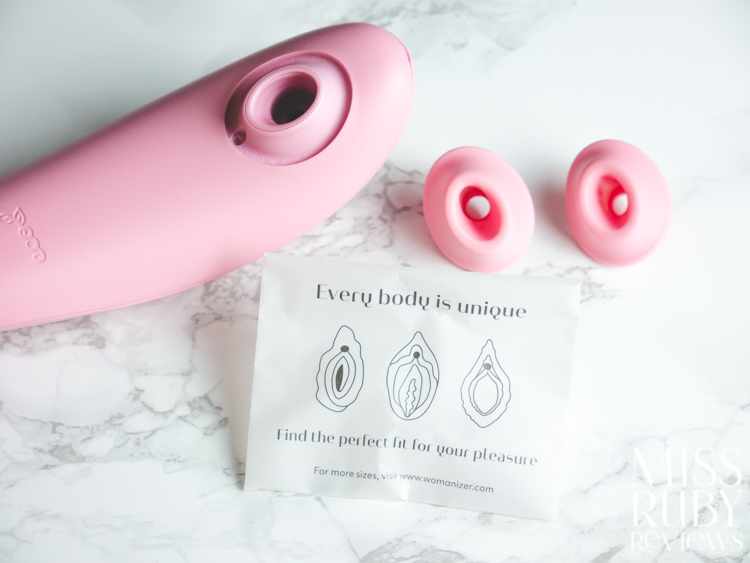 In shape and function, the Womanizer Premium Eco is VERY similar to the original Womanizer Premium.
It provides suction-based, touchless clitoral orgasms.
It fits comfortably in your palm and features simple, clean lines.
It comes with two stimulation heads (Small and Medium); one of these will be more comfortable and/or pleasurable, depending on your particular body.
It has 12 intensity levels, giving you a wide range of options for stimulation.
It is rechargeable via a USB charging cable (and the Eco version has the upgrade of being able to replace your rechargeable battery if it ever fails).
It features Smart Silence mode, which I'll discuss in the My Experience section.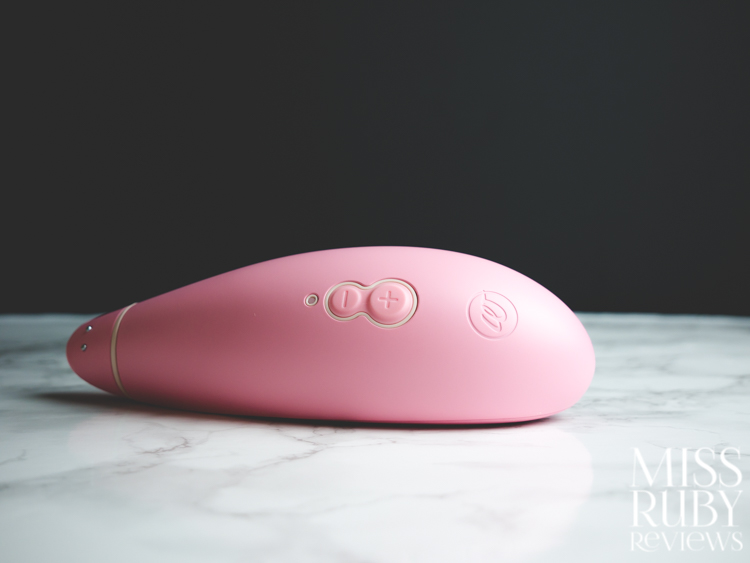 The Premium Eco is only available in one colour: pink. It's a very fluffy, pastel pink. It won't be everyone's cup of tea, and I was surprised that Womanizer didn't choose a more neutral colour.
Just how recyclable is the Womanizer Premium Eco?
While the Womanizer Premium Eco takes some good steps towards being eco-friendly, I also feel misled. I wrote a whole post about how the Womanizer Premium Eco is (or isn't) recyclable here.
How to Use the Womanizer Premium Eco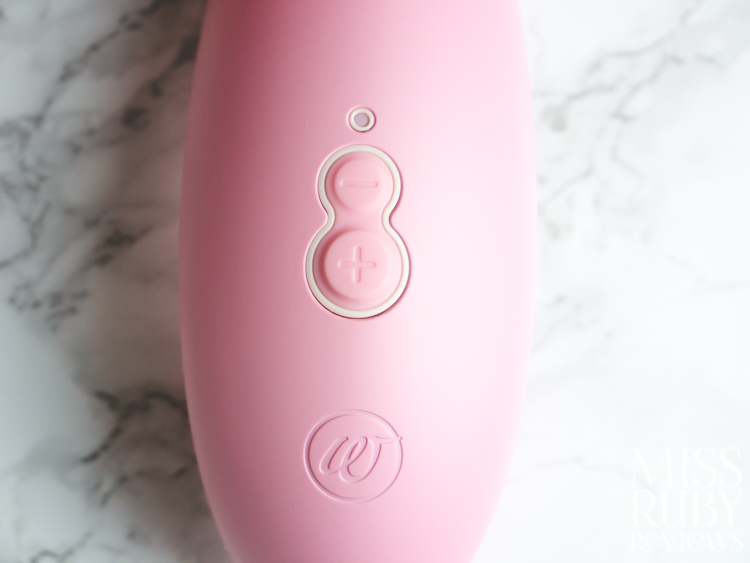 To turn the Womanizer Premium Eco on, press the (+) button for 2 seconds.
The product will turn on but be in Smart Silence mode, so it won't make any sounds until you press it against your skin.
Place the silicone stimulation head over your clitoris (you may have to part your labia first).
Try to get as tight a fit as possible, and I recommend holding it tightly in place once you've found a good fit.
Press (+) and (–) to increase and decrease intensity.
Though designed for clitoral use, you may be able to use this on other body parts (like the shaft of a penis). This is not for internal use, however.
To turn it off, press the (–) button for 2 seconds.
If you want to disable Smart Silence, press the (+) and (-) buttons together for 2 seconds.
Packaging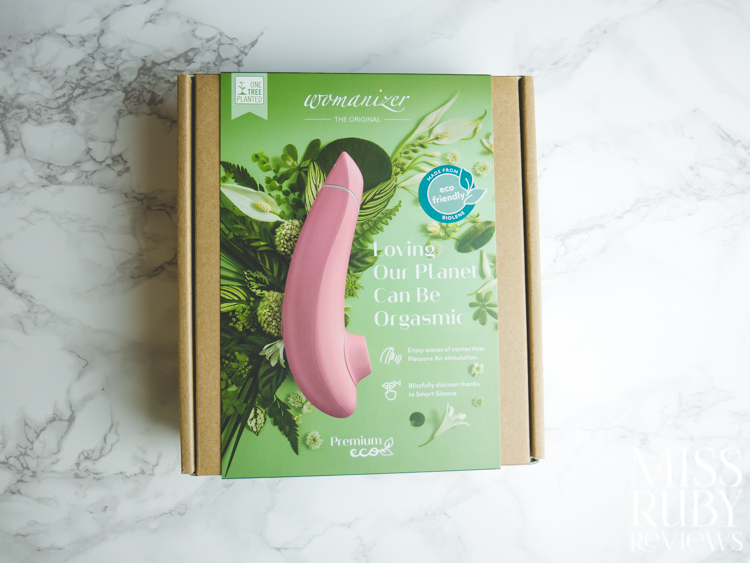 For a toy this pricey, I'm expecting some beautiful packaging. And to my delight, Womanizer didn't disappoint. The Womanizer Premium Eco is packaged beautifully in a brown cardboard box. When you open the lid, the Premium Eco is nestled on one side within its cotton storage pouch. It's a very neat and pleasing presentation.
No plastic packaging is used — all packaging is paper-based (except for the storage pouch, which is made of organic cotton and certified "Vegan" by the European Vegetarian Union). The packaging is also labelled as FSC Recycled. This means it's made from 100% recycled content.
Womanizer also states that a tree is planted (in Paicho, Uganda) for every Womanizer Premium Eco.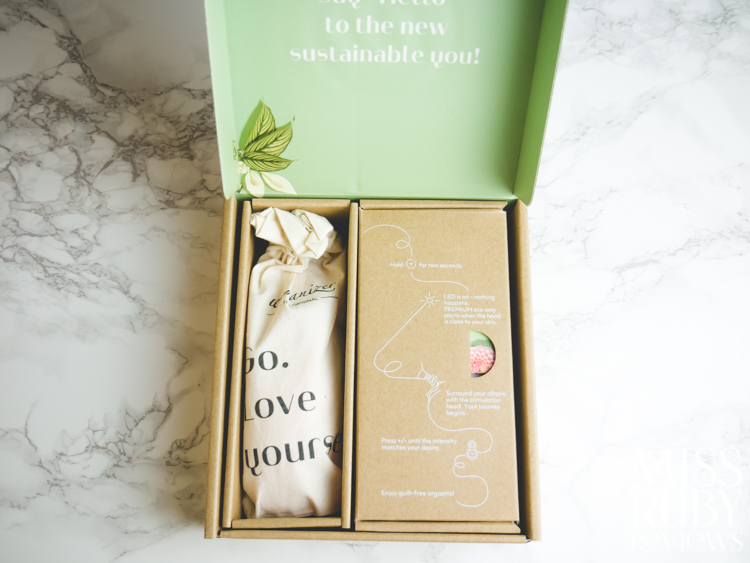 All in all, you receive the Premium Eco, the cotton storage pouch, the opening tool (which is a pink guitar pick-like thing attached to the storage pouch), the extra stimulation head, the charging cord, the manual and the safety instructions.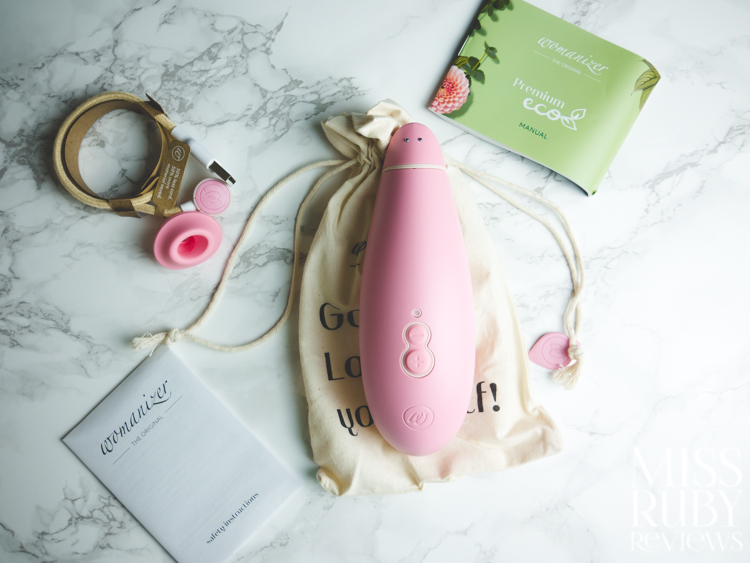 Material and Care
The Womanizer Premium Eco is made from silicone (the head) and biodegradable Biolene (the body). Biolene is a bio-based material (mostly made of corn starch) that has similar properties to ABS plastic. Biolene is a very new material and I can't find much accessible information on it, so I have to just assume/hope that Biolene has low porosity (like ABS plastic). To the touch, it reminds me of bamboo products. It does NOT seem super durable; I've been able to scrape the Biolene surface with little effort.  
If you're interested in reading how Biolene is or isn't a good choice for recycling, you can read my separate post here.
The Womanizer Premium Eco is splashproof, so you cannot submerge the whole product underwater. Other Womanizer products are waterproof, so this was disappointing. 
To clean, take off the silicone stimulation head and clean that underwater. Clean the Biolene body with a damp cloth (adding toy cleaner if you'd like to be thorough).  Wait for it to be dry storing it away.
If you'd like to use lubricant with this toy, choose a good quality water-based lube like my favourite basic, paraben-free Sliquid H2O.
To recharge the Womanizer Premium Eco, use the included USB charging cable; attach the magnetic end against the two little metal dots at the base. Plug that cord into your computer or a USB wall adapter.
You can also take apart the Womanizer Premium Eco to replace the rechargeable battery if it ever runs out. Instructions are included in the manual. It involves using the pink Biolene opening tool (found on the cotton drawstring bag) to open part of the case. I did this once out of curiosity and, while the idea is great, was surprised to see it start to chip and show damage. I'm not at all confident that Biolene is a strong enough material for sex toys. 
My Experience with the Womanizer Premium Eco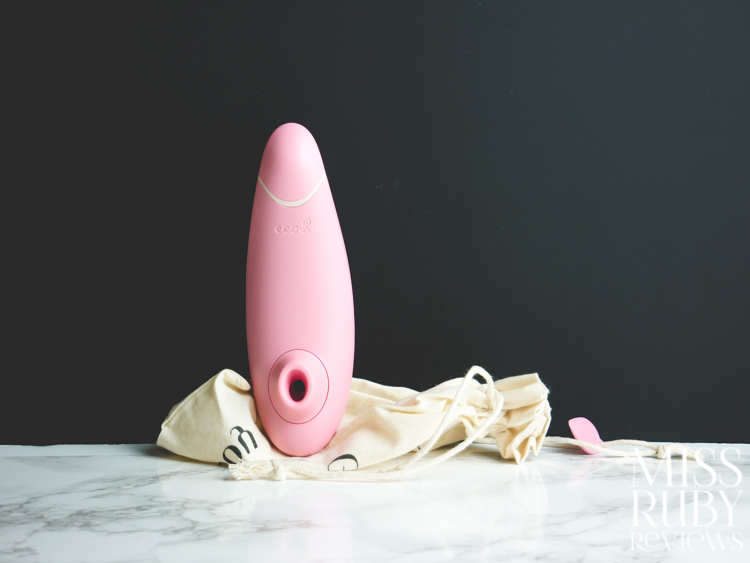 First things first: Does the Womanizer Premium Eco provide suction pleasure?
✓ Check!
But to review the Premium Eco, I need to compare it to the original Premium.
Womanizer Premium Eco vs original Premium
Similar orgasm capabilities
I find the Womanizer Premium Eco to be just as pleasurable as the original Premium. This was a relief — I didn't want to have to sacrifice any pleasure!
Touchless orgasms build quickly and strongly with this toy and feel great. If you've never experienced a pressure wave toy, you're missing out. It's unlike any orgasm from vibration or manual stimulation, and it has the strange ability to be powerful yet not over-sensitize your clitoris, meaning you can go on to have more orgasms.
Same intensity range
The Womanizer Premium Eco has the same intensity as the original Premium model: 12 levels of strength, from a gentle purr to a fearsome roar. A wide range means this toy can accommodate those with a sensitive clitoris as well as power queens.
Fortunately, this toy is not loud; you can't hear it through my closed bedroom door!
Same Smart Silence mode
When Smart Silence mode is on, your product won't activate unless it's near your skin.
I found this feature incredibly useful in the original model, and I was really pleased to see it here again. We found it useful for discretion (if you need to turn it off super quick, you just lift it from your skin) and more convenient when in bed. During playtime with my partner, the toy wasn't whirring incessantly until it was actually being used against my skin, which is just really awesome.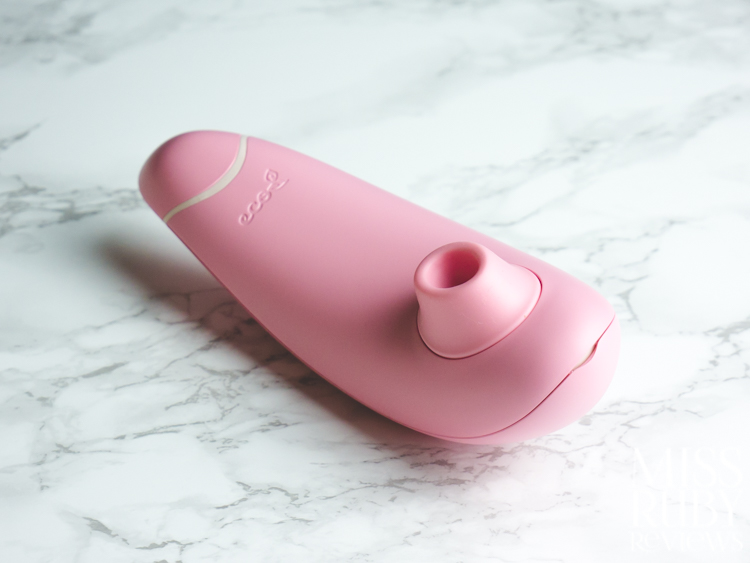 No Autopilot mode
The Womanizer Premium Eco doesn't have the Autopilot mode that the original Premium model did. This mode took you through increasingly stronger intensities, but it decided when it was time to go up (not you). I'm particular about sex toy strength and didn't like not having that control, so this isn't a loss for me. 
Longer lifespan?
The Womanizer Premium Eco's battery can be recharged approximately 300 times. After that, you can replace the battery. This definitely increases the overall useful lifespan of this product. 
That being said, I don't personally think Biolene is as strong as ABS plastic or silicone, so I think the Premium Eco's will show more wear and tear over the years than the original Premium model.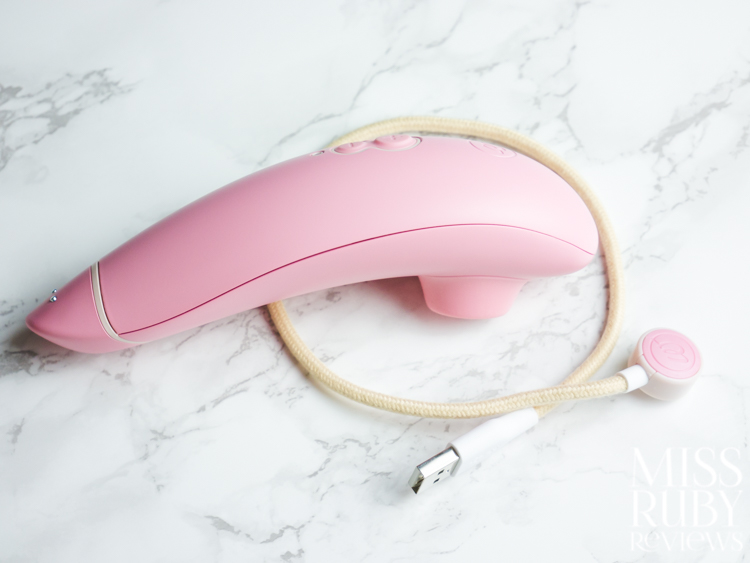 Not waterproof
The Womanizer Premium Eco is not waterproof; while you can remove the silicone head to wash underwater, you can only wipe the Biolene body down with a cloth.  On the other hand, the original Premium model was fully waterproof and water-tight. 
This is a massive drawback for me. Being able to submerge a sex toy isn't only useful for bathtime; it's quite essential for hygiene.
While I understand why it's not waterproof (being able to disassemble the pieces for recycling means there are lots of open nooks and crannies), I really wished we didn't have to sacrifice this. I think this is a point that will dissuade a lot of people.
Overall Thoughts
The Womanizer Premium Eco is better for the environment than the original Premium. And in terms of pleasure, the Womanizer Premium Eco delivers. It has 12 pleasing intensity levels and the suction power is great.
But to be honest, I'm not totally sold. Biolene appears to be less durable than ABS Plastic or silicone. This model isn't waterproof. And while I appreciate that they're trying to minimize plastic waste, I think this model still has a long way to go to be easily recyclable.
If you are concerned about the environment and want to make green choices when it comes to your sex toys, the Womanizer Premium Eco is a greener choice than most out there. But be prepared to have it come with fewer features.
You can pick up the Womanizer Premium Eco at Betty's Toy Box for $199 (but use coupon code RUBY for 15% off!)
Why do I like Betty's Toy Box? They ship discreetly to the continental US for free on all orders over $49, plus you can get 15% off your whole purchase with coupon code RUBY. 


See below for my Womanizer Premium Eco review summary.
Womanizer Premium Eco Review
Overall thoughts - 7.5
7.5
$199
PROS
Touchless orgasms
Smart Silence Feature
Reduces plastic waste
Beautiful design
Comes with two stimulation heads
5 year warranty through WOW Tech
CONS
Only one colour option
No Autopilot mode
Not waterproof
Biolene appears less durable
Not as recyclable as it seems
Shop Now
Last Updated on November 9, 2022 by Miss Ruby