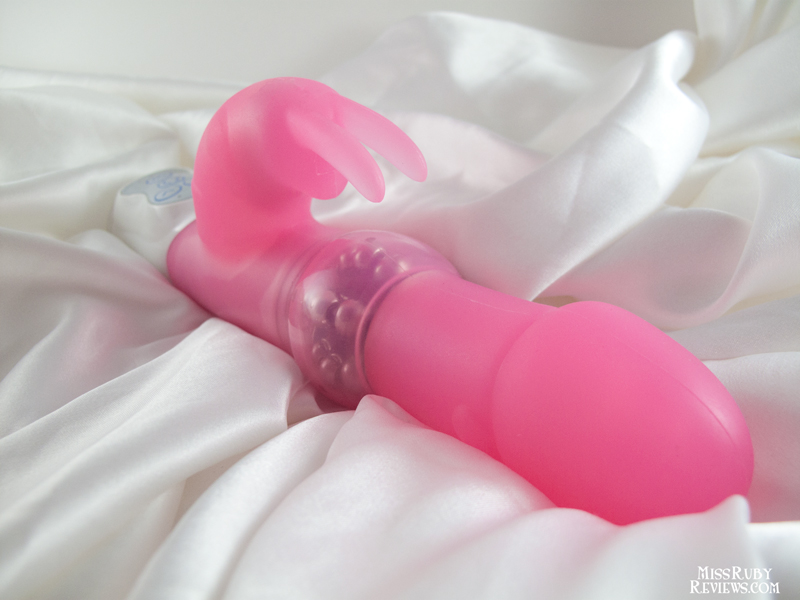 I haven't had a classic rabbit vibe like this since my early sex toy years….and this time, it's made from silicone, not jelly. Woo! Read on for my Lovehoney Dream Rabbit review!
---
Physical Details | Material and Care | Shipping and Packaging | My Experience | Overall
Physical Details
Design:
The Lovehoney Dream Rabbit is…..well…the name gives it away. It's a rabbit vibrator, one that follows a very traditional look.
At the head, the design mimics a real penis.  The head gently tapers off and there's a subtle coronal ridge and frenulum. The realism ends there, though.
Under the head, along the upper shaft, there are small raised circles for added texture. Below this, the shaft bulges and you can see rows of beads (which rotate in use). Under this is the rabbit shaft. This smaller shaft is designed to look like a small rabbit, with the rabbit's nose or ears falling against your clitoris. Under the shaft, there's a solid-sized white handle with light-up controls. Th
As you can see, the Lovehoney Dream Rabbit pictured is a pink toy; however, its updated model (the one I'm linking to here) is purple.
In my hands, this vibrator doesn't feel cheap. I'm so used to $100 and $200 vibrators that I forget how well-made $60 vibrators can be. This vibrator feels sturdy. The parts are well made, the buttons aren't flimsy, and it will be sticking around for quite some time.
Function:
As a rabbit vibrator, the Lovehoney Dream Rabbit is designed to stimulate your G-spot and clitoris at the same time.  The internal shaft rotates in small circles. At the same time, the beads in the shaft rotate around as well.  The shaft's rotations are controlled by ▲ and ▼ buttons, which you press to cycle through three increasing speeds. There's also a ↺ button that switches the direction of the rotations.
The clitoral ear is controlled separately. The ∿ button cycles through the clitoral vibrations. There are 3 increasing steady states and 4 pulsation patterns.
Strength and Noise:
The main shaft doesn't vibrate, but I can show you how much it rotates. See the clip below!

I find these shaft rotations to be rather narrow. I've definitely encountered rabbits that turn in wider circles.
The beads rotate very quickly for a textured sensation. When I squeeze my Kegel muscles, the beads sound like they're having trouble, but I've only felt them slow down a little bit. Rotating beads are usually the first thing to break in a rabbit vibrator because they undergo a lot of pressure from vaginal walls, but these haven't died on me.
I was surprised at how satisfying the rabbit ear's vibrations are. The rabbit face area gives off moderately strong vibrations (7/10) that are rumbly, rather than buzzy. These vibrations transfer very well through the ears, which flutter against (or, in my case, are pressed into) the clitoris.
Noise-wise, things could be better. It's moderately noisy (5/10), and these sounds aren't muffled well by a blanket. It can't be heard through walls though, so you can still use this in a busy household.
Other features:
The Lovehoney Dream Rabbit is waterproof and rechargeable! Huzzah! For a vibrator in the $60 range, this isn't a common perk.  Take it in the bathtub, or the shower, or the beach…
Material and Care
The Lovehoney Oh! Rabbit is covered in (pink) 100% silicone. The handle is made from ABS plastic. Silicone is the best material available for sex toys because it's non-porous and free of any toxic chemicals. In other words, it won't harbour bacterial growth and it won't leech anything into your skin.  Cleaning is simple.  I wash mine with warm soapy water before and after each use. If you'd like to share this vibrator, I recommend sterilizing it by wiping the pink silicone shaft with a 10% bleach solution and then rinse with water. Always use a water-based lubricant with this toy (I recommend Sliquid H2O). To keep it dust-free, I store mine in a clear ziplock bag.
Shipping and Packaging
Lovehoney's shipping is fast and discreet. My order was processed on July 3rd, shipped off on July 4th, and I received it on July 7th. So fast shipping? Yup. It's also discreet. The shipping box I received was inconspicuous and "Lovehoney" did not appear anywhere on the box.
The Lovehoney Dream Rabbit is packaged in a white box. It's not fancy, but it's clean. Inside the box, the rabbit lies in a plastic holder. You also receive a short pamphlet on how to use and take care of your new rabbit.
My Experience with the Lovehoney Dream Rabbit Silicone Vibrator
There are some things I really like about this vibrator, and there are some things that I'm just not satisfied with.
First, the not-so-good.
I'm not getting pleasure from the main shaft. The beads aren't exactly uncomfortable, but I find their continuous bumpy twisting to be distracting. If you are someone that absolutely adores texture, you will likely get a kick out of these beads. But I'm learning that I'm not a fan of fine texture, and my G-spot simply doesn't respond to them.
At the same time, I can only barely distinguish the rotating shaft. I know it's going in small circles up there because I know the rabbit is turned on, but the feeling is very vague and weak. This is the same whether the speed is at its lowest or highest setting.
I've had classic rabbits like this work for me before. In those cases, the shaft turned in much wider circles. Also, in my previous classic rabbits, the beads didn't jut out of the shaft so much (like this one). But, unfortunately, I just can't get the main shaft of this rabbit to work for my body.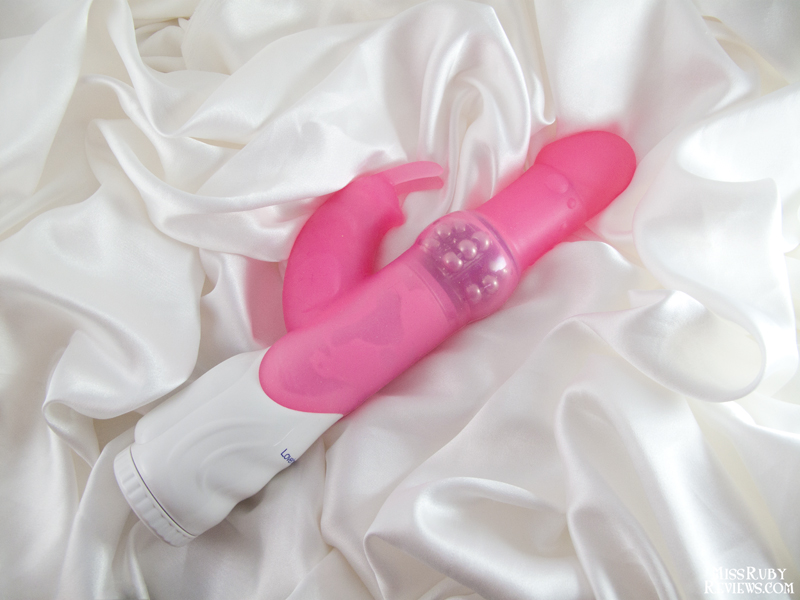 But all isn't lost.
I love the Lovehoney Dream Rabbit's clitoral shaft. When the main shaft is inside of me, the ears fall perfectly over my clitoris because my clitoris is roughly 2 inches from my vaginal opening.
Rabbit vibrators can be a hit and miss because different people's vulvas are built differently with different dimensions. If your clitoris is more than 2 inches away from your vaginal opening, your clitoris won't be able to get any stimulation. If your clitoris is under 2 inches, you'll be able to get stimulation from the nose of the rabbit.
For me, I find that the ears provide me with great pinpoint clitoral stimulation. They point and press directly against my clitoris, delivering the vibrations I need to orgasm.
Though I can get these vibrations if I turn the rabbit upside down (so that the shaft isn't inserted), I still enjoy inserting the shaft. I don't like turning the shaft on, but I like it inside of me. The shaft (especially where the beads are) is girthy, which gives me a satisfyingly full feeling. And, without the distracting rotating beads, I can use my Kegel muscles to clench the shaft. This speeds my clitoral orgasms. It feels even better if I gently thrust or twist the shaft so that my G-spot gets stimulation without my clitoris losing vibrations.
Lovehoney Dream Rabbit Review – Overall Thoughts
There are a few cons to this vibe. I find the rotating beads distracting and the rotating shaft indiscernible. If you're someone that loves texture, you may love these beads, so take this into consideration.
But, despite not being able to get the main shaft to work with my body, I still enjoy this vibrator. The clitoral vibrations redeem this rabbit for me, as they provide me with pin-point vibrations that are rumbly and strong enough to take me where I need to go. I still find the shaft useful for enhancing my clitoral orgasms, but I personally prefer keeping the shaft turned off so that I can gently thrust it or squeeze it at my leisure.
UPDATE: This product was replaced by the Dream Rabbit! To buy the Lovehoney Dream Rabbit, here are some recommended stores: 

 Lovehoney USA ($59 USD)

 Lovehoney Canada ($79 CAD)


 Lovehoney UK (£49 GBP)

 Lovehoney AU ($64 AUD)

See below for my Lovehoney Dream Rabbit Review Summary!
Lovehoney Dream Rabbit Review Summary
Overall thoughts - 7.7
7.7
$59
PROS
Tidy design
Silicone construction
Waterproof
Nice vibrations
Relatively inexpensive
Lots of speeds and patterns
CONS
Swirling beads won't suit everyone
Shop Now
Last Updated on February 27, 2022 by Miss Ruby