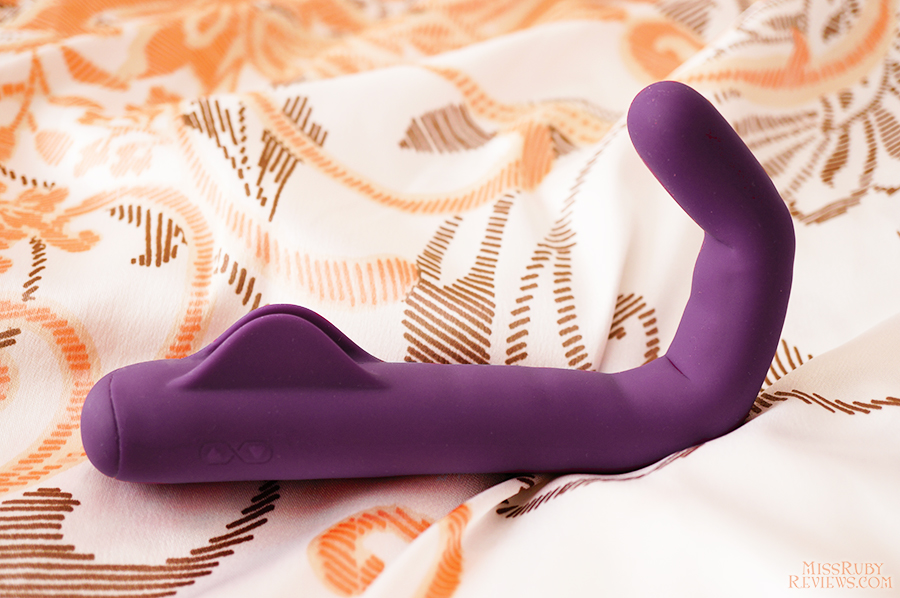 The MysteryVibe Crescendo has been buzzed about for a while. Bloggers first started hearing about this innovative new product in early 2015, and I myself wrote about it two years ago. Since then, MysteryVibe has released the Crescendo in turquoise and purple, and one has finally found its way to my doorstep!
Physical Details | Packaging | Material and Care | My Experience | Overall
Physical Details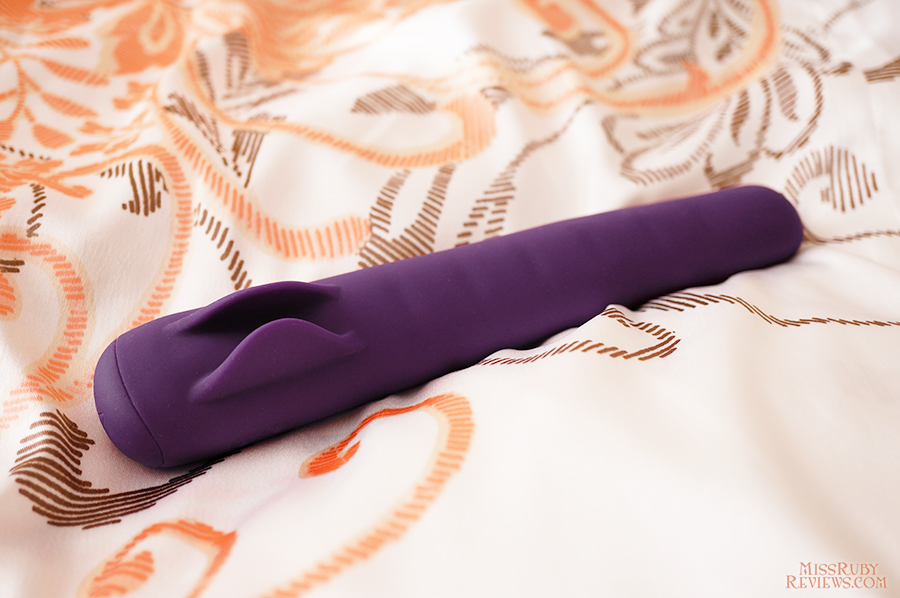 The MysteryVibe Crescendo has done a fabulous job in setting itself apart from conventional vibrators.
1. Unlike most vibrators, the Crescendo bends. Yup. The Crescendo is lined with joints along the internal frame. Asides from the area with the little "fins" sticking out, you can bend this toy whichever way you want (just not side-to-side). Make it a C-shape to imitate the We-Vibe, curve only the tip to give yourself target G-spot stimulation, or wrap it into an O-shape for penile stimulation. It's an odd feeling, though, and gives me a strange feeling I'm trying to bend someone's bones. Still, it's neat: it's the first time I've experienced this. The value here is that it acknowledges that different people need different angles – female anatomy isn't all the same.
2.  Six Motors. I'm used to vibrators having one or two internal motors. Six motors, on the other hand, is unprecedented for me. The engines run down the length of the toy.
3. Customizable Patterns. The whole point of so many motors is to give you freedom and choice. Though the toy does come with multiple pre-set pattern variations, you can also use the MysteryVibe App  (iOS / Android) to create your own vibration patterns.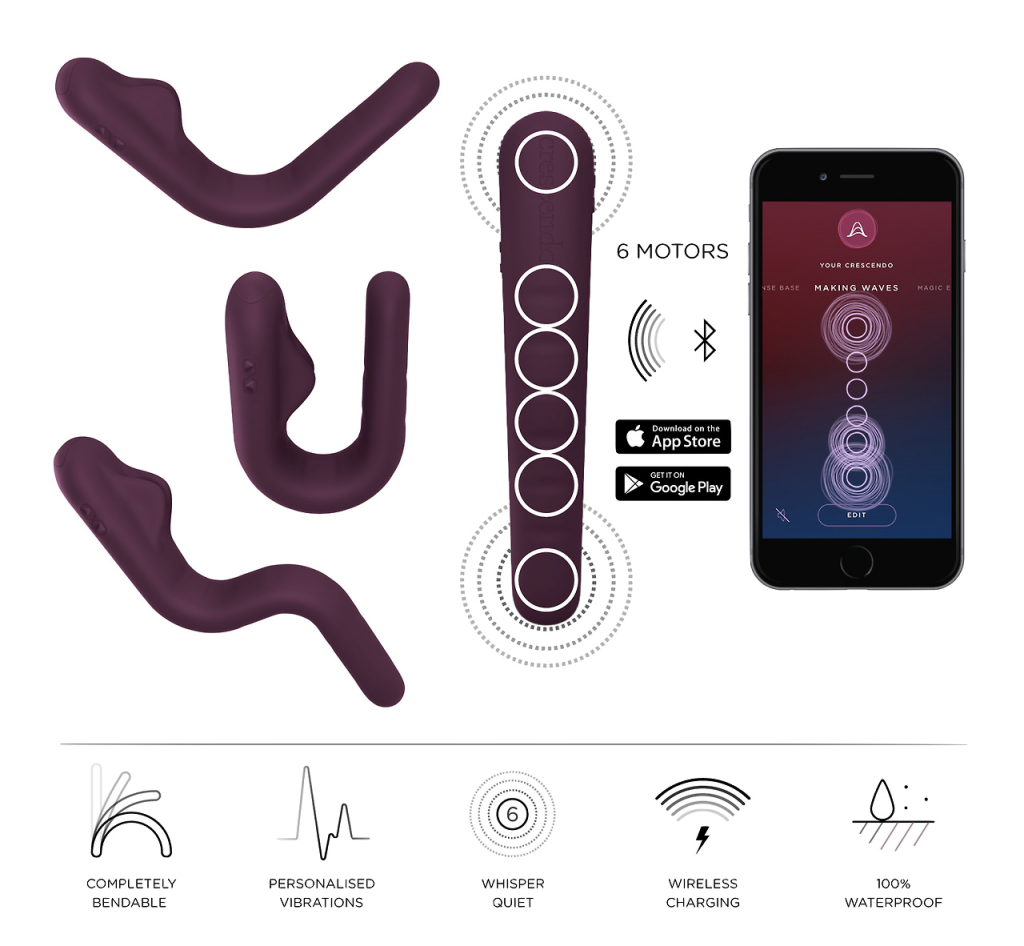 Vibration Strength
Six motors has got to mean TONS of power, right?
Unfortunately, no. When I first charged up the MysteryVibe Crescendo and hiked it up to full strength, I was perplexed to discover that the vibrations are moderately weak (4.5/10). They're also shallow and buzzy and, because the motors run all the way down the body, there's no buzz-free area for my hand to grip.
Noise
Fortunately, the MysteryVibe Crescendo is quiet. Even its highest speed is hushed (8.5/10 quiet), and I think you're safe from anyone overhearing it through a closed door and walls.
How to use the MysteryVibe Crescendo
To turn on, press any button for two seconds. The Crescendo will turn on.  The small (+ ) / (–) buttons on the side allow you to increase and decrease the strength. Use the ▲ / ▼ buttons to cycle through the pre-set vibrations patterns. Turn it off by holding both ▲ / ▼ buttons for two seconds.
You can also lock the vibration pattern/strength by pressing and holding the (+ ) / (–)  buttons for three seconds. This is useful if you've found the ideal setting and don't wish to accidentally lose it or turn it off.
To recharge your Crescendo, plug the charging disk into your computer or a USB wall adaptor using the included USB cord. Place the thicker end of the Crescendo on the dist, fins up, so that the (–) button lines up with the little ▼ symbol on the disk. A charging light will come on, blinking green, and will become solid when fully charged. I found the charging port to be a bit finicky. The end that comes into contact with the charging disc isn't weighted or magnetic, so there's no "snapping" or secure feeling when you place it in the correct position. You kind of just have to watch for the green light to make sure it's on and blinking. It was easy to knock off its charging area, so I had to make sure NOTHING could get to it and accidentally knock it off the correct space (not an easy task, when you have a couple of cats around).
Packaging
For a $179 USD toy, I expect some darn fine packaging. The MysteryVibe Crescendo doesn't disappoint in this regard. My photos don't do it justice, but it's probably some of the prettiest packaging I've seen, which is saying a lot. The outer box is sturdy, black, and sleek, with gold text. Once you open the box, the instruction manual is in a pouch on the top of the lid, and the Crescendo lies within another chamber.
All in all, you receive the Crescendo, an instruction manual, a quick guide, the inductive charging port, a USB cord, and a fantastic storage pouch that accommodates all of this.
Material and Care
Although the Crescendo was originally designed to be made of TPE, MysteryVibe listened to the community's wish for bodysafe silicone and adapted their design to only offer this toy in silicone. It's now covered in lovely silky matte silicone.
Because it's waterproof, the Crescendo can be cleaned by rinsing it with warm, soapy water.  Be sure to use high-quality water-based lubricant with this product.
My Experience with the MysteryVibe Crescendo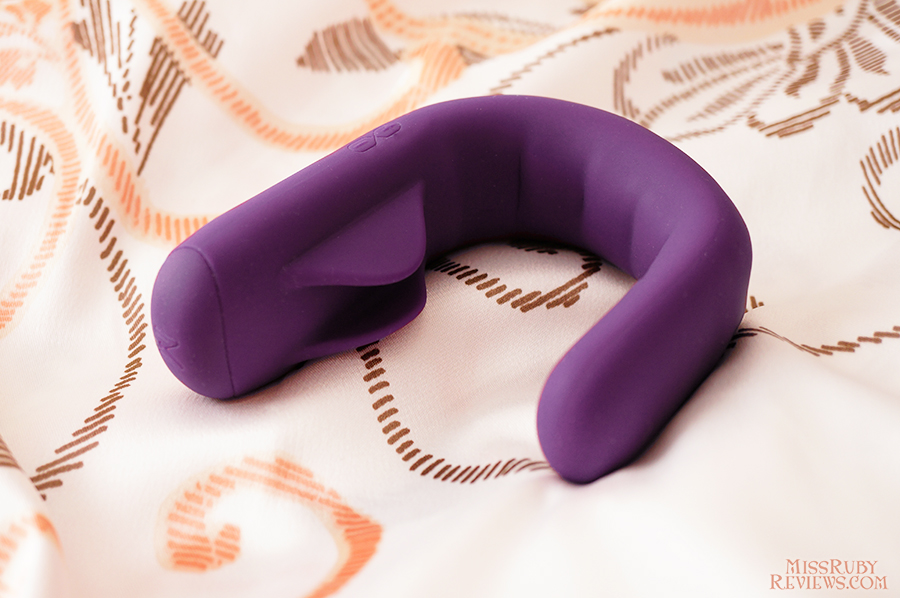 I was really excited to try this toy and went on to experiment with a variety of shapes and stimulation types.
Only external: 
I'm a very clitcentric person, so I love it when I can double up internal vibes as an external one. The Crescendo is designed to be adaptable, shaping itself to mimic most types of toys, so external stimulation shouldn't be an issue. I first tried to use the Crescendo as an external vibrator (no internal stimulation). The most natural position for this is to hold it by the wider base and press the narrow tip against the clitoris.  Immediately, I ran into the issue of the rest of the body bending away, making it difficult to hold it against me with any firmness.
Internal and external:
I also tried using this as a C-shape vibrator (think We-Vibe), with the narrow part inside of me. To my delight, I could find a shape that worked for my body, with a motor pressed against both my G-spot and my clitoris. This isn't a thrusting position, but more of a hold-and-wait-for-orgasm position, which lends itself well to this toy.  It's so hard to find a dual-vibe stimulator, such as a rabbit, to suit your body, and I love that the Crescendo lived up to its promises in this regard.
Unfortunately, the weakness of the motors didn't allow me to get sufficient pleasure. I don't need strong internal vibrations, but I do need strong clitoral vibrations. Instead, I found them to be weak and buzzy, which only made me frustrated. I wasn't able to get a clitoral orgasm from this toy.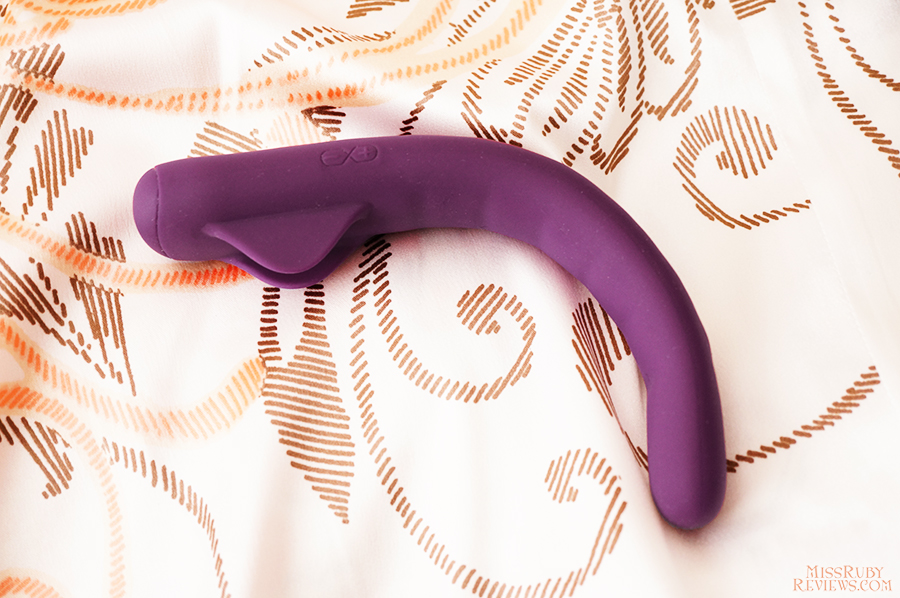 Internal: 
Okay. G-spot stimulation. Again, I came in with high hopes. I curved the tip of the toy maximize G-spot stimulation and I definitely had some success! Being able to so shape it so that I get the perfect angle is novel. The big snag I ran into, however, is that I couldn't thrust firmly or rapidly against my G-spot. Doing so would either cause the handle to bend, forcing me to adapt/re-straighten. Over a series of thrusts, I also noticed that the tip of the Crescendo slowly started to straighten out; apparently my G-spot is made of iron because rapid thrusts like that started to bend the Crescendo away from my desired shape. It would be amazing if the Crescendo could somehow lock into the position you form it to (I'll admit, this sounds like an impossible task for a designer).
Granted, I generally tend to require very firm and rapid thrusts, perhaps more so than average.  I can imagine this bending issue NOT being an issue for users who don't need quite the same thrusting power as I do.
App:
One thing I did truly enjoy was the app. I've seen a few bad sex toy apps in my day, but this one was super easy to set up. My phone found my Crescendo immediately and quickly began updating the Crescendo's firmware via BlueTooth. After that, I was able to really go wild with customization. Each motor can be individually programmed. You can create your own patterns or download several already-made patterns.
Overall
I really loved the idea of this toy but it, unfortunately, didn't translate well to actual pleasure for me. To improve, MysteryVibe must implement stronger, rumblier vibrations. This is crucial! Despite all of its innovations, the MysteryVibe comes short of providing users which what any vibrator should: delivering solid vibrations.
I also wish that the shape had a way to lock so that I didn't accidentally bend it a way I didn't want it to be during play.
Still, I have to commend MysteryVibe for its app and its stunning packaging. I'm excited to see their future products, but unfortunately can't recommend the MysteryVibe when there are so many stronger vibrators on the market. If you want that C-shape stimulation, try the We-Vibe Sync; for fantastic clitoral stimulation, try the Tango; and for an intense G-spot shape, try something like the  Comet.
If you're still interested in purchasing the MysteryVibe Crescendo, head on over to LUVOQA.