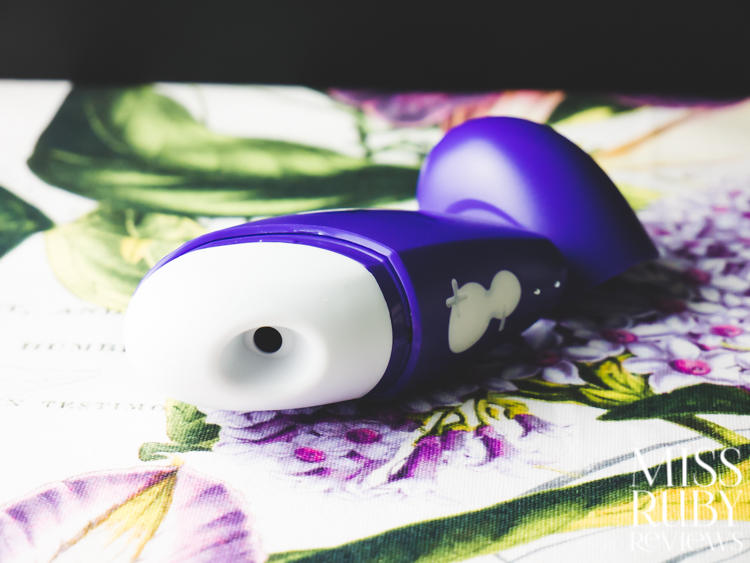 Want a touchless pressure wave toy but don't want to spend a fortune? Here's an affordable budget option with impressive features. Read on for my ROMP Free review!

Design | Accessibility | How to Use | Packaging | Material and Care | My Experience | Overall
Design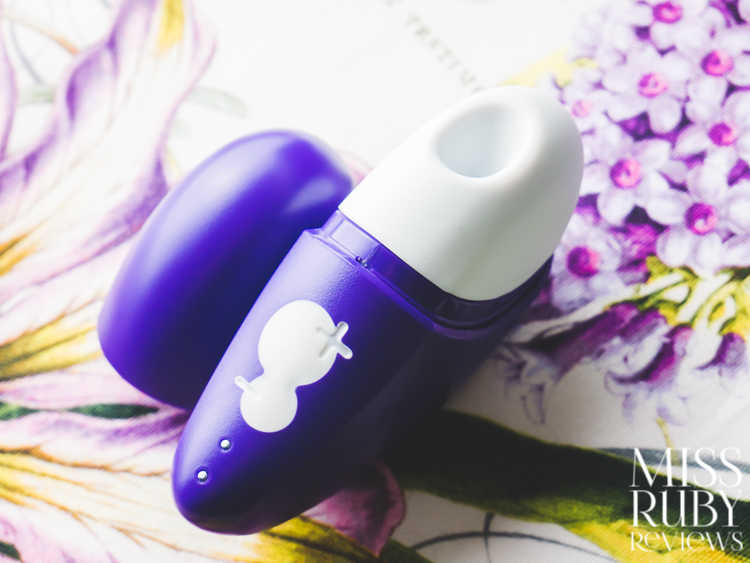 The ROMP Free is a new budget-friendly pressure wave stimulator.
Pressure wave sex toys (also referred to as pleasure air or suction sex toys) provide touchless clitoral stimulation. Essentially, it feels like your clitoris is being sucked by air. Pressure wave sex toys are basically gentle, miniature vacuums for your clitoris and the resulting orgasms are quick, effortless, repeatable, and STRONG.
Pressure wave sex toys, however, tend to be pricey. Womanizer toys, for example, go for $80-$220 USD. The incredible We-Vibe Melt (review here) is $130+. There aren't many great budget options, so I was thrilled to see ROMP come out with this one.
As far as pressure wave sex toys go, the ROMP Free is on the small side to make it travel-friendly. It's compact (only about 4.5 inches long) and fits easily in the palm of your hand. The body's shape kind of reminds me of a shark tooth or dagger; the head area is rounded and large, but the handle narrows into a fine point.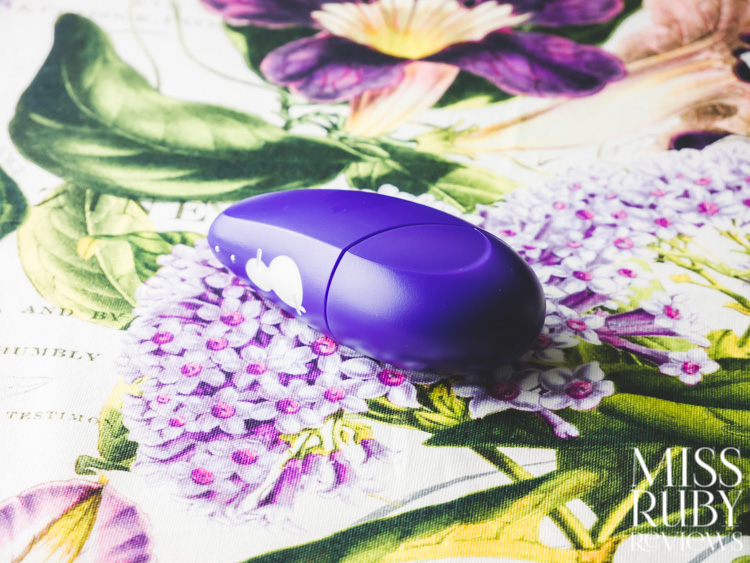 Design-wise, one of the big selling points here is that the ROMP Free comes with a travel cap, which clips securely into place for peace of mind.
Travel caps are great but surprisingly rare. When you're about to try to place your clitoris over a deep, black, mystery hole, it's nice to know that the hole has been totally sealed shut from everything. The only other pressure wave toy I've tried that has a travel cap is the Womanizer Liberty (review here). It was great then, and I love seeing it on the ROMP Free.
The ROMP Free's body comes in one colour: a dark purple. Once you lift the cap, however, you reveal a white, rounded silicone stimulation head. The silicone is very hard, not squishy.
ROMP keeps things simple and streamlined with this toy. There aren't many frills. "ROMP" is splashed across one side of the handle. The only other items to note are a + button, a — button, and two metal pins for the charger.
The ROMP Free is waterproof, USB rechargeable, and comes with 10 steady intensity levels.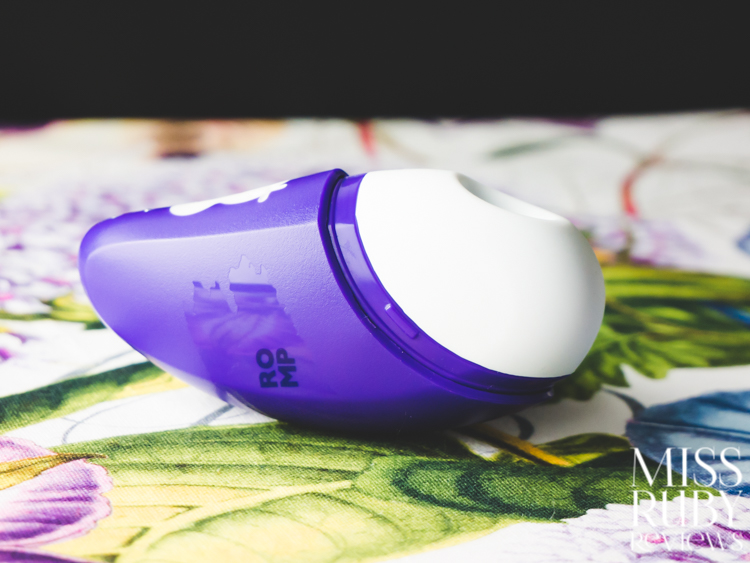 About ROMP
ROMP is owned by the WOW Tech Group (the creators of the famous Womanizer and We-Vibe brands). ROMP appeared on the scene this year with a line of colourful, affordable bodysafe products. In addition to the ROMP Free, there's also:
All of these are priced at shockingly low prices — between $24-$49 USD, which is a rarity for bodysafe, silicone sex toys. Nearly all of these are rechargeable and waterproof too.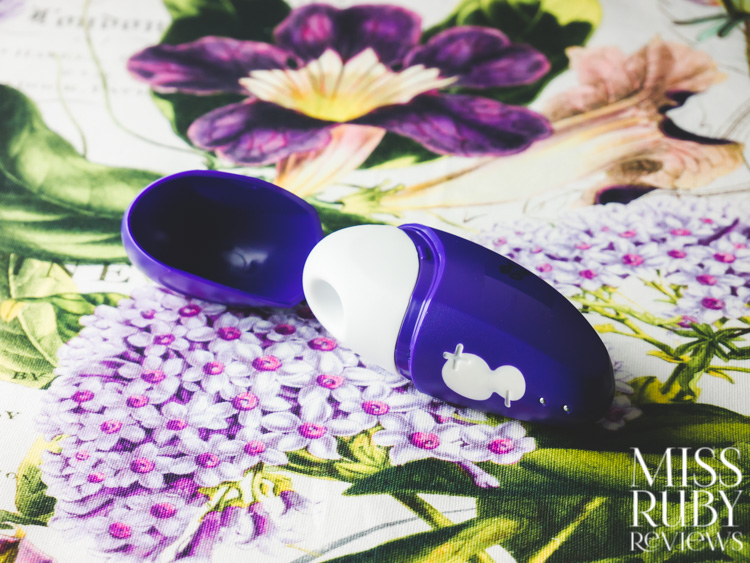 Accessibility
This section is to help folks determine if they might have any issues using/accessing this toy.
Size: The ROMP Free is a small pressure wave clitoral stimulator. By my measurements, it's 11.4 cm long (total) by 5.4 cm wide. The head's opening is 1.9 cm long and 1.3 cm wide. The lip of the opening is around 0.8 cm wide and very firm.
Weight: It's a light toy (only approx. 80 grams).
Buttons: The 2 control buttons are located on the handle. They sit flush with the surface, but they're a draggier texture and next to them are (+) and (–) impressions that you can feel with your fingertips. The (+) button is about 1.5 cm round, the (–) button is 1.0 cm wide, with no gap between them. The (–) button takes quite a bit of pressure to press down (the + button is easier) and both make a quiet 'click' noise.
Handle buzz: Because this uses pressure wave technology (not vibration) there are no vibrations in the handle.
Other notes (travel cap): The travel cap will be much easier to put on and take off with two hands.
Other notes (charging): If you have visual difficulties, you may have trouble finding the tiny charging port. It's hard to feel with your hands — it's two tiny metal pins (fairly flush with the surface) underneath the button area, close to the tip of the handle. You'll need to use the rounded end of the charging cable (which is magnetic) and attach it to those pins. Even when they're attached, it's extremely finicky to get a correct connection (and you can only tell when you do with a flashing white light), so if you have visual difficulties it will be very hard to know if it's charging.
Price: At $39.99 USD, this is inexpensive compared to other pressure wave clitoral stimulators with similar features.
How to Use the ROMP Free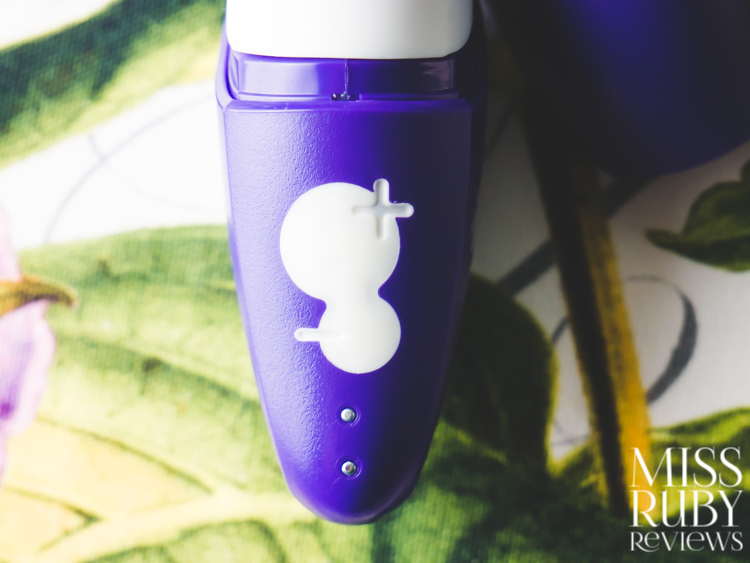 Hold the + button for 2 seconds to turn on the ROMP Free.
Apply this to your clitoris. You may need to part your lips because you want your clitoris to fit right into the hollow opening of the ROMP Free's mouth. The stronger the seal, the better (you want it air-tight).
Keep tapping the + button to cycle through the 10 intensity levels.
Hold the — button to turn it off.
Packaging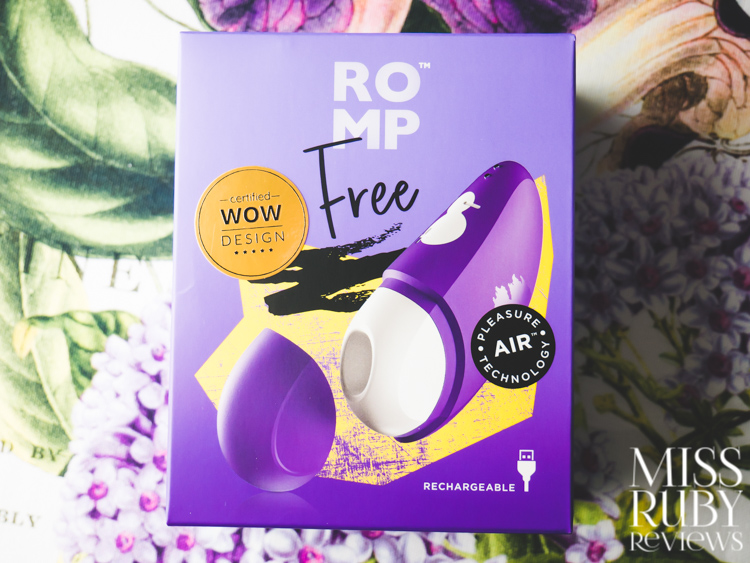 The ROMP Free comes in colourful purple and yellow packaging. Inside the box, you receive the Free, a USB charging cable, and an instructions manual (which opens up on the other side to a "pleasure for the people" print-out).
The Free doesn't come with a dedicated storage pouch because it comes with the travel cap. But if you'd like to have one to store the Free with its cord and instructions (not necessary, but always nice), you can browse for some here (a small one like this would do).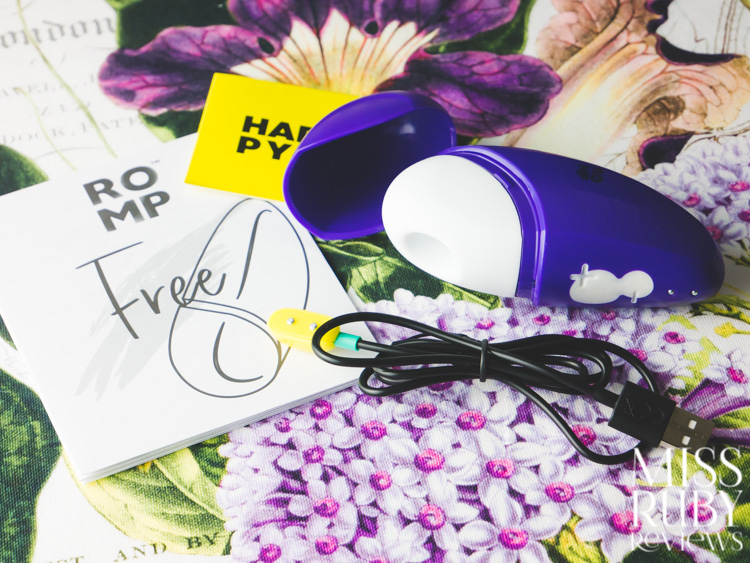 Material and Care
The ROMP Free is made from silicone (the white head) and ABS plastic (the purple body), making it bodysafe. ROMP says there's also TPE involved, but I'm not sure where. Maybe the white buttons?
The ROMP Free is also fully waterproof, so you can submerge it underwater. Pressure wave suction toys like this feel great underwater, making them great bath toys.
To clean, I take off the white stimulation head and rinse all parts in warm, soapy water after each use. After rinsing, I personally find it helpful to the water get out of the pressure wave chamber by turning it on and shaking it gently. You can also add a toy cleaner. Wait for it to be dry before putting on the travel cap and storing it away.
If you'd like to use lubricant with this toy, choose a good quality water-based lube like my favourite basic, paraben-free Sliquid H2O.
To recharge the ROMP Free, use the included USB charging cable; attach the magnetic end against the two little metal dots at the base. Plug that cord into your computer or a USB wall adapter.
I have to say, the magnetic charger is EXTREMELY finicky. Even when it's attached to the Free, you have to delicately wiggle it until the connection is secure; you can tell because a white LED light on the buttons will start flashing. I got super irritated trying to get a secure, stable connection.
My Experience with the ROMP Free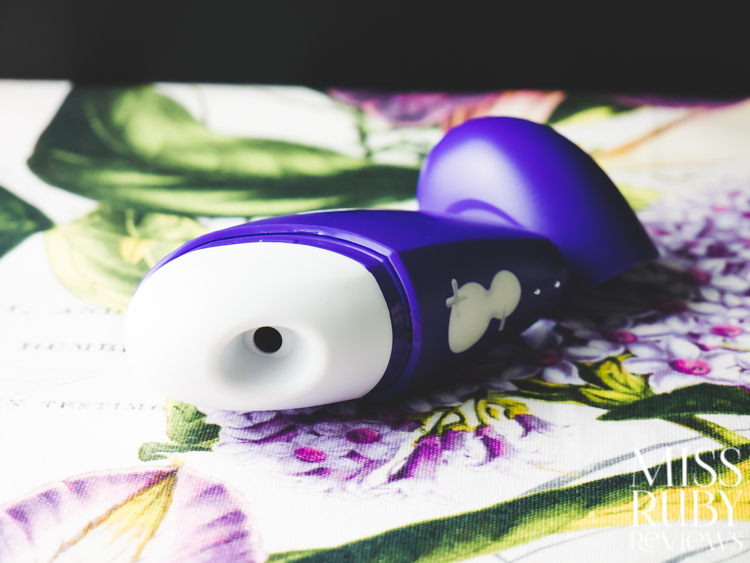 Pressure wave sex toys are relatively new in the industry. They only showed up a few years ago (notably first by Womanizer) but now they're EVERYWHERE. It's such an effective and pleasurable technology, and consumers can't get enough of it.
I'm also a big fan of them. The ROMP Free is the 20th clitoral pressure wave sex toy I've tried. That's TWENTY (even I'm shocked).
Because I've tried so many, it's more useful for me to tell you how the ROMP Free measures up to other similar pressure wave toys. And the closest thing to it is the Womanizer Liberty (review here), another small, travel-friendly pressure wave sex toy.
ROMP Free versus Womanizer Liberty
Both are equally travel-friendly.
The ROMP Free is just as travel-friendly as the Womanizer Liberty. They're a similar size and weight, and both come with travel caps.
It'd be so easy to travel with this in your luggage or purse. With its cap on, the ROMP Free also looks so discreet; no one is going to guess this is a sex toy.
The ROMP Free is also really quiet (quieter than the Liberty)
The ROMP Free costs WAY less.
Perhaps the most obvious difference is the price.
The ROMP Free costs a remarkable $39.99 USD. I'm stunned it's so inexpensive, especially considering this technology can often put you back around $180 USD.
The Womanizer Liberty, on the other hand, costs $99 USD.
You can get 15% off either of these when you shop when you use the above links with coupon code MISSRUBY, but even so, the ROMP Free is less than half the cost of the Womanizer Liberty. This will make the ROMP Free a lot more tempting, especially for people who haven't tried this technology before.
The ROMP Free isn't as pretty.
The ROMP Free has a fine, simple design. It's pretty cute, but it only comes in deep purple. Purple is the bane of my sex blogging existence, and I wish ROMP could have gone with a more unique tone.
For my aesthetics,Womanizer Liberty is truly gorgeous; a shiny, pastel body, a silver band around the head, and overall a gentler, sweeter appearance. It also comes in three pretty colours: Powder Blue, Pearl White, and Pink Rose.
So, while this is super subjective, I think the Womanizer Liberty is just more pretty! I don't know if the appearance of sex toys impacts your experience, but I'm so fickle that mine sometimes does.
The ROMP Free isn't as intense.
The ROMP Free has ten intensity levels (versus the Womanizer Liberty's six).
In all ranges (whether lower, medium or top levels), the ROMP Free's suction is softer than the Womanizer Liberty's. It's about half as strong at the top level.
It's not just intensity though — it's also the texture of the suction. The Womanizer Liberty feels more thuddy, rumbly… like it's serious and means business.
The ROMP Free must use a cheaper motor design; its suction doesn't feel nearly as effective.
The ROMP Free isn't as comfortable.
For some reason, ROMP made the white stimulation head perfectly hard. That is some fiercely stubborn silicone — it doesn't want to compress no matter how hard I dig my fingers into it.
The Womanizer Liberty's stimulation head is somewhat firm but totally bendable; it's not rock hard.
The problem with the ROMP Free's hard stimulation head is that, when you're trying to get an air-tight seal around your clitoris, you naturally press it hard against your body. The clitoris and surrounding tissue are sensitive (more so when air suction is encouraging blood flow), and it doesn't really like rock hard ridges.
For that reason, when I'm testing the ROMP Free, I'm finding myself just craving for a bit more cushion.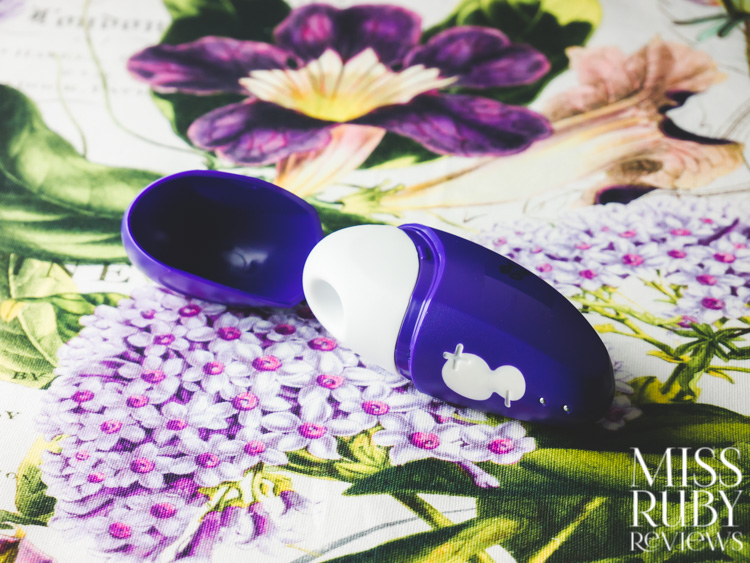 Does the ROMP Free give good orgasms?
Well, yes and no.
My clitoris (and, I think, many people's) can't resist pressure wave technology. Orgasms are going to happen, no matter what it seems.
Simply by virtue of the ROMP Free using pressure wave technology, I'm still able to easily orgasm.
But it's NOT as easy or as intense as when I use higher-end models, like the Womanizer Liberty. The Womanizer Liberty simply has stronger suction and a cushier head, which gives more pleasure.
ROMP Free Review – Overall Thoughts
The ROMP Free is a budget alternative for those looking for pressure wave sex toys. It's travel friendly, waterproof, rechargeable, and bodysafe — all for such a low price.
When I compare it to the pricey travel-friendly Womanizer Liberty, however, I find it wanting.  If money was no object, I'd recommend the Womanizer Liberty over the ROMP Free. It's worth the upgrade: it's stronger, more thuddy, more comfortable and more pretty.
But most people live in the real world. If you're on a budget, or you're looking for a way to try out your first pressure wave toy without breaking the bank, should you spend the $39 and get the ROMP Free? Yep — for that price, it's still a decent sex toy and one I don't mind recommending.
You can pick up the ROMP Free at Betty's Toy Box for $39 USD but use coupon code RUBY for 15% off!
Why do I like Betty's Toy Box? They ship discreetly to the continental US for free on all orders over $49, plus you can get 15% off your whole purchase with coupon code RUBY. 


See below for my ROMP Free review summary.
ROMP Free Review Summary
Overall thoughts - 7
7
$39
PROS
Decent budget option for pressure wave stimulation
Waterproof
Rechargeable
Bodysafe
Quiet
CONS
Not as strong as luxury models
Finicky magnetic charging cable
Only one colour available
Shop Now