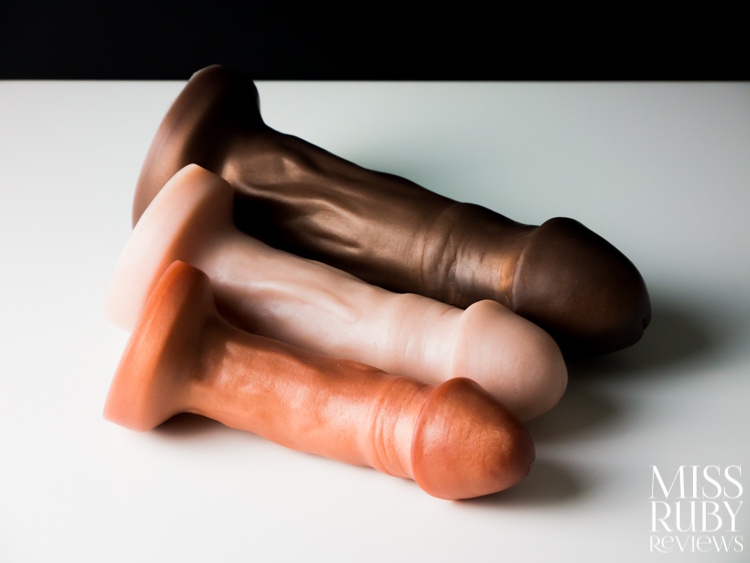 Beautiful new creations from one of my favourite indie dildocrafters. Read on for my Uberrime Maxime, Optimo, and Primo review!

Design | Accessibility | Color | How to Use | Packaging | Material & Care | Experience | Overall
Design
The Uberrime Maxime, Optimo, and Primo are three eye-catching realistic dildos. They range between 6.25″ and 8″ tall, have a blissful dual-density structure, and offer buyers a gorgeous handcrafted dildo experience.
They also come in three realistic shades:
Asides from size, at a quick glance these toys can look very much alike. They have similar features: a slightly curved shaft, veined shafts, distinct coronal ridges, and a bumpy gathered foreskin.
I eyed these with a fine-toothed comb, though, and found there are some differences between them.
The Uberrime Maxime is the largest dildo of the bunch. At 8″ overall length (7.5″ insertable), it's a formidable beast. It sets itself apart with: a very deep and long urethral dent; an exaggerated widely flaring coronal ridge; wide, shallow veins, and a very distinct corpus callosum (the ridge that runs down the underside of the shaft).
The Uberrime Optimo is the medium-sized dildo in this range. It offers 6″ of insertable length, though, which still puts it slightly longer than the average penis. It differs from the Maxime with: a very slight/shallow urethral dent; a distinct (but not very big) corpus callosum; and very distinct frenulum and vein details.
Lastly, the Uberrime Primo is the smallest dildo in this range. Compared to the other two, it has: a milder, thinner coronal ridge; a slight urethral dent; very soft vein detailing, and a barely-there corpus callosum.
All three are dual-density. Dual-density dildos have been around for a while — most notably through mega-brands like Tantus, Vixen, and Blush. I've reviewed enough of them to know I'm ALWAYS going to prefer a dual-density realistic dildo over a single-density one. Why? Dual-density dildos have a firm inner core, surrounded by a softer layer. This makes them squishy and a lot more realistic to squeeze (with your hand or PC muscles).
Uberrime's dual-density creations are fabulous. The firm inner core only lasts the length of the shaft, so each of their heads is spongey and squishy. When you squeeze the shafts with your fist, there's a pillowy cushion before you feel the firmer rod of silicone beneath. If you're used to regular, single-density dildos, there really is no comparison. Dual-density always wins.
Accessibility
This section is to help folks determine if they might have any issues using/accessing these toys.
Size (Maxime): 8″ overall length (7.5″ insertable) x 2.19″ wide at the head. It weighs 500 grams. This is a formidable and large dildo.
Size (Optimo): 7″ overall length (6″ insertable) x 1.87″ wide at the head. It weighs 285 grams. This is a small, very accessibly sized dildo.
Size (Primo): 6.25″ overall length (5.5″ insertable) x 1.75″ at the head. It weighs 215 grams. This is the smallest dildo in this series.
Handling: Like most dildos, there's no dedicated "handle" section to hold onto. You're left holding onto the floppy flared bases, which measure 6.5cm, 7cm, and 7.75cm wide. The shafts have a lot of bend to them, which may or may not make things easier for you.
Other notes: These don't feature strong suction cups, so you can't go hands-free.
Choosing an Uberrime realistic colour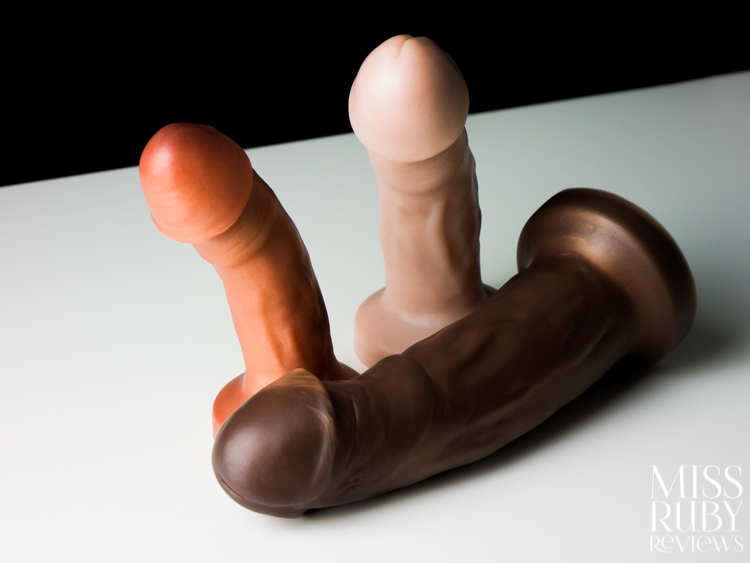 You can purchase the Maxime, Optimo, and Primo in Chocolate, Caramel, or Vanilla.
I received my Uberrime Maxime in Chocolate (or "Tone 2"). This is a rich, warm, brown. It has some shine/glitter to it, but looks pretty realistic. The head has just a hint of a darker, matter tone. Overall, this shade is mouth-watering.
My Uberrime Optimo came in Caramel (or "Tone 3"). This is a warm, coppery bronze, kind of like a glittery terra cotta. This seems to me to be the shiniest/most glittery and least realistic of the skin tones, though in very dim light might pass for a dark tan skin. The tip of the head deepens to a dark, matte flushed red, which is super sexy.
Lastly, my Primo arrived in Vanilla (or "Tone 4"). This is a cool, pale cream. This is the least glittery tone and, in my opinion, the most realistic tone that Uberrime makes. To increase realism, in some angles you can spot faint vessels and freckles, which is unique to this tone.
See the images below for these colour tones in different lighting.
Tips on using the Uberrime Maxime, Optimo, and Primo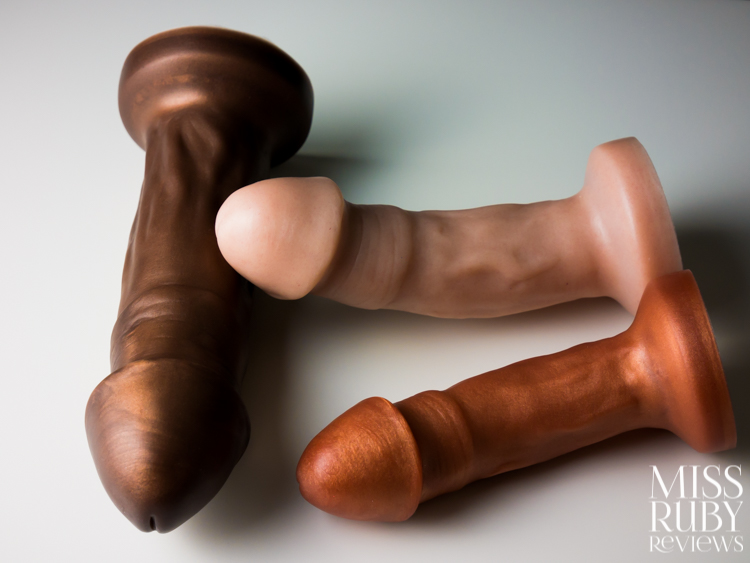 Apply water-based lubricant like some Wicked Simply Aqua or Sliquid H2O. Even if you naturally produce lubricant, silicone tends to use up a lot so having some extra on hand is always a good idea to keep things gliding.
These can be safely used vaginally or anally.
If you'd like to use these with a strap-on harness, I recommend something with a (roughly) 2.25″ O-ring for the Maxime, a 2″ O-ring for the Optimo, and a 1.75″ O-ring for the Primo. The rings should be able to squeeze over the heads and rest above the flared base. An inexpensive silicone O-ring set like this will probably have you covered.
Packaging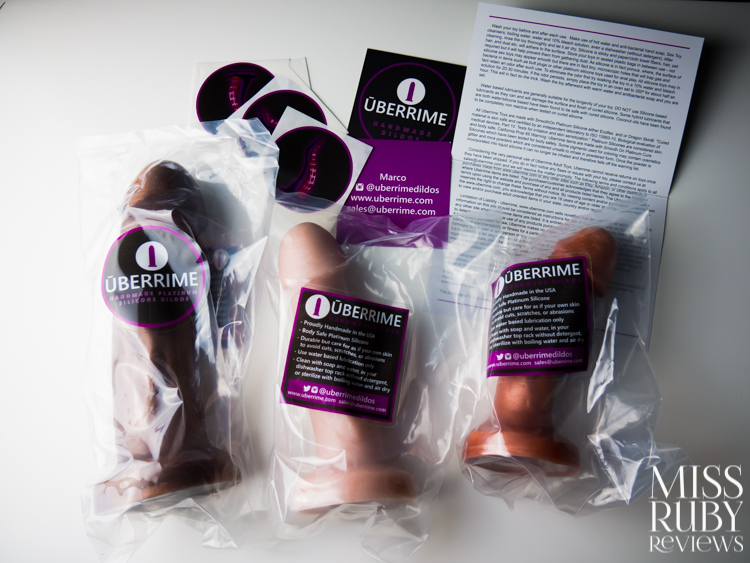 The Uberrime Maxime, Optimo, and Primo come sealed in plastic bags.
My parcel also came with a card that goes over care instructions, Uberrime's contact card, and some stickers.
Material and Care
The Uberrime Maxime, Optimo, and Primo are made with platinum silicone, making them bodysafe (nontoxic, free of phthalates, etc). This particular silicone finish is very sticky to the touch, which attracts lint/dust.
To clean, I wash my Maxime, Optimo, and Primo in warm, soapy water before and after each use. Because this is silicone, you can also use sex toy cleaners; boiling water; a water + 10% bleach solution; or even a detergent-free dishwasher.
I recommend sticking to a good-quality water-based lubricant with Uberrime toys. Something like the paraben-free Wicked Simply Aqua line or Sliquid H2O works well. Don't use a hybrid or silicone lubricant because they'll ruin the silicone finish of these toys.
My Experience with the Uberrime Primo, Optimo, and Maxime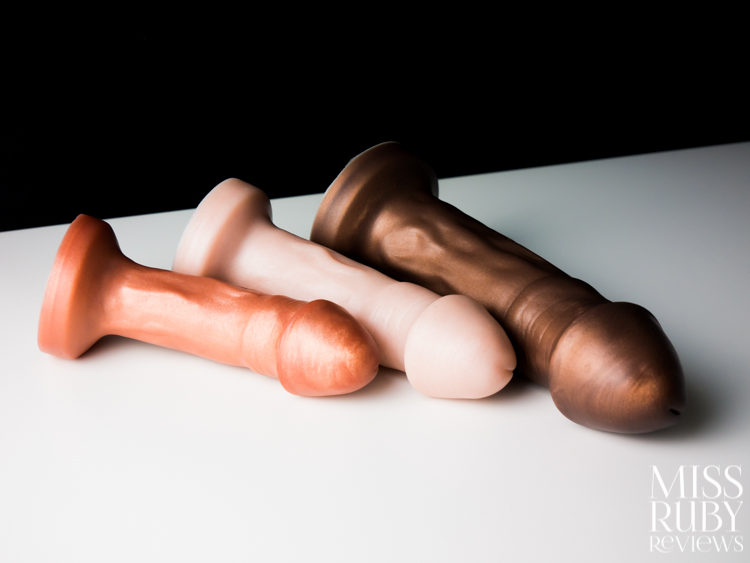 I half expected my time with the Uberrime Maxime, Optimo, and Primo to be kind of a like of Goldilocks experience — one too small, one too big, and one just right. But the truth is, they're all perfect depending on my mood.
The Uberrime Primo
This slideshow requires JavaScript.
The Uberrime Primo is ideal for when you want something quick and easy. With its 5.5″ insertable length and narrow shaft, it's not small, per se (particularly not compared to actual penises), but it's the smallest in this range.
I find that this size is perfect for quick, fast use. Its narrower body makes it easy to insert (with lube, of course), and its shorter shaft means you can thrust rapidly without really thinking about being careful about how deep you're going.
It's very much a slap-bang dildo, and sometimes that's exactly what you need. Sometimes I don't want to spend time carefully warming up for a challenge, and sometimes I don't want to feel stretched full. I just want something quick and easy and pleasurable.
And with that curved shaft, the Uberrime Primo is pleasurable. That upwards-curving shaft helps you target the G-spot easily. The coronal ridge, while thinner and smaller than the other two models, is still big enough to massage the G-spot as you thrust.
The Uberrime Primo is the one you want if:
Larger girths look intimidating.
You want something easy to insert.
You want something to rub against your G-spot.
The Uberrime Optimo
This slideshow requires JavaScript.
The Uberrime Optimo is what I suspect most people will go for. This is a good middle-of-the-road size — a solid size, but not so big that it's cumbersome to use. Compared to the Primo, it's more girthy and longer, which means you're going to get a fuller sensation. But it's not nearly as girthy as the huge Maxime, so it's still accessible and pretty easy to use.
Compared to the Primo, I find I need more lube and more time to use the Optimo. It certainly gives me a more stretched sensation, though it's not a size-queen toy by any means. The curved shaft still hits my G-spot with ease, though the coronal ridge feels more intense (compared to the Primo) because this toy is larger, and there's less room for the G-spot to hide.
The Uberrime Optimo is the one you want if:
You want a good "middle-of-the-road" size dildo.
You want a more intense G-spot experience.
You don't mind spending a bit more time warming up.
You don't need a massive girth.
The Uberrime Maxime
This slideshow requires JavaScript.
Oh boy.
The Uberrime Maxime is BIG. I've taken bigger dildos before, sure, but that was ages ago — I'm obviously out of practice because testing this was intense.
The Maxime is huge. Not just in terms of length — that girth means business. The head is blunt and massive and formidable to insert. You need TONS of lubricant and (in my case) TONS of time to warm up to this.
But once it's in, and once the body adapts to it, it feels glorious. There's so much stretch and an overwhelming feeling of fullness. It's hard work, but it's worth it. The head's ridge smushes against the G-spot during thrusts and massages it easily. With deeper thrusts, the bump at the foreskin also hits the G-spot, so it's a double-win.
The Uberrime Maxime is the one you want if:
You want something massive.
You want something massive.
You want something massive.
Do I have any complaints? I wish the base was hollowed out more thoroughly to form a solid built-in suction cup. The bases are mostly flat (with a teenie lip around the edges). While there is some natural suction when you slam them down on a smooth surface, they don't provide reliable heavy-duty suctioning. In my humble opinion, a dildo with a solid built-in suction cup is always better than one without. Imagine the Uberrime Maxime slapped on a wall… it would be magical!
Uberrime Maxime, Optimo, and Primo Review – Overall Thoughts
The Uberrime Maxime, Optimo, and Primo are three really stunning dildos. They're bodysafe, beautifully hand-sculpted, and come in a good range of sizes and colours.
With its small size, the Primo is ideal for quick and easy thrusts. The Optimo is a good middle option for those that want a bit more size. And, lastly, the Maxime is just a monstrosity (in a good way). My only wish is that they had strong suction cups!
You can pick up your own Uberrime Primo ($69), Optimo ($89), and Maxime ($130) at SheVibe! Why do I like SheVibe? They ship internationally, carry a range of body-safe products, and feature some stunning original artwork all over their site! 

See below for my Uberrime Maxime, Optimo, and Primo review breakdown.
Review summary
Overall thoughts - 9.6
9.6
$69+
PROS
Variety of sizes to choose from
Primo is short and sweet
Optimo gives a good amount of fullness
Maxime is perfect for size queens
Beautifully hand sculpted
Bodysafe silicone construction
Flared base makes these anal-safe
O-ring harness compatible for strap-on use
CONS
Wish the base was hollowed out further to create a suction cup
Shop Now