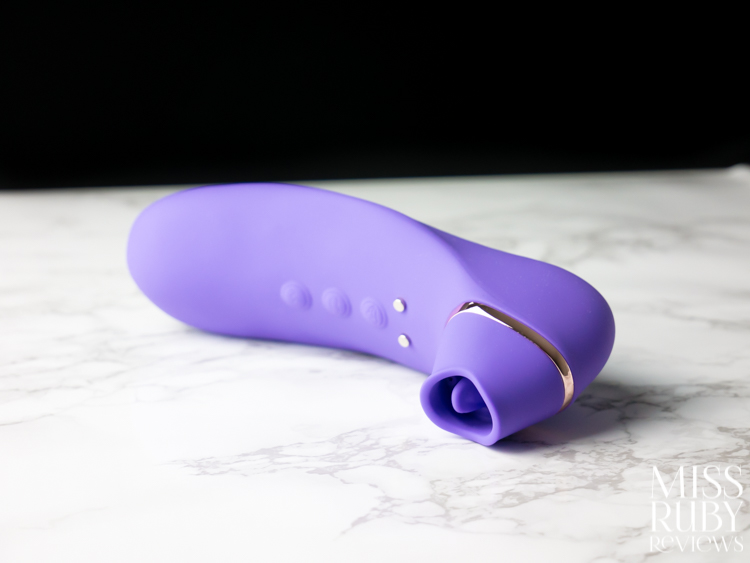 Why buy a single-function toy when you can get one with 3? Read on for my NU Sensuelle Trinitii XLR8 review!

Design | Accessibility | How to Use | Packaging | Material and Care | My Experience | Overall
Design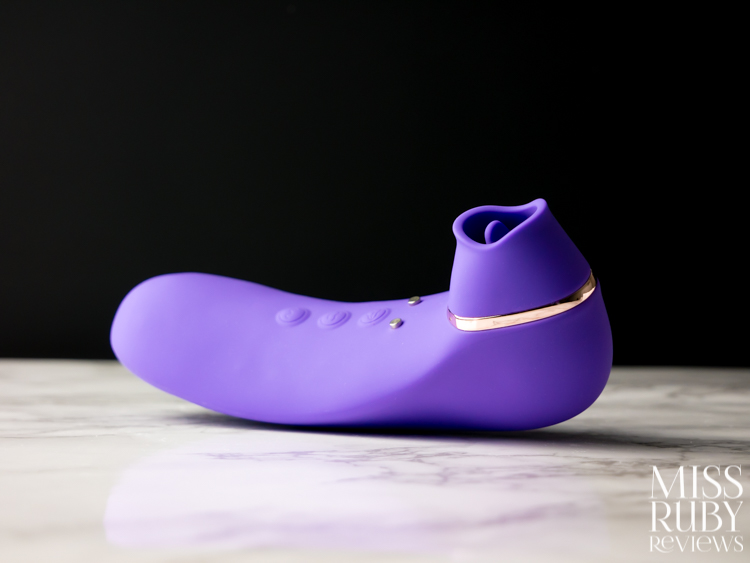 The NU Sensuelle Trinitii XLR8 is one of those toys that promises A LOT.
Vibration? Obviously.
Suction? You bet.
Tongue flickering? Why not!
All wrapped up in a bodysafe silicone construction and for only $79 USD.
$79 USD may sound like a lot, but it's not half bad for something with so many functions. For example, the Sir Richard Tongue Vibrator (also $79) can vibrate and flicker, but it doesn't have suction. And suction technology doesn't often come cheap — for example, the We-Vibe Melt, which only provides suction, is $150. So I was interested.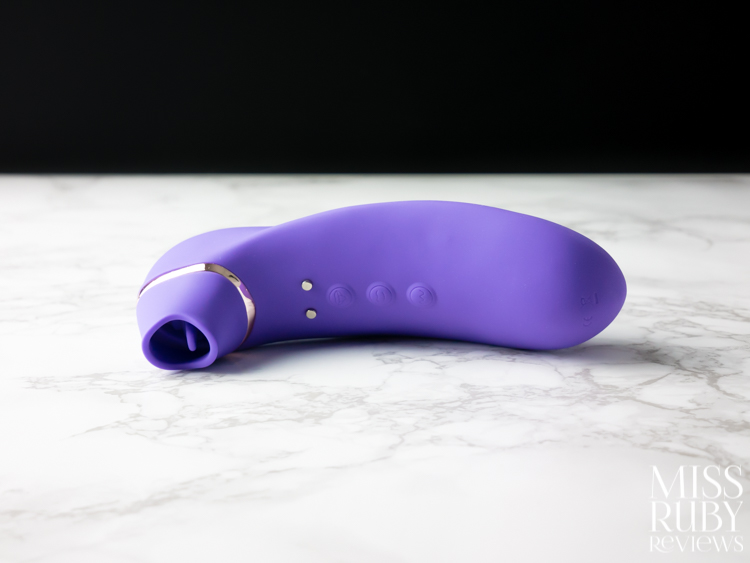 Design-wise, the NU Sensuelle Trinitii XLR8 looks a little funky, but anything with a tongue would. NU Sensuelle has done its best to make this look elegant. The body/handle is fairly streamlined, the nozzle is separated by a pretty little shiny band, and the tongue isn't too garish.
Tongue and suction stimulation is provided through the open mouth. Vibration is provided through the opposite end of the toy (the broad, flatter portion of the handle).
And this thing flaps its tongue quickly. Check out my video capture below:
And here's a close-up image of the tongue: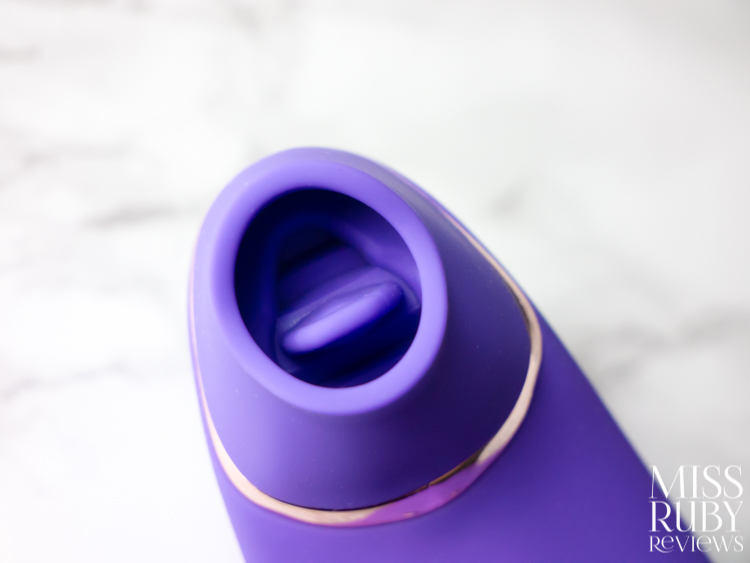 Accessibility
This section is to help folks determine if they might have any issues using/accessing this toy.
Size/Weight: The NU Sensuelle Trinitii XLR8 is a fairly small toy. By my measurements, it's about 15.25 cm long and 5.2 cm wide (at the widest part of the body). It's a lightweight toy (about 190 grams).
Buttons: There are 3 round control buttons on the body, 9mm wide and 1mm tall. The buttons are 4mm apart. The buttons press down easily and make a loud "click." The buttons are super easy to accidentally press when you don't mean to.
Handle buzz: For suction and flickering, you can't really feel anything in the handle. When you turn it around and turn on vibration mode, a fair number of vibrations transfer to the other side/handle. Your hand will buzz while holding this in vibration mode.
Other notes: For those of you with visual difficulties, the tongue button is the one closest to the nozzle, followed by the suction button and vibration button. They're marked with small engraved shapes (a mouth with tongue, some squiggle lines, and a wave shape) but they're hard to decipher with your fingertips.
Price: At $79 USD (minus a 10% discount with coupon RUBY), this is a good price with a toy with this many features (particularly for tongue-flickerers).
How to Use the NU Sensuelle Trinitii XLR8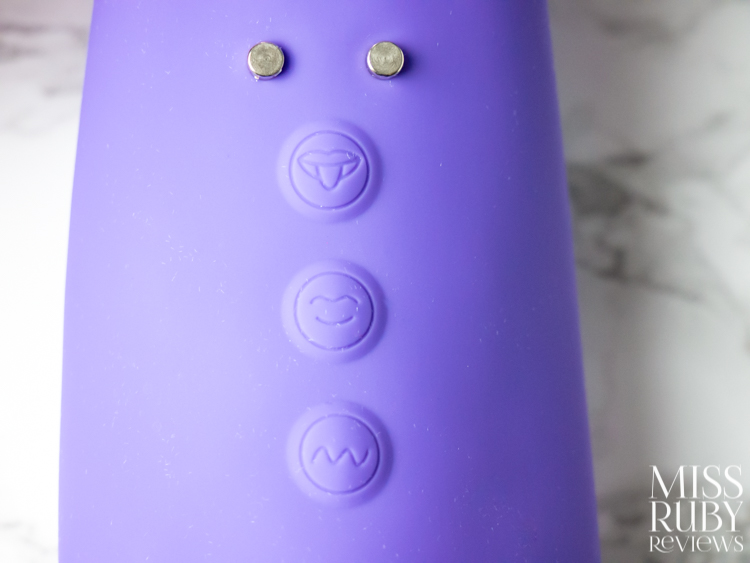 To enable the NU Sensuelle Trinitii XLR8's "Tongue Mode," tap the little tongue button. The tongue will start flickering at the slowest speed. Keep pressing the Tongue button to cycle through the 4 tongue speeds.
To turn on suction, press and hold the middle button. Continue pressing that button to cycle through the 7 suction modes (1 steady speed + 6 patterns).
Vibration mode is turned on by pressing the wavy ~ button. Keep tapping it to cycle through 7 speeds and 8 patterns.
Apply to your body. Though designed for clitoral use, you could of course use this on small sections of a penis, or nipples. Don't use this internally though.
To turn off any of these functions, press and hold the corresponding button for 2 seconds.
To turn off all functions at once, press and hold the suction button for 2 seconds.
Packaging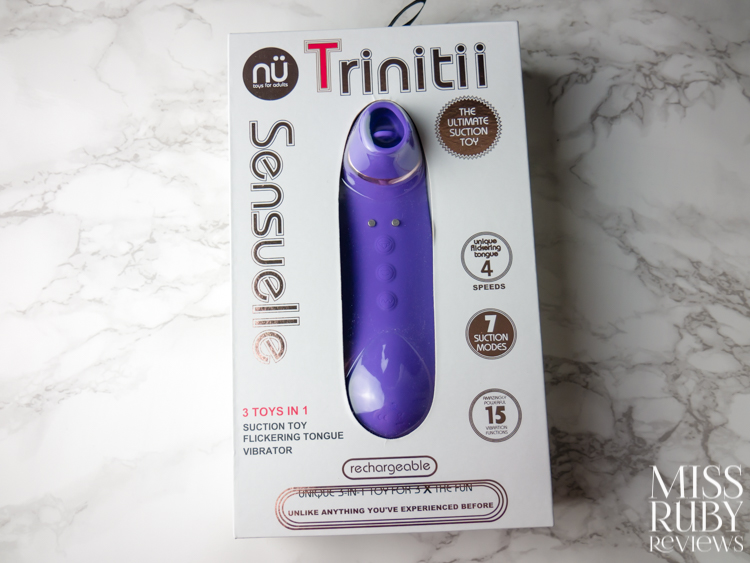 The NU Sensuelle Trinitii XLR8 comes packaged in a white box with red and gold accents. It's not discreet or particularly fancy, but it does the job.
Inside the box, you receive the NU Sensuelle Trinitii XLR8, a short Instruction Manual, a USB charging cord, and a white satin storage pouch.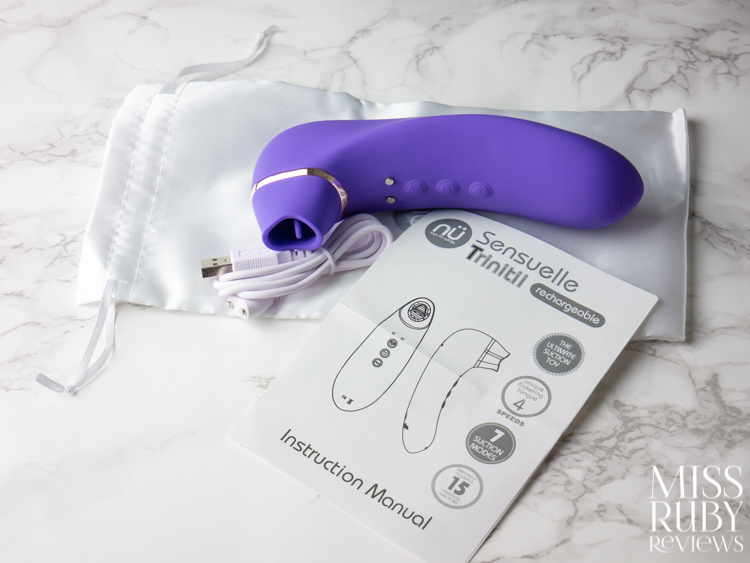 Material and Care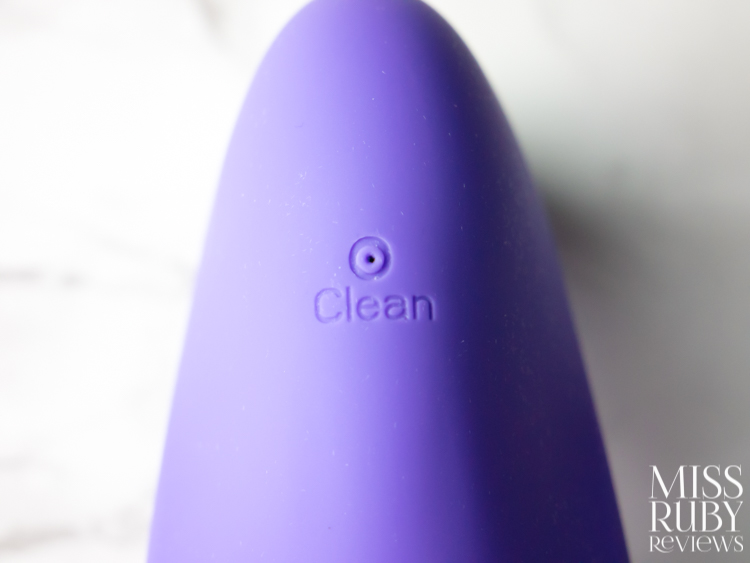 The NU Sensuelle Trinitii XLR8 is made from silicone. This makes it bodysafe. This particular silicone finish is matte and silky to the touch, and it doesn't attract dust too badly.
To clean, NU Sensuelle recommends wiping with warm soapy water. You could also add a dedicated sex toy cleaner if you like. Allow to air dry before storing it away.
NU Sensuelle's packaging says this toy is splashproof (so you can't submerge it). Take particular care to dry out the suction air vent at the back of the toy (pressing the suction button will funnel water out).
To charge the NU Sensuelle Trinitii XLR8, attach the magnetic end of the USB charging cord (included) to the two metal pins above the control buttons. Plug the other end into your computer or a USB wall adaptor. A blue light will flash when charging, and will stop flashing when fully charged.
If you'd like to use lubricant with this toy, choose a good quality water-based lube like my favourite basic Sliquid H2O or vegan Wicked Simply Aqua. Take care to not let lube dry up in (and block) the tiny air vent hole.
This comes with a 1-year warranty through the manufacturer. Visit the manufacturer's website to register your product.
My Experience with the NU Sensuelle Trinitii XLR8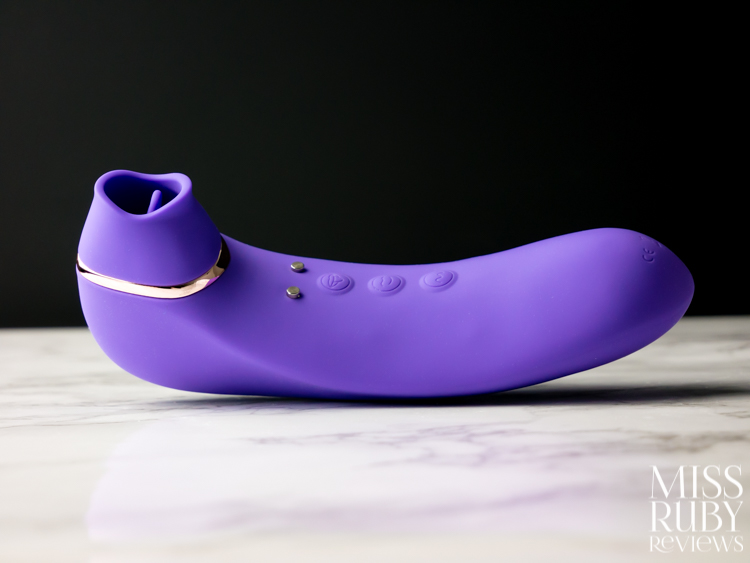 With vibration, suction, and tongue flickering, the NU Sensuelle Trinitii XLR8 offers a lot — but does it do them well?
NU Sensuelle Trinitii XLR8 review – Vibration
The NU Sensuelle Trinitii XLR8 has 7 steady vibration speeds and 8 patterns. The vibrations come from the broad, empty area of the handle. For those of you who like pin-point vibrations though, you can also get a sharp edge if you just turn the toy and use the narrow edges. In this way, the Trinitii XLR8 is pretty versatile.
Unfortunately, overall I'd say the vibrations are moderate and buzzy. They don't wow me, feel pretty surface level, and although Strength 7 is quite a bit noisier than Strength 1, it's not a great deal stronger. They could do in a pinch, but definitely don't purchase the Trinitii XLR8 just on thoughts of vibration alone.
NU Sensuelle Trinitii XLR8 review – suction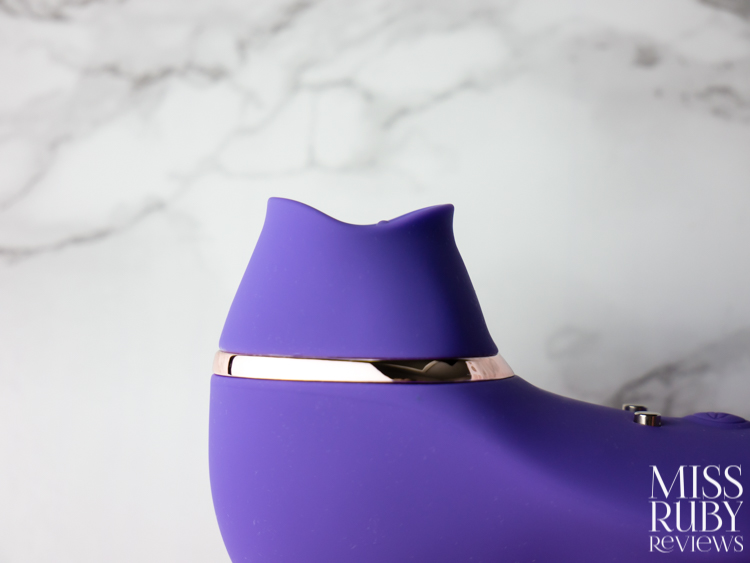 The NU Sensuelle Trinitii XLR8's suction is surprisingly intense. You have the choice of 1 steady suction strength and 6 patterns.
It's a little hard to get a suction seal with how the lips dip in (pictured in profile above), but once you get a seal it really clamps down and doesn't let go. The sensation is intense and orgasms come quickly. If you have a sensitive clitoris, you'll want to stick to one of the patterns just so your clitoris can get intermittent breaks — this thing means business.
Compared to other suction pulsation toys I've tested, this toy's lips are very thin (only 2mm thick) — some other brands offer a fluffy, cushiony tip for better comfort (see the Satisfyer Luxury High Fashion as an example). I personally don't find the overall suction as comfortable as thicker/squishier heads, but it's not a deal-breaker for me.
NU Sensuelle Trinitii XLR8 review – tongue flickering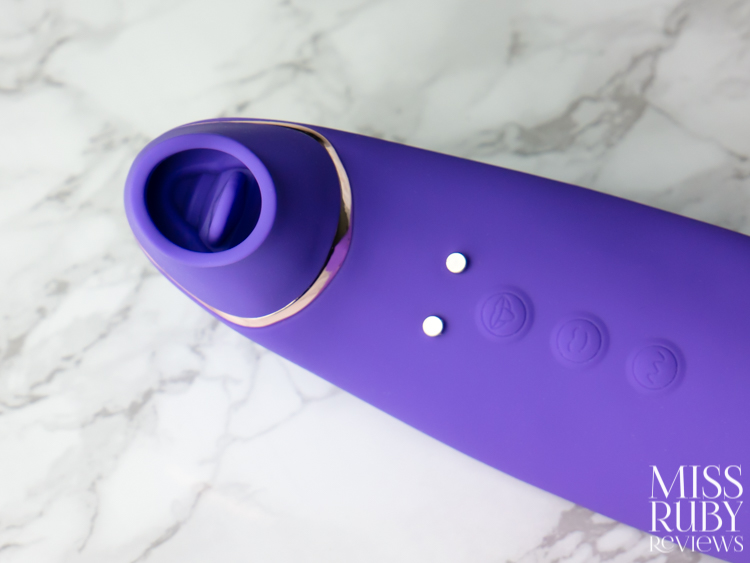 Confession time: I've never tried a flickering tongue toy before. They're around, but not everywhere, and I've never felt the urge to go out of my way and buy one.
So I approached the NU Sensuelle Trinitii XLR8's tongue mode from a rare stance: that as a novice.
Regarding its tongue movement, the overall takeaway I can give you is that it's vigorous. The tongue feels sharp and hard and it moves fast. This is not a soft, gentle, fluttery sensation — this is lively and zealous. Lots of lubrication is an absolute must, otherwise, there's just way too much friction.
Because of its small size, the NU Sensuelle Trinitii XLR8 definitely provides a pin-point tongue experience. Nothing broad here — to enjoy it, you'll have to enjoy pin-point stimulation.
I love pin-point stimulation, but did I personally enjoy this toy's tongue mode? Nope — I discovered that apparently I don't like tongue movement in toys. While it would initially feel nice at the start of each testing session, the tongue eventually felt too hard for me (weird, because I love firm pressure too). It left me craving suction or conventional vibration.
But if you know you enjoy tongue movement, particularly when it's narrow/pin-point and firm, then you're in luck.
NU Sensuelle Trinitii XLR8 Review – Overall Thoughts
The NU Sensuelle Trinitii XLR8 is a 3-in-1 toy, and I see it actually as a "sampler" sex toy. It's a way to try out vibration, suction, and tongue-flicking all at the same time in one single purchase. And with its <$80 price point, this makes it a compelling buy.
How do each individual functions stand up? The vibrations aren't amazing. The suction is intense. The tongue flickering is also intense, but not personally for me.
If you primarily wanted this as a vibrator, look elsewhere, but if you want something that gives you a taste of suction and tongue-flickering too, this is certainly one to consider.
You can pick up your own NU Sensuelle Trinitii XLR8 here! Why do I like Peepshow Toys? They ship internationally, only carry body-safe products, and you can get a 10% discount off your whole purchase with coupon code RUBY. 


See below for my NU Sensuelle Trinitii XLR8 review breakdown.
NU Sensuelle Trinitii XLR8 review summary
Overall thoughts - 7.5
7.5
$79.99
PROS
Variety of stimulation modes provided
Strong suction
Fast tongue movement
Rechargeable
Bodysafe silicone construction
1-year manufacturer's warranty
CONS
Not fully waterproof
Super easy to accidentally turn on
I didn't find the vibrations to be strong or rumbly
Shop Now