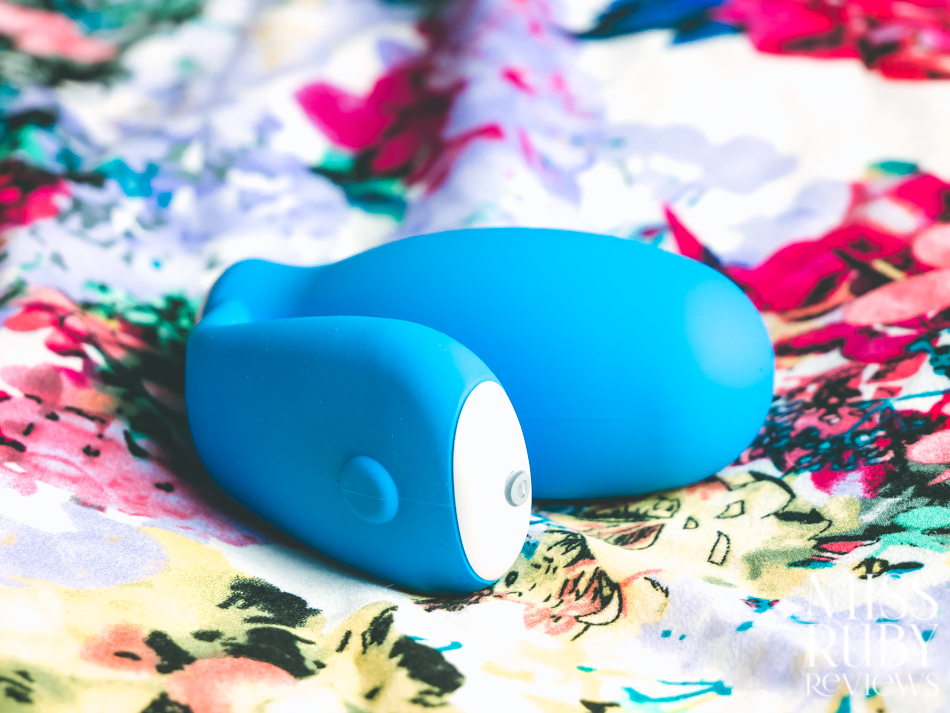 I never thought I'd play Brick Breaker with my vagina. Read on for my Minna kGoal review!
Design | 360° View | Packaging | Material and Care | My Experience | Overall
Design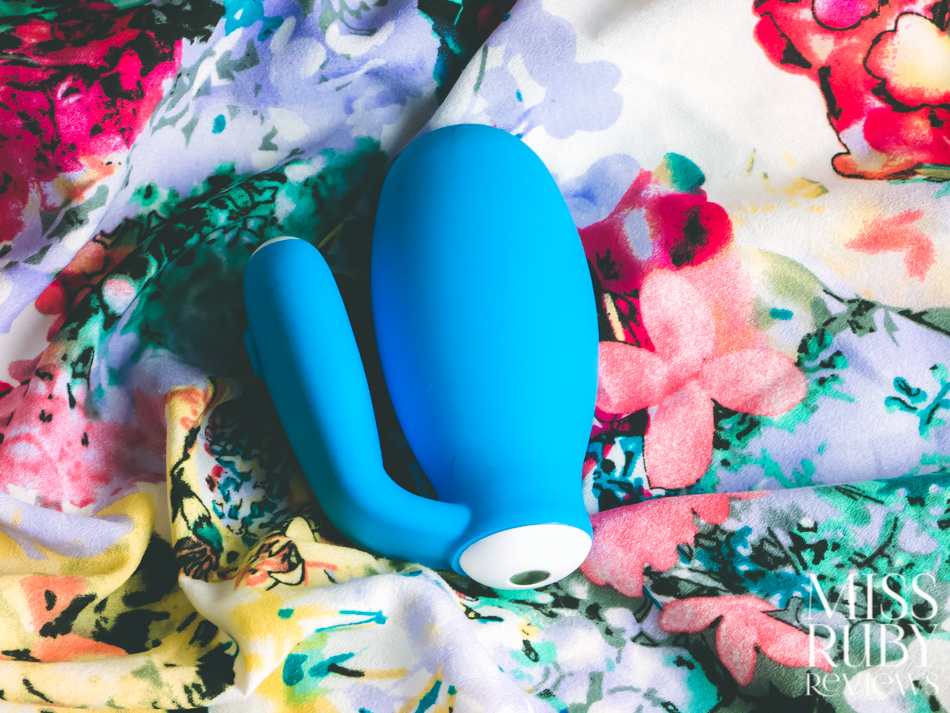 The Minna kGoal is an interactive training system for Kegel muscles (also known as PC muscles or pelvic floor muscles). It does this using tracking, biofeedback, personalized workouts, and guidance.  The keyword here is interactive (as in, two things influencing each other). Its interactivity is where the Minna kGoal makes my jaw drop to the floor. But I'll get to that later.
What are Kegel exercises?
Kegel exercises are designed to strengthen a person's pelvic floor. Some people seem to have naturally strong pelvic floors, but I'm not one of them, so I've been doing strengthening exercises for years. A stronger pelvic floor is always good. It creates stronger/easier orgasms, allows you to give birth easier, and prevents bladder leakage when coughing, jumping, etc. After pregnancy, Kegel muscles are weakened, so Kegel exercisers are important.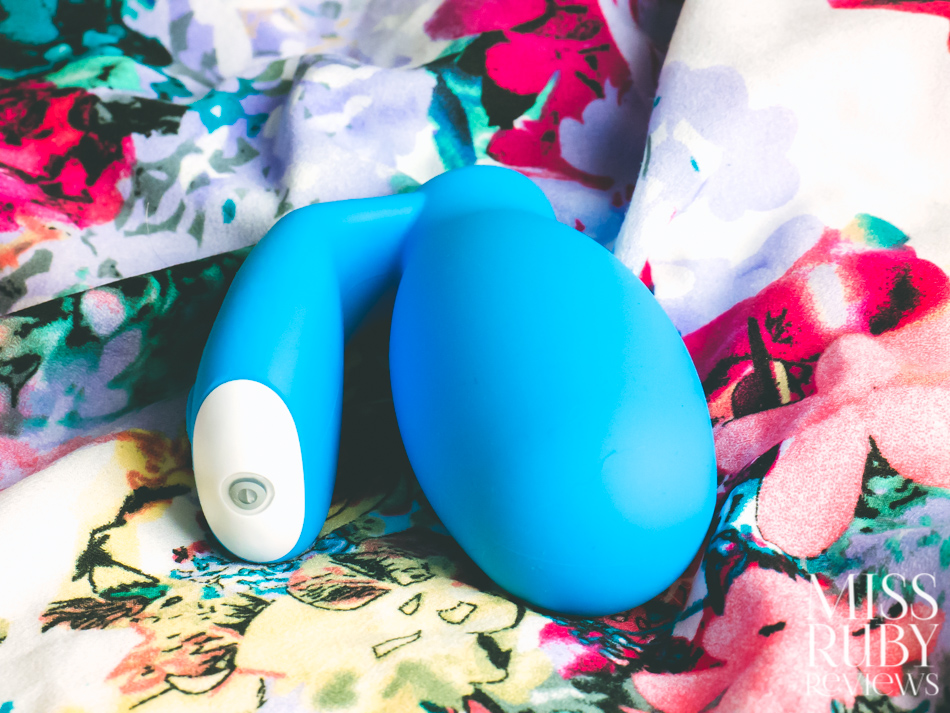 What does the Minna kGoal look like?
Physically, the Minna kGoal looks kind of wonky, unlike any other Kegel device I've come across. Kegel devices typically have one or two balls strung together in a harness, like the We-Vibe Bloom. The Minna kGoal departs from the norm in a huge way.
Instead, what we have here is a two-armed product.
Internal arm: The thicker arm goes inside the vagina. This is called the "Squeeze Pillow" arm and is filled with air. Before inserting it, you press a silver air vent at the base of the product and squeeze the arm with your fist; all the air will deflate. Once it's inside of you, you can re-inflate it so it perfectly fits your body.
External arm: The flatter arm stays outside your body, and will lie around where your clitoris is. This "Control Arm" has a button, which you can use to turn on the device.
The joint between the two arms is flexible. This isn't a rigid C-shape that's painful to position — the bendy joint helps the kGoal keeps things comfy.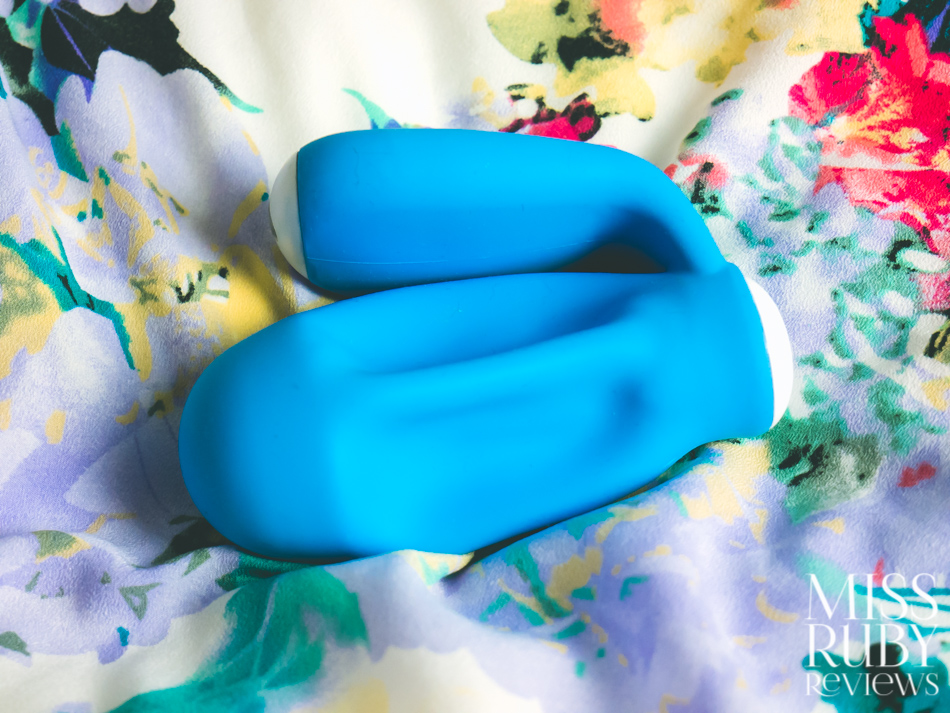 360° View
Click and hold the image above to move it around.
Packaging – Minna kGoal review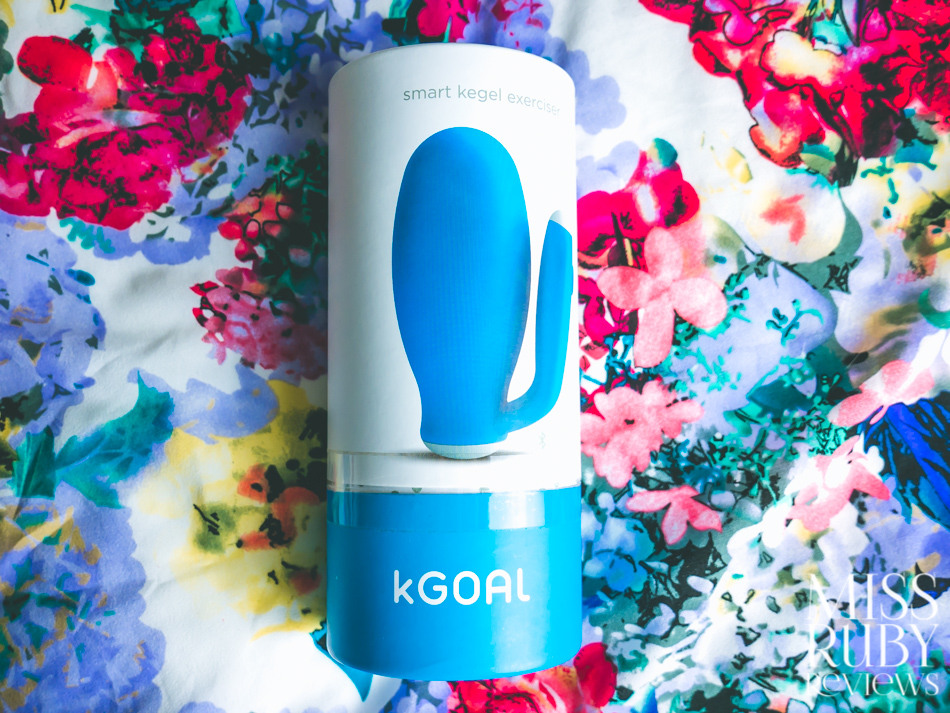 The Minna kGoal comes packaged simply in a blue and white tube. It's plain and to-the-point. The packaging isn't unnecessarily sexualized — this is just another health product, one that'd look at home in your bathroom cabinet.
Inside the tube, you receive the kGoal, a drawstring storage pouch, a sample packet of lubricant, a charging cable, and a booklet of instructions.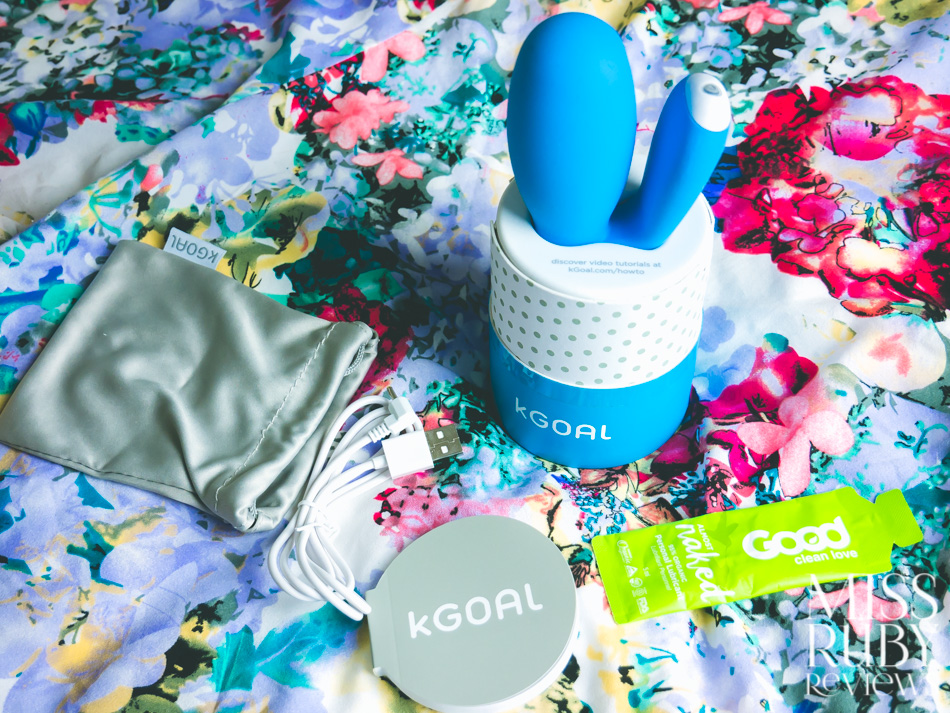 Material and Care
The Minna kGoal is made of bodysafe materials — it's coated with medical-grade silicone, making it phthalate-free, non-toxic and non-porous. There's no better material out there.
This device is splash resistant, but don't fully submerge it. To clean, use a silicone-friendly toy cleaner or a damp cloth and mild soap. I was disappointed that this isn't fully waterproof, but c'est la vie. 
I highly recommend you use water-based lubricant before inserting this (you're not going to be aroused when inserting the kGoal, so you'll need a lot of synthetic help). My go-to choice is Sliquid H2O.
If you notice a red blinking status light, your kGoal needs to be recharged. Simply plug the included charger cable into the kGoal (there's a silicone cap on top of the status light) and connect the other end to your computer or a USB wall outlet. Once it's fully charged, there'll be a solid green light.
My Experience with the Minna kGoal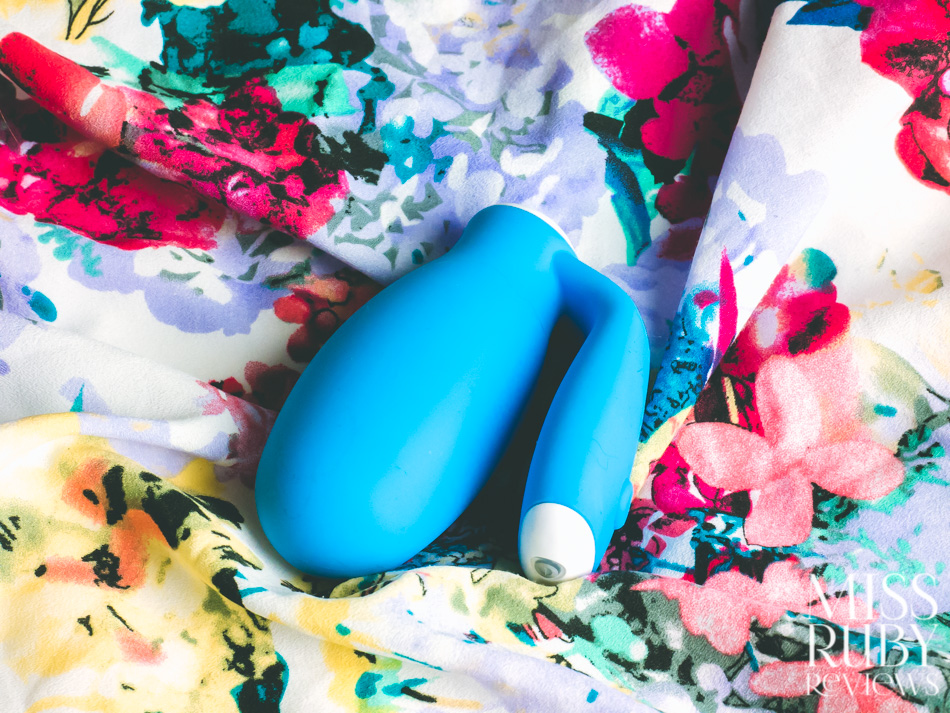 The Minna kGoal caught my eye with the boastful claim of it being "the world's smartest Kegel exerciser." Products in this industry are always claiming to the best or the first of something, which makes me more skeptical, rather than encouraged. This also has a USD $149 price tag, higher than most Kegel devices out there. So I had to try this one.
If (like me) you're used to standard ball-in-harness Kegel products, the Minna kGoal presents a learning curve. As a rule, I always try to figure out how products work without reading any instructions… only when I've figured out the basics do I then crack open the manual. I couldn't do that with the Minna kGoal. I didn't know that the Squeeze Pillow arm could deflate. There were three buttons and I couldn't figure out what they each did. Reading the manual from the get-go was necessary, and helped everything make sense. I wouldn't call this an intuitive, easy to learn RIGHT AWAY device, but that's okay. This technology is unique and complicated, but it's so worth the effort.
Okay, here's what I loved in my Minna kGoal review:
1. The Minna kGoal is one-size-fits-all
Do you know that vaginas are unique and different? I'm not talking about the external vulva, but the internal vaginal structure. They can differ in their angles, how the cervix is positioned, how long the vaginal canal is.
So Kegel companies have to make products that can suit different vaginas. Not an easy feat.
Minna's ingenious solution is the Squeeze Pillow arm. I was astonished to find that, before insertion, you deflate the Minna kGoal by pressing an air vent at the bottom. This makes it easy to insert.
Once it's inside, you press the air vent again. It'll inflate as much as it can against the walls of your vagina. Voila! Perfect, snug, fit,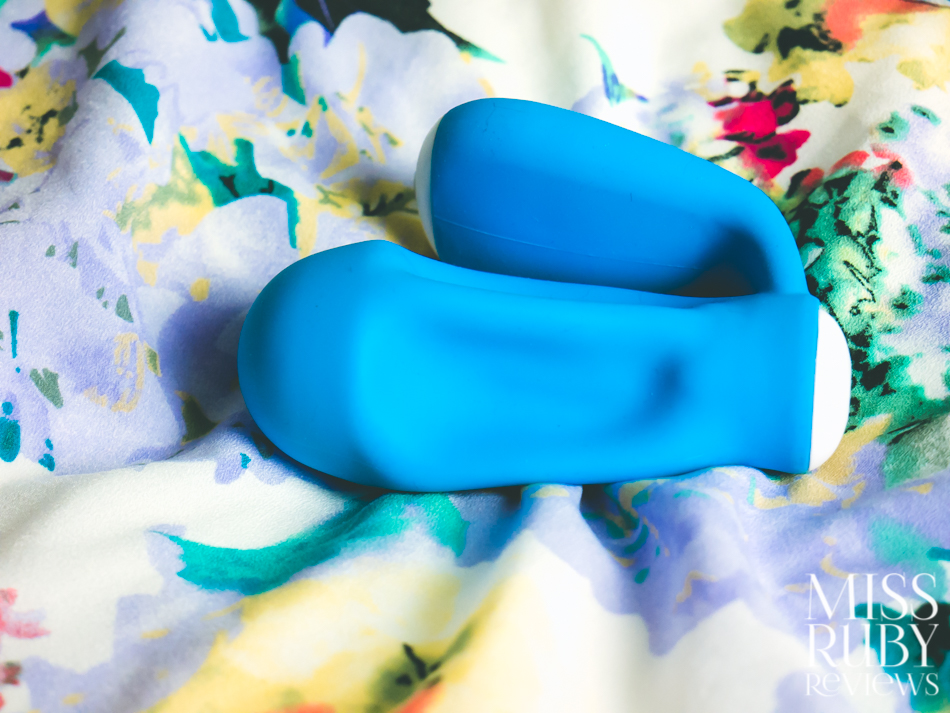 2. The Minna kGoal can accurately feel how much you're squeezing
The magic of the inflating arm is this: by adapting for a perfect fit for any vagina, its sensors are A LOT more accurate.
Imagine trying to squeeze a particular amount if your device was too small — you'd have to squeeze 100% for it to register 10%.
By ensuring a perfect fit, the Minna kGoal's sensors can accurately figure out how much pressure you're applying to it.
3. The Minna kGoal's apps are fun
The free Minna kGoal app (downloadable to your smartphone) is the life source of the kGoal experience.
Once the kGoal is inserted and connected to your app, you can go through a number of activities/games.
The games include Shape Shift, Bricks, and Moving Target.
Shape Shift
Shape Shift is easily the hardest activity. By squeezing your vagina around the Minna kGoal, you move two horizontal sticks apart. If you squeeze less, the two sticks move closer. If you squeeze hard, the two sticks move away from each other. The goal is to carefully squeeze and unsqueeze just enough to move the sticks around shapes that fly up from the bottom of the screen. It's quick, it's hard to get a good "control" score, and within your 5 minute period, you've done a ton of vaginal acrobatics.
Bricks
Bricks is my favourite game. It's the classic Brick Breaker experience. By squeezing your vagina, you control a grey platform at the bottom. It moves side-to-side across the screen with every squeeze. The goal is to get the ball to bounce off your platform so that it breaks through all the bricks at the top of the screen, one by one. I honestly started laughing when I started playing this game. I never thought I'd play Brick Breaker with my vagina. This is Fun with a capital F, and the time exercising flew by.
Moving Target
Moving Target is the third activity. You look at a chart numbered from 0-100, and you're given a goal (i.e., 60). You then have to squeeze enough so that you get to a score of 60. But then the target will decrease to 10, or increase to 80, and you have to change your squeezes to suit. There are periods where you have to squeeze rapidly and other periods where you get a rest.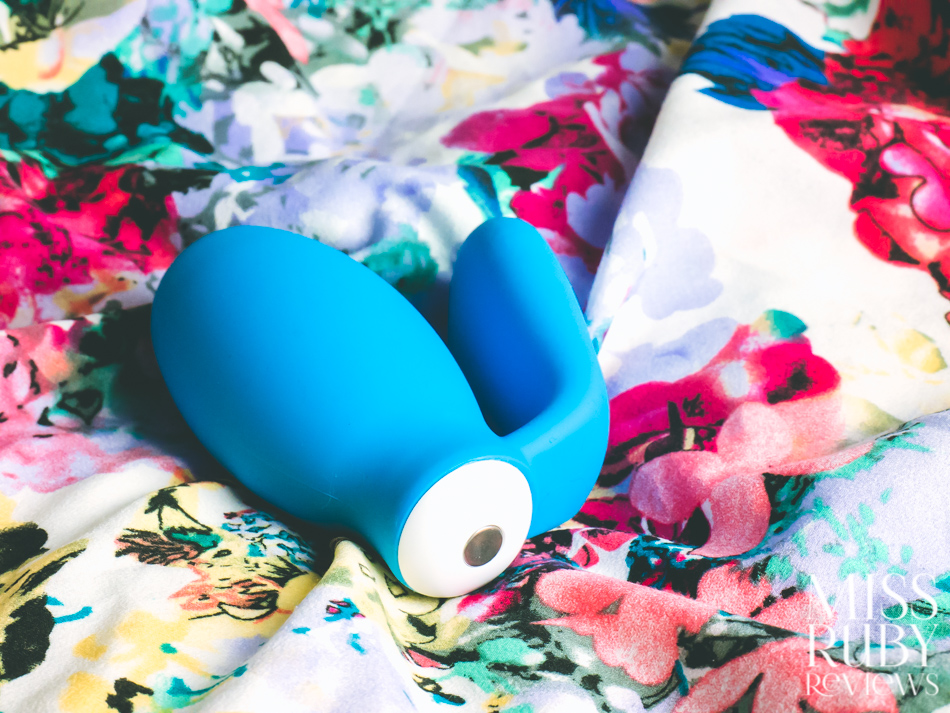 The App has other great features too — it keeps a chart of your progress and gives you workout scores for every session, so you can see how well you're doing. The device also gives feedback via vibration. You can even set up workout reminders if you're prone to forgetfulness.
This is an example of an App that's (a) necessary and (b) done super well.
Overall – Minna kGoal review
The Minna kGoal is a truly intelligent Kegel exerciser.
The mega-selling factor with the Minna kGoal is that it's interactive. You squeeze, and in turn, it tells you how well you're squeezing. It knows exactly how much you're using your Kegel muscles, and scores you accordingly. The games keep things fun and help the time go by quickly.
I can't really find any flaws with it — except that it's not fully waterproof, plus the price. At $149 USD, this won't be a casual purchase for anyone. But – if you've been looking for help with your Kegel exercises, and could benefit from live feedback, this is the one to buy.
You can pick up your own Minna kGoal at Peepshow Toys. Why do I like Peepshow Toys? They ship internationally, only carry body-safe products, and you can get a 10% discount off your whole purchase with coupon code RUBY. By avoiding Amazon, you're also guaranteeing you receive the legitimate product, not a knock-off. 

See below for my Minna kGoal review summary.
Minna kGoal review summary
Overall Thoughts - 9.8
9.8
$149
PROS
Adapts to your body
Live feedback
Fun games
Scheduled workouts
Bodysafe
CONS
Pricey
Not fully waterproof
Shop Now