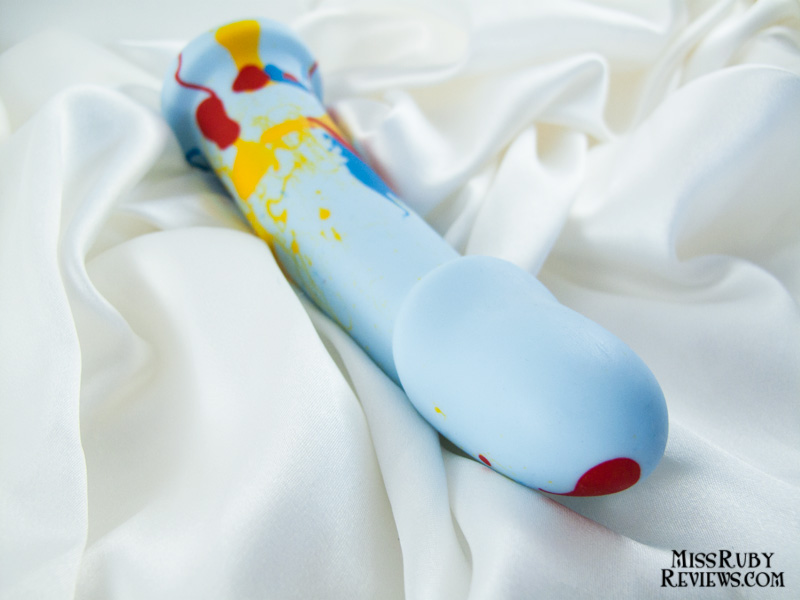 Officially my most multi-coloured dildo to date. Read on for my BS Atelier Alex Noise review!
Physical Details (Design/Packaging/Material and Care) | My Experience | Overall
About the Brand: BS Atelier
BS Atelier is a manufacturer and distributor of designer sex toys. Though they specialize in dildos, they also create a number of plugs, harnesses, and c-rings. Each dildo is hand made, allowing each of their creations to feel unique. When I first came across this brand, I was immediately hooked. Most of their products come in vibrant, eye-catching colours, and (as you can tell from my blog design), I looooove colour, especially when a product deviates from the normal pinks and purples.
Physical Details
Design:
The BS Atelier Alex Noise is a small, funny-looking dildo. Measuring 6 inches tall and 1.25 inches in diameter,  Alex is a narrow sex toy. Semi-realistic in design, its head is cartoonishly elongated and stretched to form a low-lying coronal ridge. The shaft is a plain, slightly curved cylinder.
I got the Alex Noise in Light Blue because of its incredible splashes of colour. It's something I've never seen before. Set against a light blue base, Alex is spattered with red, dark blue, and yellow. There's no logical pattern to these globs of colour, and I can easily imagine a BS Atelier employee happily pouring assorted colours in the silicone mix at random. The result is really stunning. Though most of the blobs are large, there are several long strings and fine specs of colour as well. It's truly a work of art. Because each product is unique, if you order this same dildo, the pattern will be varied from mine.
If you don't like this light blue theme, BS also has the option of: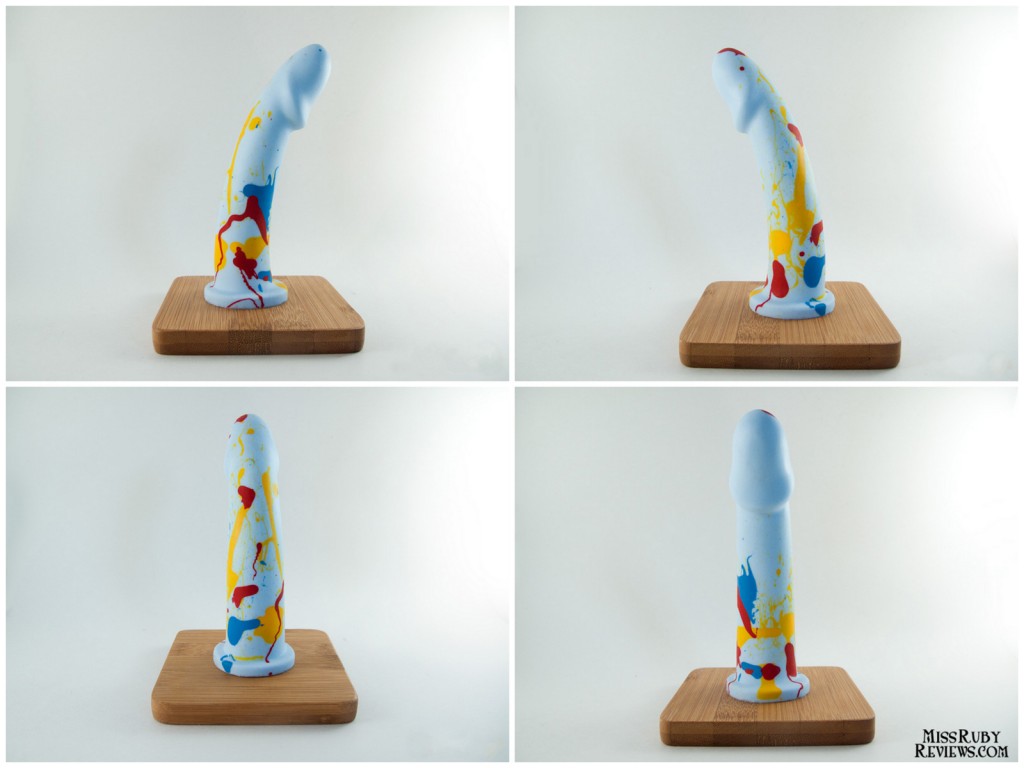 I originally assumed that the BS Atelier Alex Noise was anal-safe, but the lip at the base looks just a bit too slight for it to be safe. For people whose butts are good at relaxing, this thin, bendy base is probably not safe enough. And, unless you have a perfectly snug O-ring, you might struggle to keep this in a strap on harness.
This dildo is fairly firm. There isn't much squish to it when I press it between my fingers. It's definitely not rock-hard though, and I don't find its firmness uncomfortable in any way during use. Because the shaft is so thin, you can bend it around very easily. Had it been any softer, it probably would have been too floppy for insertion.
Packaging:
Alex was packaged cleanly in a clear plastic bag. Inside, BS includes a packet of water-based lubricant and an information pamphlet.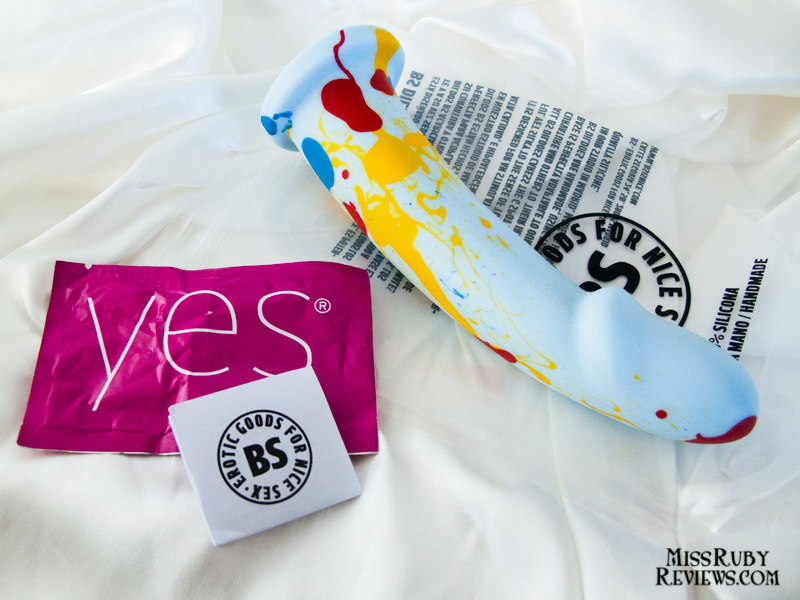 Material and Care:
BS' products are made from premium 100% silicone. This is the best material available for sex toys because it is non-porous and free of any toxic chemicals. In other words, it won't retain bacterial growth and it won't leech anything into your skin (woo!).  Cleaning is simple.  I wash mine with warm soapy water before and after each use. If you'd like to share this dildo, I recommend sterilizing it by boiling it for 5 minutes or wiping it down with a 10% bleach solution. Always use a water-based lubricant with this toy. To keep it dust-free, I store mine in a clear ziplock bag.
My Experience with the Alex Noise Light Blue
On the days where I don't feel like having a girthy challenge, the BS Atelier Alex Noise does the trick.
While Alex certainly doesn't feel short inside of me (indeed, my vagina only wants up to about 5 inches), my vagina can really tell that it's housing a narrow toy. On the plus side, this means that Alex isn't a toy I need to warm up to. It slides in with ease right away. On the downside, it doesn't give me any sort of stretch or feeling of fullness. So, while Alex is certainly good for women who don't need girth, it may be too underwhelming for girth-fanatics.
The BS Atelier Alex Noise's silicone finish is matte and rather draggy. I strongly suggest a generous helping of water-based lubricant. Once it's lubricated, thrusting is very smooth and comfortable. I do find myself wishing that there is a wider base. The thin lip at the bottom is hard to hang onto for fast thrusts, especially when it gets wet.
My G-spot is quite shy, and it takes quite a bit of prodding to wake up. I usually find that girthier toys wake my G-spot up faster than narrow toys, so I was a bit worried about this one. However, once I got going with this toy, my G-spot really appreciated the curve in the shaft and that coronal ridge. During fast thrusts, this toy nudges my G-spot with satisfying force. This makes me really appreciate the relatively firm silicone: the firm coronal ridge can milk my G-spot in a way it couldn't if it'd been soft and squishy. Still, Alex provides gentle G-spot stimulation. The sensations aren't overpowering, which isn't necessarily a bad thing. Sometimes I prefer a gentler internal sensation in addition to clitoral stimulation, and Alex works perfectly for that.
When I'm not in the mood for gentle sensations,  angling it upwards greatly intensifies G-spot stimulation. This, coupled with a clitoral vibrator, makes for excellent orgasms.
BS Atelier Alex Noise review – Overall Thoughts
I find myself turning to the BS Atelier Alex Noise when I prefer decent G-spot stimulation without the stretch I would get from a girthy toy. It also works great as a warm-up to larger toys. For women who don't need a large girth, or who are new to sex toys and want something unintimidating in size, I think Alex is an excellent choice. It offers G-spot stimulation which, while initially subtle for me, can be intensified by changing the angle of the toy. It's also absolutely stunning, and I love that each of these dildos is a unique work of art.
To buy the Alex Noise in Light Blue, head on over to BS Atelier ($99). You can also pick it up at SheVibe ($99).
Last Updated on February 27, 2022 by Miss Ruby