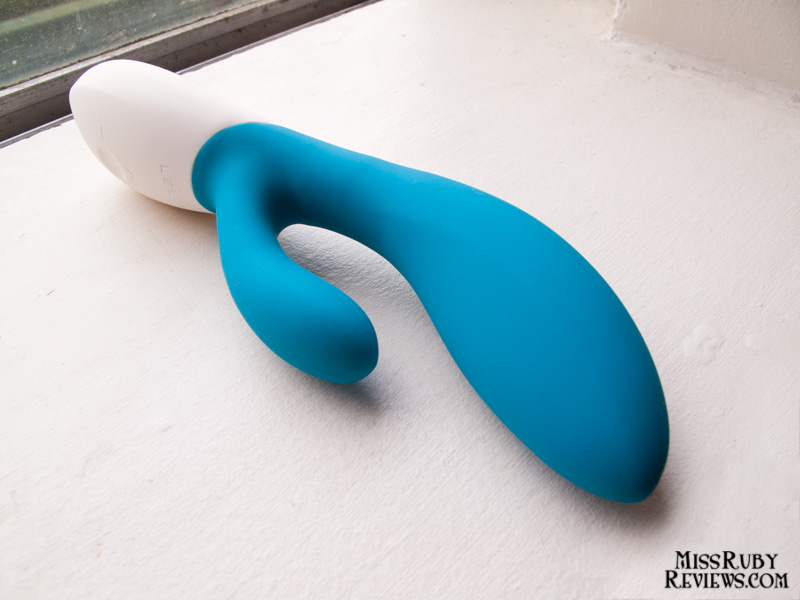 It's very claw like. Crab-like, even. I call it crabby. Read on for my LELO Ina Wave review!
About the Store | Packaging| Physical Details| My Experience | Overall
About the Brand: LELO
When you're shopping around for high-end sex toys, you'll very quickly come across this company. LELO is a manufacturer and distributor of high-end luxury sex toys. All of their toys are very body-safe and sumptuous…there isn't a single LELO toy I don't pine for. Though the majority of their products are geared towards women, they do also carry a number of toys for men and couples. I first heard about LELO years ago when I realized that most of my sex toys were made from toxic materials. I was shopping for my first silicone dildo and bought the Ella after reading great reviews. After that, came the Mona 2, the Smart Wand, and the Siri and now, ladies and gents, the Ina Wave. Communication with LELO's PR representative was a smooth and positive experience
Shipping and Packaging
As usual, LELO's packaging is beautiful. The white exterior box is tasteful and discreet. Inside the white box lies another black box. When you lift the black lid, you find the Ina Wave tucked snugly in a velvety black cushion. You also receive one of LELO's charging cables, an information booklet, a 1-year warranty card, a sample of their lubricant, and a black satin storage pouch. The black satin pouch is large enough to store both the Ina Wave and its charger.
Physical Details
Design: 
The Ina Wave is a streamlined rabbit vibrator. It carries on the tradition of the same base design used in the original Mona and Ina. The main shaft is thin near the base of the 4.25″ insertable portion. The shaft then quickly flares out into a fattened, substantial girth. On the top lies a rounded tip for easy insertion. The clitoral arm is much smaller. I've measured it to be about 2+1/3 inches long. The length of the clitoral arm is important to note because not all women have the same distance between their clitoris and their vaginal opening. If your clitoris is further than 2 inches from your vaginal opening, the clitoral arm may not reach you.
I love that the Ina Wave is an attractive and streamlined rabbit. There are no funky rabbit ears or dolphin heads here. Just clean lines. Yum. And the colours! It comes in cerise (pink), plum (purple) and ocean blue. I (obviously) grabbed the ocean blue. Please note that the ocean blue colour has a slight hint of turquoise in it, which my camera wasn't picking up. Thank you, Lelo for including a nonconventional colour choice!
Firmness wise, this rabbit has very little give to it. When you press it hard between your fingers, you can feel only the slightest bit of give. The clitoral arm is very flexible though. You can move it side to side a bit and it can be bent backward so that it's nearly perpendicular to the shaft. If flexibility of the clitoral arm is important to you, I can say that it extends back easily to about 75° but can be pushed back further to a 90° angle with a bit more force.
Function:
First and foremost, the LELO Ina Wave is a rabbit vibrator. This means that the insertable shaft vibrates against the g-spot while the smaller arm provides clitoral stimulation. The Ina 1 and 2 does this.
However, the Ina Wave takes things a step further and, in addition to its rabbit function, it now waves its main shaft in a "come hither" motion. It's meant to provide a sensation akin to being fingered.  See below for a clip I took to show the motion:
To turn on your Ina Wave, press the center button. It'll start on whatever function you used last. You press (-) and (+) to decrease and increase intensity. As you click (▲) and (▼), you'll cycle through all the functions. There are 10 in total, and they include anything you'll need, such as having no wave moment (just the shaft and clitoral arm vibrating), or the shaft waving without the clitoral arm vibrating, or all going on at once (waving + gspot vibrations + clitoral vibrations).
Vibrations:
I've noticed that the more going on, the less powerful/fast the vibrations are. The shaft's vibrations are strongest when the clitoral arm is off and the shaft isn't waving. The same applies for the clitoral arm. The shaft waves fastest when the clitoral arm isn't on at all (as you see in my clip above).
I find that LELO's products tend to get buzzy at the higher/stronger vibration speeds. The lower speeds are lovely and rumbly and deep, but the highest speed definitely errs on the buzzy side.
Curious how this vibe compares to other LELO products?  Unfortunately, at this time I don't own the Ina 2, so I can't compare the Ina Wave to its closest counterpart. However, I do have the Mona 2 to compare it to.  Strength wise, the Mona 2 definitely wins. I closed my eyes and asked my partner to place both vibes against the palm of my hands, and I could immediately tell that one of them delivered much stronger vibrations. When I opened my eyes, I saw that it was the Mona 2. Based on this, I'm guessing that the Ina Wave is considerably weaker than the Ina 2.
If you stop comparing it to the Mona 2, though, you realize that this vibe still delivers fairly strong vibrations. The Ina's clitoral arm is great. It's a tad stronger than the Siri 1. It's not the strongest clitoral vibe I've ever experienced but, then again, it's not wholly dedicated to the clitoris. I'd give the vibrations of the shaft and the clitoral arm a grade of 7.5/10.
Noise: 
The vibrations themselves, at their highest speed, aren't horribly loud, but they aren't whisper silent. You can hear the vibrations (albeit softly) 10 meters away. The sound is pleasant though, fairly deep. Once you turn on the waving, however, you welcome a high-pitched wining sound. It's not particularly off-putting to me though, so I don't mind it, but it's not exactly romantic. You can't hear these noises through walls/doors though, so you could get away with this if you had to use it sneakily in your room. If you're worried about sound, be sure to use it under a blanket, which muffles the sound considerably.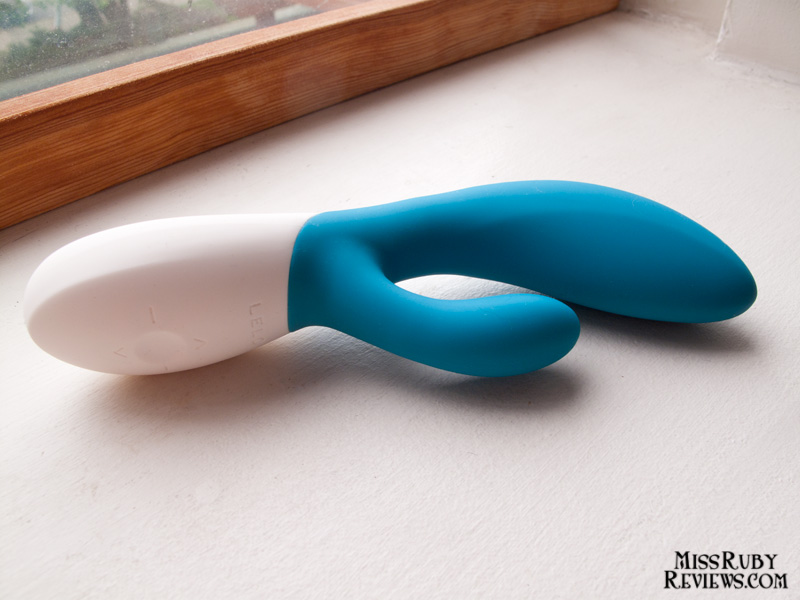 Other Features:
This vibe is 100% waterproof, meaning you can take it into the shower and wash it very easily. You can even rinse out the charging port hole. I wouldn't want to drop it to the bottom of the pool though, as it's only submersible up to a depth of 1 meter. This vibe is also rechargeable. I charge mine for about 2 hours per run. The LED lights in the buttons blink at you while it's charging then set to a steady glow it's done. It'll glow red when it needs to be recharged. Lastly, this vibe also has a travel lock feature. Simply press (+) and (-) for 3 seconds to unlock/lock it.
Material and Care:
The Ina Wave is completely covered in body-safe silicone. Previous models of this design (like the Mona 2) used shiny ABS plastic for the white handle. This model, however, is all silicone. It's no secret that I adore LELO's silicone. It's simply lovely. It's matte and silky and smooth. Though it does attract lint, it's not sticky like some other silicone brands. I wash my Ina Wave with hot soapy water before and after each use. I suggest that you only use a water-based lubricant with this toy. If you have to use a silicone-based lube, do a patch test first and be warned that it could degrade the silicone. Store your Ina Wave in the black satin pouch it comes with, which will keep it dust-free.
My Experience with the LELO Ina Wave
I both love rabbit vibes and being fingered, so this was a no-brainer for me: I had to try the Ina Wave.  I'm always on the hunt for a perfect rabbit vibrator because I love dual stimulation, and I was instantly curious about rabbit stimulation combined with a fingering motion.
During your first play session, I suggest you start out without the waving motion. I did this to make sure I could first get it all snug and secure inside of me, the smaller arm aligned against the right bits. I used plenty of water-based lube because one downside of LELO's matte-finish silicone is that there's a lot of drag, so extra lubricant is definitely a must.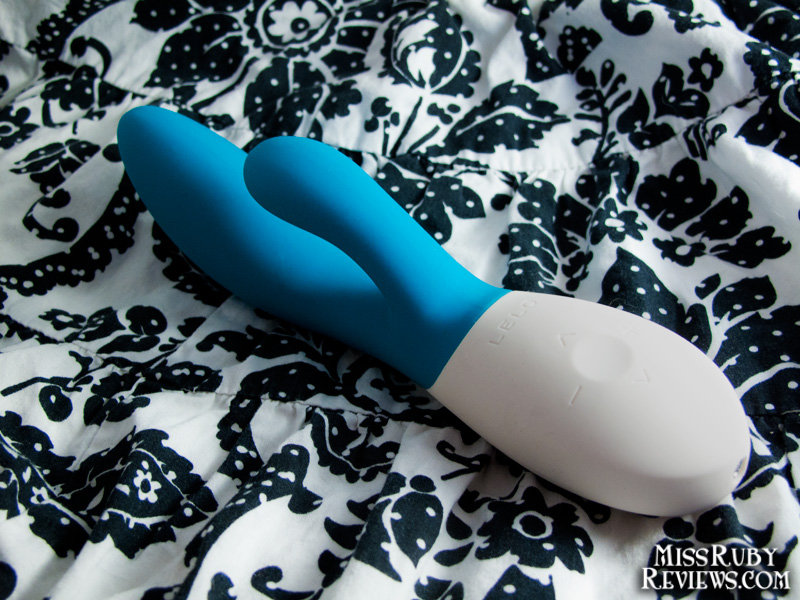 To my delight, the clitoral arm aligns quite well with my body. It would be great if it was a smidgen longer, but I'm just glad that the vibe's arm reaches my clitoris at all. I've had rabbit vibes completely miss my clitoris because their arm was too short, which is the ultimate frustration. Not this time.
Clitoral arm
Though the clitoral arm can be bent backward to a 90-degree angle, when you let it go it wants to snap back into place, which is a near parallel alignment to the shaft. This means that the vibe's smaller arm really clamps down on your clitoris, putting a lot of pressure on it. I really need firm pressure against my clitoris to orgasm, so I don't mind this, but at some points, it definitely feels a bit too clamp-ish. I can't help but wish that it was a bit more flexible, or that the angle between the shaft and the clitoral arm was slightly larger. For the most part, I'm not bothered by this, but take this into consideration if you know you hate firm pressure on your clitoris.
Waving motion
By itself, the waving motion doesn't rock my world. When the vibrations in the shaft and clitoral arm are turned off, and I'm left with only the waving motion, I'm not totally blown away. I can discern movement up in there, and it's pleasant enough, but it definitely doesn't feel like I'm getting the fingering of my life. It doesn't even feel like I'm getting fingered at all. It feels like some, small, vague, movement, which my hungry g-spot eats up happily.
Though the waving by itself doesn't rock my socks off, I definitely prefer the waving on. Having just the vibrations on (as if this was an Ina) feels nice enough, but the waving adds something unique to the mix. Magic happens for me when I combine all functions at once (vibrations in the shaft plus the clitoral arm plus the waving). Then the orgasms come.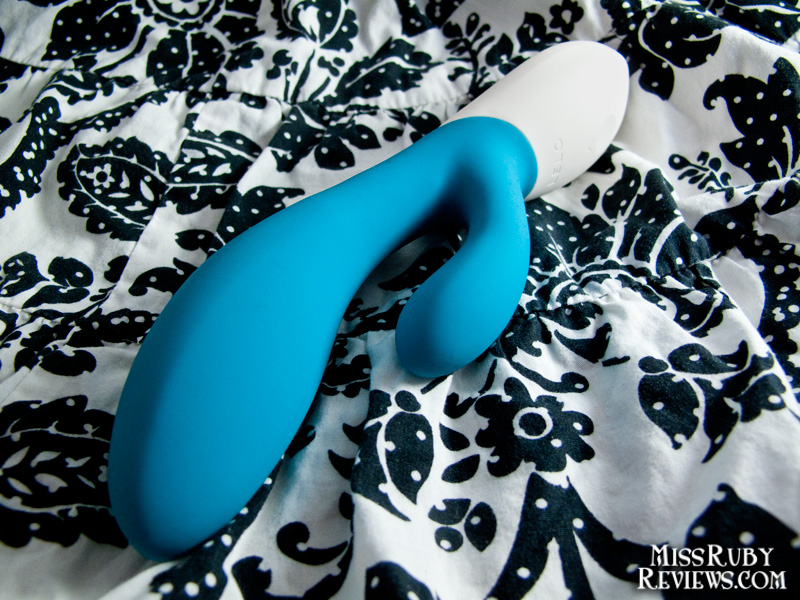 Other
This is definitely not a thrusting toy. Once you finally get it in place and comfortable, you turn it on and you hold on to that handle with all your might. Unless I hold onto the handle with all my might, my vagina will actually clamp down on the shaft automatically and hold it so firmly that only the handle moves back and forth, leaving the shaft staying still inside of me. Something about the shaft's shape makes my vaginal walls clamp down on it and squeeze automatically. It forces my PC muscles into action, like a pair of Kegel balls. After sessions with this toy, my legs are so shaky because my pelvic floor is constantly clenched.
The upside of this is that, as my PC muscles are being exercised, orgasms are quick and easy. The downside is that it becomes very hard to hold onto the handle. I need a strong enough grip so that the shaft continues to wave up against my g-spot,  instead of the shaft being held still and the handle just waving outside my body. It's made easier if you have a strong partner who can hold it the handle with an iron grip while you lie back and enjoy.
Overall – LELO Ina Wave review
Is this the only rabbit vibrator I'll ever need? Probably not. But the LELO Ina Wave is a pleasurable toy anyhow. I think that your body really has to suit this vibe though for it to work for you. You'll need to like firm pressure against your clitoris. Your clitoris can't be more than 2+1/3 inches away from your vaginal opening, otherwise, the arm won't reach your clitoris.
Because I don't own the LELO Ina 2, I can't advise whether the Ina 2 or the Ina Wave is a better bet for you. I personally like the waving motion, but not enough by itself: the waving motion only feels worth it when all vibrations are added. The waving motion adds something to the mix that is interesting, but I don't like it just for itself; I only like the waving motion as an addition to the simultaneous vibrations.
Overall, the ingredients of this toy come together well. The smaller arm's vibrations are strong enough to appease my power-hungry clitoris. The shaft's vibrations aren't as strong as the Mona 2's, but they're still pleasurable. And, once the waving is added, you have orgasms on the menu. The luxury features, such as that it's waterproof and rechargeable, don't hurt either.
To buy the LELO Ina Wave, head on over to Lovehoney
See below for my LELO Ina Wave review summary.
Review summary
Overall thoughts - 8.1
8.1
$199
PROS
Waterproof
Bodysafe Silicone
Attractive appearance
Moderately strong vibrations
Unique waving motion
Waterproof
Rechargeable
CONS
Would have like the clitoral arm to be more flexible
Waving motion slows down when other functions are used
Shop Now