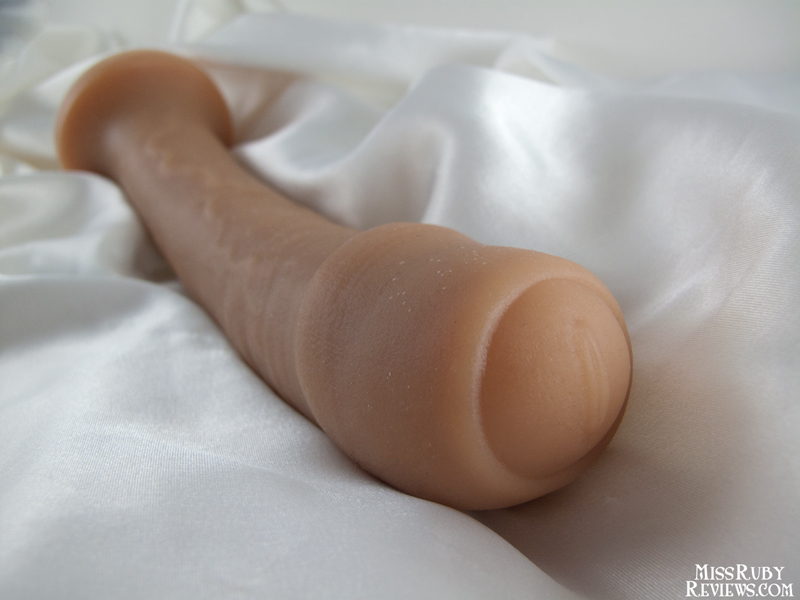 Hubba hubba….
Physical Details | Material and Care | Shipping and Packaging | My Experience | Overall
Physical Details
Sometimes I feel like Tantus is the king of all dildo companies. Not a tyrannical king, no, but a good one that listens to its people's needs and wants.
That's because this dildo meets 4 things I needed and wanted: (1) It's silicone; (2) It features dual density firmness; (3) It's realistic; and (4) It has a foreskin! Thank you, King Tantus, thank you!
Design:
The Tantus Uncut #1 is a gorgeous specimen. What I like most about it is, of course, that it's uncut. The foreskin is proudly featured near the tip of the head. The urethral detailing is also unique: it shows the labia-like projections on either side of the urethra that is visible in some men. Below the head, there's a subtle coronal ridge, a section of puckered/wrinkled skin, and then veins running down the shaft.
Though I haven't had many uncut partners in the past (and consider myself a foreskin novice), I absolutely adore that this model has one. When you own as many dildos as I do, you start to really appreciate dildos that diversify your toybox. So yay! Foreskin!
Overall, this dildo is very realistic. Really. That puckered skin on the undershaft isn't something you don't easily come across in realistic dildos.
This particular color is Cocoa. It's the medium color. Though it looks rather pinkish on Tantus' product pages, I don't find it pink at all. It's a standard tan/caramel/medium color. It also comes in two other colors: cream and mocha. Cream is very pale and Mocha is a beautiful dark brown shade.
It's also long and narrow. Its diameter is 1.75 inches, which isn't in of itself small. But its long insertable length of 7.45 inches gives it an overall elongated appearance. Overall, it isn't very heavy, only weighing in at 295 grams.
The shaft also curves upward for G-spot stimulation. Because it curves, and because it's so tall, it can't actually stand upright by itself. It tips over pretty quickly. In a harness, it looks straighter than it actually is because it droops slightly.
Lastly, because it has a flared base, this dildo is safe for anal use and compatible with O-ring harnesses.
Firmness: 
Much to my glee and adoration, this dildo features Tantus' O2 dual-density silicone. For those of you who aren't familiar with this, Tantus' O2 line of dildos features a soft, squishy outer layer and a firm inner core. This means that, when you squeeze the shaft, there's quite a bit of give to it and it compresses beneath your hand, but then you hit this wall of delicious firmness. This simulates the feel of a real penis, which I find makes things suddenly 10x sexier. The firmer inner core ends at the coronal ridge, though, making the head perfectly squishy for comfortable penetration.
It's also very bendy. Unlike some cheaper silicone brands that feel like a solid, rigid, hunk of hard plastic, the Tantus Uncut #1 is flexible. It can be bent in half and twisted about with ease.
Material and Care
Tantus' didos are made from 100% silicone. Silicone is my #1 recommended material for sex toys. It's non-porous and free of toxic chemicals like phthalates. Because it's so finely textured, Tantus recommends boiling it to keep it clean. If you'd like to use this anally, or share between partners, be sure to sterilize it. To do this, wipe it down with a 10% bleach solution and then rinse with water. You can also boil in water it for 5 minutes or run it through a dishwasher.
Tantus doesn't include storage bags with their toys, so I store mine in a large clear ziplock bag.
Shipping and Packaging
Although you can buy Tantus products in just about any online sex toy shop, you can also buy directly through them. If you do, you're guaranteed fast and discreet shipping. My order was placed on June 16th and I received my package on June 22.  "Tantus" wasn't listed anywhere on the package. For international customs declarations, the contents were listed as "Massage Accessories."
Tantus packs their products in fun, non-pornographic packaging. The Uncut #1 comes in a white box with colorful circles. Inside, the dildo is held in clear plastic packaging.
My Experience with the Tantus Uncut #1
The Tantus Uncut #1 is a rare dildo. It's rare because uncut silicone dildos are nearly impossible to track down. When Tantus came out with the Uncut #1 and the Uncut #2 earlier this year, I knew I had to get my hands on one of them.
When I review dildos, I enjoy myself more when they're visually stimulating. I need to be attracted to them in some way or another, whether it be a pretty shade of blue or a very realistic appearance. Visual stimulation important to me during sex, and this is one of the reasons I love reviewing realistic dildos so much.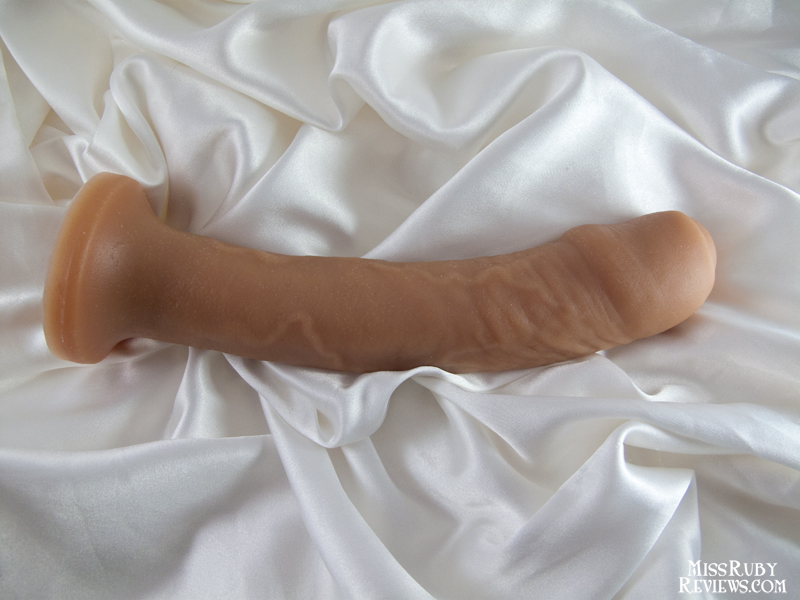 At first glance, this isn't a dildo I would have recommended to girth-fantatics. But, in use, the Uncut #1 surprised me by feeling very full. Because the whole dildo is so long, its girth doesn't initially look like much. But, at 1.75 inches in diameter and 5.0 inches in circumference midshaft, it is actually relatively large. The head feels especially fulling, as it's 5.5 inches in circumference around the coronal ridge. In short, the girth is nothing to sneeze at.
When the Uncut #1 is inserted all the way in, there's plenty of room left to to grasp. My vagina can only take about 5 inches of shaft, so it leaves just over 2 inches hanging out of me, plus the base. For people with any mobility or gripping issues, this dildo is incredibly easy to thrust with. The flip side is that, because it's so long, I have to be careful not to thrust too deeply because it can easily press against my cervix (which is never a comfortable feeling). Fortunately, this dildo's squishy head helps to keep cervix-bumping moments as painless as possible.
During use, it's also distinctly textured. Most of Tantus' products have a very smooth texture, but this is a completely different experience.  Internally, I can clearly feel its fine bumps and ridges. For users who aren't a fan of texture, make sure to add an extra helping of water-based lubricant to make it extra slippery. At one point it felt a bit scratchy and distracting, so I added extra lube, and this helped considerably.
One drawback to this design that I noticed is that, because it's so bendy, it's difficult for me to get firm G-spot stimulation. The coronal ridge, which on a dildo will often target the G-spot, feels too subtle to discern. The shaft does have a G-spot curve, but my G-spot doesn't feel particularly stimulated during use, perhaps because the bendy nature stops the shaft from pressing firmly against it. If I try to fix this by angling it upwards, the shaft bends instead of pressing into me. So for me, this dildo doesn't excel in G-spot stimulation.
That doesn't mean I don't find any value in the Tantus Uncut #1. On the contrary. For days that I'm not specifically looking for G-spot stimulation, this dildo is still lovely. I particularly enjoy it with very rapid thrusts, especially when it's coupled with a good clitoral vibrator.   My clitoral orgasms are much stronger when there's something taking a hike in my vagina, and I find that this dildo does the trick. It, therefore, works great as an everyday dildo – it provides my vagina with girth (but not too much girth) and textured stimulation.
Overall
The Tantus Uncut #1 is a long, textured, and realistic dildo. It also features an uncut foreskin, which is awesome and way too rare in this industry. During use, I find that it provides me fairly gentle sensations and it can't provide intense G-spot stimulation.  I'm still a fan of this dildo though. It gives me a ton of texture: those fine wrinkles and veins are easily felt internally. Though I won't turn to it when I'm craving intense G-spot stimulation, I come back to it when I want an everyday dildo that provides me with texture, a bit of girth, and a fantastic quality item.
To buy the Tantus Uncut #1, here are some recommended stores: 

Tantus
 (
$114 USD)

UberKinky
(£75 GBP)
Last Updated on March 7, 2021 by Miss Ruby