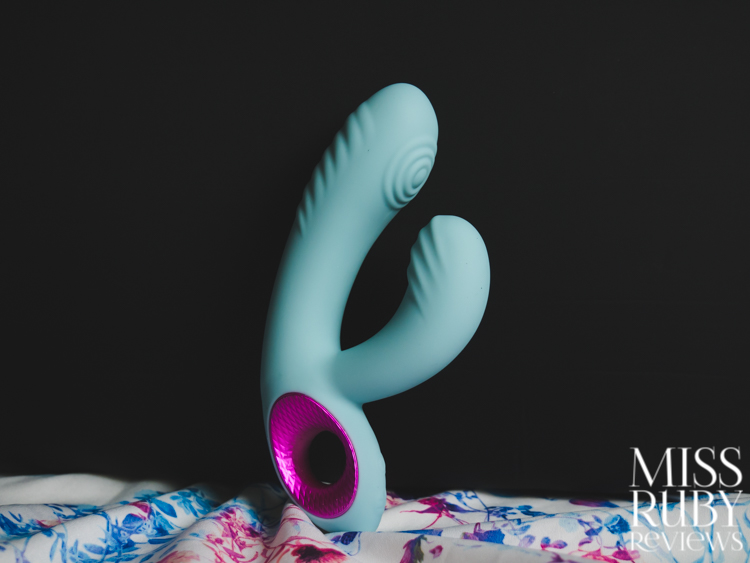 A rabbit vibe with a novel feature. Read on for my FemmeFunn Cora review!

---
Design | How to Use | Packaging | Material and Care | My Experience | Overall
---
Design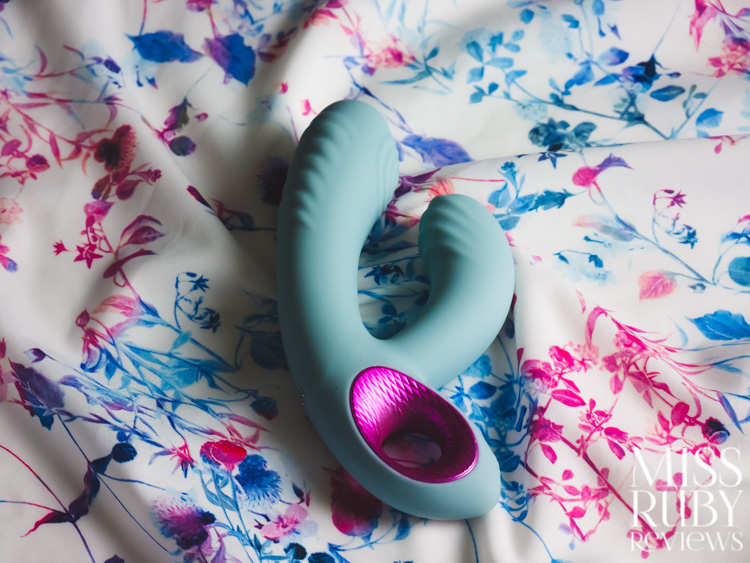 At first glance, the FemmeFunn Cora may look like your typical rabbit vibrator.
A longer, thicker shaft forms the insertable G-spot arm, and a shorter, smaller arm is designed to go over your clitoris. A purple ring/loop handle lies at the base to give you an easy grip.
While rabbit sex toys typically just offer vibrations, the FemmeFunn Cora sets itself apart with a "thumping" G-spot arm. A pad at the tip of the internal arm thumps back and forth very rapidly. See my video below:
---
---
Interesting, huh?
The clitoral arm, on the other hand, offers conventional vibrations.
The FemmeFunn Cora's body is also beautifully designed. It's a pale blue (with a purple handle) and has waves and bumpy ridges throughout for added texture. It feels very streamlined and well thought out. There's also a great deal of flexibility to the clitoral arm's joint, giving you up to approx. 90° of space to work with.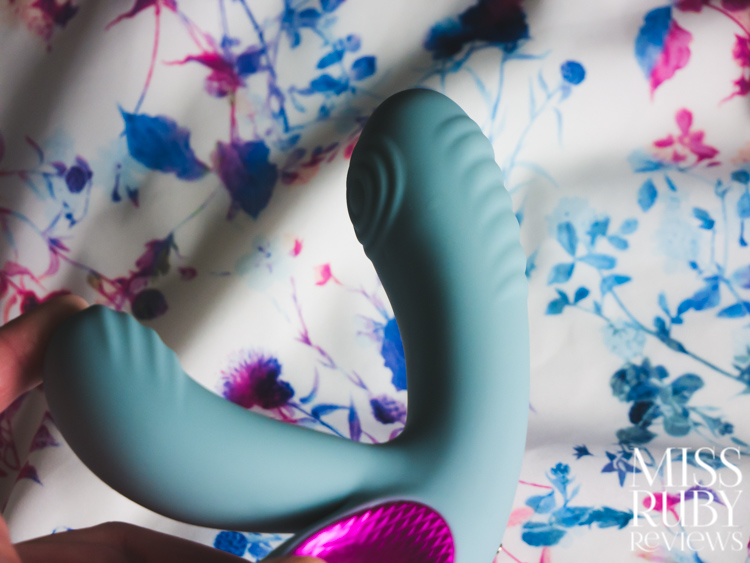 The FemmeFunn Cora is on the smaller side for a rabbit vibrator. Its G-spot/internal shaft is only 3.75″ long and 1.5″ wide, and the clitoral shaft is approx 2.5″ long.
It's also rechargeable, water-resistant, coated in silicone, and features a travel-lock function so you're not accidentally turning it on when you don't mean to.
How to Use the FemmeFunn Cora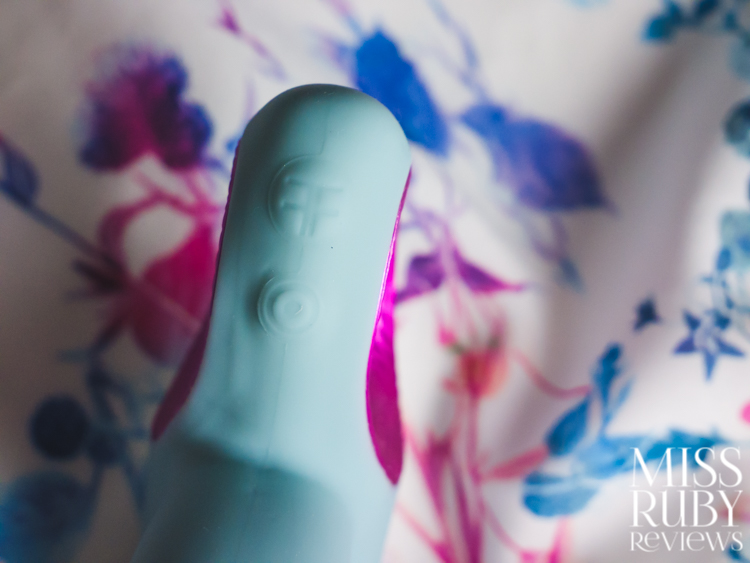 To turn the FemmeFunn Cora on, press and hold the ꟻF button for a few seconds. It'll turn on in standby mode (the light on the ꟻF will come on).
Press the ꟻF button again to turn on the external vibrator (smaller arm). Keep tapping it to cycle through its 10 speeds and patterns.
To use the thumping (g-spot) arm, press the (O) button. Keep tapping that button to cycle through the 10 thumping modes.
Insert the longer arm vaginally and center the shorter arm over your clitoris.
To turn it off, press and hold the ꟻF button for a few seconds.
This toy has a travel lock feature. To enable it, press the ꟻF and (O) buttons at the same time for 2 seconds. Do the same to unlock it.
Packaging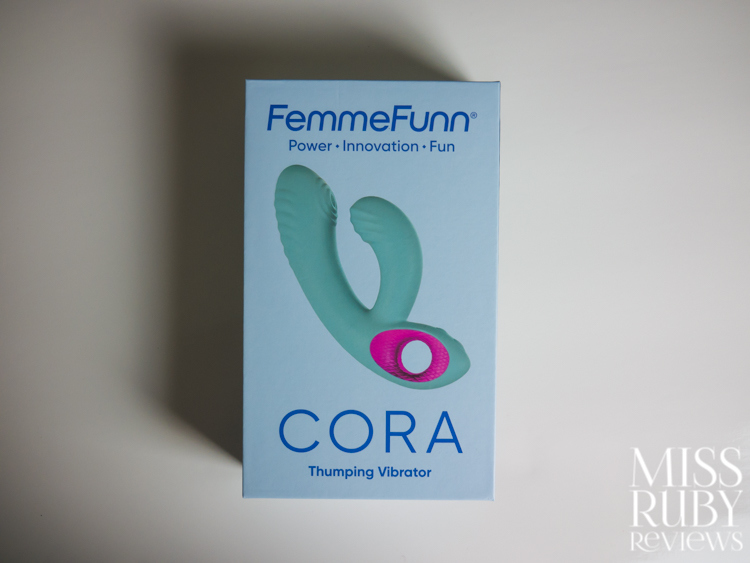 The FemmeFunn Cora comes in a light blue box with the toy pictured on the front. The box is of good quality.
When you open it up, the Cora and its charging cable are nestled on a foam pillow. Under the pillow, you also receive the user manual.
No storage pouch is included. If you want dedicated toy storage, you can browse some here.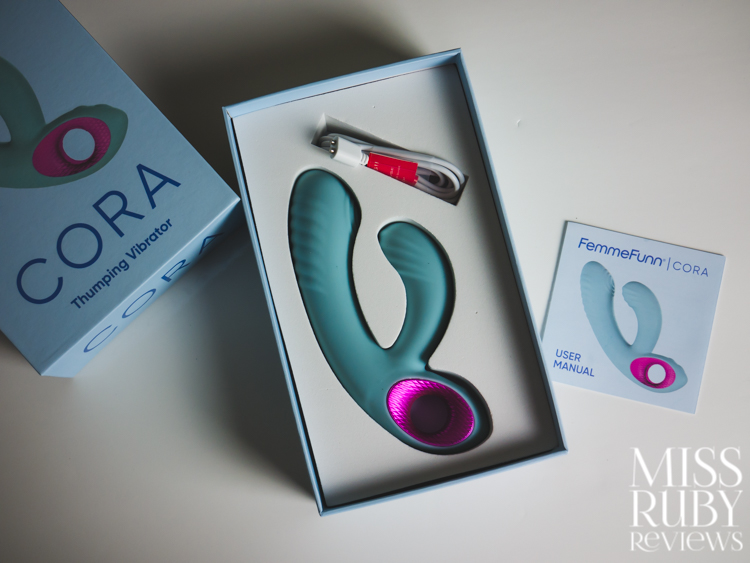 Material and Care
The FemmeFunn Cora is made from silicone with a silky matte finish. Silicone is a fabulous material for sex toys because it's nonporous (so it cleans well) and non-toxic.
The FemmeFunn Cora is water-resistant, not waterproof. FemmeFunn suggests you use a dedicated sex toy cleaner, then rinse afterward, and air-dry.
If you'd like to add lubricant (which I always recommend), try a good quality, water-based lube like my favourite basic Sliquid H2O (review here). Don't use any silicone-based lubricants as they could damage the silicone finish.
A light will flash when your toy has low power. To charge, attach the magnetic pins on the charging cable to the two metal pins on the back of the body. Connect that to power via your computer or a USB wall adapter. A full charge takes about 2 hours and gives you up to 1 hour of playtime.
My Experience with the FemmeFunn Cora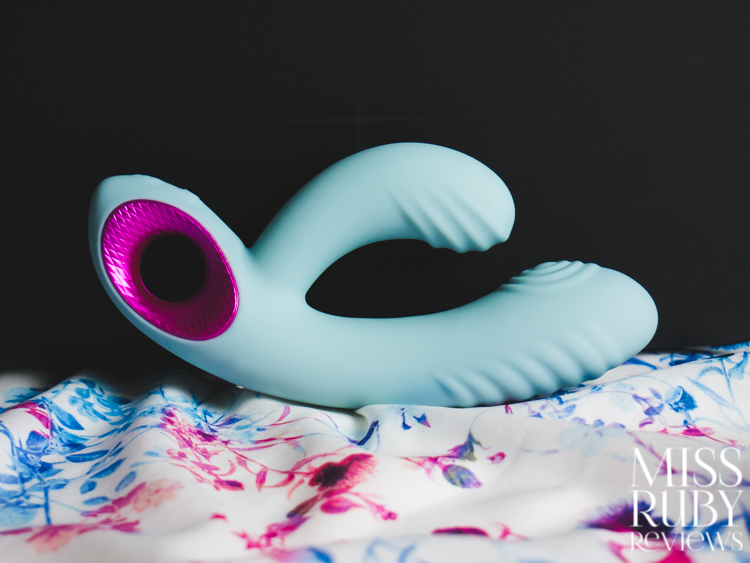 Rabbit sex toys are notoriously hard for companies to get right, so I'm always interested in trying a new, interesting design.
To my delight, the FemmeFunn Cora does do a lot right (with only a little bit of room for improvement).
First off, those clitoral vibrators are fantastic. It's rare to find a rabbit with a STRONG clitoral arm, but I've no complaints here. The clitoral arm is larger than in most rabbits I've seen, which is probably how FemmeFunn has managed to pull off a stronger/bigger motor. I need moderate-to-strong vibrations (with rumbly undertones) and the Cora delivers.
Internally, the G-spot arm doesn't feel nearly as small as it looks. It may be under 4″ long, but the head of the shaft is essentially round and bulbous, which gives it a much more filling/girthy feel (you'll need lots of lubricant for a smooth entry!). I love the ridges on the underside of the G-spot shaft — they feel great when gliding in and out.
The thumping motion is novel and interesting. The G-spot needs pretty firm stimulation, which is why G-spot dildos are usually made from a rigid, inflexible material. While the Cora's G-spot shaft is inflexible, the thumping pad is soft to allow for the thumping movement, and in practice it feels like soft taps against my G-spot. I've noticed that if I squeeze hard, the taps feel even softer.
That means the Cora gives you a combination of strong clitoral vibrations coupled with soft G-spot tapping. This isn't necessarily a bad thing —  it works well for me, but I suspect that some users will want very firm G-spot thumps.
Both motors are surprisingly quiet, so this is a good option for those of you who want to stay discreet.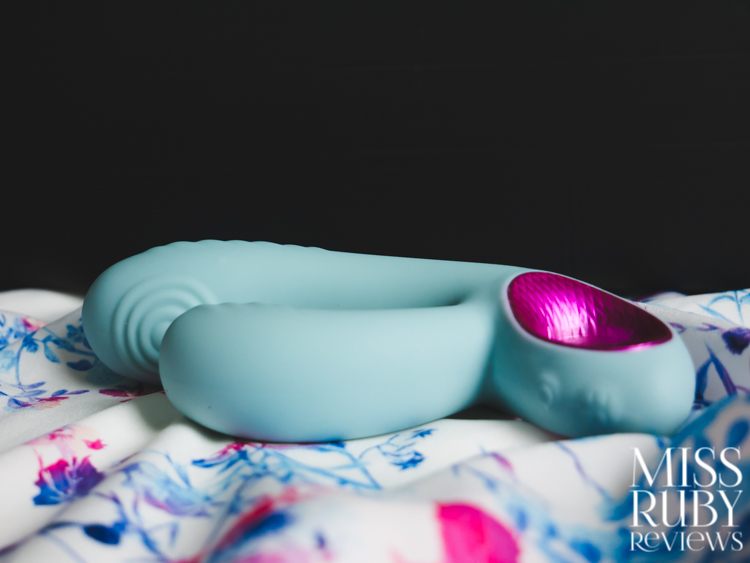 The FemmeFunn Cora can either be held firmly in place or thrust back and forth. If you plan to thrust it, definitely pick up a bottle of Sliquid lubricant! The clitoral arm is textured and big and will slide around a lot (and you don't want it dragging on your clitoris).
FemmeFunn Cora Review – Overall Thoughts
The FemmeFunn Cora is a beautifully designed rabbit sex toy with a novel thumping G-spot arm and a strong vibrating clitoral arm. This will be best suited for users who enjoy strong, rumbly clitoral vibrations coupled with soft G-spot stimulation.
You can pick up your own FemmeFunn Cora here! Why do I like Peepshow Toys? They ship internationally, only carry body-safe products, and you can get a 10% discount off regular-price products with coupon code RUBY. 

See below for my FemmeFunn Cora review breakdown.

FemmeFunn Cora Review Summary
Overall thoughts - 8
8
$129
PROS
Interesting G-spot thumping function
Strong clitoral motor
Bodysafe silicone construction
Rechargeable
CONS
Water-resistant, not waterproof
Can't provide strong/intense G-spot tapping
Shop Now