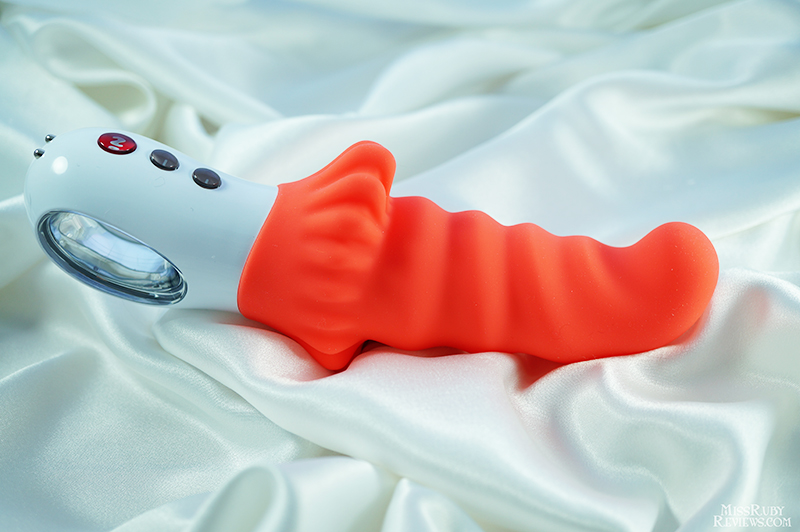 Honestly, few toys can rival the Moody in terms of CRAZY FUN COLOUR VIBRATOR SUNSHINE DILDOS BUTTERFLIES.
Physical Details | Material and Care | Packaging | My Experience | Overall
Physical Details
Design:
The Fun Factory Moody is an outrageously fun-looking vibrator. Slightly more robotic sea-creature than anything else, it boasts a curved, wavy shaft, a ridged base, and a loop handle. I don't get why it's called Moody. There's nothing brooding or solemn about this toy.
It also boasts orange. "Candy Orange." It's the first orange vibrator I own.
I. Cannot. Get enough of this colour. It's stunnnnnning.
To my pleasant surprise, I discovered that the Fun Factory Moody is squishy. There's a lot of bend to the upper portion of the shaft, and the silicone itself has a lot of squish. This comes in handy during playtime because no one likes their cervix punched by rock hard plastic.
The shaft flares out to a wide, ridged "stopper." This stopper means that it's safe for anal use (woohoo!) and has the ability to provide some extra stimulation to the areas directly above/below the vaginal or anal entrance.
Below the flared stopper lies a looped handle with 3 simple buttons: Power, Increase, and Decrease.
Vibrations:
This is my first Fun Factory vibrator, so I was very curious about vibration power. This vibe produces very decent vibrations (8.5/10). They're rumbly and resounding.  The majority of vibrations can be felt in the upper 3rd of the shaft, and concentrate themselves in the curved tip.
Noise:
The Moody is impressively quiet (8.5/10). Even at its highest setting, it's quieter than several of my other vibes. This cannot be heard through walls or doors.
Extra notes:
This vibrator is totally waterproof! Submerse away.
Rechargeable
Also available in violet and black.
Material and Care
The Fun Factory Moody is made from 100% silicone, making it body-safe (non-toxic, non-porous, and free of phthalates). It's also easy to clean. Because it's waterproof, you can simply rinse the Fun Factory Moody under soapy warm water. You can also use some toy cleaner if you'd like to be extra thorough.
If you are going to use lubricant with the Moody (which I suggest you do — this silicone is matte and draggy), use a good water-based one like Sliquid.
Packaging
I love Fun Factory's packaging. To be concise: it's fun. Inside the box, you receive the Moody, two manuals, and the magnetic charging cable. No storage pouch, which is a real pity.
My Experience with the Fun Factory Moody
The Fun Factory Moody was a welcome addition to my collection.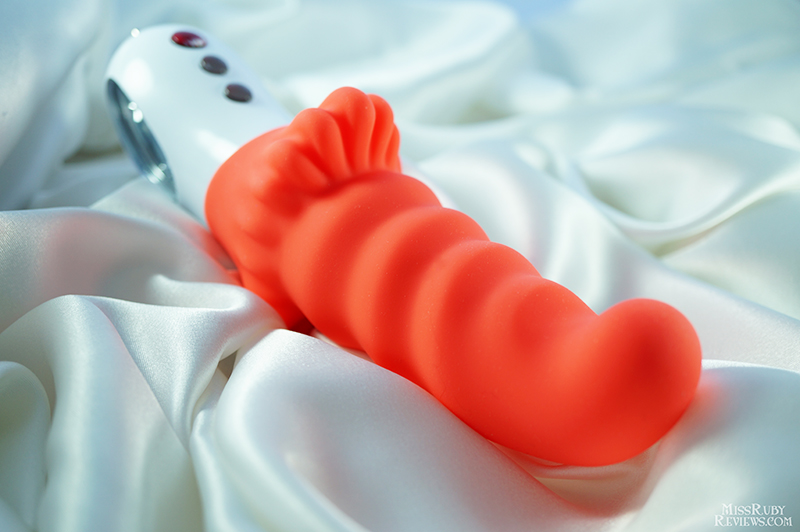 First, I have to say it: this toy is so easy to use. The looped handle is something so simple and so useful that I'm not sure why more companies haven't adopted it. Even when my partner's (or my own) hands are slippery, having that handle hole means that we can still have a secure grip for thrusting. There's no hand-slippage here. Thank you Fun Factory. Ease of use +1.
In terms of sheer pleasure, the Fun Factory Moody delivers. The thick, chunky shaft provides me with a full feeling. At 1.5″ diameter, it's not the "oh-my-stretch" that some toys will deliver, but it's definitely no thin, demure, shaft. It makes itself known pretty quickly in my, ya know, vagina. The end result is some amazing and assertive dedicated pleasure.
I'm thankful that the Moody is as short as it is. The 4″ shaft goes deep enough to deliver solid pressure to the G-spot (or prostate) and, thanks to the curved tip, the G-spot can't hide. G-spots are sometimes shy creatures: the more they're stimulated with firm pressure, the more receptive to pleasure they are. Fortunately, the curve on the Moody means that my G-spot is targeted with relative ease and, thanks to that handle, stimulation is quick and effective.
I was pleasantly surprised by how noticeable the texture of the wavy shaft is. The curves deliver a pop-pop-pop sensation, but not one that is severe. This is not what I would consider a highly textured toy, and one that is best suited to people who prefer gentle to moderate texture.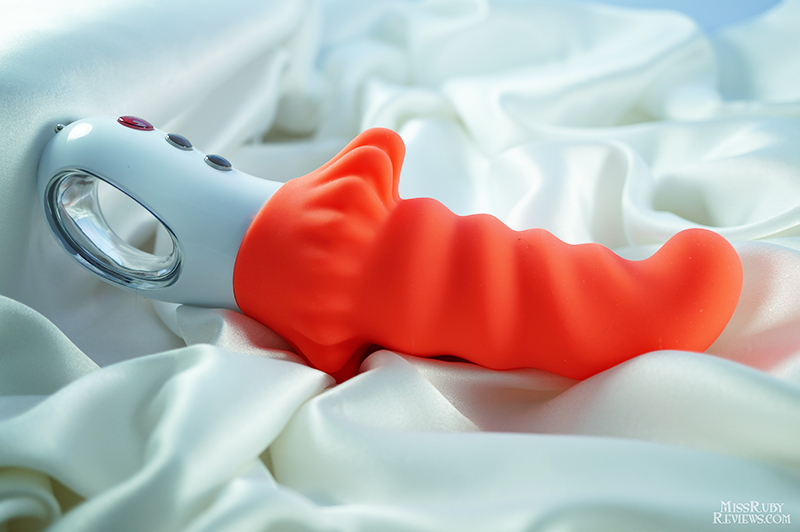 The ridges along the flared base seem more decorative than anything else. Asides from acting as a stopper (and thereby making this toy safe for anal use), they don't seem to have much function. In terms of concrete, tactile stimulation, the ridged base does little for me. I'm not really aware of any ridges. That being said, I *am* aware of the mere presence of the flared base below and above my vaginal entrance. It's a sexy feeling, and not one I've really experienced before from a sex toy.
On a side note, I should emphasize that this toy requires a ton of lubricant. Even if you generate a lot on your own naturally, I strongly recommend that you drizzle some water-based lubricant on before or during use. The matte silicone uses up lubricant very quickly, and there's nothing quite like a dildo that chafes, so be sure to grab some extra in your shopping cart.
Overall
I'm pleased with the Fun Factory Moody and, once again, I'm impressed with this manufacturer. I think the Fun Factory Moody is a solid high-end vibrator choice for those looking for targeted G-spot or prostate pleasure, with some gentle texture to boot.
And it's pretty. Never underestimate the prettiness of a sex toy.
To purchase the Fun Factory Moody, head on over to Peepshow Toys. And for 10% off, use coupon code RUBY.