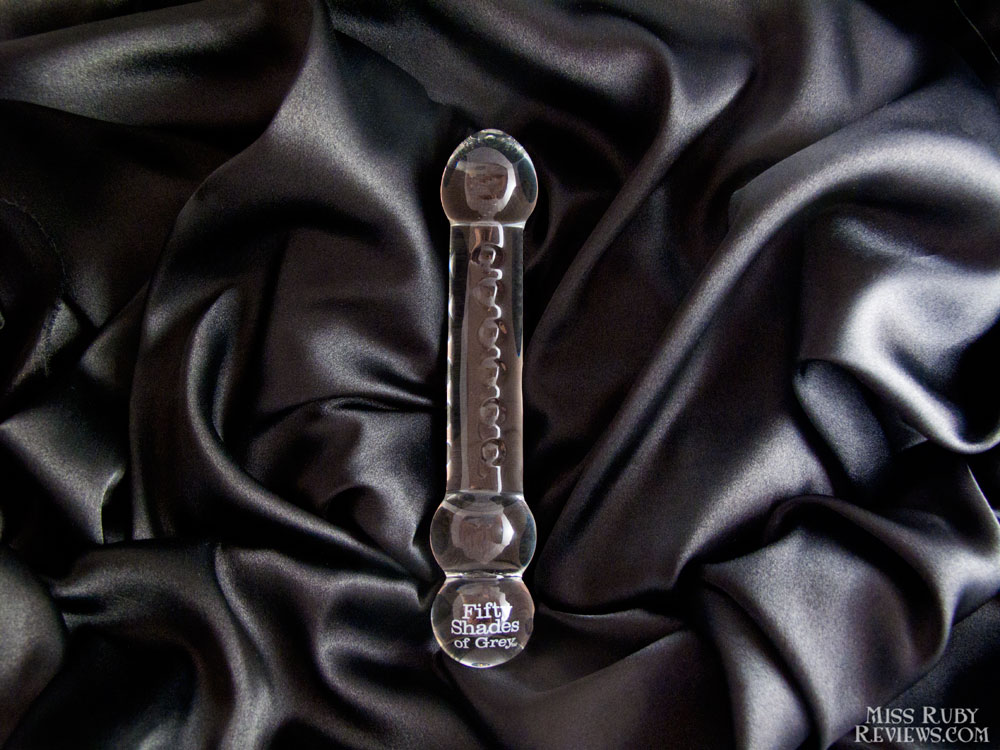 Packaging| Physical Details| My Experience | Overall
The Fifty Shades of Grey Drive Me Crazy Glass Massage Wand is beautifully packaged in a Fifty Shades of Grey retail box. Inside this box, there is a clean black box that holds the wand, an information booklet and a large black satin pouch that holds all of this. The black box is large enough to store other toys, and I'll be putting my Fifty Shades of Grey kegel exercisers and cock ring in it too.
Physical Details
The Fifty Shades of Grey Drive Me Crazy Glass Massage Wand is pretty. It consists of circles on a shaft, which doesn't sound all-too amazing, but it all comes together well.
Technically a double-ended dildo, the wand features two options for penetration. On one end lies a single bulb, narrow enough to be considered semi-realistic. The slightly-curved shaft is lined with six raised nobs for texture. The shaft grows slightly thicker as it reaches the two round bulbs that sit at the end of the shaft. These double-bulbs are larger and rounder than the single bulb at the other end.
The Fifty Shades of Grey Drive Me Crazy Glass Massage Wand is made from borosilicate glass (like Pyrex), making it very strong and durable and able to take temperature changes. It can be warmed or cooled, and it will remain warmed or cooled for some time.
Because it doesn't have a flared base, this toy is not compatible with a harness and is not safe for anal play.
Being glass, this wand is non-toxic. It doesn't have any chemicals, any scent, and it's phthalate-free. It can be cleaned with soap and warm water or you can toss it in the dishwasher. Use silicone-based or water-based lube with this toy.
My Experience
If you're not going for cold sensory play, I highly suggest warming the Fifty Shades of Grey Drive Me Crazy Glass Massage Wand up before use. This is my first glass product, and so the first time I tried it I assumed it would warm up to my body temperature as quickly as silicone. Nu-uh. Its natural temperature was really cold and remained freezing inside of me for several minutes until I smartened up and ran to the nearest tap.  I put it in a bowl and filled it with very warm water for three minutes, and then it was delightfully warm and continued to give off heat for some time.
Lesson learned: glass is cold to the (vaginal) touch unless you heat it up beforehand. You can also cool it down by placing it in your fridge or putting it in a bowl filled with cold water or ice-cubes.
The next time I tried this toy, I made sure it was at a comfortable temperature before use. It was a much more pleasurable experience.
I can't really discern the nobby texture on the shaft. They're too subtle for me to pick up, but I'm fairly neutral about textured stimulation so this isn't a drawback for me at all. The shaft itself could also have been longer, as it would have made holding onto the toy easier.
I definitely prefer the double-bulbed end. The other end's bulb is a bit too narrow and doesn't make me feel very full, but the double-bulb end feels great. My vagina can definitely discern that this end is more girthy. I also love the "pop" sensation as each of the two bulbs passes inside.
I'm realizing that I really like dildos with globe-like heads, and this wand is no exception: I really like those spherical bulbs. They're wide enough and full enough to push against and cover a satisfying amount of your g-spot. I really appreciate this broad stimulation, and my favourite way to orgasm with this toy is to gently rock the wand side to side across my g-spot while using my favourite clitoral vibe. When the wand is emitting heat inside of me, these orgasms feel great.
The shaft's curve is useful for g-spot stimulation, but I think it could have had a steeper curve to make targeted g-spot pleasure easier. To compensate, I simply point the want upwards towards my pubic bone and press firmly. It's when I'm pressing firmly that I really appreciate the glass material: glass is unrelentingly firm. Hard-as-rock material can hurt when you have jagged plastic ridges, but this glass wand is smooth and streamlined, meaning that its solid hard surface never hurts or catches.
Overall
All in all, I loved my introduction to glass toys. I think this toy's main strength is the double-bulbed end, as it provides girth to an otherwise narrow toy.
Now excuse me as I go use this toy again.
To buy the FSoG Drive me Crazy Wand, here are some recommended stores: 

Lovehoney USA