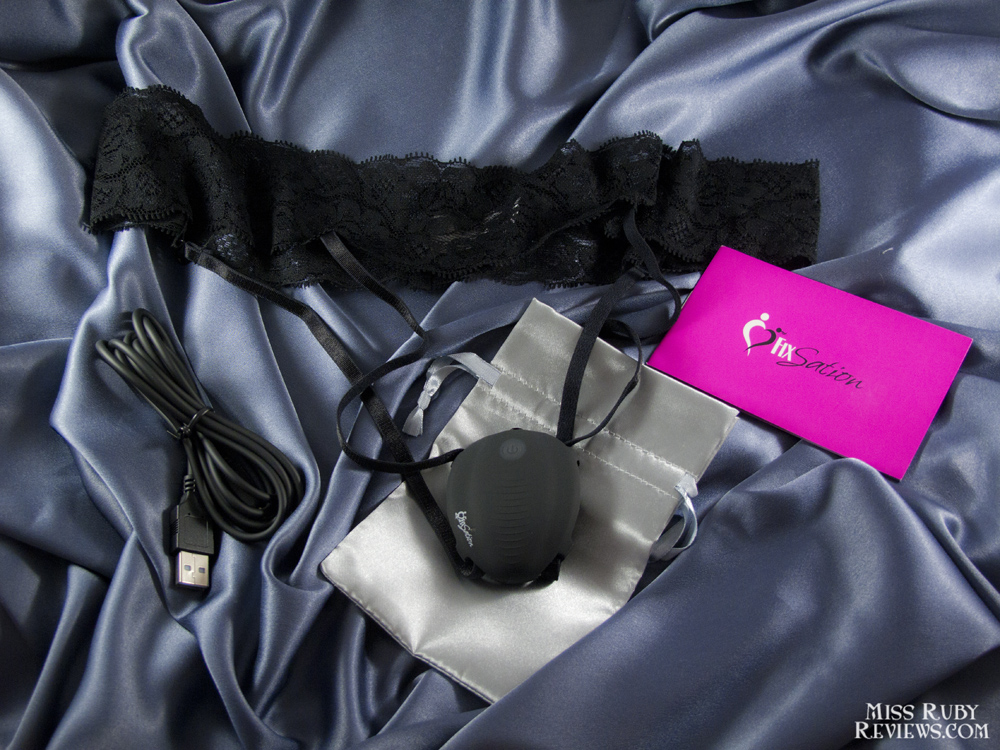 About the Store | Packaging| Physical Details| My Experience | Overall
About the Store: FixSation
It was a pleasure to communicate with FixSation, LLC. FixSation wanted to make a product that fostered intimacy between partners during sex, so they created the FixSation Couple's Vibe which is the "first official non-invasive Couple's Vibe" to be worn as a panty. When I found their website, I thought that their Couple's Vibe would be an interesting toy to try out because I've never tried a non-invasive couple's vibe before.
Shipping and Packaging
It took around two weeks to receive this vibe once it was shipped. The FixSation Couple's Vibe was shipped Jan 26th and it arrived Feb 10th. Note that I live in Canada, so shipping took a bit longer for me than I think it would for US residents.
Attached is a photo of the parcel packaging. Note that the company's name is on the label and the vibe is listed as "personal massager" for international customs. This isn't a problem for me because I don't live with parents or family who I'd want to hide its contents from. But, if you're in a situation where you need absolute privacy, take care to make sure you're there to accept the parcel because anyone reading the label would know what you ordered.
I love things in boxed sets. This package comes in a fancy black box with the vibe, a charger, an information booklet, a silver satin bag and a panty (in the size you choose, sizes S – XXL). I was pleased to find that the vibe was already assembled into the panty so I didn't have to worry about how to set things up for the first try.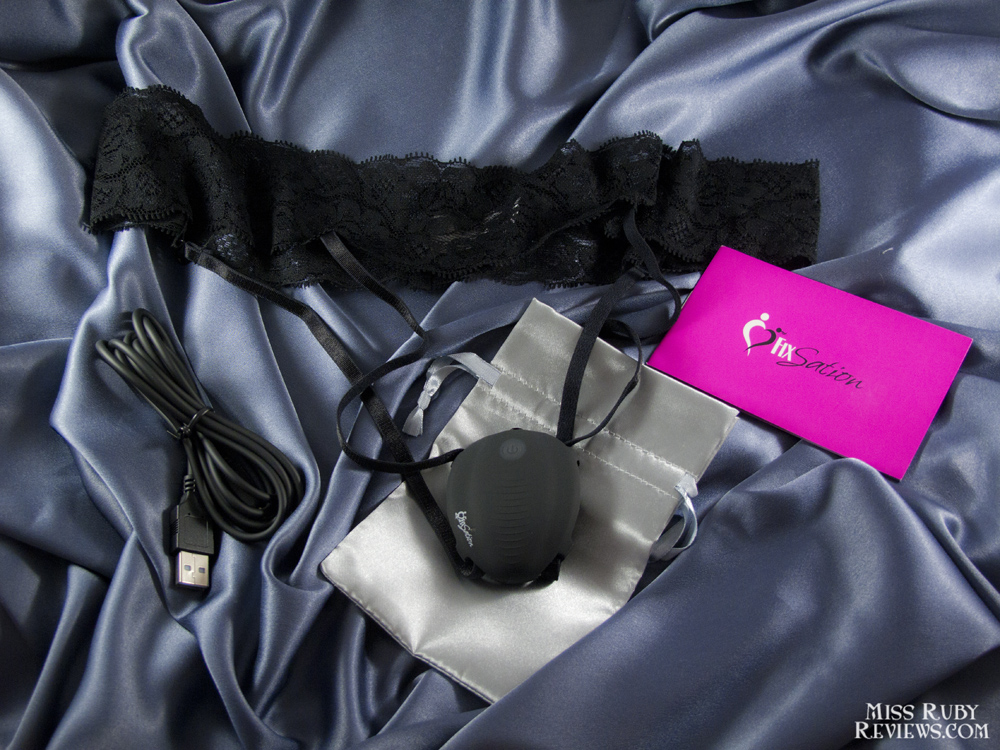 Physical Details
The hand-washable panty itself isn't a traditional panty. Crotchless panty, though? Definitely. But don't wear just this under a skirt on a windy day…It's won't leave anything to the imagination. It consists of a lacy band that fits around your hips with two satin bands that run between your vulva and your thighs to hold the vibe in place over your clitoris. In other words, unlike panties, this doesn't get in the way during sex. I'm a sucker for black lace, and I'm happy to say that the lace used for the hip band is quite pretty.
The vibe itself is a thin oval disk. It's made from ABS plastic but it feels velvety to the touch because it's coated in PU. I wish it was silicone, but at least it's phthalate-free and latex-free.  I would definitely make sure to clean it before and after every use because PU coating is not as nonporous as silicone. Note that there are quite a few grooves and crevices so be sure to clean thoroughly.
There's also a 1 year warranty, which definitely gives you some peace of mind.
The vibe is water resistant (not waterproof), and it's rechargeable, which is great because I'm not a fan of digging around my house for batteries. The charge lasts up to two hours, and I've yet to have it die on me unexpectedly. Word of warning though: you should charge this toy before every use. I thought I was being clever when I charged it in advance, but it didn't work when I tried to use it a week later. So recharge it at least a few hours or a day before you intend to use it. It's also difficult for me to open the charging port hatch. It's a very thin cover and I bite my nails, so I need to use tweezers to open it.
There's a single button on the top that controls five vibration modes: low, high, and three pulsation patterns. This isn't a hugely loud vibe, but it isn't quiet either. While I can't hear the vibe on high through walls, it's definitely noticeable when you're in the same room as it. During sex, the vibe sound changes depending on whether or not your partner is pressing up against you/the vibe, and so steady thrusts can make things sound like an appliance of some sort. It doesn't bother me too much, but I suggest putting on some music if you think this'll be an issue.
My Experience
Everything fit better than I expected. I'm a US size 14 so I went with an XL and it fits perfectly. I was worried about the vibe fitting very loosely against my clitoris/vulva, traveling up and down the bands to the wrong places, but I was pleasantly surprised by how the vibe fits very snugly in place over my clitoris where it belongs. I keep myself trimmed or shaved and I've noticed a bit of hair pinching; I'd be nervous about using this with full pubic hair out of fear of pinching.
I have a male partner, but I don't see why this can't be used by lesbian couples. One thing to note is that, although this is a couple's vibe, it didn't provide stimulation to my male partner.
The bands are held to the lacy hip band by the same type of hook used in bras with removable straps. I've always had trouble with these types of hooks, and this is no exception. Though the panty and vibe comes assembled in the box, I've found that often when I'm putting it on, one or two of the thin bands snap off their hook so I need to stop to fix it. This can be frustrating because I need to untangle the straps that tend to twist and curl around the hip band, figure out the correct orientation for each of the straps, and restrap it all up. I've had the bands snap off twice in a row, which was a mood-killer, so I try to be very careful when putting this on.
This vibe is designed for missionary position.
I find that, when my partner has thrust inside of me, the vibe does actually feel better because he causes the vibe to press up firmly against my clitoris. This of course won't happen outside of missionary position, so this may not be the best choice this if your favorite position is something else. I think this vibe can be quite handy if your partner has a large stomach. During missionary sex, your partner's belly can get in the way of you accessing your clitoris with your hands or larger vibrators, so this vibe offers a tidy option for such circumstances.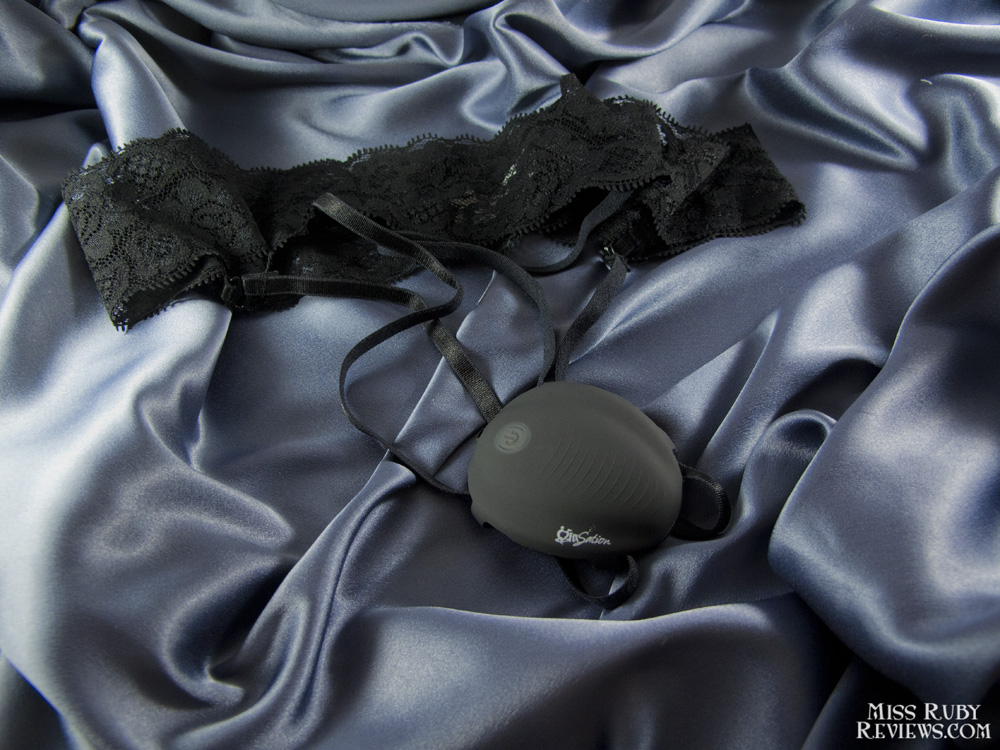 During use with a partner, I've found that the vibe feels nice, but it isn't enough to make me orgasm. It definitely wakes up my clitoris and gets it interested though. Like many toys, you may or may not have the right body shape or stimulation preference to suit, and I don't think this suits my body enough.  In action, I think this vibe has the potential to make some people very happy and others not so much.
The vibrations themselves are surface-level and buzzy. On a scale from 1-10 in vibration power, I'd give it a 3.
Another thing about the vibe is that, by the nature of the shape, it cannot provide pin-point stimulation. If you know your clitoris needs pinpoint stimulation, take note of this. However, if you've noticed that you like broad, gentle vibrations that can be felt evenly over your clitoris and upper vulva, with no particular stimulation on the head of your clitoris, then this could feel good.
Lastly, this vibe isn't probably a good fit if you know that your clitoris is set rather deeply in your vulva. Many people have thicker outer lips/pubic mound and a deep-set clitoris. If yours is like this, your clitoris may not receive the stimulation it needs and the vibrations instead will be concentrated on the outer lips surrounding your clitoris. Some people have smaller outer lips and a prominent clitoris, making their clitoris more accessible. This vibe will feel better if you're someone with smaller outer lips/pubic mound or a prominent clitoris.
Overall
The FixSation Couple's Vibe is a neat idea but unfortunately, the weak, buzzy vibrations ruined it for me.  Though this vibe didn't work for me, you might enjoy it if you:
Have a sensitive clitoris
Are happy with buzzy vibrations
Prefer broad stimulation
Clitoris is easily accessible (ie, you have smaller outer lips or smaller pubic mound or a prominent clitoris)
Primarily love missionary position
To buy the FixSation Couple's Vibe and Panty, head on over to FixSation.