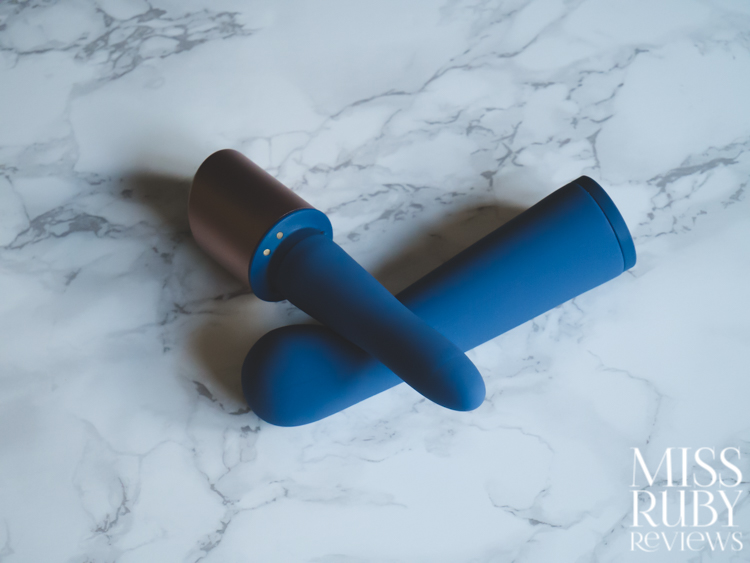 Well, this is unique. A two-in-one vibrator that gives you a bullet and a G-spot vibrator! Read on for my Deia Couple review!

Design | Accessibility | How to Use | Packaging | Material and Care | My Experience | Overall
Design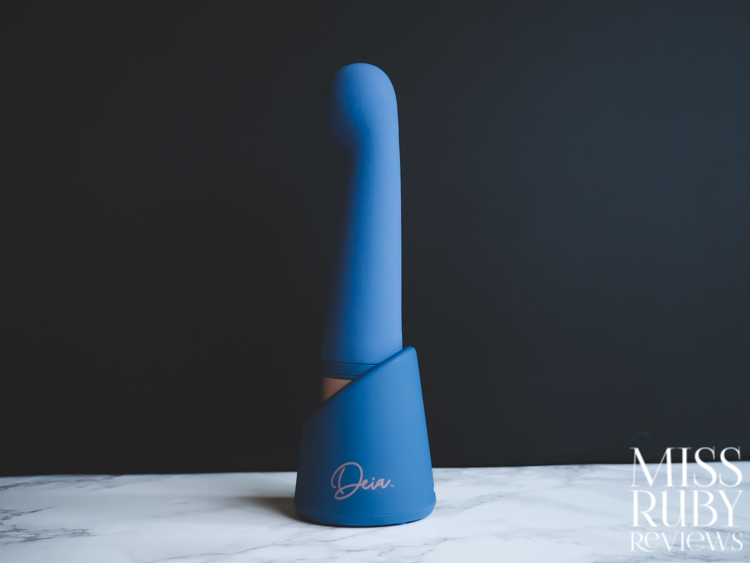 The Deia Couple is a luxury G-spot vibrator with a fancy little trick — the G-spot shaft can be unscrewed to reveal a narrow little bullet inside, one that can be used for clitoral or anal stimulation. Out of all the toys I've ever reviewed, I don't think I've come across one with this feature, so I had to give this one a go!
This is truly a stunning vibrator. The G-spot form consists of a long, elegant shaft that swoops out and into a round, bulbous tip. When you remove the sleeve, you find a narrow bullet vibrator, approximately the length and width of a forefinger. Below the shaft, there's a gold-coloured metal base with "Deia" inscribed on the side.
Both the G-spot shaft and the bullet are completely rigid and firm, giving you unyielding firm pressure.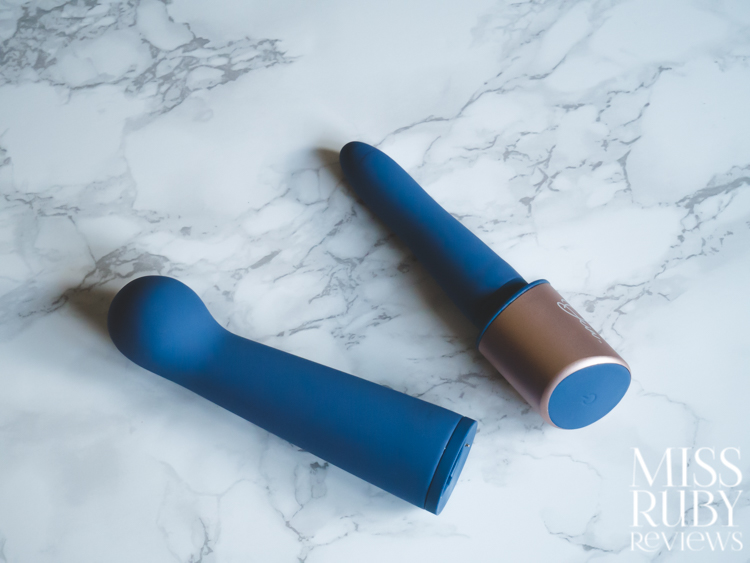 The Deia Couple has two motors. If the G-spot sleeve is attached, it uses one motor, but if you remove that you can hear it switch to a completely different motor. Neat stuff.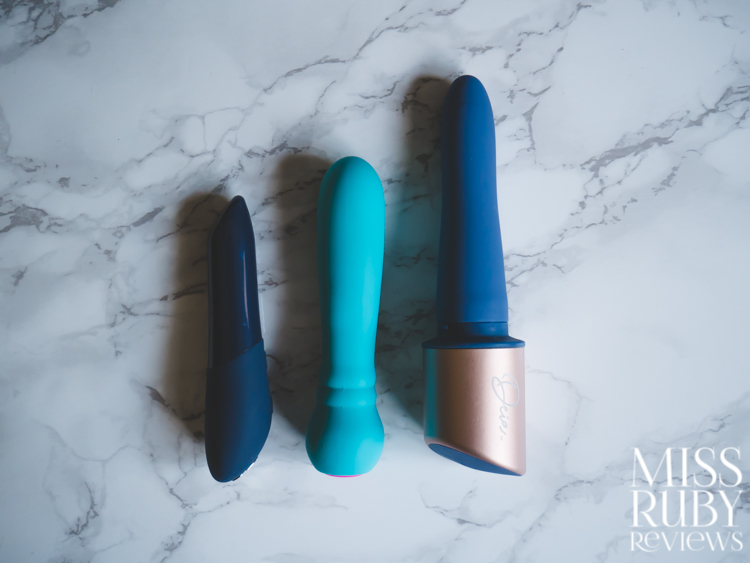 Above, for size comparison, I've lined the Deia Couple with the We-Vibe Tango X (left) and the FemmeFunn Ultra Bullet (middle). The Deia Couple would have been approximately the same size had it not been for the gold base.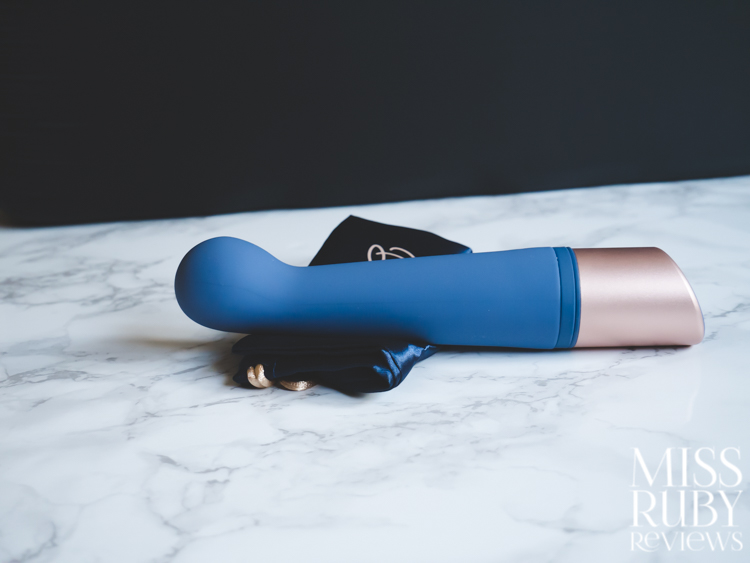 Accessibility
This section is to help folks determine if they might have any issues using/accessing this toy.
Size (G-spot form): The Deia Couple is 7.5″ long in total. The insertable length is about 5″ with a 1.5″ spherical bulb at the tip.
Size (bullet form): The bullet is 5.5″ long total (including the base) or 3.5″ long (excluding the base). The bullet tip is around 0.75″ wide at the tip.
Weight: It weighs 140 grams (G-spot form) or 70 grams (bullet form).
Buttons: There's one big round button at the base. It's 1.25″ wide and sits flush with the surface. It takes little pressure to click and makes a nice 'click' sound.
Vibration transfer: In bullet form, there is little vibration transfer to the gold handle. However, when you add the G-spot sleeve, it switches to a different motor, and suddenly there's considerably more transfer to the handle.
Price: At $170 USD (or $200 CAD), this is certainly on the more expensive end for a vibrator. However, it's rare to find a product that comes with a built-in two-in-one feature.
How to Use the Deia Couple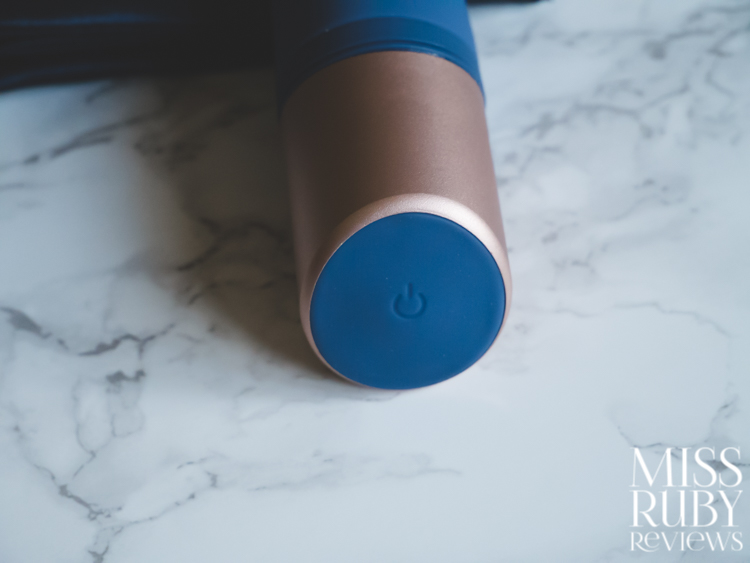 The Deia Couple is controlled by a single large button at the base.
Press and hold the power button for 3 seconds to turn it on.
Tap the button to cycle through the 3 steady speeds and 7 patterns.
The G-spot sleeve is designed for vaginal stimulation. Simply insert and enjoy.
To remove the G-spot sleeve, hold the base and twist the shaft until it unclicks, then remove. This will reveal the smaller bullet inside.
The bullet is designed for clitoral and anal stimulation (it has a flared base for anal play, though the flare does not seem very big so proceed with caution).
To turn it off, press and hold the power button.
Packaging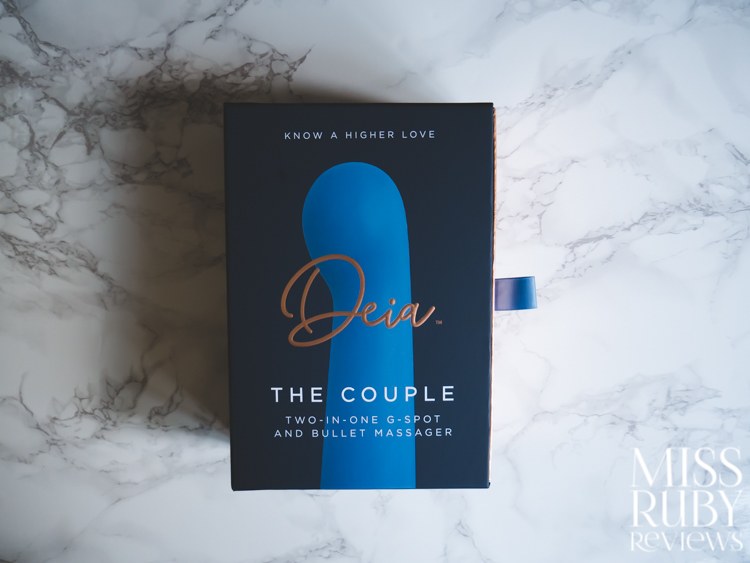 The Deia Couple is beautifully packaged. The outer box is a deep blue and gold. It has a drawer that slides out to reveal the contents neatly nestled inside.  All in all, the packaging presentation is top-notch, as good as it gets. It's very luxurious and makes this product extremely giftable.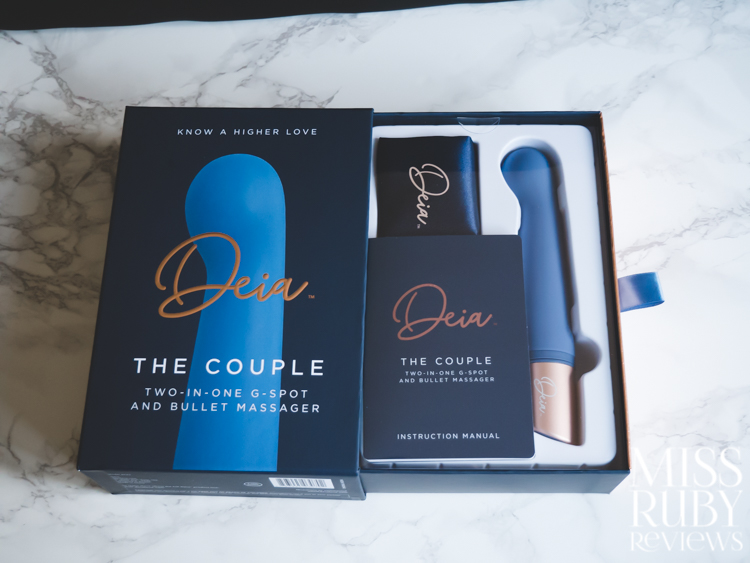 In total, you receive the Deia Couple, the charging base station, a USB-C cord, a full-colour instruction manual, and a deep blue satin storage pouch.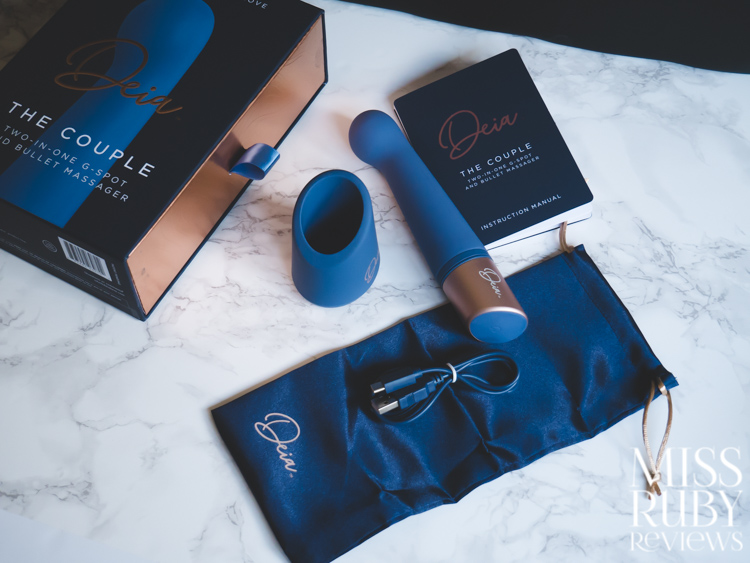 Material and Care
The Deia Couple is made from silicone with a silky smooth finish. Silicone is a fabulous material for sex toys because it's nonporous (so it cleans well) and non-toxic. The gold base feels like hard and cool metal, and I *think* it is anodized aluminum (though I can't find confirmation of this).
The Deia Couple is waterproof to IPX7, making it submersible. To clean, I rinse the whole thing in warm, soapy water before and after each use. Take care not to get the charging station wet, though.
If you'd like to add lubricant (which I always recommend), try a good quality, water-based lube (I'm a fan of Sliquid Naturals and their flavoured Swirl line).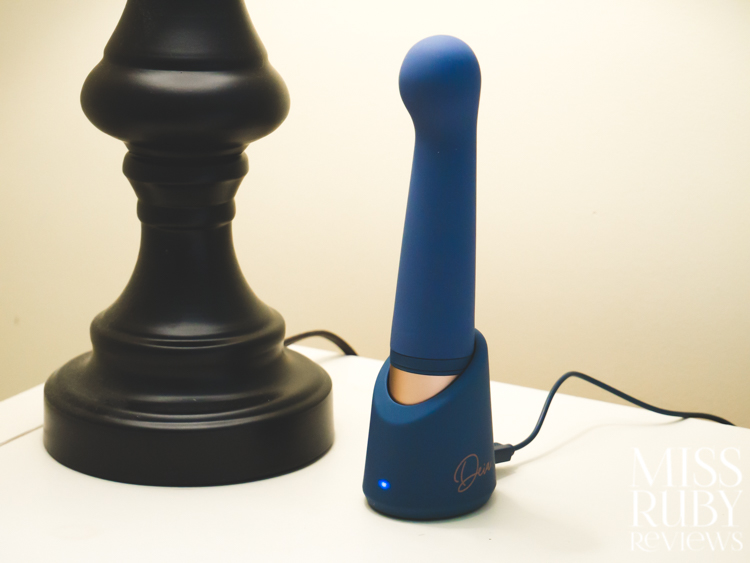 To charge, put the base of the Deia Couple into the base station. Turn it until it's sitting securely in. Then insert the USB-C cable (included) to the back of the charging station and connect it to power via your computer or a USB wall adapter. The LED light will pulse while charging and then go solid when fully charged. A full charge takes 2 hours and gets you up to 85 minutes of playtime.
My Experience with the Deia Couple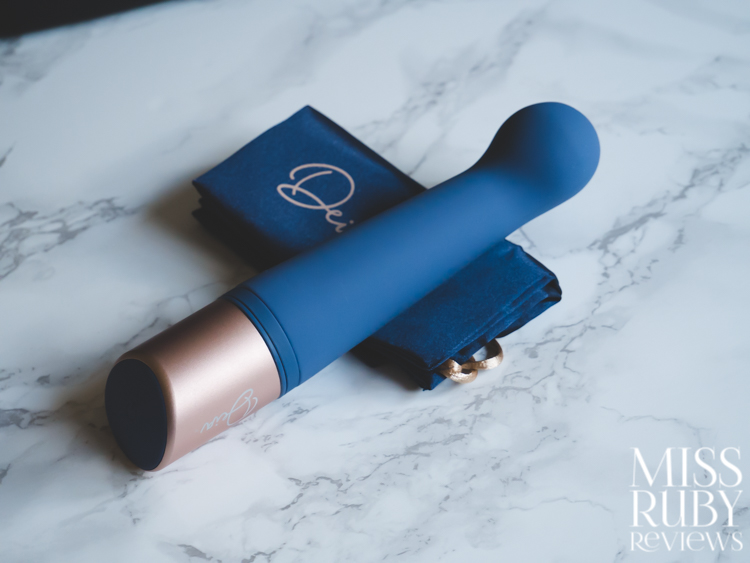 The designers behind the Deia Couple certainly thought things through. They've designed an effective sex toy.
G-spot stimulation
The Deia Couple's G-spot sleeve has a tried-and-true design. The shaft may be straight, but the spherical bulbous tip does wonders for the G-spot. When I insert this vaginally, the bulb feels wide and girthy, but then it kind of 'pops' inside. When I angle the tip upwards, the bulb digs right into the G-spot and *firmly* massages it during thrusts.
In other words, it feels great. You really can't go wrong with this design.
The G-spot sleeve's motor (which is different from the bullet's motor) has moderate strength (5.5/10). It has an underlying hint of rumble, but still a lot of buzz. My G-spot responds more to shape and thrusts rather than vibration strength, so I don't mind that it doesn't have a super strong motor, but if you know your G-spot needs fierce rumbles then take heed.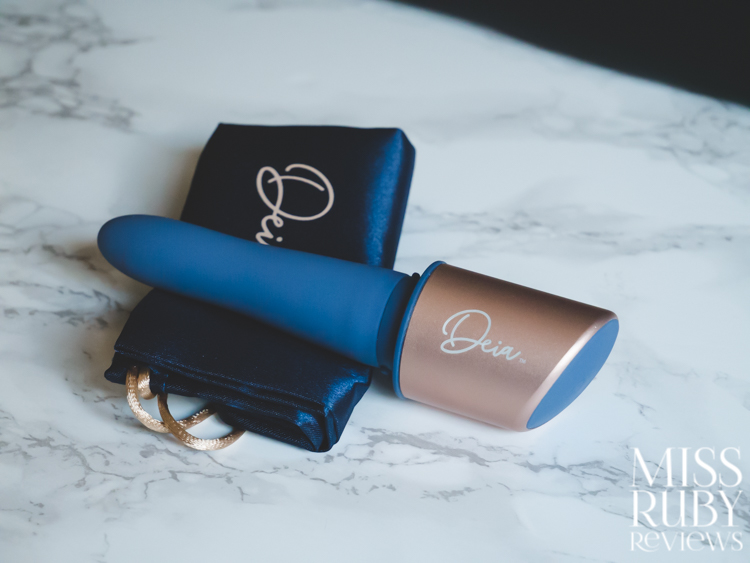 Clitoral stimulation
The Deia Couple's bullet is hard, narrow, and has a tapered tip. This makes it great for very firm, very pin-pointed stimulation (amazing ingredients for me, personally).
When you twist off the Deia Couple's G-spot sleeve, it switches to a bullet motor. This motor has a higher frequency than the G-spot sleeve's motor, and a pinch more strength (I'd say 6/10).
Personally, I can have enjoyable orgasms from the bullet motor, but that's only because I can apply hard, pin-point pressure at the same time. If you are a power queen, this motor simply won't be enough for you.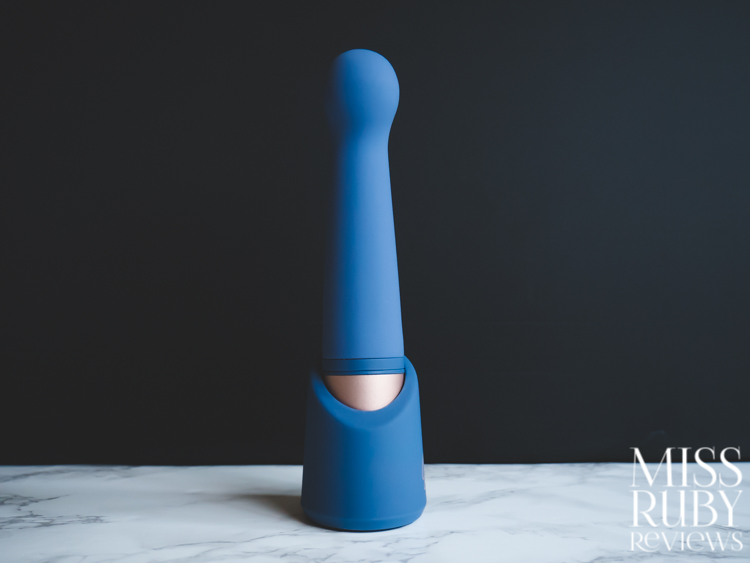 Deia Couple Review – Overall Thoughts
The Deia Couple has a great concept, and it succeeds in many ways. The two-in-one feature makes this a versatile toy. The G-spot sleeve has a fantastic, bulbous shape for effective G-spot stimulation. When you remove the sleeve, the bullet is great for those of you who need firm, pin-point clitoral stimulation. The Deia Couple is made from bodysafe silicone and is rechargeable and waterproof. And aesthetically, this pleasure product is just gorgeous. The only drawback I can find is the motor strengths — both the G-spot and the bullet motors won't be strong enough to satisfy people who need top-strength toys. That isn't to say this toy can't be pleasurable, especially if these shapes are suited to you (I orgasmed!). But if you are a power queen, you will need to look elsewhere.
You can pick up your own Deia Couple here for $170 USD (or $200 CAD)! Why do I like LuxuryVibrators.ca? They're owned and operated from Canada (but ship to the USA too!), they carry a range of luxury pleasure products, and first-time customers can sign up for a 10% off coupon! 

See below for my Deia Couple review breakdown.
Deia Couple Vibrator Review
Overall thoughts - 8
8
US$170
PROS
Effective G-spot shape
Bullet shape is firm and pin-point
Two-in-one concept is convenient and novel
Bodysafe silicone construction
Luxurious presentation
USB Rechargeable
IPX7 Waterproof
CONS
Motors won't be strong enough for some users
Flared base is not very wide for anal play
Shop Now