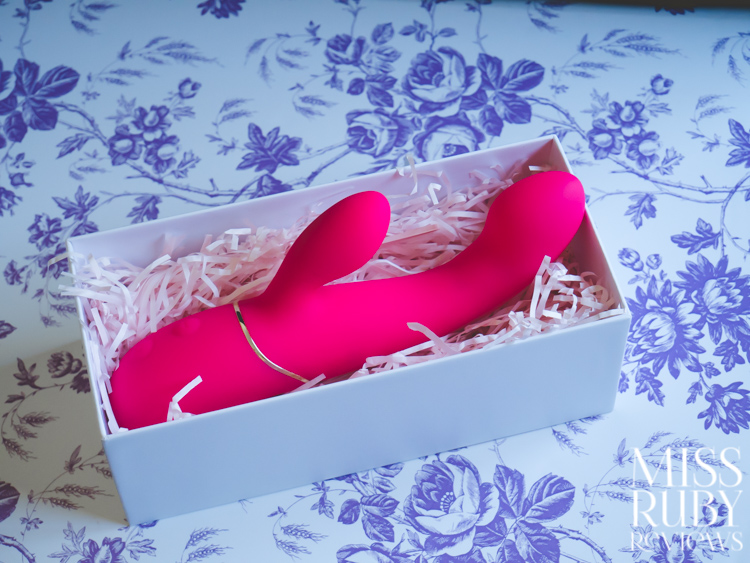 A new pink rabbit that taps your G-spot! Check out this Honey Play Box Elda review!
Design | Accessibility | How to Use | Packaging | Material and Care | My Experience | Overall
Design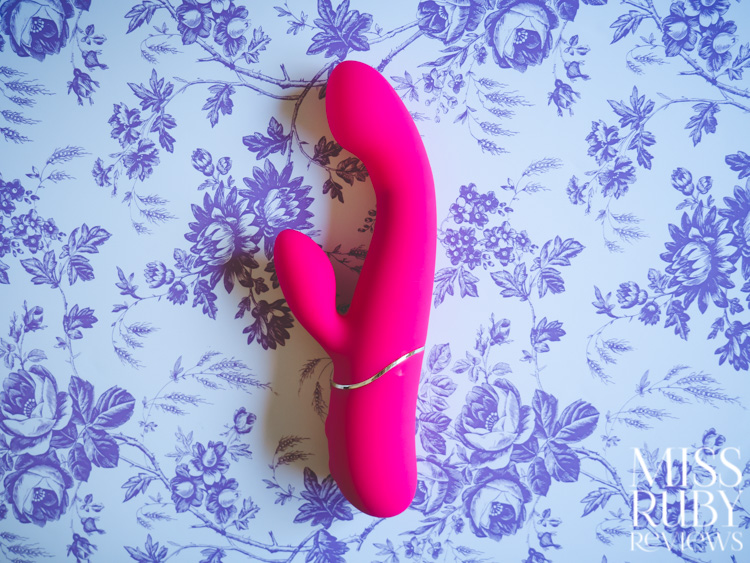 At first glance, the Honey Play Box Elda looks like a standard, typical rabbit. It's bright pink with a curved G-spot shaft, a spongey G-spot head, and a flexible clitoral arm.
But it has a secret up its sleeve: its G-spot arm taps wildly!
The movement is a definite back-and-forth, like a finger. In the above video, it looks like the clitoral arm taps as well, but in my experience, only the G-spot shaft makes the tapping motion (and doesn't vibrate). Instead, the clitoral arm vibrates.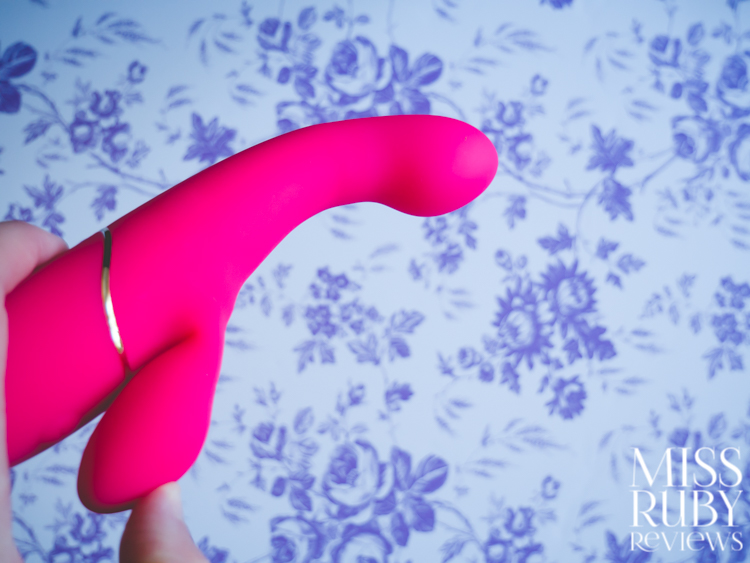 The Honey Play Box Elda has a nice feel to it in my hands. It's heavy and feels well constructed. The G-spot shaft is rigid and unmovable, though the clitoral arm is very flexible (pictured above) and is 2″ long; this means this rabbit should fit anyone whose clitoris is up to 2 inches away from their vaginal opening.
The clitoral arm and G-spot shaft are controlled independently via two buttons on the handle. It's waterproof, USB rechargeable, and made of silky matte silicone.
The G-spot shaft has a deliciously squishy head. It feels very spongey and cushioned, which is a sensation I personally love.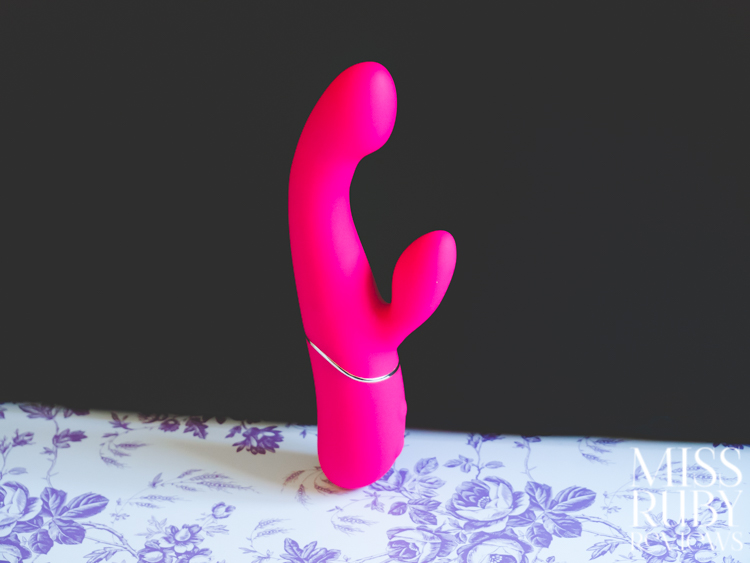 The Honey Play Box Elda comes in two colours: Pink (bright Fuschia tone, pictured here) and Berry (a deeper, matter shade).
Accessibility
This section is to help folks determine if they might have any issues using/accessing this toy.
Size: The Honey Play Box Elda is an average-sized rabbit vibrator. It's about 8.5 inches long (total) with 5 inches of insertable length and a 2-inch clitoral arm.
Weight: My scale says this is 270 grams. It has a good weight to it.
Buttons: There are two round buttons on the handle, approx. 10 mm wide and 1mm tall. A gap of 1 cm sits between them. They take light pressure to press and make a nice loud 'click' sound.
Vibration transfer: Only a low percentage of vibrations transfer to the handle, making this palatable for those of you who have joint issues.
Price: At $76.99 USD, this is a fairly good price for a G-spot rabbit with a moving/tapping shaft. You can also get 20% off with code MISSRUBY
How to Use the Honey Play Box Elda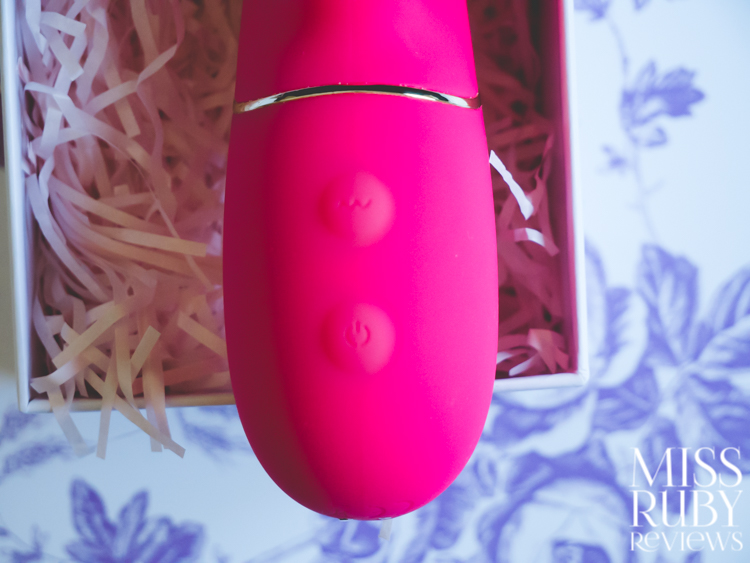 The Honey Play Box Elda is controlled by two buttons on the handle.
Press the power button for 2 seconds to turn it on. It'll turn on in standby mode.
Apply some lubricant and insert this vaginally, angling it so that the shorter arm is centred over your clitoris.
Keep tapping the power button to cycle through the G-spot arm's tapping modes.
Click the ~ button to turn on the vibrating motor in the clitoral arm. Keep pressing that button to cycle through its independent strengths and patterns.
To turn it off, press the power button for 2 seconds again.
Packaging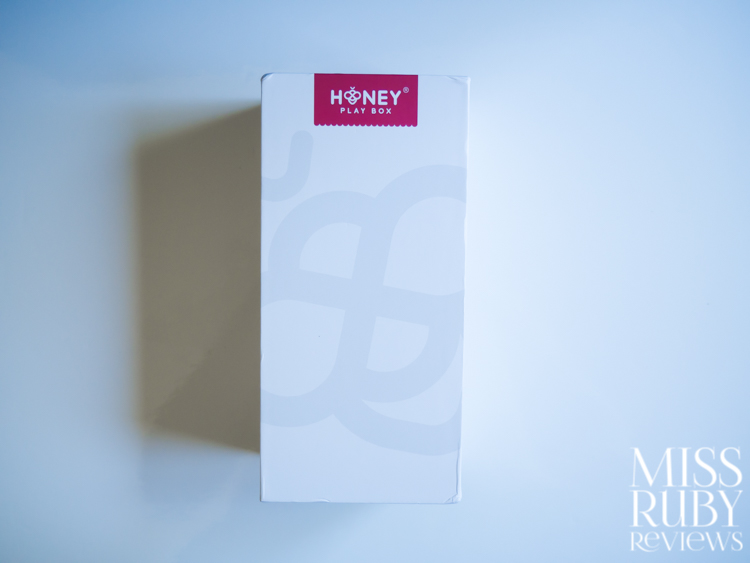 The Honey Play Box Elda is packaged cleanly in a white, discreet box. Inside, the Elda is wrapped in semi-translucent plastic. It rests on top of blush-coloured paper confetti.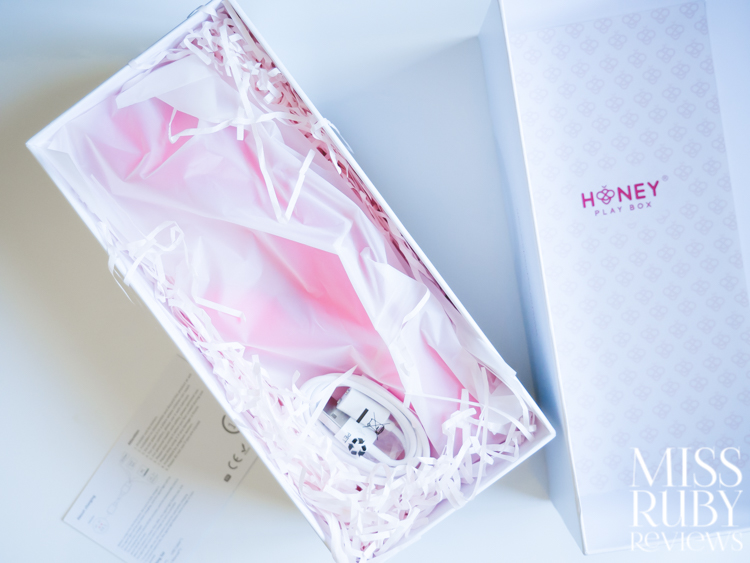 All in all, you receive the Elda, the USB charging cord, and a small sheet of instructions.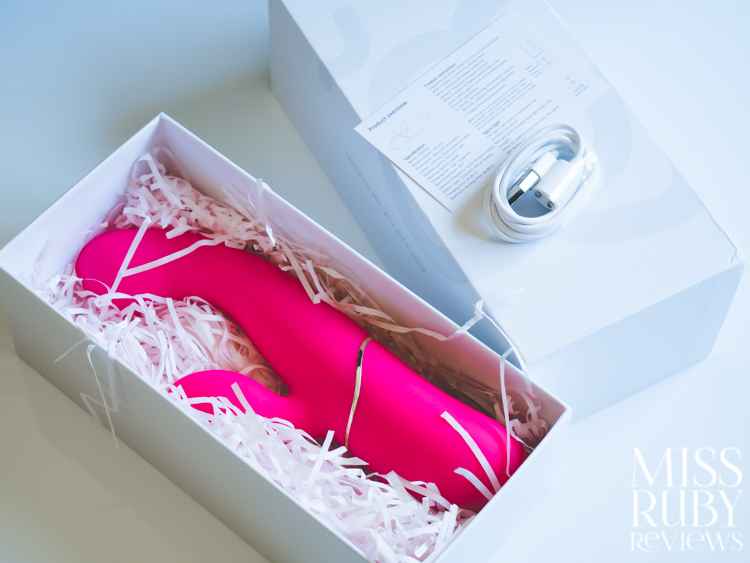 Material and Care
The Honey Play Box Elda is made from ABS plastic (the gold decorative ring around the handle) and Silicone (the pink body), making this a bodysafe toy. The silicone has a creamy, matte finish that feels soft and luxe.
Honey Play Box states that the Honey Play Box Elda is waterproof, so you can take it into the shower and clean it easily.
To clean, I rinse the whole thing in warm, soapy water before and after each use.
If you'd like to add lubricant, Honey Play Box carries its own water-based lubricants.
To charge, attach the magnetic end of the USB charging cable (included) to the two pins at the bottom. Connect that to your computer or a USB wall adapter. A full charge takes approx 60-80 minutes and gives you 60-80 minutes of playtime.
My Experience with the Honey Play Box Elda

For $76, I wasn't sure what to expect from the Honey Play Box Elda. Rabbits are possibly the most 'hit-and-miss' category of any sex toys — they're rarely a one-size-fits-all.
The tapping shaft
I was really impressed with the Honey Play Box Elda's tapping G-spot shaft. It taps FAST and, thanks to that curved shaft, taps right into the G-spot when shallowly inserted (or into the A-spot when deeply inserted). This felt amazing. Sometimes self-moving shafts can be a bit pinchy or painful with a hard shaft, so I appreciated the soft, spongey head.
I did find that I had to tone down any clenching of my muscles because the tapping slowed to a stop when it experienced resistance… so this is designed for a relaxed experience.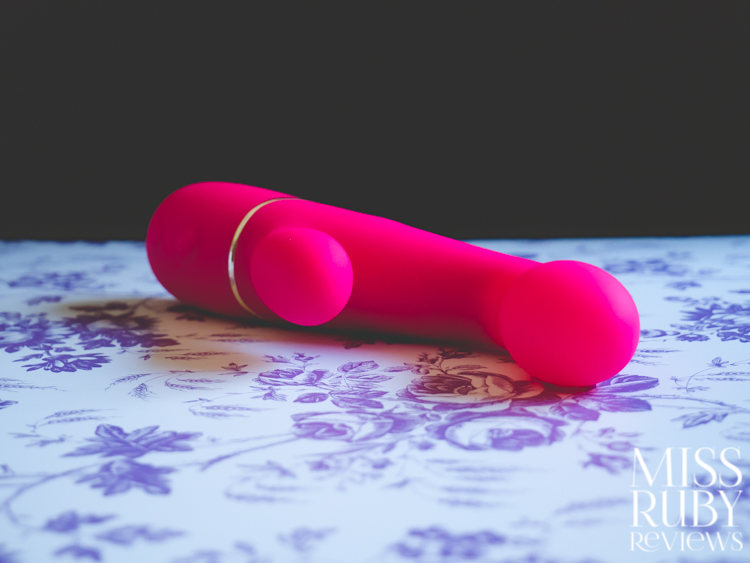 Clitoral arm
The Honey Play Box Elda's clitoral arm stretches approx. 2″ up and over the clitoris. It's basically the size of a big, broad thumb. It doesn't tap, but it does vibrate independently. As is often the case with rabbit vibrators, the clitoral arm was unfortunately fairly weak and buzzy. I wasn't able to clitorally orgasm this way, and instead found myself needing to push it out of the way and use a dedicated bullet vibrator.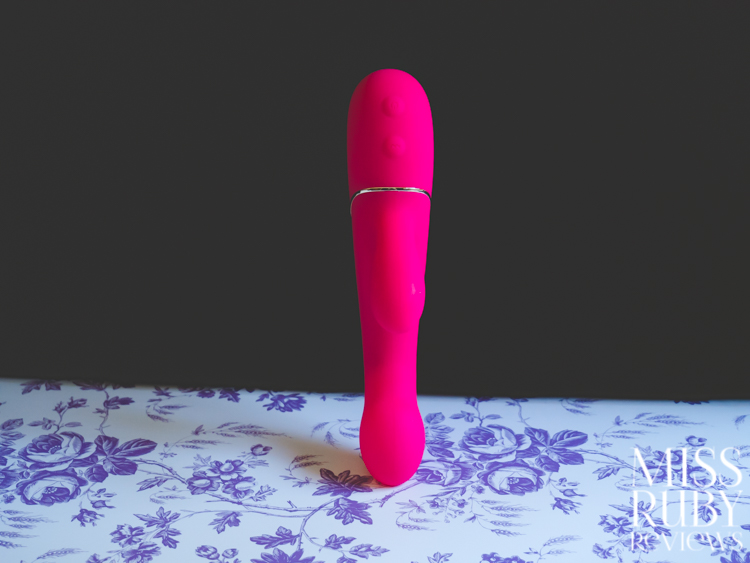 Honey Play Box Elda Review – Overall Thoughts
The Honey Play Box Elda is a rabbit vibrator with a tapping G-spot shaft and a vibrating clitoral arm. Despite a less-than-amazing clitoral performance, the tapping sensation in the G-spot shaft is novel and very enjoyable. If you're curious about this sensation, but know you need good clitoral stimulation at the same time, you may want to push the clitoral arm out of the way and use your own bullet vibrator (which I ended up doing). Still, the tapping motion felt great, and if that's something you want to experience this is a fair option.
You can pick up your own Honey Play Box Elda here! Why shop at Honey Play Box? They ship internationally and you can get free continental US shipping on orders over $69! You can also get 20% off with code MISSRUBY!

See below for my Honey Play Box Elda review breakdown.

Honey Play Box Elda Review
Overall thoughts - 7
7
$76
PROS
Curved G-spot shaft
Long clitoral arm
Tapping G-spot shaft
Bodysafe silicone construction
USB Rechargeable
Waterproof
CONS
G-spot tapping slows when you clench
Weak vibrator in the clitoral arm
Shop Now
Last Updated on April 5, 2023 by Miss Ruby