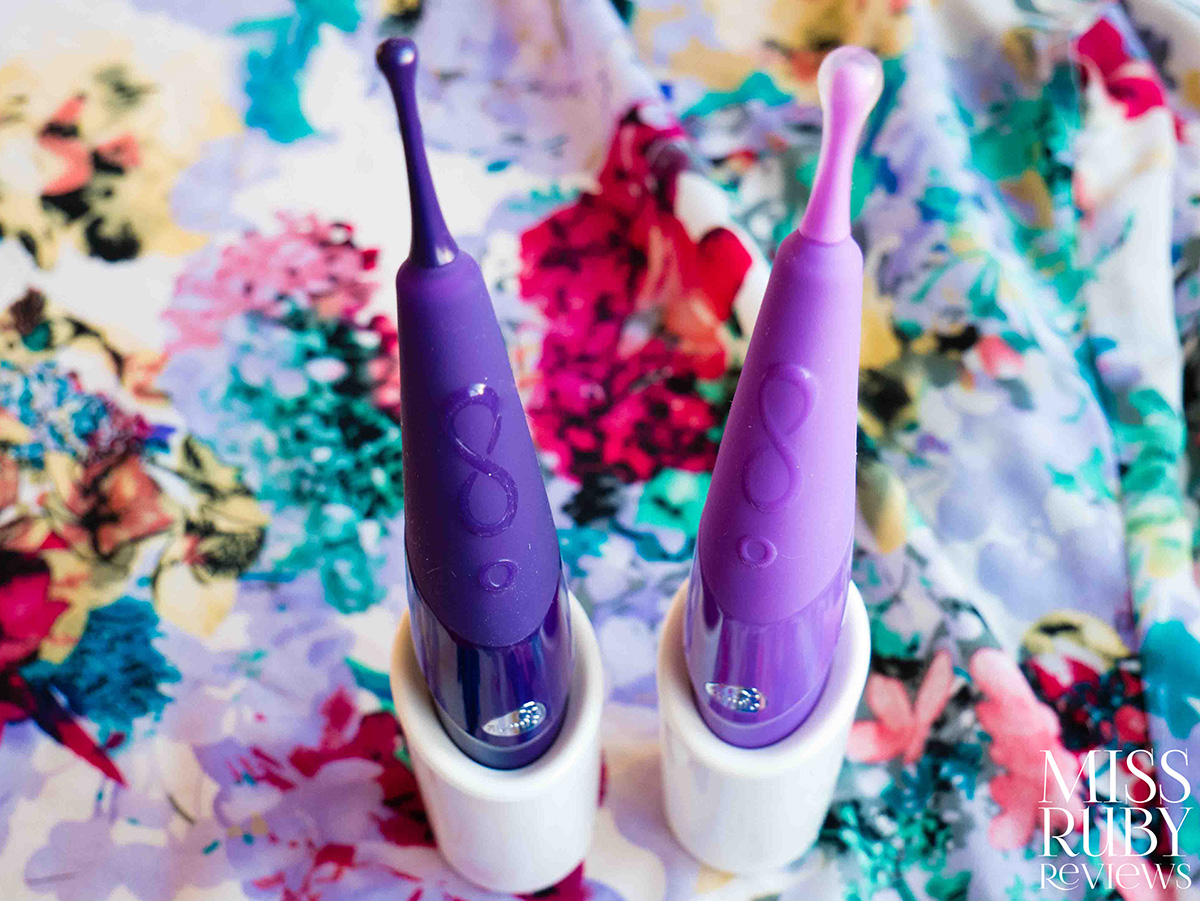 I've finally caved. I had to see what all the fuss is about. Read on for my Zumio review!

About | How to Use | Packaging | Material and Care | Comparison | Overall
What is this thing, anyway?
The original Zumio stormed through the sex blogger world in 2017, promising 1-minute orgasms and incredibly intense sensations. When I saw the original model, (now known as the Zumio X), I wasn't tempted. It looked uncomfortable and a little too reminiscent of ET.  But Zumio triumphed that year, pulling in many admirers, and now they've launched a new model: the Zumio S.
I became too curious, and so I got my hands on both the Zumio X and the Zumio S to see how these perform, feel, and differ.
First off though – what is this thing?
In short, both of these toys are intense, pin-point clitoral stimulators. Unlike conventional vibrators, they oscillate in rapid tiny circles. The oscillations are so fast that even at the lowest mode, it's just a blur.  And, unlike the Eroscillator (another oscillating toy) which comes with attachments that broaden and dampen the sensations, Zumio doesn't let you beat around the bush. All the oscillations are focused in an area smaller than a pea.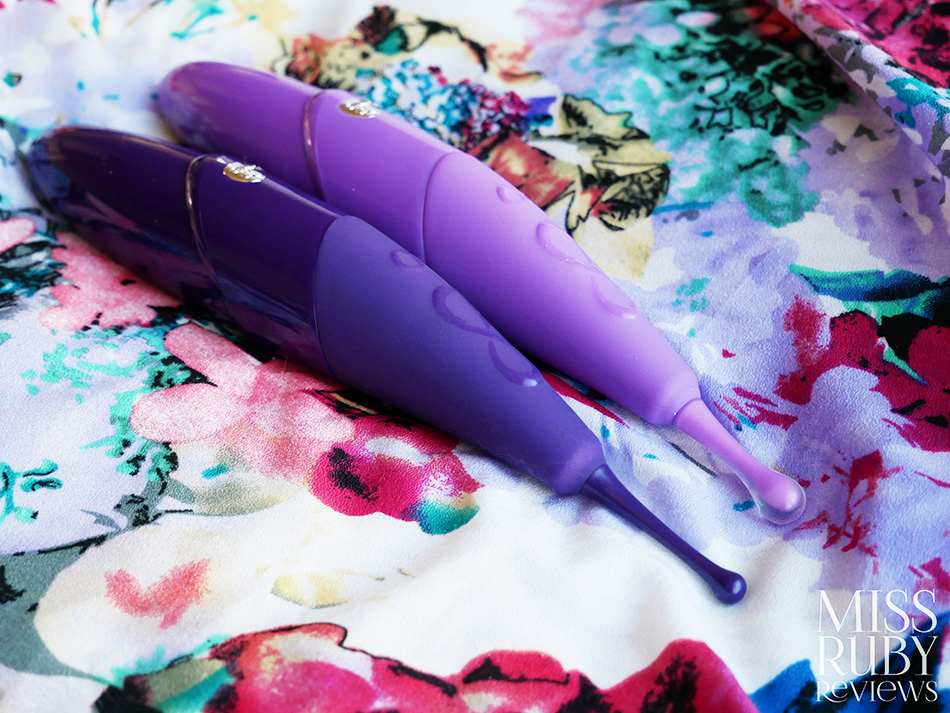 While I'd usually discuss physical details here, I'm going to do that in my comparison below.
How to Use the Zumio X and Zumio S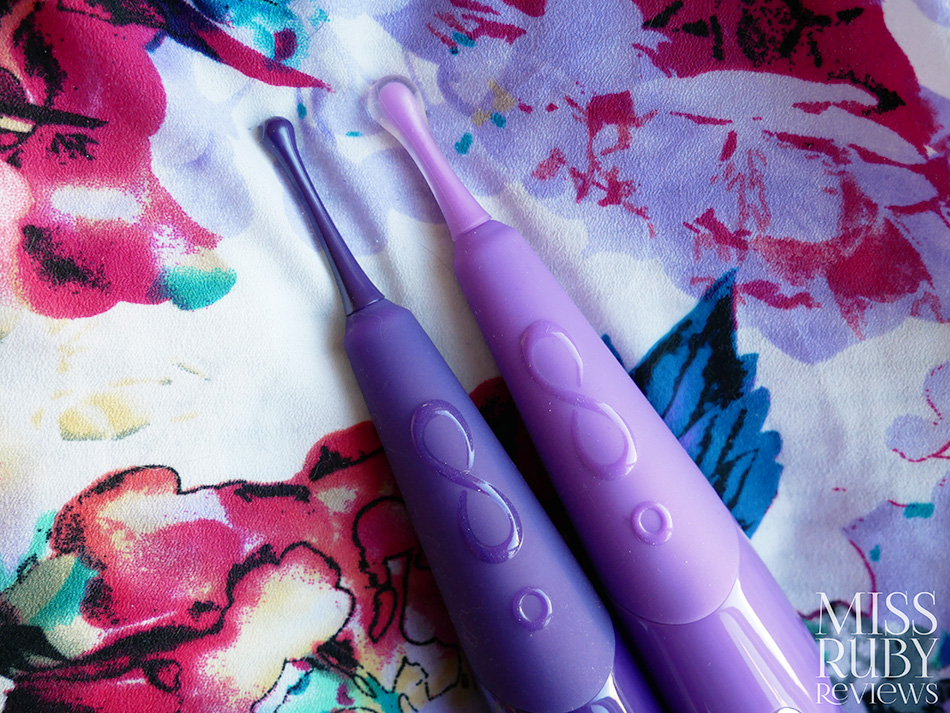 Both the Zumio X and the Zumio S function the same way:
Tap the O button to turn the Zumio on or off.
Press the top half of the 8 symbol  (the side closer to the stimulation tip) to increase intensity.
Press the bottom half of the 8 symbol to decrease intensity.
Press the tip or the stem (or both) against your body. While designed for those with a clitoris, you could certainly try it against the shaft/head of a penis if you have one of those instead. This is not designed for insertion.
To use the travel lock, press the O (ON/OFF) button for around 8 seconds. That'll lock your Zumio so it doesn't turn on by tapping the O button. Do the same to unlock it.
To charge, place the Zumio inside its inductive charging stand. Plug your microUSB charging cable (included) into the charging stand and to your computer or a USB wall outlet. A light on the stand will blink while charging, and become solid when fully charged.
Packaging – Zumio review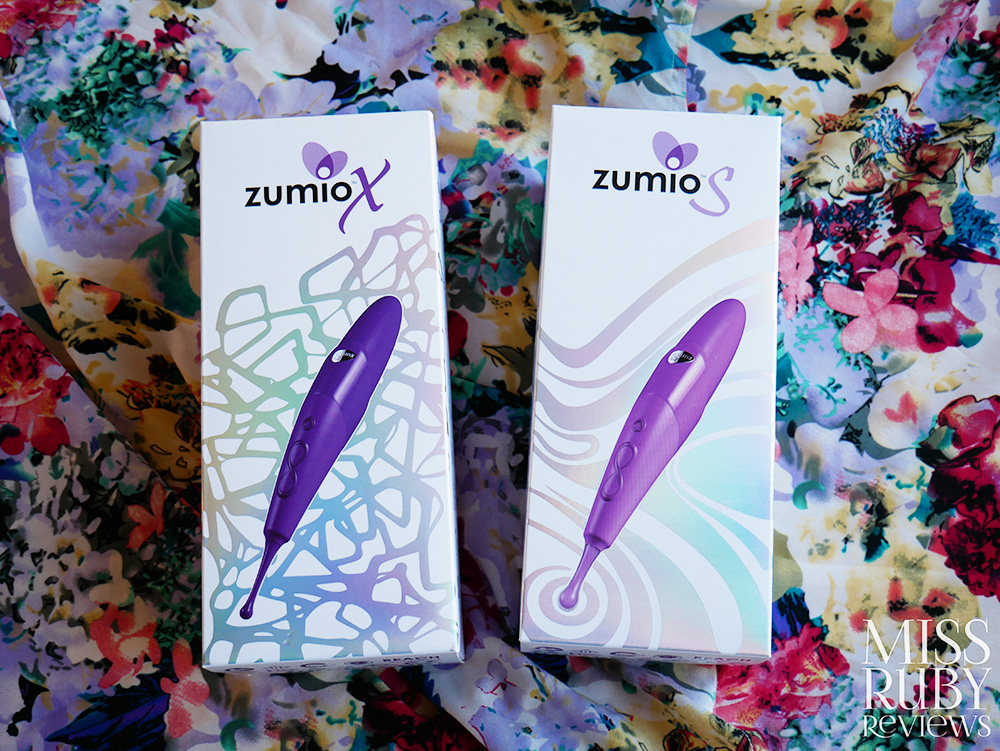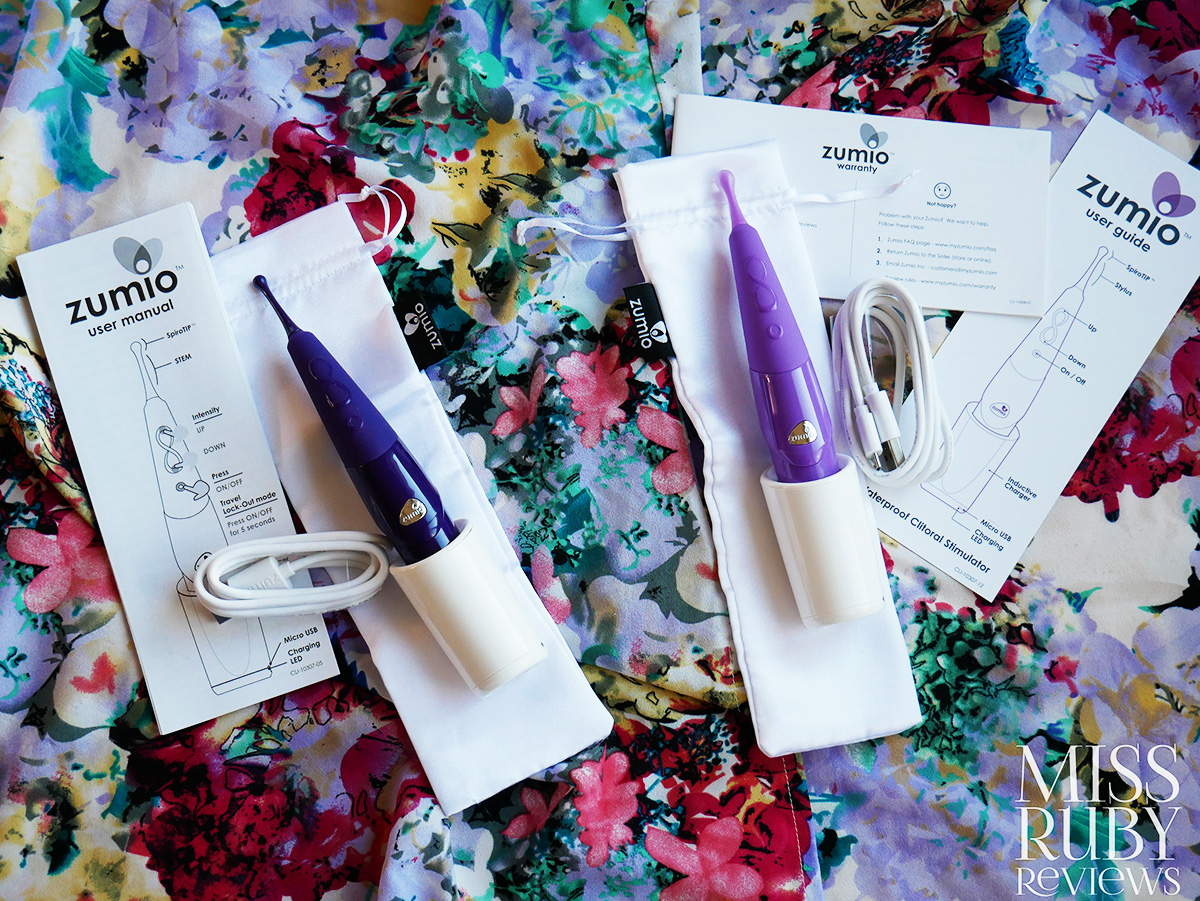 The Zumio X and the Zumio S come packaged similarly in clean, white and pastel boxes.
Inside each box, you receive your Zumio, your inductive charging stand, a white microUSB cable, instructions, and a long white satin drawstring pouch for storage.
Material and Care – Zumio review
The Zumio X and the Zumio S are made from ABS plastic and silicone. These are great materials for sex toys: non-porous, non-toxic, and bodysafe.
If you'd like to add some lubricant, I recommend a good quality water-based lube like Sliquid H2O.
The Zumio is waterproof up to half a meter so to clean, I rinse with warm soapy water before and after each use. (Don't use water with the charging stand though).
The Zumio also comes with a 1-year Limited Warranty (!) that protects you from any factory defects under normal use.
Zumio X compared to Zumio S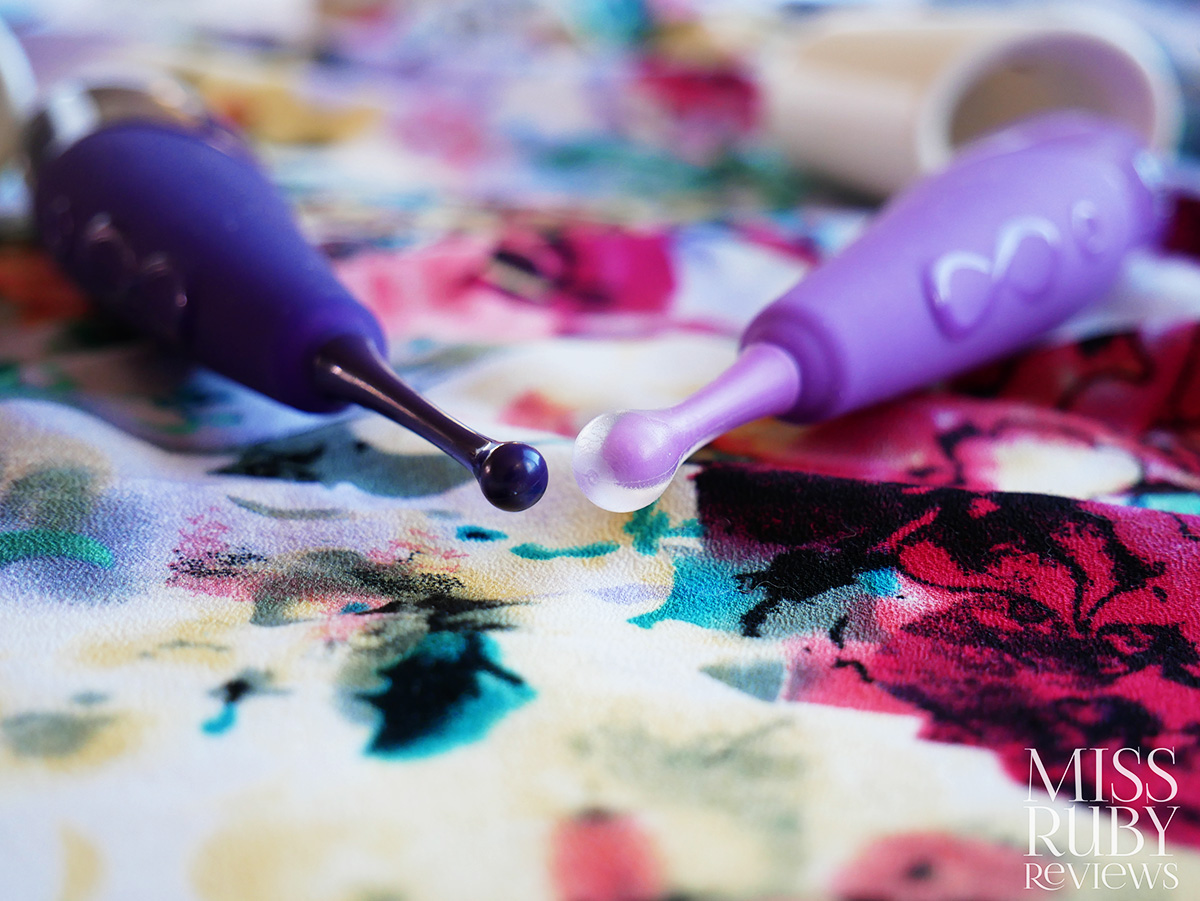 First off, to get this off my chest: the Zumio products work wonders for me. They give a unique, fierce kind of orgasm, the kind you don't know if you want to keep heading into because it's almost painful, but you keep going anyway.
But there are differences between the Zumio X and the Zumio S. To help you decide which Zumio is best for you, here are some things to think about.
How intense do you want it?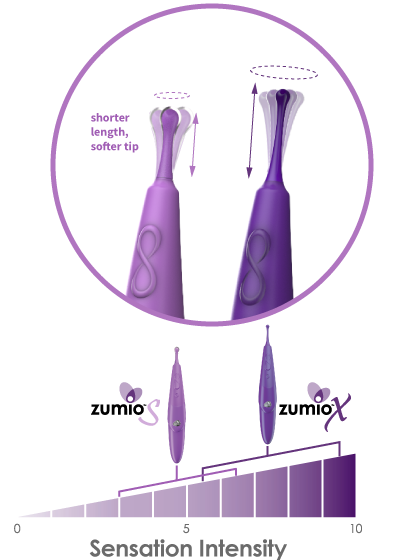 The Zumio X is HELLA intense. All those oscillations are directed into a point no bigger than half a centimetre. The Zumio X's tip is hard ABS plastic, and the stem is long (around 3.5cm). The longer stem makes the Zumio X twirl around in larger circles.
On the other hand, the Zumio S' tip is coated in a ball of firm silicone. This makes the tip around 50% larger. The stem is also nearly a cm shorter, making the twirls move about in smaller circles.
The result? The Zumio S is about 30% less intense.
The Zumio S' lower intensity is by no means a bad thing. I think that, for many users, it'll be an improvement.
With the Zumio S, I'm able to orgasm faster and better than with the Zumio X because the orgasms aren't so burning hot intense.  They're more gradual and relaxed. They're still pin-point, certainly, but no more pin-point than my own finger.
But the Zumio X's orgasms are breathless, panicked, and kind of uncomfortable. They take longer to happen, in part because I keep having to take breaks from the sheer intensity of the experience. It'll definitely hold appeal to some, and it feels great nonetheless, but it's a formidable experience.  It's like the force and magnitude of the Magic Wand being laser-beam focused into the tip of a pencil, and it knocks the wind out of you. Wow.
How much stem play do you want?
The Zumio's stem (the little stick connecting the tip to the body) oscillates, so it's also a stimulation surface.
The Zumio X's stem is long and doesn't have any silicone coating, just its skinny, firm, ABS plastic body. The Zumio S' stem is short and has that same silicone coating as the head (it's not soft, per se, but it dampens the sensation a bit).
This will vary with bodies a great deal, but I find the Zumio X's long stem a little more versatile – you can run it up and down sideways (perpendicular) to your vulva and get more coverage, sometimes even crossing both labia. The Zumio S' stem is a little too short for this.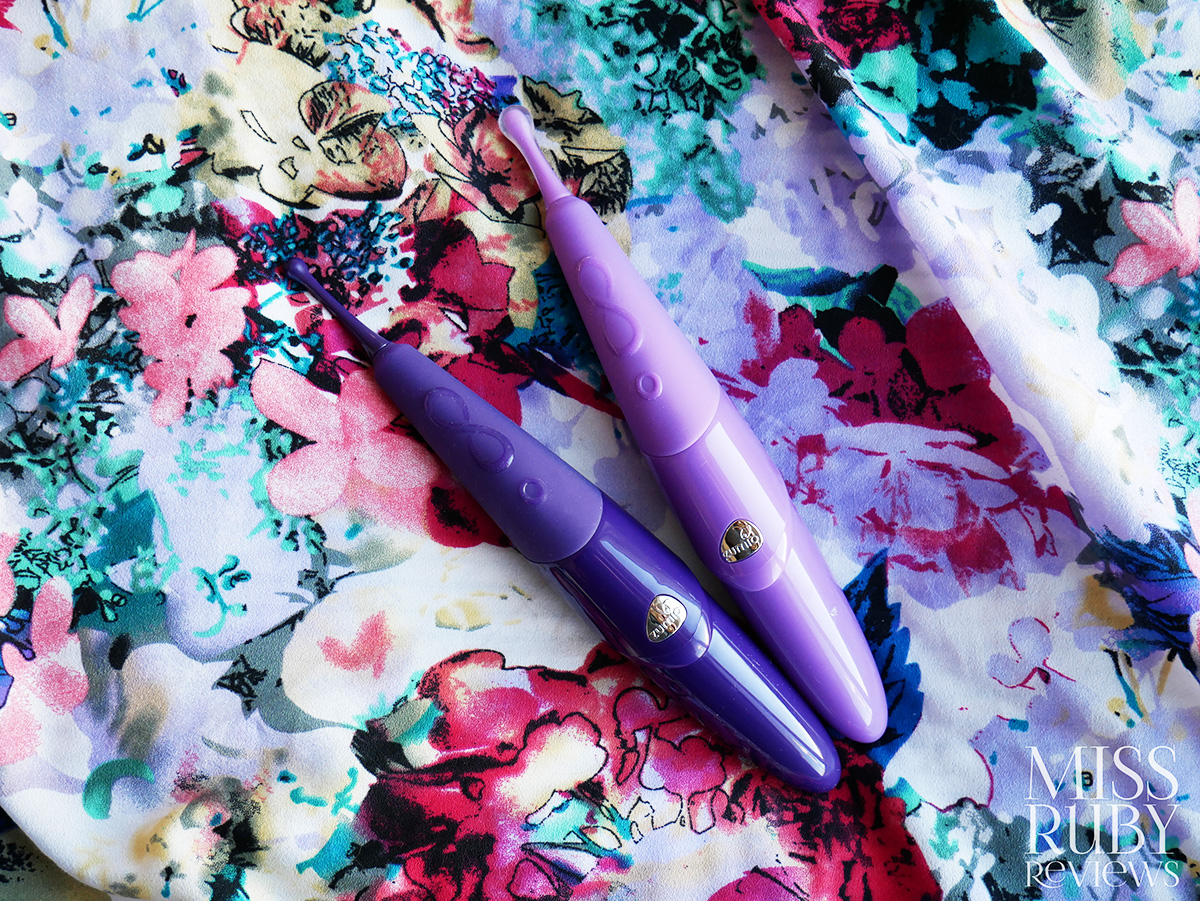 Are you picky about colour?
The Zumio X comes in this deep, midnight purple. The Zumio S is a soft, pastel lavender shade. I wish these came in different colours myself, but such is life!
Any other notable differences?
Nope. Other than the stems and tips, the Zumio X and the Zumio S have the same body/engine. They both give you 8 steady speeds, sport impressively-low-vibration handles, and are pretty quiet. They won't be able to be picked up through walls/closed door.
When you press harder, both of them dampen strength, but the stimulation gets a bit deeper. Up until you press too hard though, and then the head stops oscillating entirely.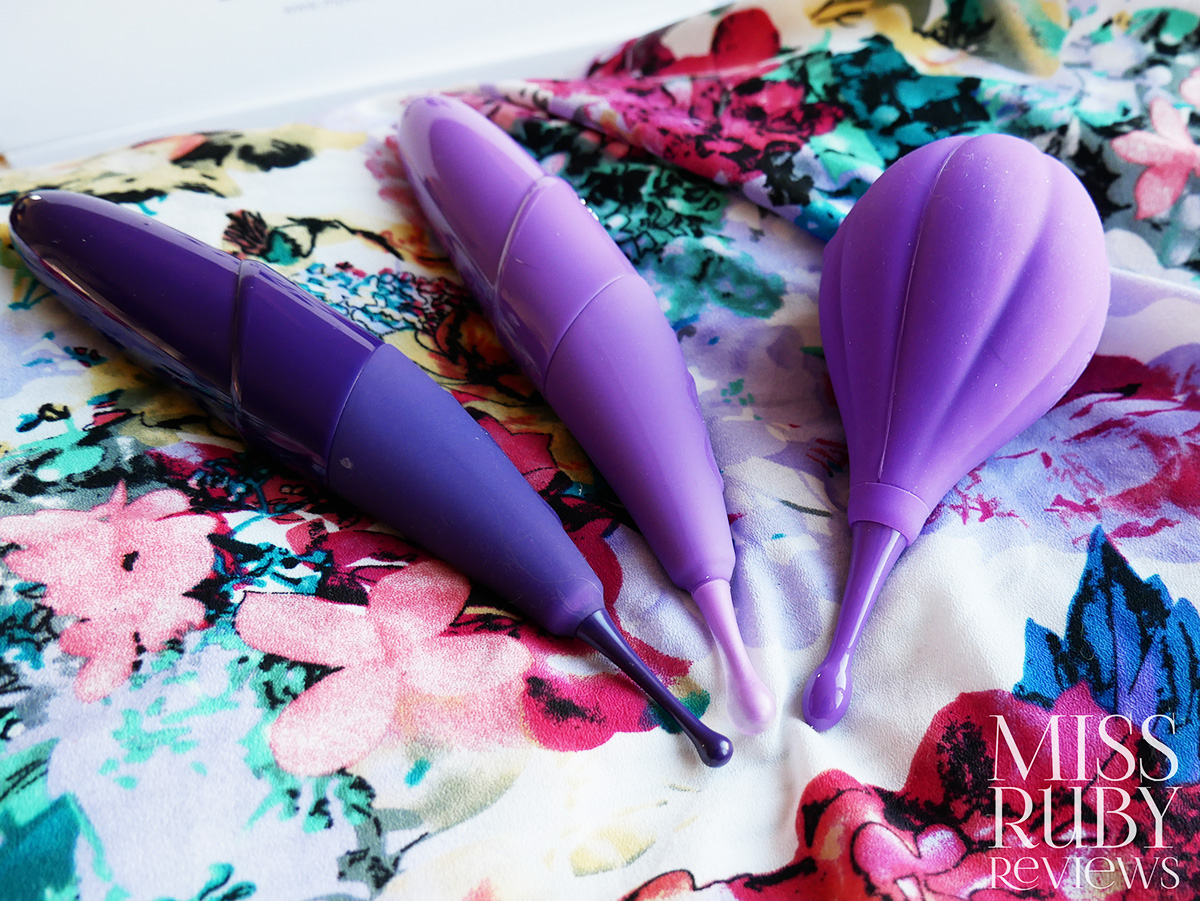 Both also sell for $98 USD, which ain't cheap.  You might be tempted to buy a cheaper look-a-like, such as the Jimmyjane Sonic Focus pictured above. Don't be tempted- there's no comparison; the Zumios are much better, stronger, and quieter.
Overall thoughts from my Zumio review
It's true – in my experience, the Zumio X and the Zumio S give raw, intense, breathtaking orgasms. The Zumio X is best reserved for die-hard intensity fanatics, those that want burning-hot orgasms that err on the side of discomfort. But for me, personally, I prefer the Zumio S; its broader tip and shorter stem scales things down a bit and gives me some room to breathe as I play.
Despite the high price, these are definitely ones to consider if you're looking for an exciting new kind of sensation, and have a penchant for intense pinpoint stimulation.
You can head to Betty's Toy Box to purchase the Zumio X and the Zumio S. Don't forget to use my coupon code RUBY to get 15% off your whole purchase. If you're in the US, you'll get free shipping.
And see below for my Zumio review summary.
Zumio review summary
EXPERIENCE - 9.3
9.3
$98
Choose Zumio X
More intense
Smaller tip
Longer stem
Darker purple
Choose Zumio S
Less intense
Broader tip
Shorter stem
Light lavender
Shop Now