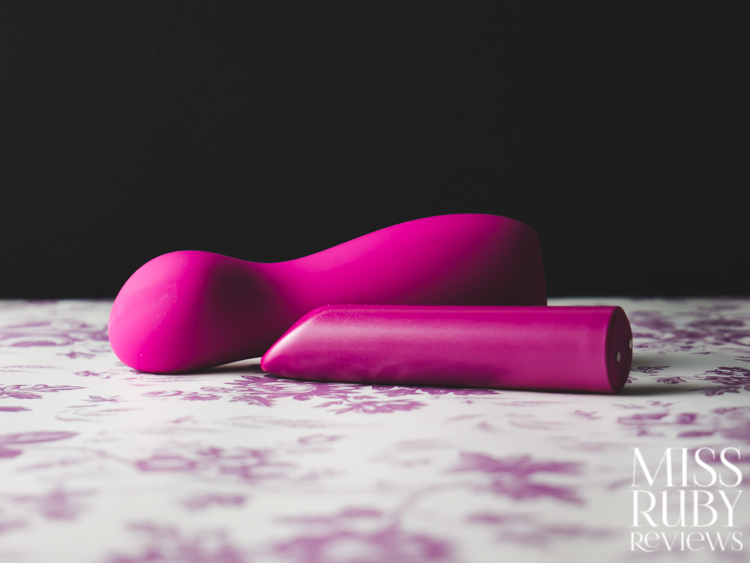 I love things that come as a set. Read on for my Blush Noje B1 review!

Design | Accessibility | How to Use | Packaging | Material and Care | My Experience | Overall
Design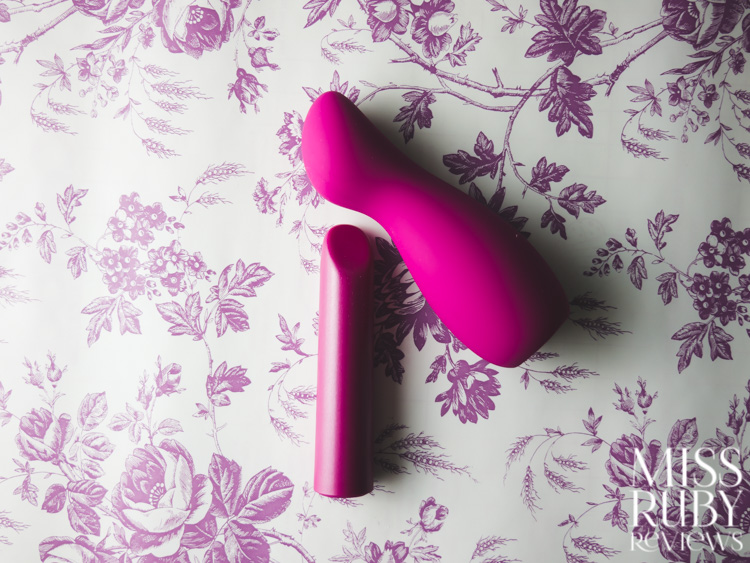 The Blush Noje B1 is a versatile buy: it's a combo sex toy set that comes with a hard bullet vibrator plus a silky G-spot attachment.
In other words, here's something that'll try to satisfy both your clitoral and G-spot needs (one at a time).
I was first drawn to the  Blush Noje B1 because of the bullet vibrator. It's a totally classic shape: long and slim with a beautifully tapered tip. It's made of ABS plastic, which means it's totally rigid and hard for great pin-point, firm stimulation.
It reminds me of a larger We-Vibe Tango (review here), but it's only $39, so I HAD to try it.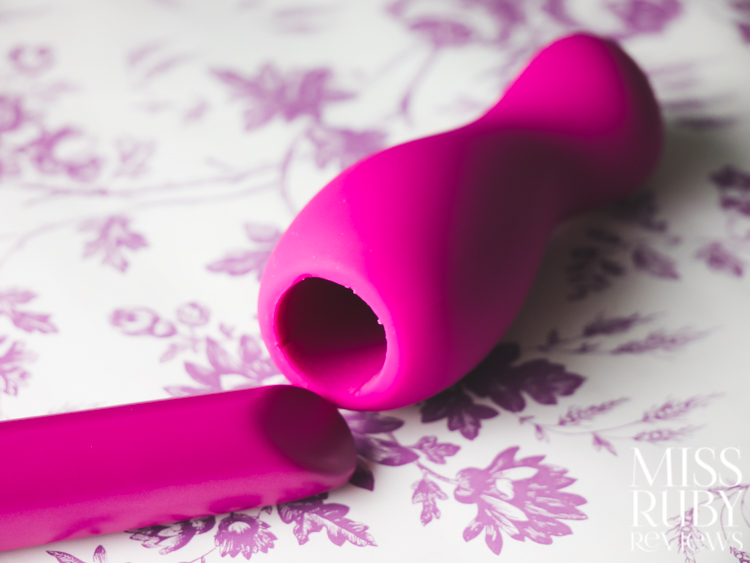 The Blush Noje B1's bullet vibrator slips inside a silicone attachment (almost all the way — only the base peaks out so you can still access the controls and charging port). By turning on the bullet vibe while it's inside the sleeve, voila! You have a G-spot vibrator.
Of course, you can also use the G-spot attachment against your clitoris if you'd like a softer, broader feel.
The Blush Noje B1 is waterproof submersible, USB rechargeable, and comes with a 1-year warranty. It only comes in one colour: "Lily" pink. The silicone attachment is a bright fuchia, and the ABS plastic bullet vibe is the same colour with a glittery sheen to it.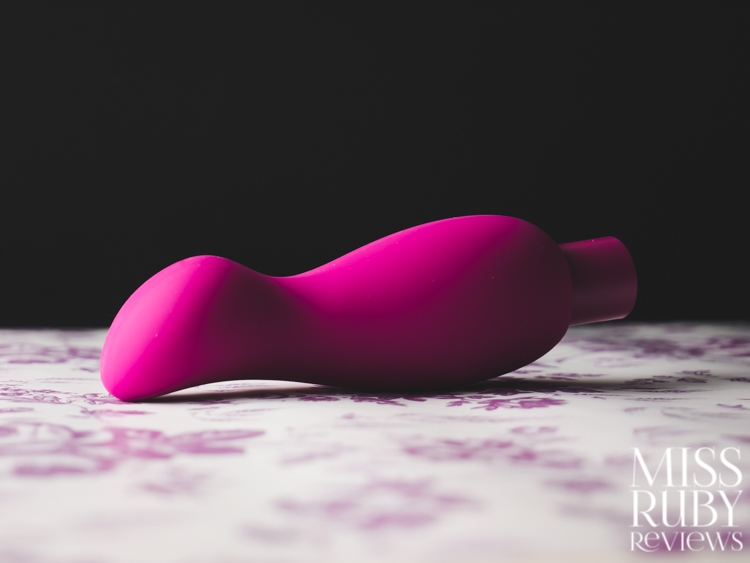 Accessibility
This section is to help folks determine if they might have any issues using/accessing this toy.
Size: The Blush Noje B1 is a medium-sized clitoral vibrator or petite G-spot vibrator. By my measurements, the bullet vibe is 10 cm long and 2.1 cm wide. When the G-spot attachment is on, the whole thing is 14 cm long by 4 cm wide (at the fullest part by the base). For those of you who want to use other bullet vibrators with this attachment, the hole in the attachment is 7.8 cm deep and 2.2 wide.
Weight: It's a lightweight toy (about 135 grams altogether).
Buttons: The 2 control buttons are located on the base of the bullet vibe.  The buttons require moderate pressure to press down and make a soft click noise. The buttons are shaped as ovals, 4mm x 8 mm in size, less than 1 mm tall, and spaced 7 mm apart.
Handle buzz: A lot of the vibrations transfer to the handle. Your hand will buzz a lot when you hold it.
Other notes: The bullet vibe comes already inserted into the G-spot attachment. It is VERY hard to get it out (when it's inserted, it creates kind of a suction seal). You will need two hands and arm strength to pull them apart.
Price: At $39.99 USD, this is a good price compared to other bullet/G-spot combination toys with similar features.
How to Use the Blush Noje B1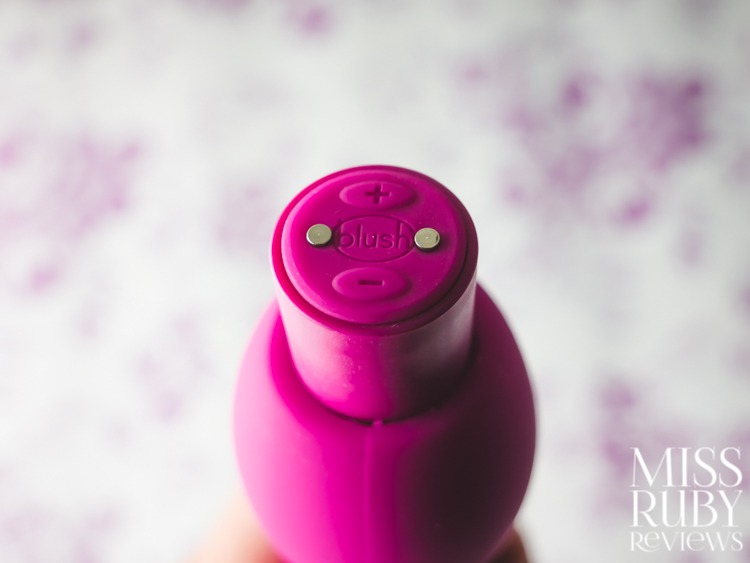 Turn on the Blush Noje B1 bullet vibe by pressing and holding the (+) for 2 seconds.
Tap (+) to cycle through the 10 vibrating functions (5 steady speeds and 5 patterns).
To go to the previous vibration mode, tap (–).
For clitoral use, you can use it with or without the silicone attachment. For G-spot use, insert the bullet vibe into the silicone attachment. Of course, this can also be used against nipples or a penis. Don't use this anally, though, as it doesn't have a flared base.
To turn it off, press and hold the (–) button for 2 seconds.
Packaging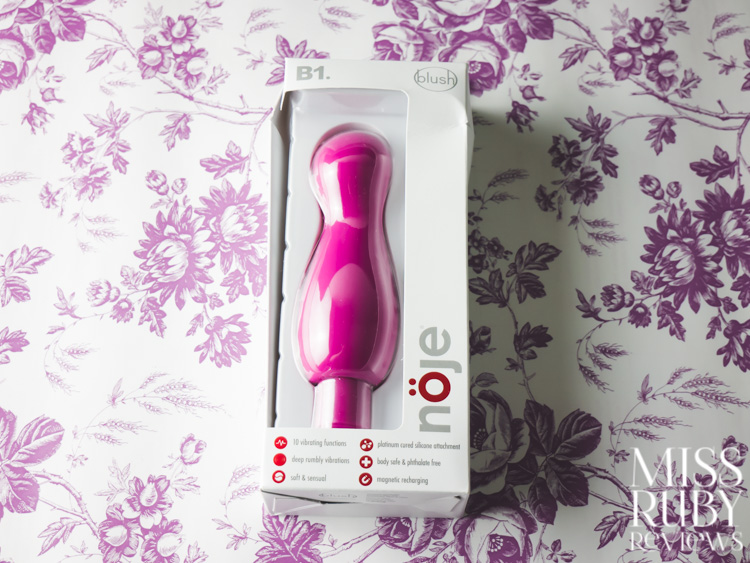 The Blush Noje B1 comes packaged in a white and red box.  It's simple, but clean and functional.
Inside the box, you receive the B1, a USB charging cord, instructions, and a note reminding you to contact Blush directly if you have any issues.
If you'd like a specific toy bag/case for it (not necessary, but always nice), you can browse for some here (something like this would work).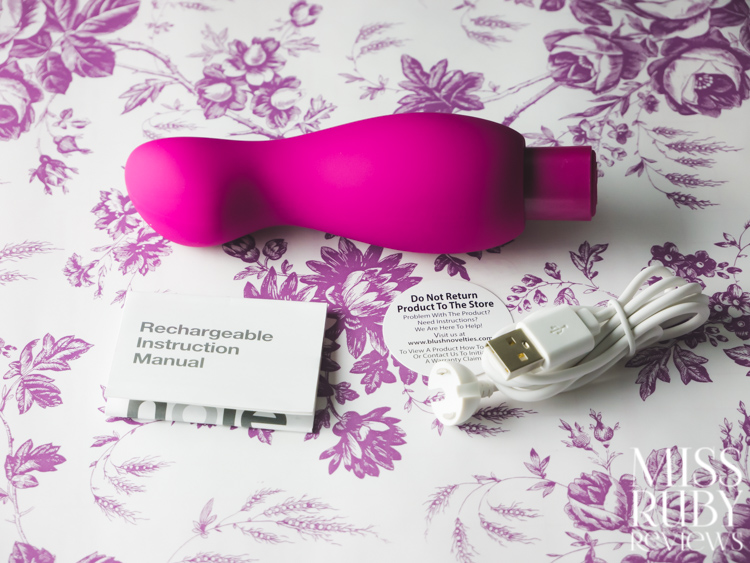 Material and Care
The Blush Noje B1 is made from ABS plastic (the hard bullet vibrator) and silicone (the G-spot sleeve), making it bodysafe. The ABS plastic is smooth and hard, and the silicone finish is very silky and matte.
The Blush Noje B1 is fully waterproof and submersible. To clean, I rinse it in warm, soapy water before and after each use. You could also add a dedicated sex toy cleaner (I personally like this one). Allow to air dry before storing it away.
If you'd like to use lubricant with this toy, choose a good quality water-based lube like my favourite paraben-free Sliquid H2O or Wicked Simply Aqua.
This toy comes with a 1-year manufacturer's warranty (valid in the USA and Canada), so keep your online receipt.
To recharge the Blush Noje B1, attach the white magnetic charger (included) to the two metal pins at the base of the bullet vibe. Plug that cord into your computer or a USB wall adapter. A full charge will take 2 hours, and will give you approx. 50 minutes of playtime.
My Experience with the Blush Noje B1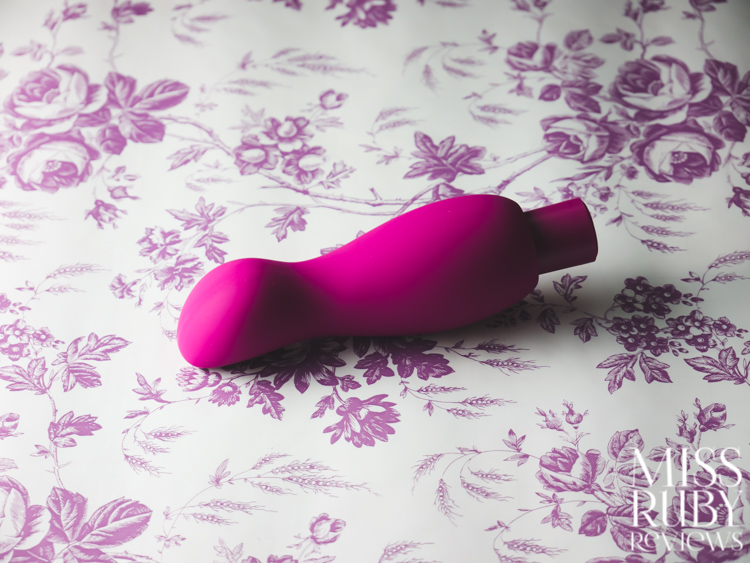 On paper, there's a lot going for the Blush Noje B1. The versatility of both a bullet and G-spot vibe, the waterproof, bodysafe construction, and the rechargeable aspect… but how does it actually perform?
The Blush Noje B1 as a bullet vibrator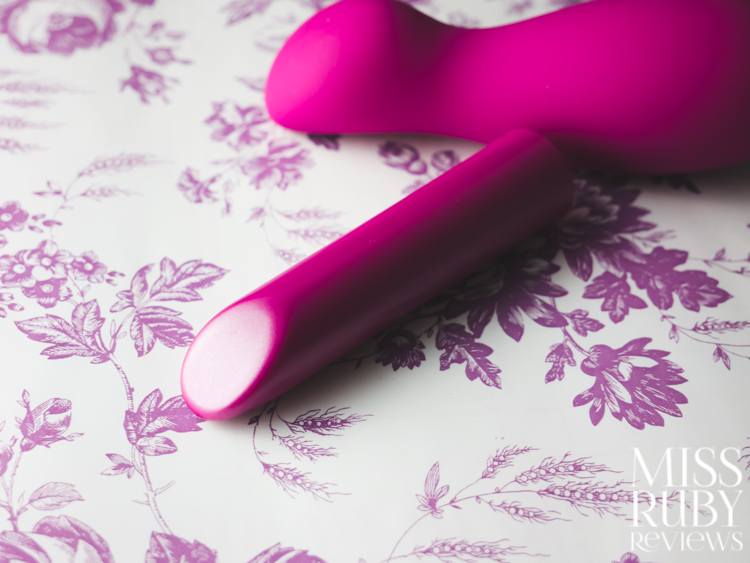 Hot damn.
The Blush Noje B1's bullet vibrator is beautifully strong. Given the low retail price, I'm astounded at the strength.
Even the softest speed makes the vibe want to jump out of your hands, so this is for people who like a lot of oomph.
The vibrations are on the buzzy side, not rumbly. While I'll always choose a rumbly motor over a buzzy one if they're equally strong, buzzy vibrators have their place.  Buzzy vibrations are unacceptable when coupled with weak motors, but when paired with a lot of strength, they're still very pleasurable. The sheer strength behind the Blush Noje B1's vibrations mean your clitoris can be overwhelmed, regardless of the buzzy tone.
In short? It's very easy for me to orgasm with this bullet vibe.
I do have to say though… this is a noisy vibrator. If you share your home with roommates, you'll want to shut your door and use this under blankets to be discreet.
I also love the body itself — this isn't surprising, seeing as the Blush Noje B1's design so closely resembles the best bullet vibe I've ever tested, the We-Vibe Tango (see side-by-side image above).
The flat tapered tip fits perfectly over the clitoris, but when I want even narrower stimulation I can use the pointy edges of the taper.
When you pair that tapered tip with the hard, rigid body, you're able to get much-needed firm pressure and narrow, pin-point stimulation.
If, however, you want slightly dampened vibrations and a broader, squishier surface, simply use it against your clitoris with the G-spot attachment.
For only $39, this is pretty awesome.
Side note: does the Blush Noje B1 compete with the We-Vibe Tango in terms of strength or quality? Nope — the We-Vibe Tango's famously rumbly vibrations are much stronger and more satisfying. But, it's also DOUBLE the price of the Blush Noje B1. 
The Blush Noje B1 as a G-spot vibrator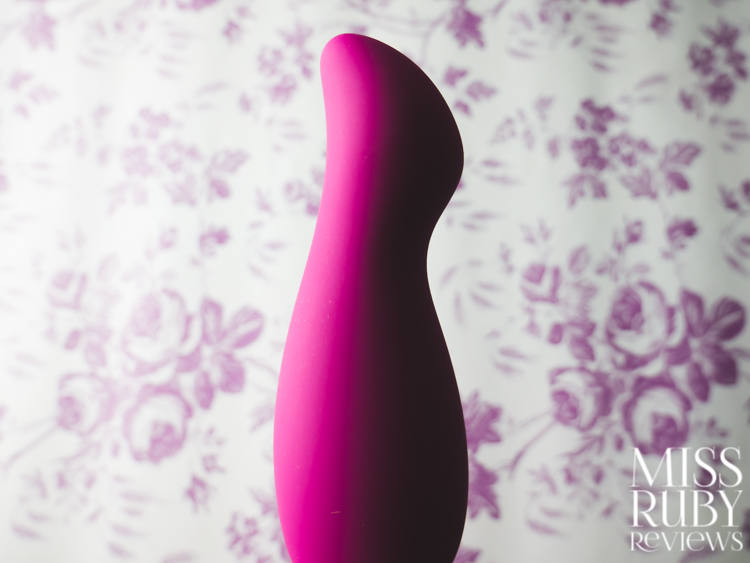 Once the Blush Noje B1's bullet vibe is inside the  G-spot attachment, you can comfortably insert about 4.5″ before it gets too hard to hang onto. But 4.5″ is plenty if you're just targeting your G-spot (after all, the G-spot is only a couple of inches deep).
I would say vibrations are approx. 50% dampened by the G-spot sleeve. The big, spongey silicone head just can't transfer buzzy vibrations as well as hard, ABS plastic can. So if you're looking for a super STRONG G-spot vibrator, you won't get it here.
But, if you ignore the vibrations, the G-spot sleeve itself does feel nice. Its design is a good one — the tapered, flared head juts out to bump against your G-spot. The sleeve then narrows inwards so the head can really "pop" going in and out, and then the shaft widens a lot to give you a taste of girth. It feels lovely, even without vibrations.
I do need to say it — the Blush Noje B1's silicone attachment looks SO much like the famous We-Vibe Tango Pleasuremate Collection's "Glow" attachment:
When I consider that the Blush Noje B1's bullet design is so close to the We-Vibe Tango, the similarities of the G-spot attachments seem even more suspicious. In my personal opinion, it's obvious where Blush got their inspiration from, and the closeness of the design makes me cringe. Blush – you can do better than this!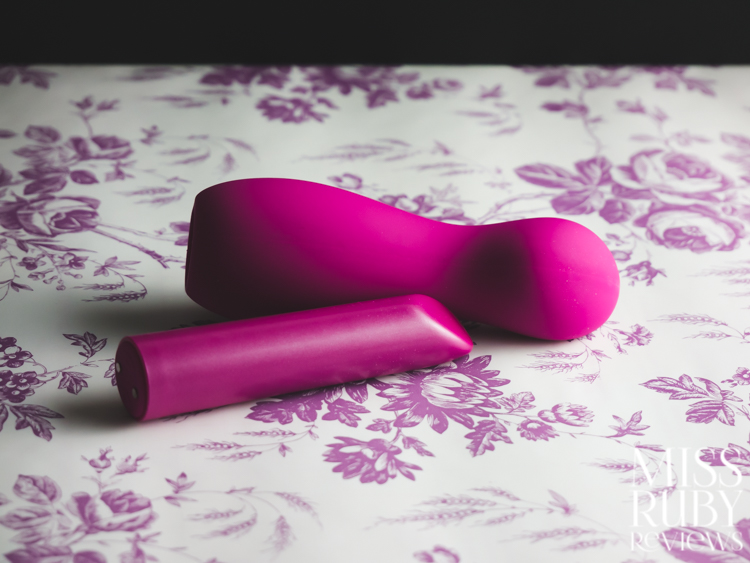 Blush Noje B1 Review – Overall Thoughts
If you buy the Blush Noje B1, you get a lot of bang for your buck. It's bodysafe, waterproof, rechargeable, and strong. You get a solid bullet vibrator that's great for people who need oomph and firm, pinpoint pressure against their clitoris. When you add the silicone attachment, you can get softer, squishier, broader clitoral stimulation, or use this as a G-spot toy.
Drawbacks? It's a bit noisy, the G-spot vibrations are significantly dampened, and I'm not loving how closely this combination set resembles the We-Vibe Tango Pleasuremate Collection's "Glow" attachment, but for $39 USD this set will be hard for anyone to resist.
You can pick up your own Blush Noje B1 here! Why do I like Peepshow Toys? They ship internationally, only carry body-safe products, and you can get a 10% discount off your whole purchase with coupon code RUBY. 

See below for my Blush Noje B1 review breakdown.

Blush Noje B1 Review Summary
Overall thoughts - 8.6
8.6
$39
PROS
Strong vibrations
Pin-point, firm stimulation
Softer, broader clit stimulation with the attachment
G-spot capabilities
Waterproof and rechargeable
Bodysafe materials
1-year warranty
CONS
Silicone sleeve dampens vibrations
Noisy
Shop Now
Last Updated on March 18, 2023 by Miss Ruby