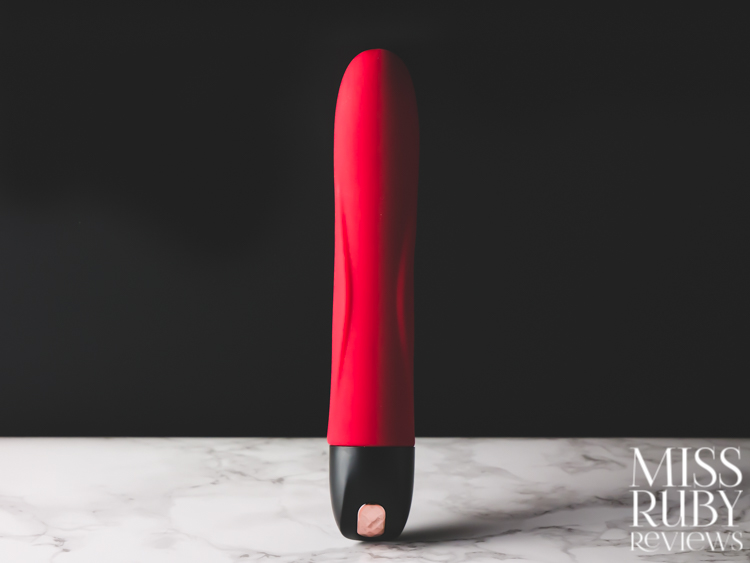 Could a more gorgeous shade of red exist? I doubt it. Read on for my Blush Lush Maya review!

Design | Accessibility | How to Use | Packaging | Material and Care | My Experience | Overall
Design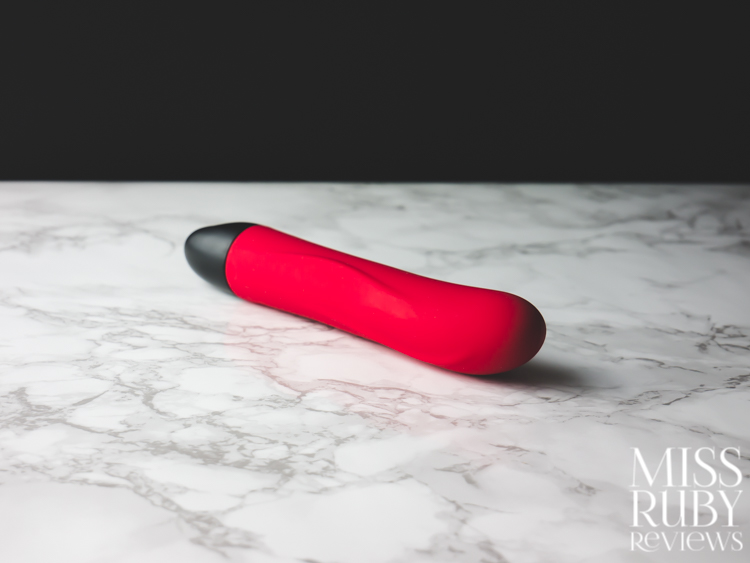 If the Blush Lush Maya has done anything well, it's the appearance. Wow.
This toy first appealed to me with its deep red colour. Blush calls this colour "Scarlet," and it's the only tone available for this model. I'm not complaining… it's a deep cherry red, and it's beautiful.
The Blush Lush Maya is a slim, delicate, mid-sized vibrator. With about 5 inches of insertable length and 1 inch in diameter, you can consider this either a long clitoral vibrator or a small G-spot vibrator.
The shaft is mostly straight, with just the slightest hint of a curve at the end. To add some interest, swoopy ridges run down the shaft. The shaft is very flexible at the mid-way point.
At the base, there's a black handle portion, capped with a single rose-gold power button.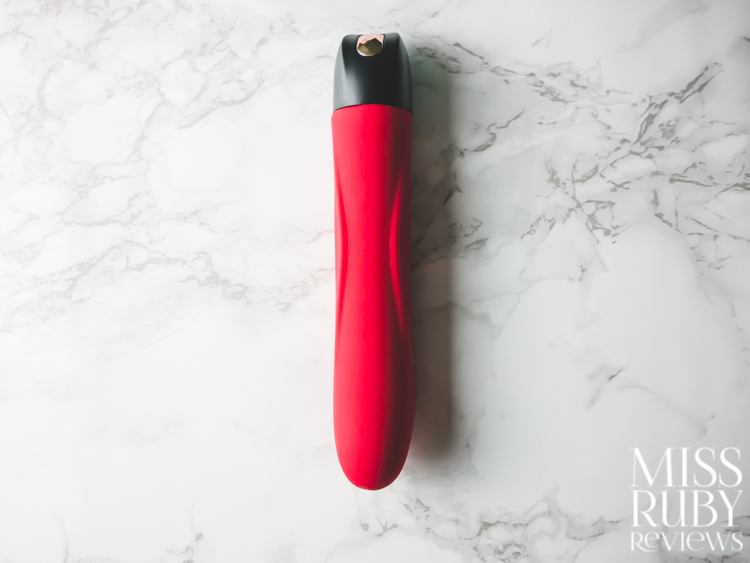 The Blush Lush Maya is only $35.99 USD (plus you can use the coupon at the end of this post for 10% off). That price is significant when you consider this is a bodysafe (silicone) sex toy, one that's USB rechargeable, attractive, and splashproof.
Accessibility
This section is to help folks determine if they might have any issues using/accessing this toy.
Size/Weight: The Blush Lush Maya is a large(ish) cordless clitoral vibrator or a small G-spot vibrator. By my measurements, it's 16.75 cm long and 2.8 cm wide at the tip. It's a lightweight toy (about 95 grams).
Buttons: The single control button is located on the slanted tip of the base.  The button requires moderate pressure to press down and makes a loud click noise. The button is large, shaped like a rounded rectangle, and is 1.8 cm long and 1.0 cm wide.
Handle buzz: Very few vibrations transfer to the handle. Your hand will buzz a tiny bit when you hold it.
Price: At $35.99 USD, this on the low price end compared to other toys with similar features.
How to Use the Blush Lush Maya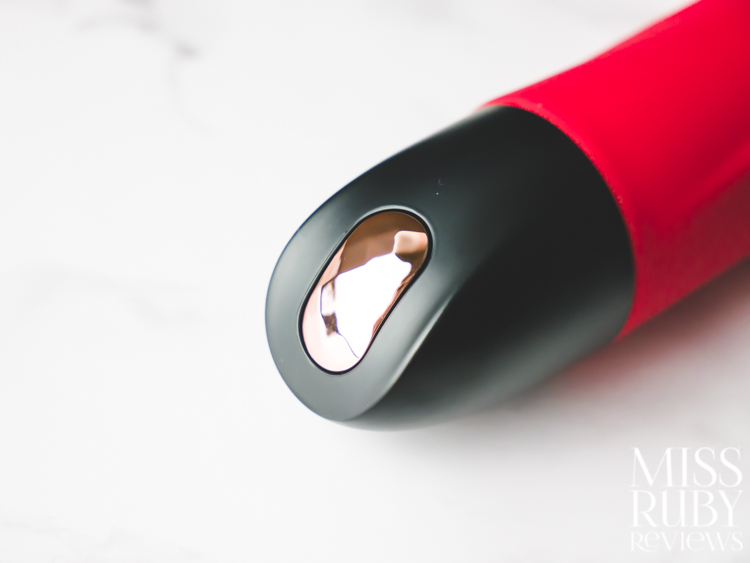 The Blush Lush Maya is controlled by a single button at the base.
Turn on the Blush Lush Maya by pressing and holding the button for 3 seconds.
To cycle through the 3 steady speeds and 7 patterns, keep tapping the button.
Apply it to your body. Though designed for G-spot and clitoral stimulation, you could, of course, use this against your nipples, or the shaft of a penis. However, this is not anal-safe as there's no flared base.
Turn it off by pressing and holding the button for 3 seconds.
Packaging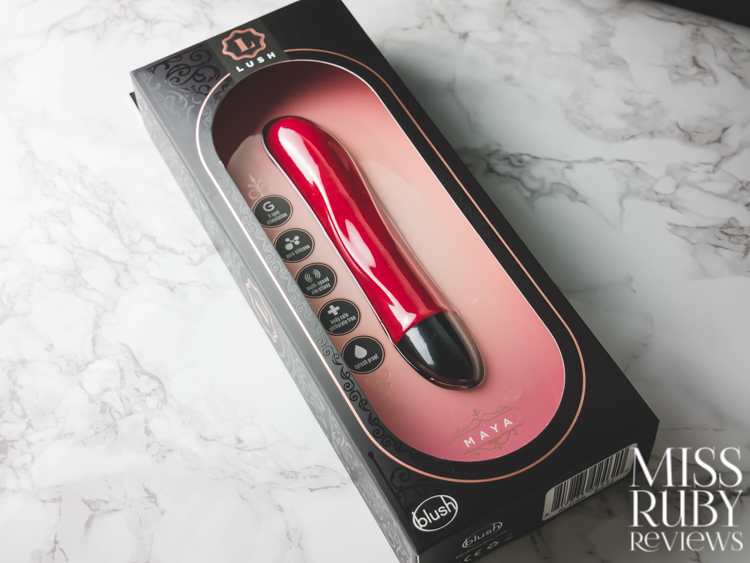 The Blush Lush Maya comes packaged in a black and rose gold box. Beautiful swirls and patterns adorn the box, making it very gift-worthy.
Inside the box, you receive the Maya vibrator, a USB charging cord, instructions, and a note reminding you to contact Blush if you have any issues.
If you'd like a specific toy bag/case for it (not necessary, but always nice), you can browse for some here.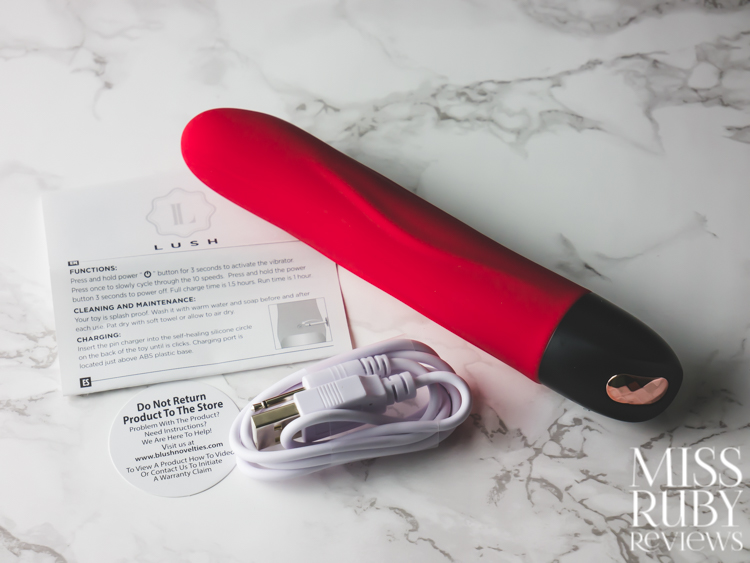 Material and Care
The Blush Lush Maya is made from silicone (the red body) and ABS plastic (the black base), making it bodysafe. This particular silicone finish is matte and silky to the touch, which doesn't attract lint or dust.
The Blush Lush Maya is only splashproof, not fully waterproof or submersible. To clean, I carefully rinse it in warm, soapy water before and after each use. You could also add a dedicated sex toy cleaner (I personally like this one). Don't submerge it in a tub of water though. Allow to air dry before storing it away.
If you'd like to use lubricant with this toy, choose a good quality water-based lube like my favourite basic Sliquid H2O or Wicked Simply Aqua.
This toy comes with a 30-day manufacturer's warranty (valid in the USA and Canada), so keep your online receipt.
To recharge the Blush Lush Maya, insert the needle-end of the white charger (included) into the faint circle near the base (marked with "DC"). Plug that cord into your computer or a USB wall adapter.
My Experience with the Blush Lush Maya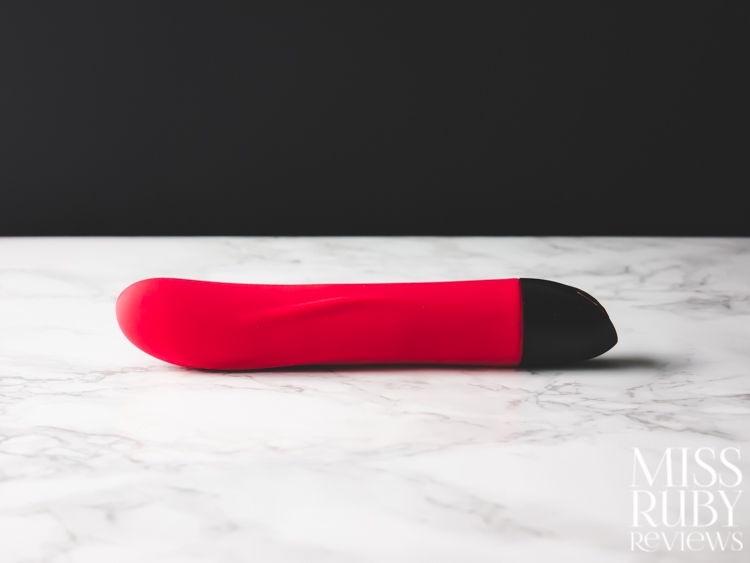 The Blush Lush Maya was a harsh reminder to me that looks can be deceiving.
Seriously, I love the look of this vibrator so much that, had I enjoyed my experiences with it, this toy would have been propelled to my sacred favourites pile.
Vibrations and Sound
What makes or breaks a vibrator is its motor. A vibrator can be gorgeous and have all the bells and whistles out there, but if the motor is no good, the whole point is moot.
The Blush Lush Maya has a weak motor. Its top steady speed is weaker than the lowest speed on many other toys I've tested recently. While the motor is attempting some rumble, the force behind it is so dismal that there's really no penetrating pleasure. I'm totally incapable of clitoral orgasms with this toy, which honestly is a rarity for me.
I guess on the upside, it's super quiet? No one would be able to hear this through your bedroom walls.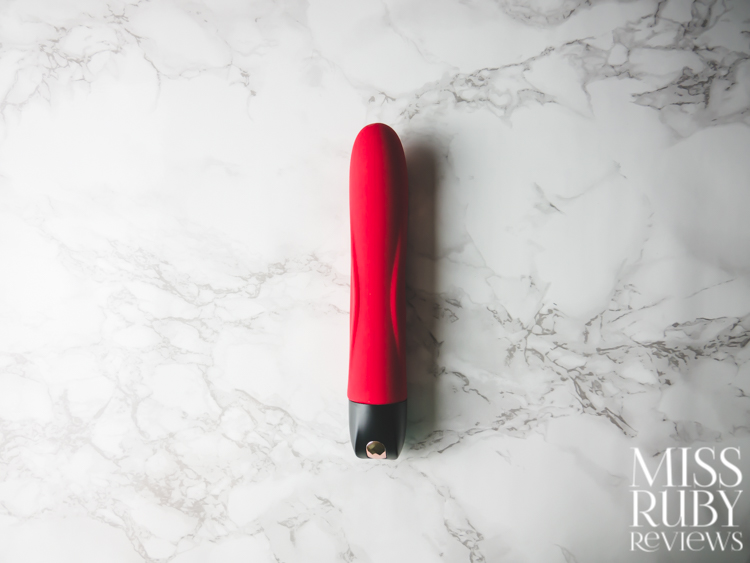 G-spot use?
The Blush Lush Maya has a slim profile, which makes insertion a breeze. But pleasure is limited.
Sensations during thrusting are fine (like, not good, but not horrible), but G-spot pleasure is really held back.
The shaft is straight, so you need to be creative with angling to target the G-spot. But the shaft is bendy, so when you try to angle it firmer against your G-spot it doesn't really work. The shaft is also super narrow (1 inch), so you can't rely on sheer girth for pleasure.
Coupled with the weak vibrations, my G-spot is left wanting.
Had the shape been ideal for G-spot stimulation, I could have forgiven the weak motor. For example, the Blush Noje V1's (review here) motor is weak, but the shape is AMAZING for G-spot stimulation. But I'm struggling to find any redeeming traits here.
Honestly, if you want a vibrator that is strong PLUS versatile enough to be both a clitoral vibrator and G-spot vibrator, here are some better alternatives: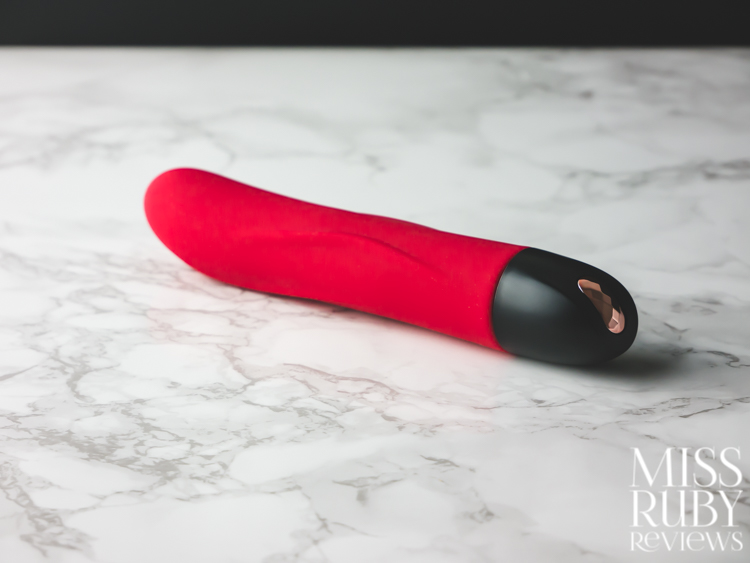 Blush Lush Maya Review – Overall Thoughts
On paper and in pictures, the Blush Lush Maya is dreamy. Such a beautiful design, plus it's bodysafe, affordable, and rechargeable.
Unfortunately, in practice, this vibrator is simply too weak, and I suspect many users would agree. Consult this list for better alternatives.
Sorry, Blush! This one's a no-go for me!
If I haven't dissuaded you, you can pick up your own Blush Lush Maya here! Why do I like Peepshow Toys? They ship internationally, only carry body-safe products, and you can get a 10% discount off your whole purchase with coupon code RUBY. 

See below for my Blush Lush Maya review breakdown.

Blush Lush Maya Review Summary
Overall thoughts - 5.6
5.6
$35.99
PROS
Quiet
Inexpensive
Beautiful aesthetics
Rechargeable battery
Bodysafe construction
CONS
Weak motor
Splashproof, not fully waterproof
Shaft not ideal for G-spot stimulation
Shop Now