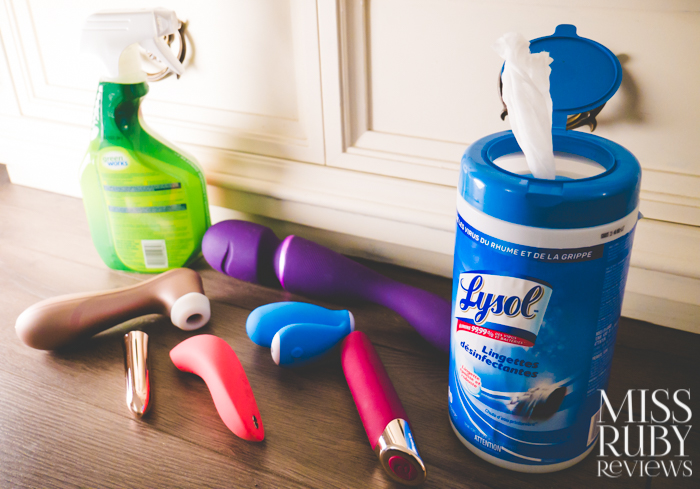 Today I received a question from a reader:
Is it safe to buy sex toys during the coronavirus pandemic?
If you're like me, you're super worried about the COVID-19 Coronavirus. This pandemic, which only really ramped up in Canada a few weeks ago, has totally changed my lifestyle. I have pre-existing health conditions that place me at high risk, so I'm extremely vigilant and that means I basically never leave my house and have to treat anything that enters my home as a potential source of COVID-19.
But when we're all stuck at home with little to do, a lot of people are thinking about sprucing up their collection of sex toys. In the last week, I've seen an uptick in traffic to this blog, so it looks like you're not the only one wanting to buy new sex toys during this time.
So just how safe is it to shop for sex toys during the coronavirus? Here are my thoughts!
---
Disclaimer: I'm not a health care provider or an infectious diseases expert. I'm just sharing the procedures I'm personally following during the coronavirus pandemic. Always consult with your local health authority or health care provider on the best way to keep yourself safe from COVID-19. Also, remember that information about COVID-19 is changing rapidly, so some information in this post may be outdated by the time you read it. 
---
Yes, it's safe to buy sex toys during the coronavirus…
if you take precaution
Yes, you can absolutely buy sex toys during the coronavirus pandemic. But, like with anything you buy, you need to take certain steps.
Why buy sex toys now anyway?
To put it simply, now's the time you need some extra joy in your life.
For years, sex toys have enriched my sex life. Using sex toys is a great stress reliever, and some of you might have more time than ever before to get frisky.
If your partner isn't quarantined with you, you might be looking for a new way to connect with them without being in the same room… after all, people you've been dating (but don't live with) have essentially become long-distance partners overnight. In that situation, app-controlled sex toys can be a fantastic way for you to connect with your partners.
So these instructions are for people who want to buy sex toys but have concerns about how to do it safely. Maybe my procedures are over-the-top… But I'd rather be safe than sorry.
1. Choose online shops instead of in-person shops
Online sex toy shopping is, in my opinion, a lot safer during the coronavirus than going to a store in person. Many sex toy boutiques are small and intimate, with little room between aisles for appropriate 2-meter social distancing. Most online sex toy shops ship their toys from vast warehouses, not a small area where many people have been breathing in. In my opinion, there's less chance of anyone (let alone an infected person) breathing and repeatedly handling the specific item you're going to receive when you shop online.
And don't forget to select only bodysafe sex toys. Sex toy materials aren't all made equal. I previously wrote a post about the importance of sex toy material safety here.
Not sure where to shop online? Peepshow Toys, SheVibe, Lovehoney, and Betty's Toy Box are among my favourite discreet online sex toy stores.
2. If you want the calmer (but slow) way
Instead of the below steps 3-5, you can simply place your newly arrived package in a clean container and leave them there.
COVID-19 lasts up to 72 hours on stainless steel and plastic and up to 24 hours on cardboard.
So if you put them in a big bin and close the lid, and don't touch them for 4 days, hypothetically no leftover COVID-19 will survive.
BUT — if you want them quickly, I recommend the following:
3. Throw out the shipping box
COVID-19 has been found to live up to 24 hours on cardboard. Because you don't know how many people have handled your box on its way to you, you need to take certain steps.
When I receive a box to my house, I open the external shipping box, dump the contents onto a cleanable surface (without touching the contents…I literally just turn the open box upside down), and then immediately put the shipping box in my outside recycling bin.
I make sure I don't have to touch the shipping box ever again… don't stack it in your house somewhere.
I then wash my hands for 20 seconds and use Clorox/Lysol wipes on any surfaces I've touched (like the recycling bin).
Then, I…
4. Open the toy's packaging, and throw out
With clean hands, I handle the sex toy's packaging.
Sex toy packaging is usually made from cardboard or plastic. Again, COVID-19 can last up to 24 hours on cardboard. On plastic, however, COVID-19 has been found to live up to 72 hours.
To remove the box's contents (i.e., the toy, charger, instructions), I again use the open-box-then-dump-contents process. I let the box's contents tumble out onto a new, easy-to-clean surface.
Like with the first step, I then immediately throw out the packaging and wash my hands for 20 seconds.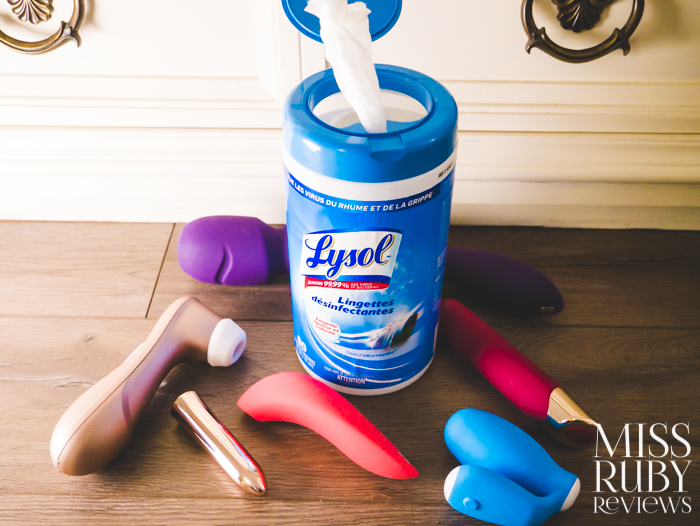 5. Then clean the toys
By this point, I'm fairly sure everything is totally sanitized… It's pretty safe to assume sex toys weren't packed by the manufacturer within the last 3 days.
But, to be 100% happy and for peace of mind, you can clean the toys themselves.
With clean hands, disinfect the toys themselves. Most silicone, glass, plastic, and stainless steel sex toys can be wiped down with a 10% bleach solution. I'm not sure if Clorox/Lysol wipes can damage some sex toy surfaces, but I haven't had any issues so far.
If you have a waterproof toy, even better! Simply wash it for 20 seconds in warm, soapy water. Take care to thoroughly clean all the nooks and crannies.
(I haven't been able to find reports on how long COVID-19 survives on silicone, but because it's a tightly constructed material, I treat it like hard plastic and assume it can live up to 72 hours.)
After cleaning your toys, wash your hands for 20 seconds.
Other tips
Disinfect any surfaces possibly touched by shipping materials (such as your floor).
In all of the above steps, do NOT touch your face.
If any boxes touched your clothes or your arm, toss your clothes straight into the wash and go shower.
If you have to go to the post office to pick up your parcel, try to get it redirected to your home first. If that doesn't work, consider just leaving it there until the pandemic calms down (Canada Post is holding packages indefinitely at my time of writing). If you have to go to pick it up, I'd make sure to wear gloves, stay 2 meters away from everyone, and remove your dirty gloves before getting in your car. Then wash your hands and clothes when you get home.
Now isn't the time to physically share your toys with anyone you're not quarantined with.
Looking for sex toy ideas? Check out my list of the best sex toys.
Is this too much?
Maybe. Probably. But we can't see the virus with our own eyes, and all I know for certain is that I'm at high risk if I get the coronavirus. Even if you're not at high risk, if you become infected you might pass it on to someone who is.
But don't let coronavirus scare you from buying the sex toys you're dreaming of! Just do your due diligence and all should be well.
Happy vibing!
Sources: