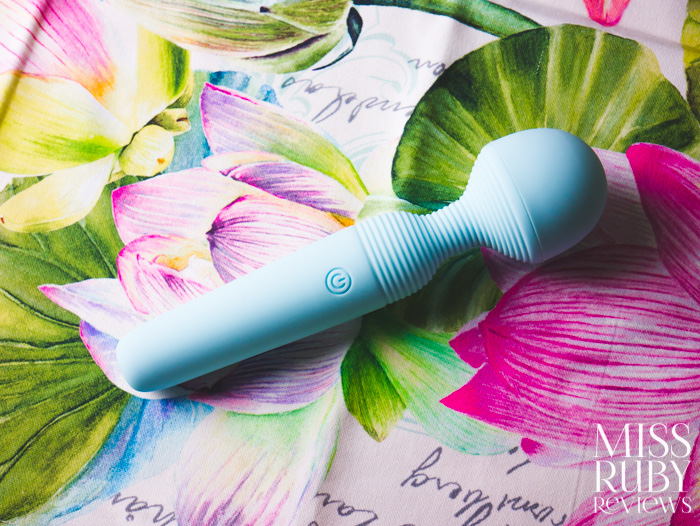 That's some pretty powder-blue silicone. Read on for my Maia Aria review!

Design | How to Use | Packaging | Material and Care | My Experience | Overall
Design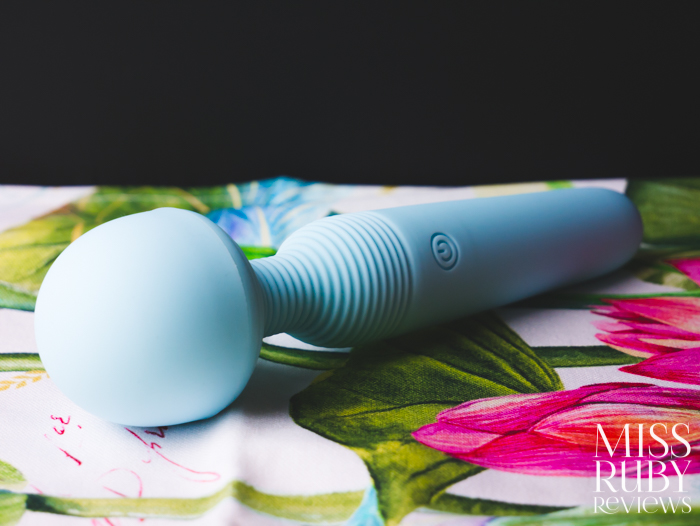 The Maia Aria is a new little wand with some stellar features.
It's waterproof/submersible (so yes you can take this into the bath), USB rechargeable, and made of bodysafe silicone.
In terms of wands, a couple of things set the Maia Aria apart.
First, it's small! At only 8.5″ long, it's definitely one of the smaller wands I've come across. That makes it light and great for traveling and storage.
Second, it has a bendy neck; the head can be bent in any direction. The bendable neck joint is slightly stiff, so you're meant to bend it to the position you want then use it in its new position.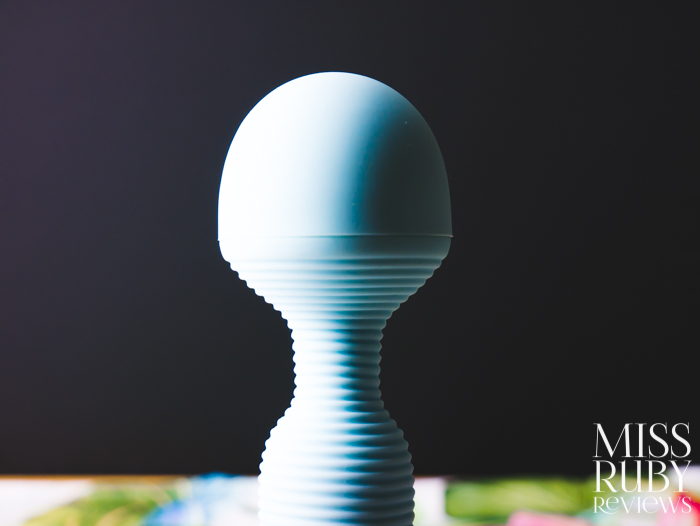 The Maia Aria's design itself is fairly cute. The color is a beautiful milky light blue. The handle is slim and contoured, with a single button for all its functions. The neck is surrounded by bands for decoration and easier bending. The head is spherical for smooth broad-style stimulation.
How to Use the Maia Aria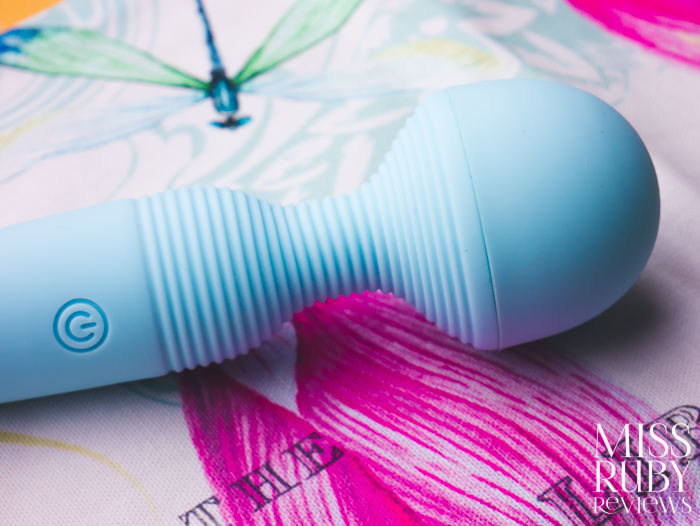 Turn on the Maia Aria by pressing and holding the power button for a few seconds.
The Aria will turn on at its strongest steady speed.
Briefly tap the power button to cycle through its functions. In total, there are 3 steady states and 12 vibration patterns.
Bend the neck to the angle you want and apply to your body.
Though designed for clitoral use, it could be used against nipples or a penis. This isn't recommended for insertion.
Turn off by holding the power button for a few seconds.
Packaging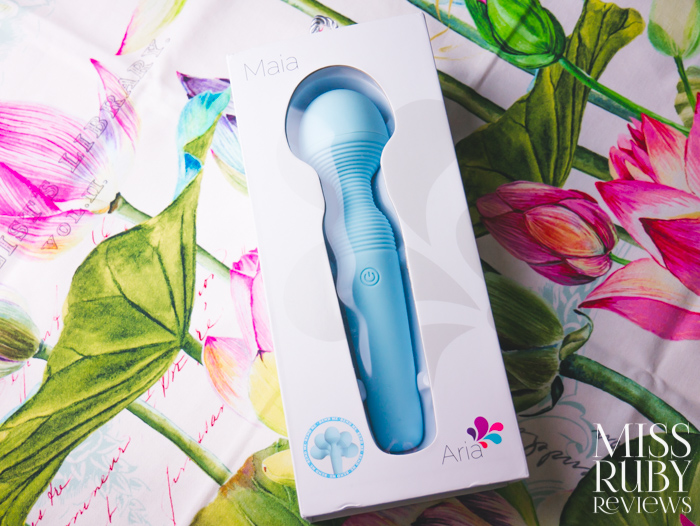 The Maia Aria is packaged simply in a white box. It's not the most luxurious packaging I've ever come across, but it doesn't feel cheap or flimsy.
Inside the box, you receive the Aria wand, a large drawstring pouch, the USB charging cable, and a short manual.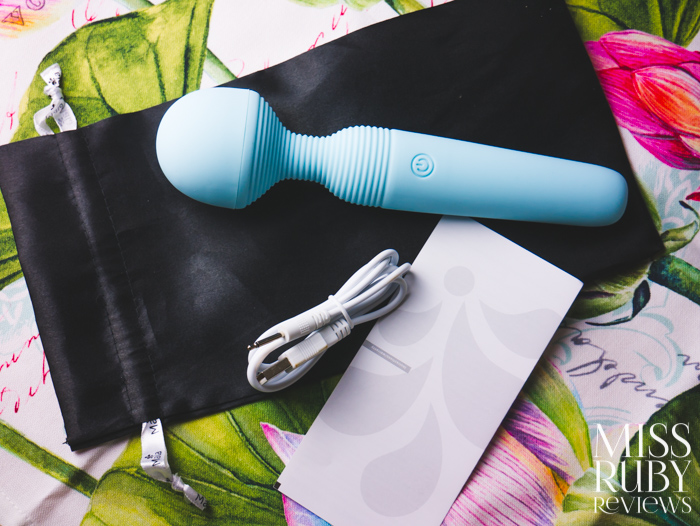 Material and Care
The Maia Aria is coated in silicone, making this bodysafe (non-porous and free of toxins like phthalates). This particular silicone has a beautifully matte, silky finish.
To clean, wash your Maia Aria with warm, soapy water before and after each use.
To charge, insert the needle-nose end of the included USB charging cord into the base of the toy (look for the DC imprint). Then plug the cable into your computer or a USB wall adaptor. The Maia Aria will emit a flashing light when charging, which will become steady when it's fully charged.
Maia includes a 1-year manufacturer's warranty for all their rechargeable toys, but you'll have to register your product quickly to qualify. See the manual for details.
If you'd like to use lubricant with this toy, choose a good quality water-based lube like my favourite Sliquid H2O.
My Experience with the Maia Aria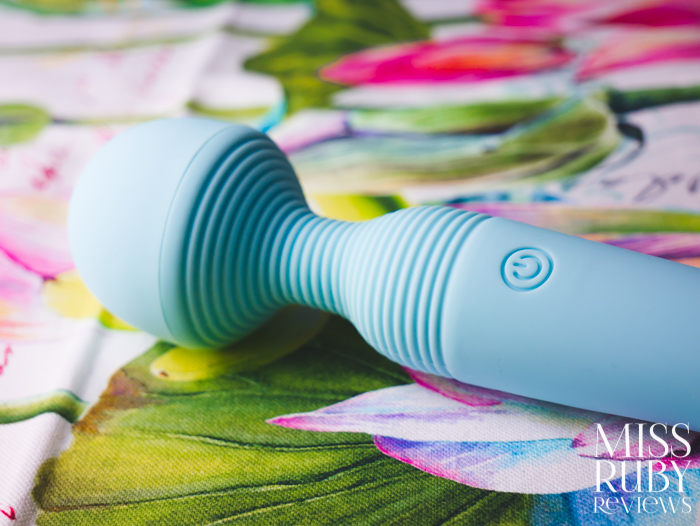 The good
There's a lot of good things about the Maia Aria.
First, it's packs some decent strength. It's not a disappointing amount, it's enough to satisfy me, and I suspect the average user will be happy with its strength.
It feels great. It's strong and rumbly enough to easily orgasm.
It's quiet. Even at full strength, I'm not worried about this being heard through walls.
The narrow handle is great for comfortable holding.
It's bodysafe, rechargeable, and waterproof.
The bad
In my opinion, the Maia Aria's biggest drawback is the bendable neck feature. I adore the idea of bending parts of a toy to the shape we want and then using it. Unfortunately, in practice, it hinders playtime rather than help it.
Maia's website promises that the bendable neck "stays where you put it," but that's only true if you shape it and then put it down and don't use it. I've found that, after I've bent the neck into the shape I want, the moment I apply pressure against my body, the head bends back away from me. This entirely defeats the purpose. Again, in theory, this would be great, but without a way to "lock" the neck in place, the feature is a little useless.
Comparison to a similar wand
Above: The Maia Aria (top) and the FemmeFunn Ultra Wand (bottom)
A couple of months ago, I reviewed the FemmeFunn Ultra Wand, which I LOVED. These two wands are super similar in size and function, so it's impossible to not compare them.
How does the Maia Aria compare to the FemmeFunn Fultra Wand?
Strength: The Maia Aria isn't as strong as the FemmeFunn Ultra Wand. I did a blind test a few times and the FemmeFunn model always won.
Noise: The Maia Aria is slightly quieter than the FemmeFunn Ultra Wand.
Aesthetics: In my opinion, the Maia Aria is prettier than the FemmeFunn Ultra Wand.
Size: They're both about the same size and weight.
Vibration dispersion: The Maia Aria's vibrations disperse throughout the handle, which make your hand feel weird and tingly. The FemmeFunn Ultra Wand controls its vibrations better and can keep them more focused in the head.
Bendy neck: While I don't like the Maia Aria's bendy neck, the FemmeFunn Ultra Wand also has a bendy neck. Neither is better than the other here, in my opinion.
Waterproof: Both submersible.
Battery type: Both rechargeable.
Packaging: The Maia Aria comes with nicer packaging and a drawstring pouch, which the Ultra Wand doesn't.
Price: At $59 USD Maia Aria is $10 cheaper than the $69 FemmeFunn Ultra Wand.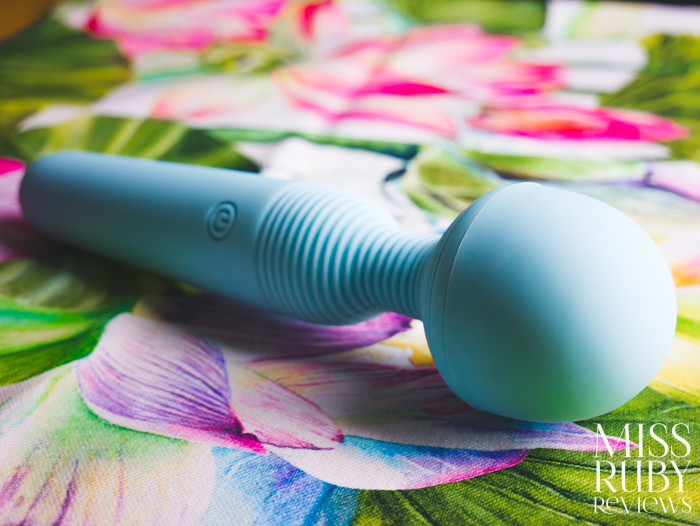 Maia Aria Review – Overall Thoughts
To be honest, I think I prefer the FemmeFunn Ultra Wand over the Maia Aria because it wins when it comes to strength and vibration control. If you care more about strength then anything else, you might wand the Ultra Wand instead.
But overall, I think the Maia Aria is a decent choice if you're looking for a small wand. It's petite, cordless, quiet, bodysafe, rechargeable, and strong.
You can pick up your Maia Aria up at Peepshow Toys! Why do I like Peepshow Toys? They ship internationally, only carry body-safe products, and you can get a 10% discount off your whole purchase with coupon code RUBY. 

See below for my Maia Aria review summary.
Maia Aria Review Summary
Overall thoughts - 8.5
8.5
$59.99
PROS
Decently strong
Quiet
Small and light
Gorgous color/design
Waterproof
Bodysafe
Rechargeable
CONS
Bendy neck doesn't stay put
Vibrations transfer to handle
Stronger alternatives out there
Shop Now