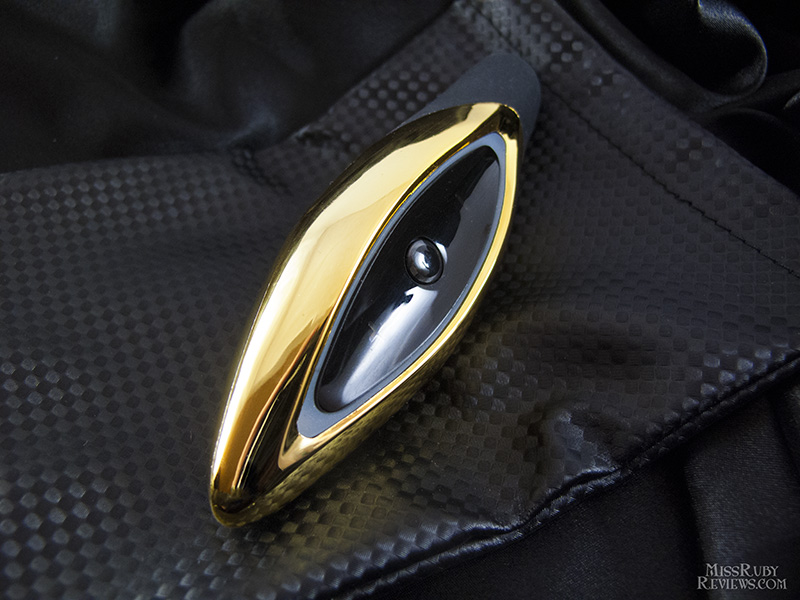 Physical Details | Material and Care | Shipping and Packaging | My Experience | Overall
Physical Details
The ZINI Seed is a small clitoral vibrator. Though it's not thin and narrow like the Tango, it essentially functions as a bullet vibrator, with a firm, pin-pointed tip to target clitoral stimulation. Covered in black silicone, the tip of the ZINI Seed is unrelentingly firm, giving clitoris-owners who love that firm pressure (me, me!) what they need.
The body tapers wide to be comfortable in your palm. Instead of being coated in silicone, the body is plated in gold-tone ABS plastic. It splits in the center to reveal a light-up control panel, with three +/Θ/— buttons. To cycle through the vibrations strengths, you merely press +, and to go through the varying steady speeds. You can also experiment with several vibration pattern speeds by hitting Θ.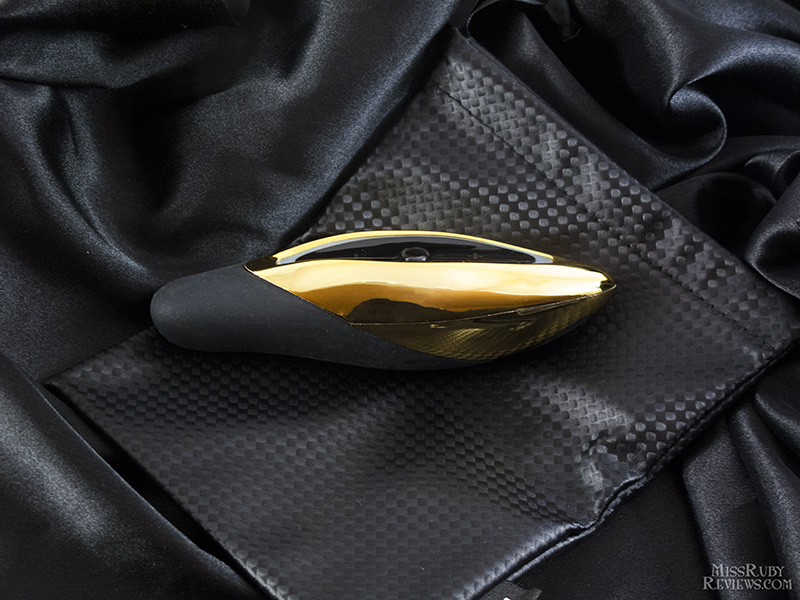 Overall, this vibrator is really quite small, virtually weighing nothing. This makes it perfectly discreet, able to fit into a small purse or a pocket.
So how do the vibrations fare?
Strength: 6/10
Rumbliness: 5/10
Overall, I find this vibrator to have moderate strength. It's no Tango, but it's similar in strength to the Siri 1. In terms of buzziness, I'm pleased to see that the vibrations don't totally disperse when I squeeze the vibrator tip between my fingers, but they do dampen. They are somewhat surface level, which may or may not be ideal for you.
When it comes to noise, this vibe doesn't make me worry.  It emits a mid-frequency sound which can't be heard through walls, and using it under the blankets dampens the sound considerably.
Material and Care
This vibrator consists of silicone and ABS plastic. Both of these materials are non-porous and non-toxic, making them bodysafe. To clean the ZINI Seed, ZINI recommends wiping it down with a wet cloth or rinsing it with water (I'd add anti-bacterial soap to the mix). There is a seam running between the plastic and the silicone portions of the vibe, so be sure to clean those lines thoroughly. However, the charge socket is only splashproof, so I'd avoid immersing the whole toy in water. To sterilize it, you could also wipe it down with a 10% bleach solution.
Being rechargeable, make sure to charge your ZINI before (or after) each use. Two hours of charging will get you 2-3 hours of playtime. Don't use silicone-based lubricant with this toy (as that would degrade the silicone tip).
Shipping and Packaging
MEO's shipping was fast. Although they shipped all the way from Germany, it arrived within 4 business days in Canada.
The ZINI Seed comes with really pretty packaging. It comes in a sleek, fancy, black box that opens sideways. Inside this box, you receive the Seed, a storage pouch, a USB charger, and the manual.
My Experience with the ZINI Seed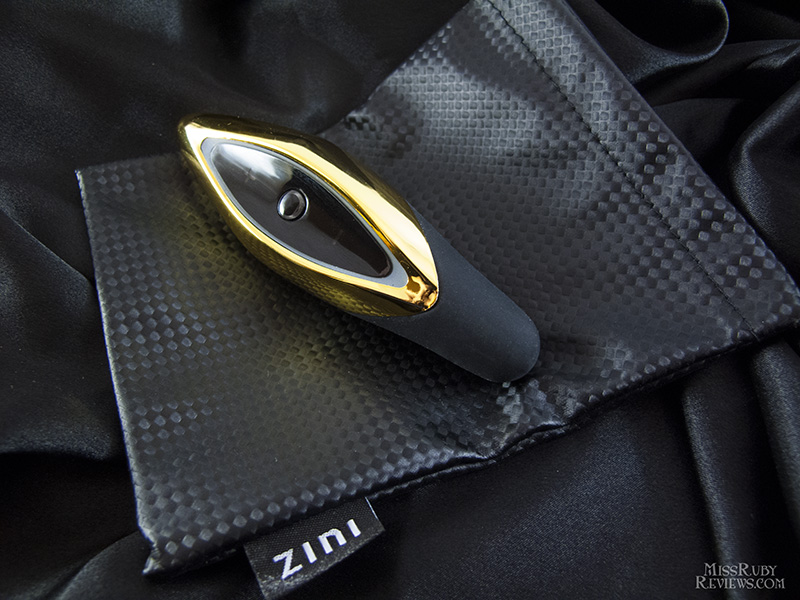 Based on the moderate-level strength of the vibrator and how the motor errs on the buzzy side, I wasn't expecting too much from this vibrator. I was pleasantly surprised, then to find that it takes me to orgasm relatively quickly. There are a few caveats, though, so read on.
I think there are two key things that make this vibe a success for me.
First, the pin-point build. I've always loved pin-point stimulation. While broad stimulation can easily get me off if it's strong enough, pin-point stimulation doesn't need to be as strong for it to be effective. That's just how my body works. If you know this is something that makes you tick, bullet vibes are your best bet.
Second, the Seed delivers firm pressure. It's not as firm as ABS plastic, but there's barely give to it. If you're someone that likes fluttery clitoral stimulation (like from of a pair of rabbit ears on a rabbit vibe), then this vibe isn't for you. I don't fall in this category myself.
I think the firm pressure and pin-point build are two things that ensure that I can orgasm within 3 minutes with this vibe. I think it also helps that the Seed is so easy to simulate manual (finger) stimulation while it vibrates  along, thanks to its small size and finger-like tip. Its moderate vibrations, combined with firm pressure, pin-point stimulation, and manual movement, means that orgasms are always on their way.
How about cons?
First, while the tapered body makes things comfortable to hold, the buzziness of the motor numbs my skin on hand after a short time. It seems that it's more buzzy on the body/handle of the vibe though, because my hand grows numb far before my clitoris does. Secondly, I wish it was a pinch stronger (but I almost always wish vibrators were stronger). Third, I'm not a fan of the gold-toned plastic. I get the impression that it's a thin piece of plastic. While it's not exactly flimsy, it doesn't seem to be the sturdiest of plastic casing, and I wish the whole vibe was covered in black silicone like the tip.
Overall
While I have a few complaints about this toy, the ZINI Seed still manages to take me to orgasm with very little effort. I wish it was stronger and less buzzy, but I think its firm pressure and pin-point stimulation mean that, despite its drawbacks, this toy can still be a vibrator that delivers.
To buy the ZINI Seed, head on over to MEO.