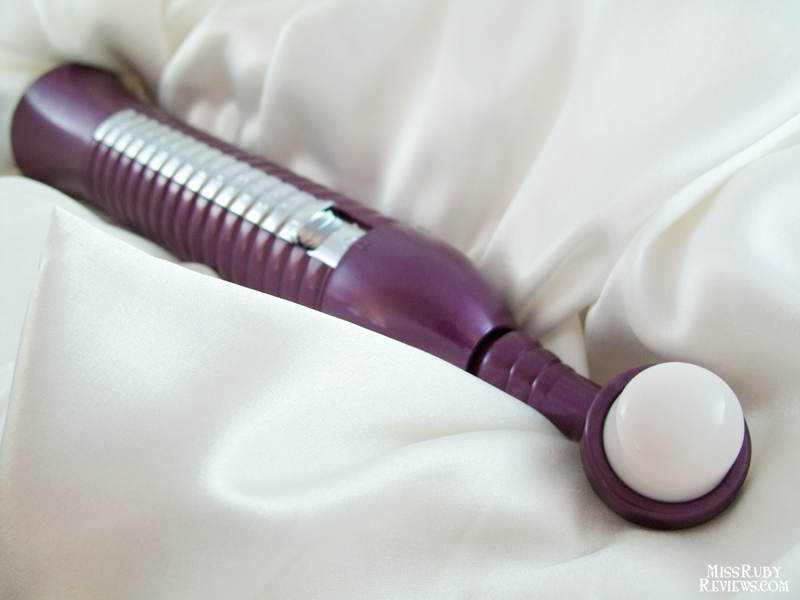 It's so fun to squish that white attachment…
Physical Details | Material and Care | Shipping and Packaging | My Experience | Overall
Physical Details
Design: 
The Eroscillator is a weird looking thing. That's not necessarily a bad thing…it certainly stands out amongst my dildos and bullet vibes. And, thanks to its funny shape, I don't think many people could easily recognize this as a sex toy.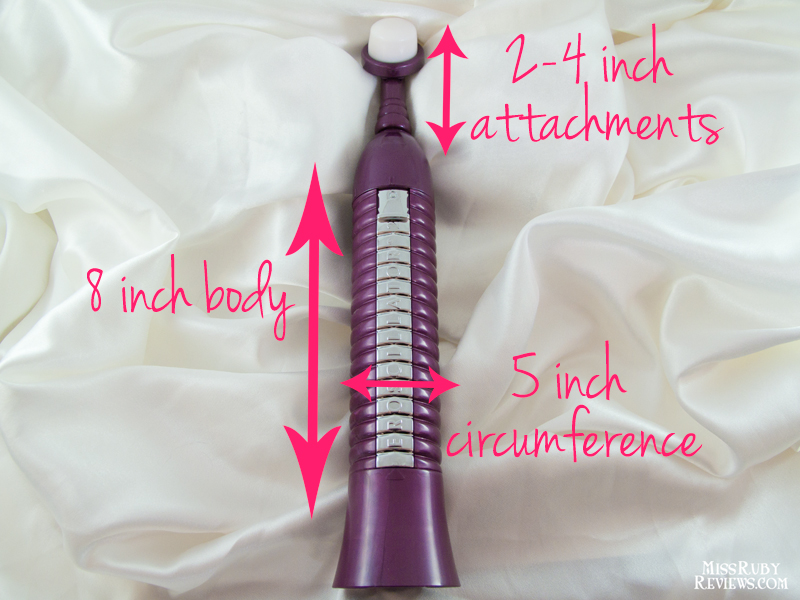 The bulk of the toy is made of the of cylinder shaft, which acts as the handle and control center. To activate it, you simply slide up the silver panel to switch through 3 increasingly-strong settings. Even the lowest setting is enough to grab my attention, though I quickly find myself switching to that high setting.
The Eroscillator comes with a long plug-in cord. As a mains-powered toy, you have the advantage of it never dying from lack of batteries, as well as the disadvantage of not being able to take it anywhere near water. And forget the 6-ft corded worries of the Magic Wand Original….this cord is long enough for anything I've needed, which is a definite bonus.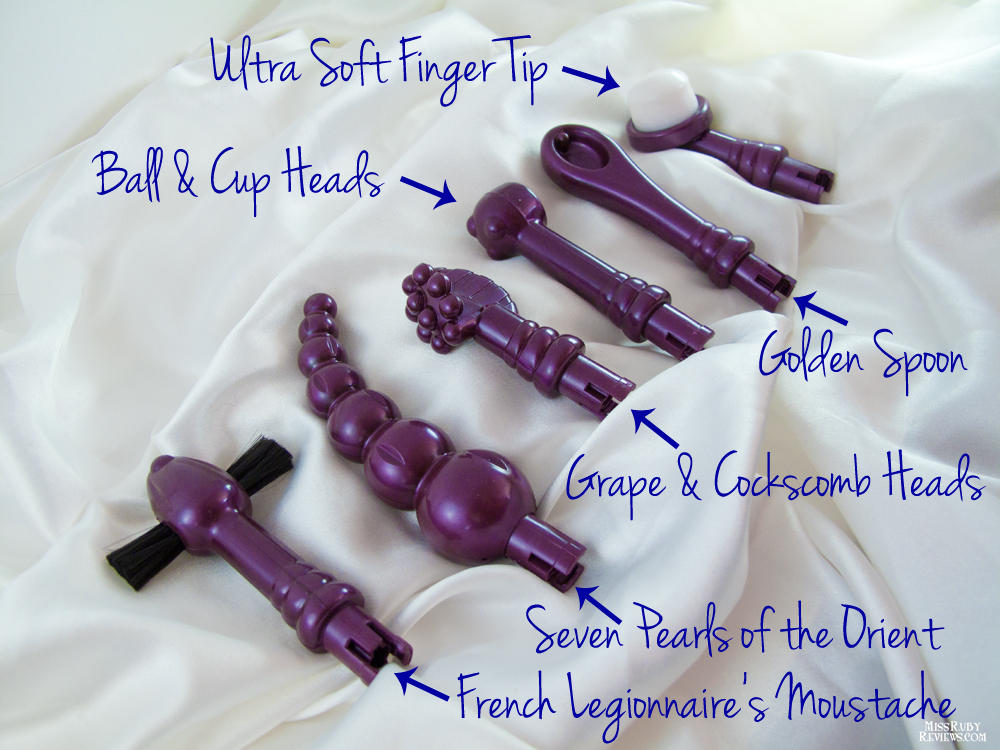 Then there's the attachments. And there's a lot. The number of attachments depends on which version you buy. Several of the attachments are double sided, so a single attachment can have 2 heads.
Eroscillator 2 = 1 attachment (2 heads)
Eroscillator 2 Plus = 4 attachments (7 heads)
Eroscillator 2 Top Deluxe = 5 attachments
**Eroscillator 2 Plus Top Deluxe with Soft Finger = 6 attachments (9 heads)
Eroscillator 2 Ultimate Combo= 7 attachments
I can't speak for the 7th attachment included in the Ultimate Combo, but I can run through the attachments I received in this package. I'll run through each of these halfway through My Experience below.
Engine: 
Technically, this is no vibrator. Instead of vibrating, the Eroscillator oscillates. Below, you can see the difference in movement between vibrators, your finger, and the Eroscillator. The gif below shows slow movements though — in reality it turns rapidly (3600 oscillations per minute). And I can attest that it really doesn't feel like a vibrator. Instead, it feels like a finger on steroids.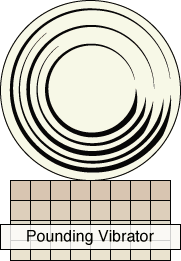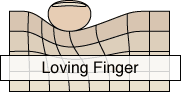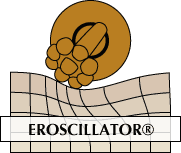 Material and Care
The majority of Eroscillator is made from ABS plastic. The attachments, however, are all coated with TPE. I'm generally not a fan of TPE, and wish it was silicone, but apparently it's a high-quality and non-porous TPE.
The Soft Finger attachment isn't TPE though. Eroscillator says that "the Ultra-Soft Finger Tip marshmallow is made of medical grade silicone." In all my time working with and reviewing silicone sex toys, I've never had silicone like this. I'd love to know why their silicone feels so different.
In any case, you can clean your Eroscillator by pulling off the attachments and washing them with soap and warm water. You can also carefully pull out the front cap and the control slider and wash those components. Please please please remember to not do any of this while your toy is plugged in. Always unplug your toy before going near water.
Shipping and Packaging
Eroscillator shipped their package out to me on July 15 and I promptly received it on July 22.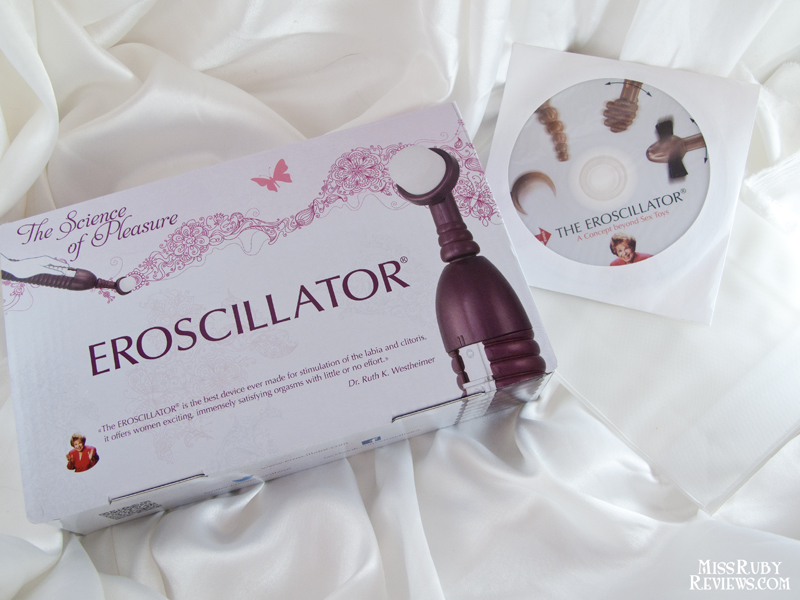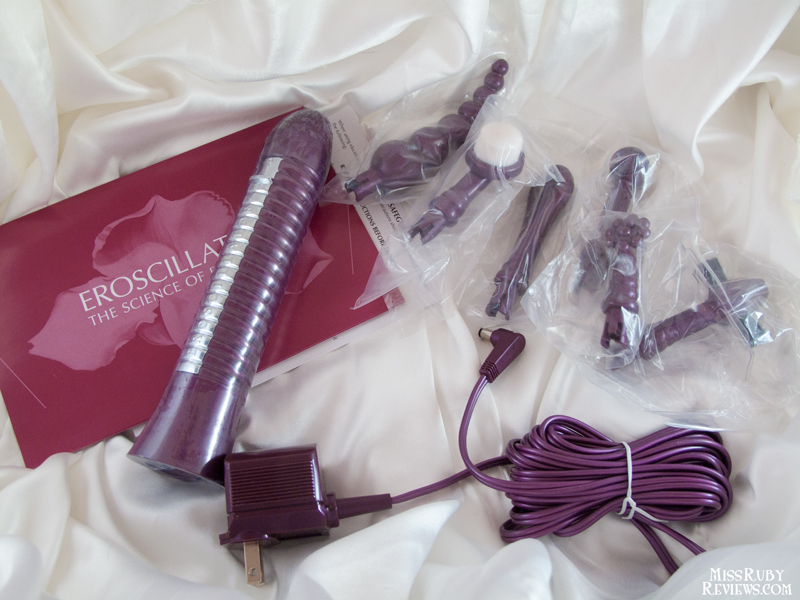 The Eroscillator was packaged in a cute white box, along with a promo DVD. Within the box, you receive a manual, your power cord, your Eroscillator and your attachments. You also receive a thin plastic sleeve to house your toy, but the sleeve doesn't close and I didn't find it to be a useful storage container. So I've been using a large freezer bag as a home for my Eroscillator.
I did check out the promotional DVD. It consists of a few testaments from women and couples ("These days with AIDS, you've got to be careful. You can't go jumping into bed with some guy you just met. I feel like the Eroscillator helps me to say no until I'm ready to go to bed with someone!"), as well as a recommendation from Dr. Ruth Westheimer.
My Experience with the Eroscillator Top Deluxe with Soft Finger Combo
To sum it up in one sentence, the Eroscillator is a finger on steroids. It delivers an orgasm that feels similar to what my own hands can give me, except stronger. This goes back to the oscillating mechanism — like a finger, the Eroscillator rubs back and forth, instead of pounding against the clitoris like a vibrator.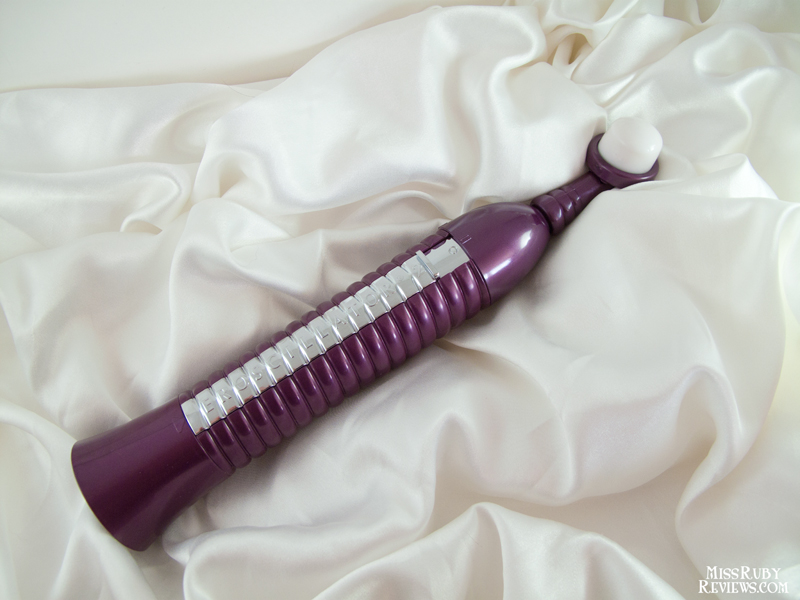 As a result, it delivers a very different experience than one I'd get from a vibrator:
First off, unlike a vibrator, I don't need to apply pressure against my clitoris to orgasm. Which is kind of novel for me, seeing as I generally need to push a vibrator against my clitoris with a lot of strength to get off.
Second, things are quiet. When the attachment is pressed up against me, it's silent. Not totally silent, mind you, but certainly quieter than you'd ever expect from most strong vibrators. It's easy to miss it if you're in the same room as the toy. There's no way you could hear this through walls, so this is definitely something to look into if you're really concerned about being discreet.
Third, orgasms with this toy take longer to achieve than if I used a strong, rumbly vibrator. Instead of the rapid orgasms I can get from a Tango, I need to set aside 15-25 minutes to get anywhere with the Eroscillator. So for me, this isn't a quickie toy. This takes time.
That being said, once the orgasm does arrive….wow. The orgasm takes its time, lasting longer than I'm used to via my hands or a vibrator. Instead of the orgasms I get from the Magic Wand Original (which are quick, strong, and to-the-point), these orgasms seem to be more generous, with a slow, gentle crescendo and decrescendo. Very satisfying, though I haven't been able to coach 2nd or 3rd orgasms out of me with the Eroscillator. For me, this is a one-orgasm pony, but that one orgasm is really powerful. And satisfying. One orgasm with this and I don't feel the need to go on to a second or third.
And while my clitoris doesn't get numb from the Eroscillator (which can often happen from buzzy vibrators), my outer lips and mound around my clitoris do start to feel somewhat fatigued, as does my hand from holding it. But my clitoris didn't numb at all. If you notice that you often grow numb from your vibrator, you're probably using a buzzy vibe and you could consider either (a) upgrading to a vibe that is rumbly or (b) investing in an oscillating toy like this one.
And how about the heads? Below, I'll go into each: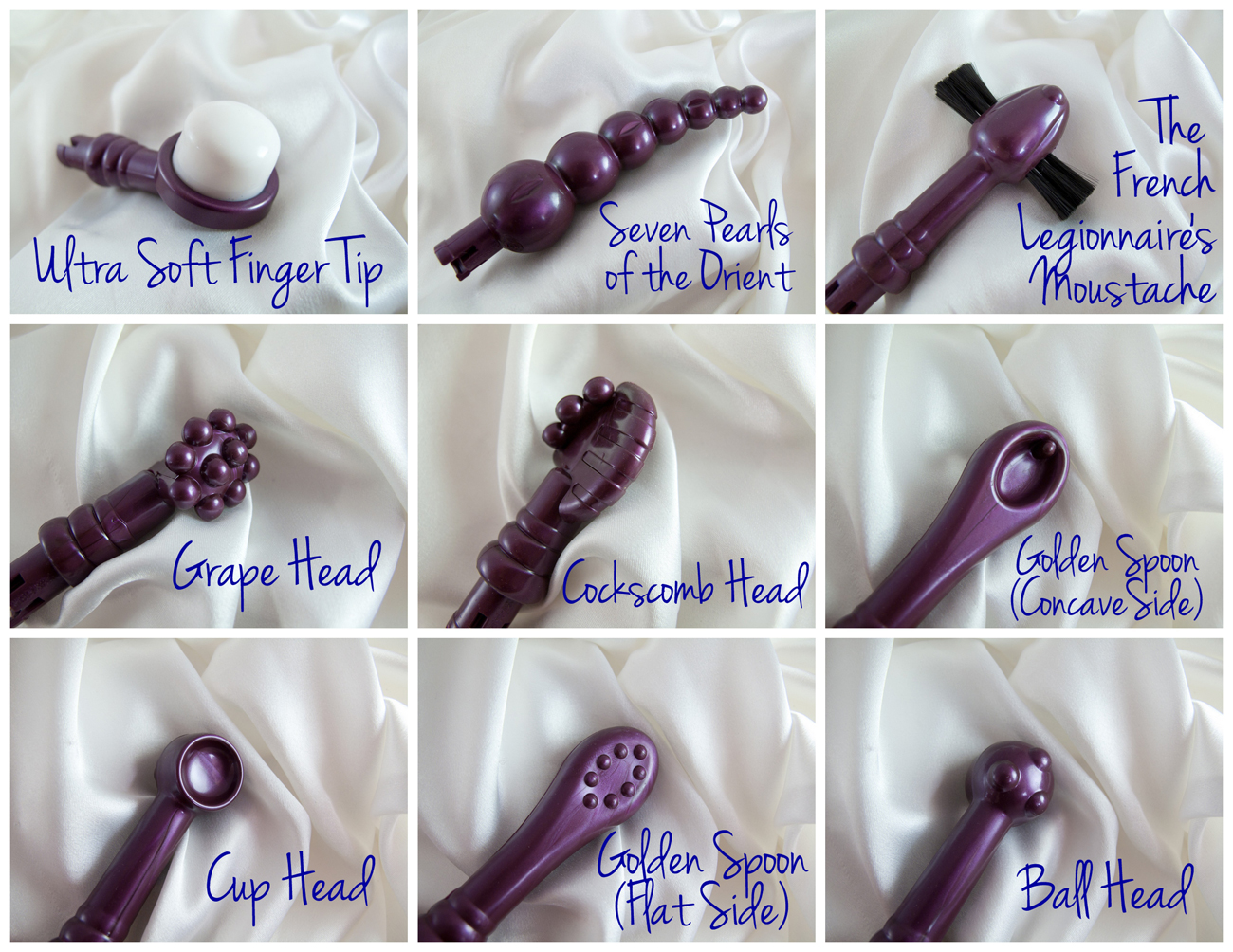 The Ultra Soft Finger Tip — My favourite. I would definitely recommend upgrading to a package that includes this attachment, as it's the one I want to use the most. It's quite squishy, so it feels soft against my clitoris, but the oscillations still carry well. It's like a vibrating pile of jello that feels great. Enough said.
Golden Spoon — The Golden spoon comes with a flat and a concave side. My clitoris isn't a fan of the concave side, but I like the texture of the flat side. It also delivered better pin-point stimulation than the Soft Finger Tip, and the oscillations felt stronger without a squishy marshmallow to squash them. I still prefer the Soft Finger Tip, though this is a great second-place.
Grapes and Cockscomb Heads — Both of these give interesting sensations. The Grapes is all about nobby texture, where the Cockscomb head gives you a narrow firm strip to work with. I found both of these heads a bit too poky, definitely preferring the mildly nobby flat side of the Golden Spoon to the Grapes. Oscillations carried very strongly in both of these though.
Ball and Cup Heads — The Cup head is for nipple and clitoral stimulation. I actually enjoy the cup against my clitoris, something I wasn't expecting. When the oscillations are feeling a bit too much, I switch to the cup head so that it stimulates the area around my clitoris, instead of my clitoris directly. The ball head (convex) is suggested to "help you exercise your vagina," but I wasn't a fan.
The Seven Pearls of the Orient — Designed for vaginal and/or anal use. I tried it vaginally, but definitely prefer using the Eroscillator for clitoral stimulation.
The French Legionnaire's Moustache — I can't get used to this one. It's bristly.
Overall
Has the Eroscillator replaced my beloved Magic Wand?  No, because I generally want my orgasms to be quick and in abundance. With the Eroscillator, I experience slow-building orgasms that are certainly worth the effort. But the Eroscillator is a time-commitment toy, as it takes around 20 minutes to get to orgasm. Those orgasms do feel different than orgasms I receive from vibrators though: an oscillating engine like this one certainly delivers on unique orgasms. So when I'm in that mood, I'm happy to have this in my closet.
So it this worth the cash? The Top Deluxe (Soft Finger Combo) in Purple goes for $239 (though to save $10 you can go with the original brass-coloured version). The step down from this combo is the Eroscillator 2 Top Deluxe ($194) — and this version doesn't include the Soft Finger attachment.
Because I'm such a fan of the Soft Finger attachment (it's really the only attachment I've been using regularly), I recommend that you aim for a package that includes it. There's three packages that include it: The 2 Plus with Soft Finger combo (a weaker version),  the The Top Deluxe with Soft Finger Combo, and the Ultimate Combo. There's also the Eroscillator Gold if you need something gold plated to line your sex toy chest.  In any case, if you're already splurging on an Eroscillator, you may as well shoot for the best attachment.
If you want slow-building, long orgasms, this is a toy to try. But if you need quick, rapid-fire orgasms, you may want to look elsewhere.
To buy the Eroscillator, here are some recommended stores: 

SheVibe
 (
$239 USD)

Eroscillator
 (
$239 USD)

Uberkinky
(£189 GBP)
Last Updated on March 14, 2020 by Miss Ruby