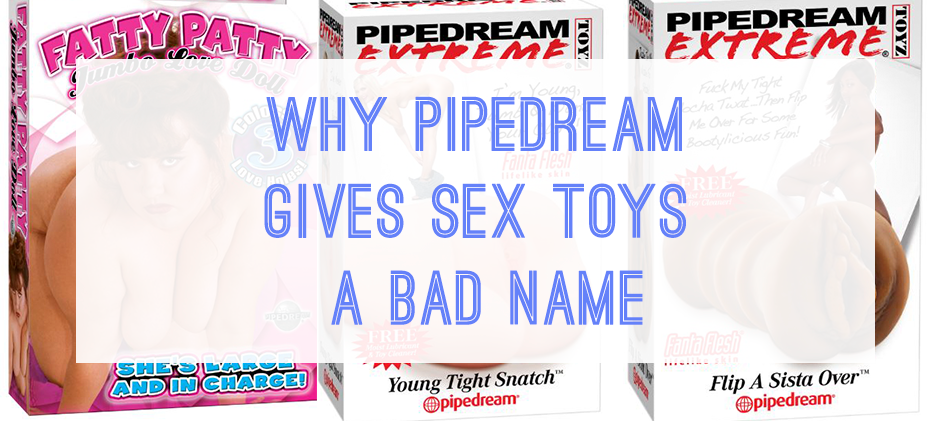 Read on for 2,000 words on why I hate one of the largest sex toy companies in the world.
If you try shop around for a sex toy, you're going to come across a Pipedream product. 
Pipedream is a multi-million dollar sex toy company, and their roots go deep. Based in California, they've been around since the 1970s and they now call themselves the "the largest pleasure products manufacturer in the world" — I have no idea if they're actually the largest, but I wouldn't be surprised. They manufacture and sell pretty much everything and anything in terms of sex toys, from a "75+ piece Anal Fantasy Collection" to "blow up babes" and finger vibes. I see them as the MacDonald's of the sex toy industry — they're inexpensive, found everywhere, and make some people cringe. Their distribution spans 6 continents, and their products trickle their way into most sex toy stores (heck, in the States, even Walmart sells Pipedream's disconcerting "Moist Strawberry Flavored" lubricant).
Pipedream says they're the recipient of over 80 awards from "prestigious industry sources" and I don't doubt it. But I wouldn't touch Pipedream toys with a 10 foot pole. When my blog started in 2015 and I created my own personal "review policies," I added in that I won't review Pipedream toys. Since then, I've quietly, purposefully, and continually avoided Pipedream products.
Today I share why I've never supported Pipedream toys, and why I think this company gives sex toys a bad name.
1. Pipedream prioritizes unsafe materials, in my opinion
I can't help but think that Pipedream doesn't place much value on safe sex toy materials. It just takes a few seconds of browsing through their inventory. For example:
Pipedream's currently lists 396 dildos on their website. Of these 396:
336 are PVC (84.8% of total)
24 are silicone (6% of total)
With the remaining 36 dildos made up of TPE, TRP, rubber, ABS plastic, glass, and more.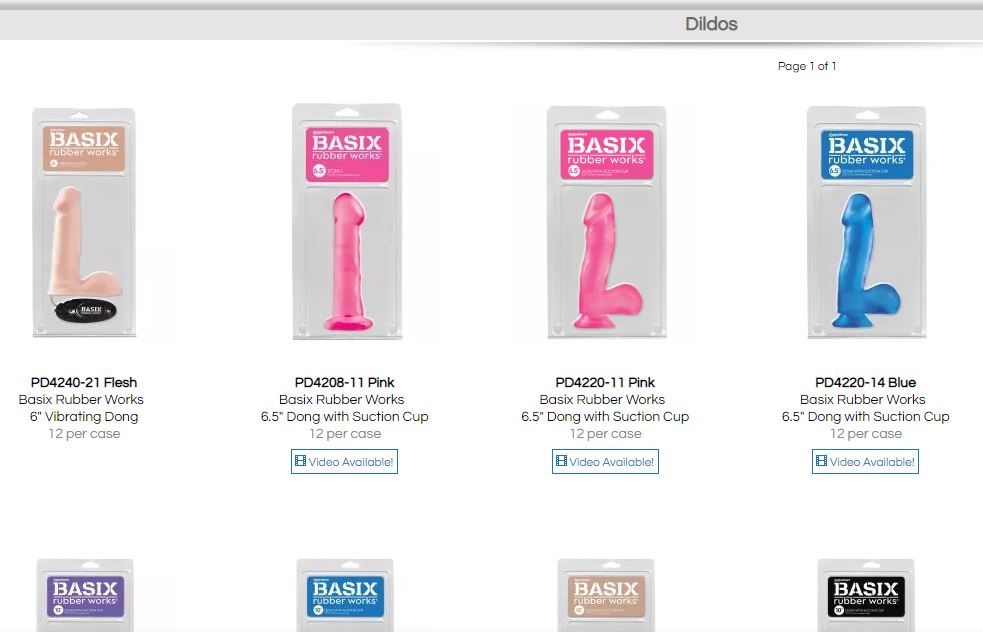 So most of Pipedream's dildos are made from PVC. PVC has long been a common sex toy material because it's cheap to produce. For those of you who don't know anything about sex toy material safety, PVC is bad. You do NOT want that in your body. PVC, by nature, is a very hard substance, so if you have a soft squishy PVC toy, it's likely that it's been softened with toxic phthalates (which are chemical plasticizers used to soften toys. The FDA has banned them in children's toys.) PVC is also a very porous material, making it impossible to sterilize (bacteria/mould will grow in its pores).
Silicone, on the other hand, is non-porous and non-toxic, making it one of the safest and most hygienic options for a sex toy material. While dildos can still be safe if they're made of certain glasses, ceramics, and stainless steel, it's the only safe material for super realistic dildos (ie, flesh-coloured). Yet only 6% of all of Pipedream's dildos are made from silicone. This isn't a good statistic (and you can read more about sex toy material safety here).
In other words, in my opinion, only a tiny fraction of Pipedream's dildos appear to be bodysafe. The vast majority (almost 85%) appear to be made of a unsafe material.
Pipedream also currently lists 194 anal toys — a whopping 74 of those are listed as made from PVC, rubber, TPE, TPR, and Vinyl. These materials are porous, but there's no warning or advisory on this on Pipedream's website.
Pipedream may argue that they have to use porous materials to keep dildos cheap and accessible to those with a smaller wallet. And while I understand that silicone costs more than PVC to use, that hasn't stopped other companies from selling affordable bodysafe silicone dildos, like the NoFrillDo dildos, the Blush Silicone Willys, the Blush Silicone Ruse dildos, or the amazing Blush Real Nude line.
Pipedream products can be found in almost all retailers, and they're so cheap – and this ensures that bad sex toy materials continue to flood the market, get sold, and get into the hands of consumers who don't realize their sex toys aren't safe. If Pipedream cared even a little about the safety of its consumers, it would get with the times and start prioritizing silicone dildos over rubbery, porous ones.
2. Pipedream's marketing is super racist, in my opinion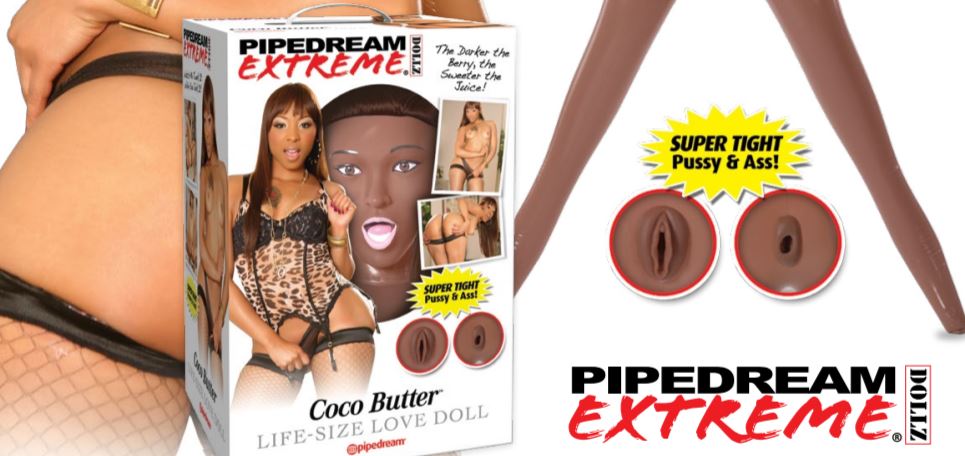 Though Pipedream has and continues to release decent lines of sex toys, their positive releases can't help be overshadowed. Pipedream has a few subbrands with extremely problematic marketing — most notably Pipedream Extreme Toyz and Pipedream Extreme Dollz.
When it comes to representing black women, I think Pipedream crosses the line in staggering ways.
Recently, a tweet went viral showing Pipedream's creepy ad copy for black sex toys. This tweet, and its accompanying thread and discussions, are a must read:
Why the black sex toys get so racist and weird wit they descriptions pic.twitter.com/3XOio6XLlG

— ??SHAQUILLE SUNFLOWER?? (@Chief_Rokka) August 11, 2019
In case you're using a screen-reader, there's the "Junk-in-tha-Trunk" ("Cum Inside Her Ghetto Booty") masturbator — description reads: "If you love thick black asses, this sista's got enough Junk in tha Trunk to satisfy your cravings! Fuck her first in her phat booty, then stick it in her snatch and bust a nut in her tight mocha twat! This bubble butt beauty is the answer to every man's chocolate fantasies…two big round ass cheeks to slap and pound on top, with a sweet black pussy spread eagle underneath!"

There's the "Fuck My Black Bubble Butt" ("it jiggles and feels just like one of those insane bubble butts you see on the screen!")

There's also the "Pipedream Extreme Flip A Sista Over" ("Fuck her first in her tight mocha twat, then Flip A Sista Over and bust a nut in her booty! This handheld honey is the answer to every man's chocolate fantasies…a sweet black pussy on one end and a big ol' bubble butt on the other, with nothing getting in the way of you filling her with cum! The soft, Fanta Flesh stroker clings to your cock and wraps around your pleasure rod with each stroke! Go ahead, tap that ass and pop that coochie!" The other side of the box reads, "Jizzle in My Nizzle Fo' Shizzle".
Uhhh…
Pipedream also targets latina women with the "Pipedream Extreme Tuna Taco"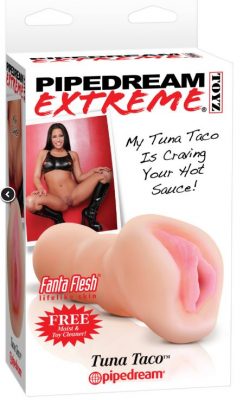 The description reads, "Slip your chorizo into this spicy Latina's Tuna Taco and have an exotic fuck fiesta!…. Pair with a vibrating cockring to add incredible vibrations and tighten her taco, while her peppery pink pussy lips blanket your chile like a warm tortilla!"
These overwhelmingly read like they were written by older, white straight men, for white straight men.
People are rightfully upset:
'She put the H in hoochie mama' like what in the baby boomer 60 year old white man who fetishizes black women mess is this ?!!!

— SheaButtababy (@_aribeaux_) August 11, 2019
It's like they tried to fit every stereotype about black women into one pocket pussy?

— Jayda Jacobs?? (@jaydajusa) August 11, 2019
It's made for white men who don't know black people except for slang and stereotypes like the ones perpetuated here

— Kellua Zoldyk (@ThatOddOreo) August 11, 2019
This is funny but it really hurts at the same time. These statements mock my sisters and if they mock one of us they mock us all.

— Bravo 4 Beats (@Toesucker95) August 11, 2019
That's disgusting we need someone inthat industry to make toys that represent us more accurately.

— The Soul Koach ? (@thesoulkoach) August 11, 2019
This doesn't exist in a void. Pipedream's packaging and marketing is quietly seen by thousands of people, whether in-store or online. Marketing like this reinforces racist tropes and reduces/objectifies people of colour to a fetish to be tried on and discarded. It's despicable, and so… unnecessary. Black masturbators sell without racist ad copy — Fleshlight manages just fine with their Misty Stone sleeves. And as for sex dolls, Realdoll sells silicone bodysafe dolls representing black and Asian women, without ANY of the creepy ad copy.
3. Pipedream's marketing is also sexist & fatphobic, IMO
Above: an actual advertising banner you can download from Pipedream
It doesn't stop there. Pipedream's marketing is also just plain sexist/creepy, in my personal opinion.
Their advertising consistently reminds the buyer that the toy "can't say no" and "won't complain" — in other words, devaluing a woman's right to say no, and eroticizing a person's inability to consent. These honestly sound like they're marketed towards incels, which is terrifying.
Some quotes from product descriptions:
"Pull her hair, smack her face, and shove your hard-on halfway down her trachea! … She's all yours to enjoy and there are no rules! Best of all, she never says no to a good time because she always has her mouth full!" (Pipedream Extreme Fuck My Face Blonde).
"She's everything you want from a woman, without all the bullshit, with no strings attached–literally! … Dress her up in your favorite stockings or lingerie, hide her under the covers in bed, or just fuck her silly from behind all night long–she never says no!" (Pipedream Extreme Fuck Me Silly 3 Mega Masturbator)
"Nothing beats the feeling of a Young Tight Snatch!" (Pipedream Extreme Young Tight Snatch)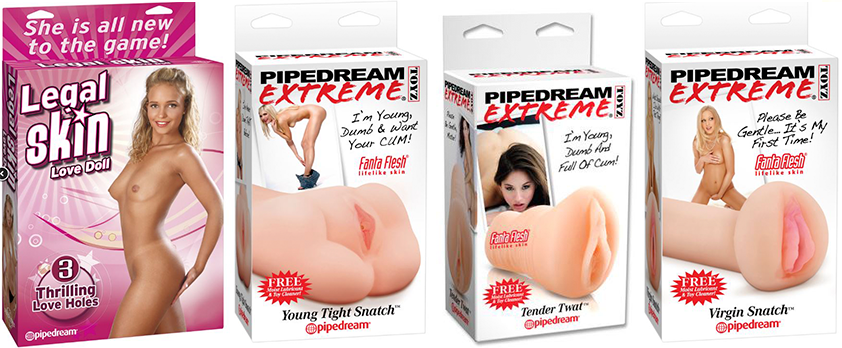 More quotes: 
"Cum inside her all you want and she won't say a thing! (Pipedream Extreme Extreme Cyber Snatch)
"Experience the thrill of banging a skanky slut without wearing a condom and go bareback on this bitch. The dirtier they are, the more they love to get rammed in the poop chute by your rock-hard rod!" (Pipedream Extreme Bumpy Bitch – discontinued)
"Once you penetrate her virgin-tight fuck hole, you'll swear you're banging a real first-timer… Best of all, she never says no and she's always ready for a good time." (Pipedream Extreme Fuck Me Silly Petite)
"She can't say "no" with her mouth stuffed full of cock!" (Pipedream Extreme BJ Bitch – discontinued)
"She's always ready when you are and she never says no! No excuses, just plenty of ball-bursting loads!" (Pipedream Extreme Tender Twat)
Another awful product is the Pipedream Fatty Patty love doll.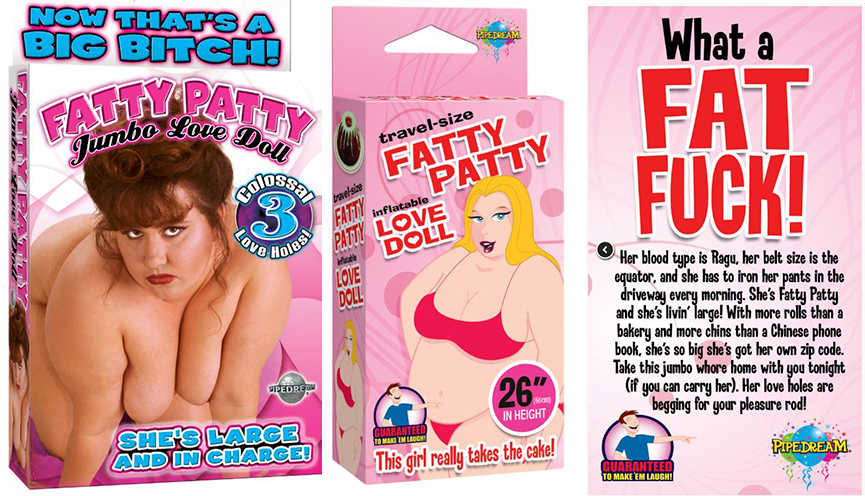 The ad copy reads, "With more rolls than a bakery and more chins than a Chinese phone book, she's so big she's got her own frickin' zip code. We used an extra wide lens just to shoot the cover shot! Take this jumbo whore home with you tonight…her 3 colossal love holes are begging for your pleasure rod! Now that's a BIG BITCH!"
That's not body diversity. That's just plain ol' fatphobic language.
Pipedream's transphobic products are still in the market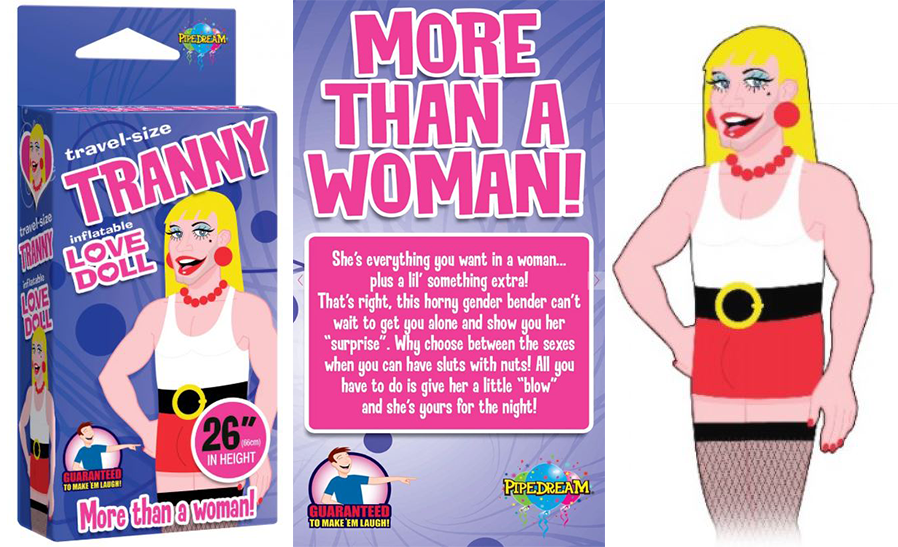 Though discontinued on their official site, this "travel-size Tranny" love doll is still all over Amazon and Ebay.
Description reads, "More than a woman! She's everything you want in a woman… Plus a lil' something extra! That's right, this horny gender bender can't wait to get you alone and show your her "surprise". Why choose between the sexes when you can have sluts with nuts! All you have to do is give her a little "blow" and she's your's for the night."
The word "Tranny" is extremely harmful to trans folks, and has been known as such for a while. I sincerely hope this is the reason it was discontinued, but this language shouldn't have been there in the first place.
4. Pipedream creates celebrity-look-alike dolls
Dangerous Lilly goes into it here and why it's gross.
5. Pipedream hasn't changed with the times
Pipedream may be the largest sex toy manufacturer, but seeing these toys is like stepping into a time portal. They hurtle you back to the 1990s, to a stereotypical, dark sex store at the corner of a sketchy street, with those flickering neon lights and XXX signs.
It's outdated – it appeals to the seedy, shrinking, historical underbelly of the market, one that the vast majority of sex toy companies and bloggers are working hard to move past.
The astonishing thing is, Pipedream's line of Extreme Toyz and Dollz have remained largely stagnant for years. They've been using the same angle in their marketing, with no sign of improvement. Pipedream's website, at the time of writing, still has archives of downloadable catalogs and product descriptions dating back to 2011 (UPDATE: Pipedream removed this link as of 2020/03/10), and already back then we see the same problematic products like "Flip A Sista Over." (UPDATE: Pipedream removed this link as of Oct 4 2019). That means the ad copy hasn't changed noticeably in at least 8 years, which is a REALLY long time in the sex toy world.
As one of the largest manufacturers of sex toys in the world, Pipedream is becoming one of the last remaining (but powerful) forces pushing this kind of marketing into our industry, and they have a responsibility to change. For many years now, the sex toy industry has been moving towards bodysafe materials and inclusive marketing. Tenga is a fantastic example of a company focusing on the penis-having-consumer, without all the misogyny. And if you want realism, Fleshlight gives you a lot of great options without the extreme sexism, and their material is one of the safer ones for penis sleeves.
What gives, Pipedream?
Pipedream needs a widespread, systematic overhaul of the marketing language in their "Extreme" series of toys. They need to scrap their creepy racist, sexist and fatphobic language, and dramatically increase the use of safe sex toy materials in products like their dildos.
Packaging like this is exactly why sex toys have a lingering reputation of being dirty, perverse, and something to be ashamed of. But sex toys aren't/shouldn't be like that anymore. This isn't the 1970s, or the 80s, or the 90s, or even the early 2000s — In the last decade, there's been a huge sweeping movement to normalize sex toys and make them inclusive. They're now often a tool of empowerment, or amazingly high-tech. They don't need to be seedy anymore.
Because this is 2019, and pushing toys out into the world that say "She never says no!" and "Take this jumbo whore home!" just isn't acceptable.
What can you do?
Use your purchasing power carefully. Contact Pipedream and share your concerns. Share this post on your social media. As a blogger, I'll continue to not feature Pipedream products on my platform.
Update: October 4, 2019
Today I found out that Pipedream has put their content behind a wall. Now, you need to be a registered distributor (as in, a company that will sell their products, and register with your name, address, company, etc.) in order to view any of their products and descriptions. That means the general public won't be able to access Pipedream's ad copy directly through them. Also, the link to their archives dating back to 2011 has been removed. That link is now dead.
Was that move in response to this blog post? Well, seeing as their website remained accessible for 8+ years, then within 43 days of this post being circulated on twitter, it was all blocked off….. I'll let you decide.
This is a defensive and self-protective stance, certainly, but it's not what it should be: apologetic. No word of apology has escaped their corporate lips as far as I can tell. And unless they've change their ad copy, nothing has changed in the regular everyday world of selling pleasure products.
Why has Pipedream done this?
In my opinion, I suspect Pipedream realized having all their racist, sexist, transphobic, and fatphobic language available to the public on their website for bloggers like me to tear apart isn't the smartest PR move. Their history and their marketing practices are now obscured. Of course, it'll live on for ages — (a) because I've documented some of it here, (b) because companies they've already sold stock to are using their ad copy, and (c) because unless they've changed their ad copy, new distributors will continue to paste it onto their sites and it'll remain.
I think Pipedream may be in PR damage control mode. It seems they're back-pedaling to try protect their corporate image, but that doesn't undo what they've already done.
Pipedream: I think you're putting up walls and trying to hide years and years of horrific marketing practices. But unless you make a concrete plan on how you're doing to do better, you haven't moved forward. Frankly, an apology would help us see that you're taking this seriously.  I don't think that's too much to ask for.
Last Updated on April 23, 2021 by Miss Ruby