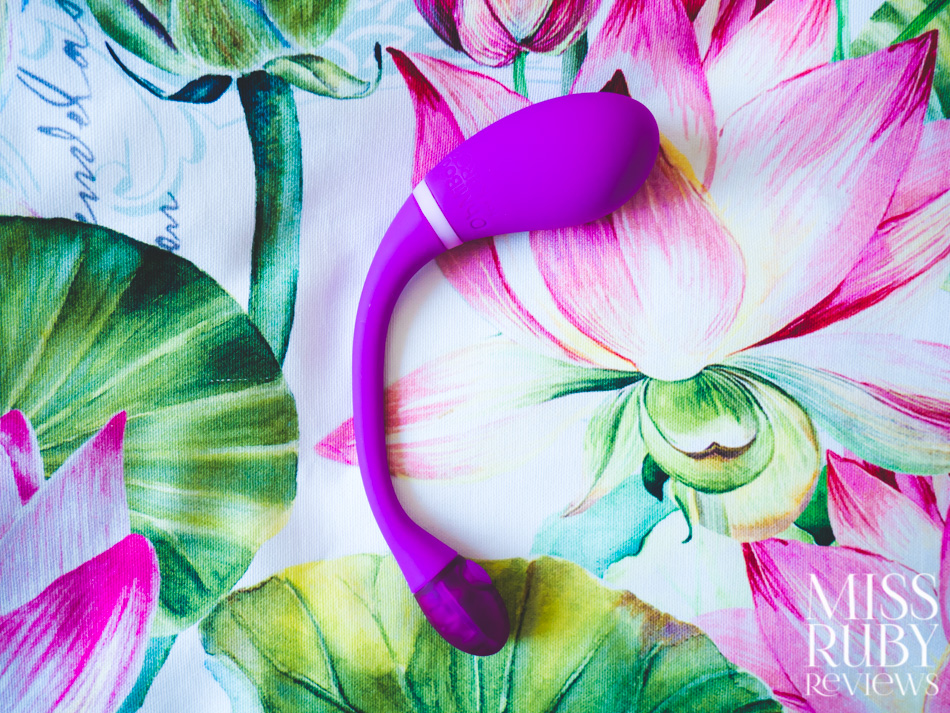 Another purple sex toy with no other colour options? Quelle surprise! (sorry, sorry, I'm jaded). Read on for my OhMiBod Esca 2 review!
Physical Details | How to Use | Packaging | Material and Care | My Experience | Overall
Physical Details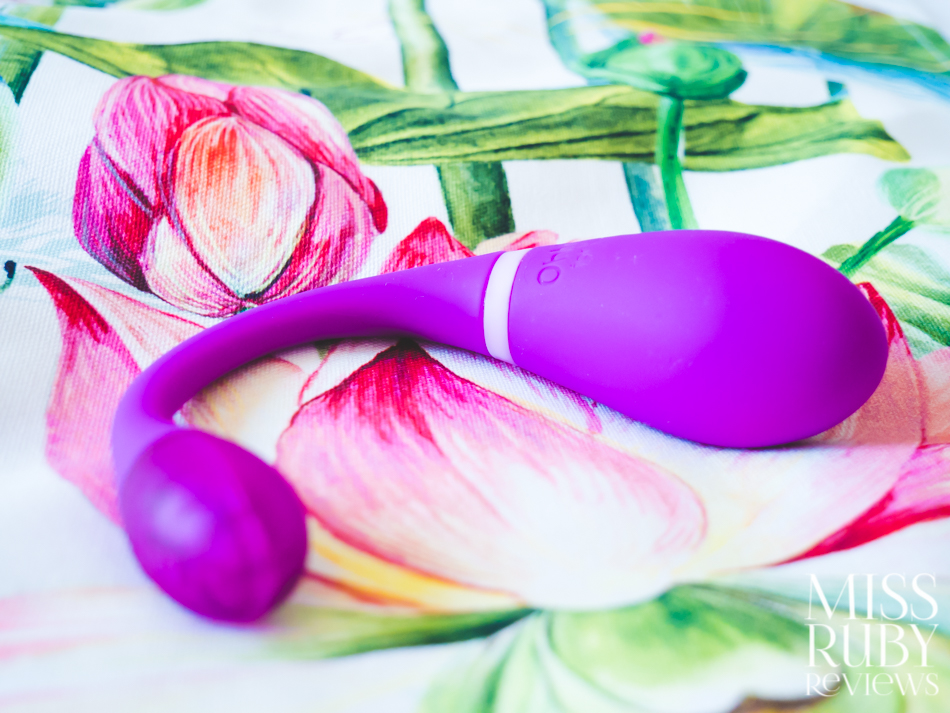 The Esca 2 is OhMiBod's latest wearable massager, a follow up to their first generation "Esca" toy. It's designed for vaginal use, and this means theoretically you can use it while walking around and going about your business. It can also be controlled via App, which makes this appealing to those who want to discreetly tease their partner outdoors.
Design-wise, things look good. The OhMiBod Esca 2's body is bulbous and shaped to target the G-spot. It has a 5.5″ long tail, which stays outside your body, and works as a retrieval cord. This new model also lights up the end of the tail according to how strong the vibrations are, providing visual cues for your partner (though you can turn this option off if you're wearing thin clothes and don't want people to think you're a cyborg).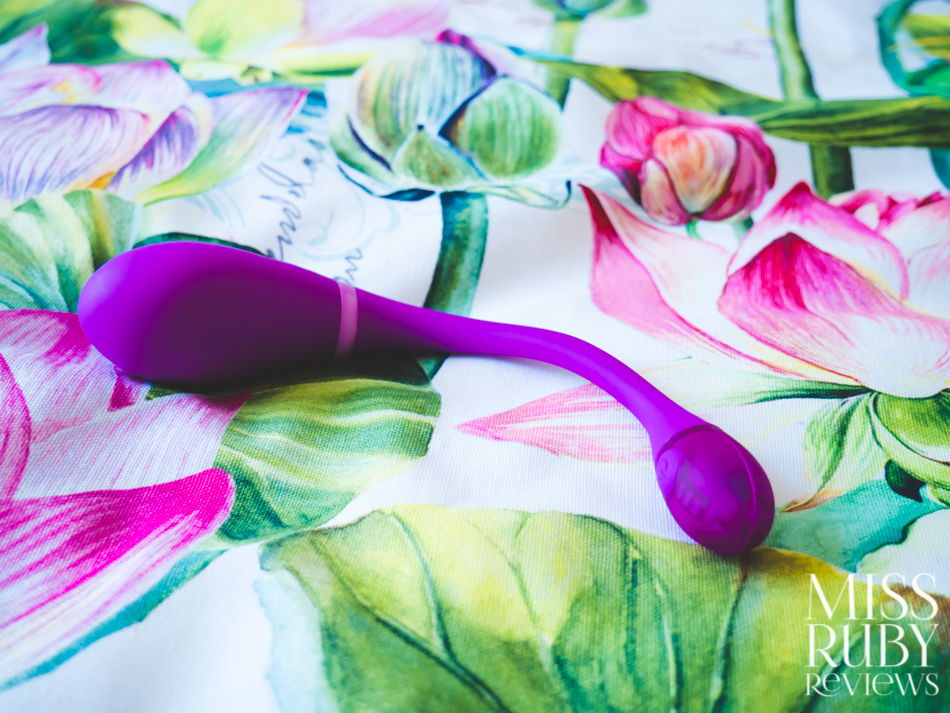 Vibrations and Sound
At its top strength, the OhMiBod Esca 2 is moderate (6/10). It's not super strong. The motor has some rumble to it, though there's also some buzz.
Once inserted, it's very quiet, and could go under the radar even in a silent room. When I'm wearing it and have it running at top speed, I can feel it but can't hear a thing, which is pretty amazing.
How to Use the OhMiBod Esca 2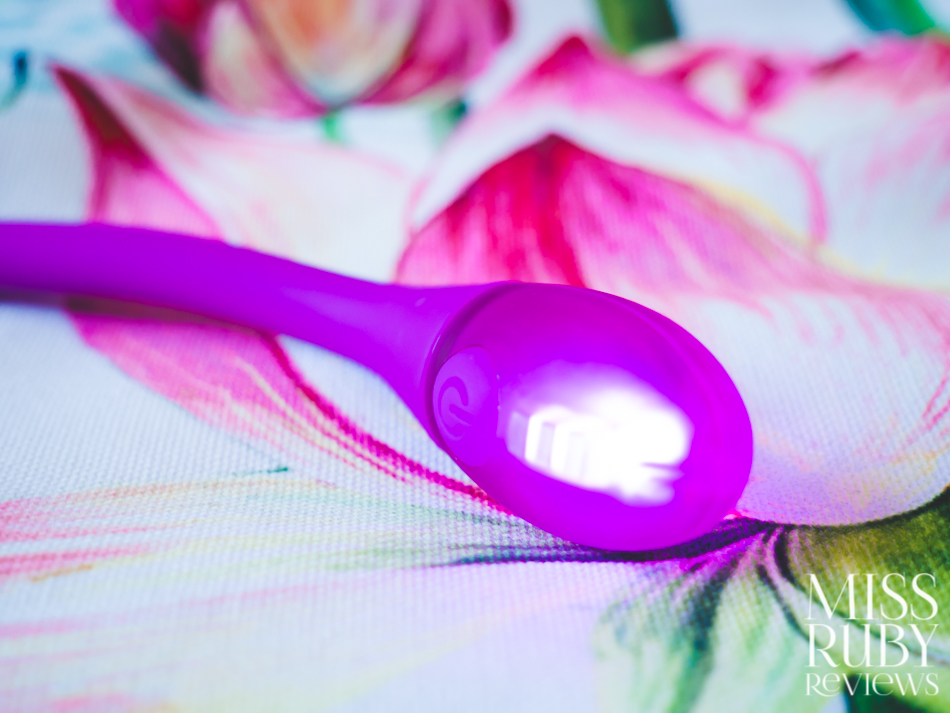 Button control:
To turn on your OhMiBod Esca 2, press the button (located at the tip of the tail) for a couple of seconds. The LED light will flash a couple of seconds.
Press the button again to turn on the first vibration mode.
To change the vibration mode, continue pressing the button. There are 3 steady states and 2 patterns.
To turn the Esca 2 off, press and hold the button for a few seconds.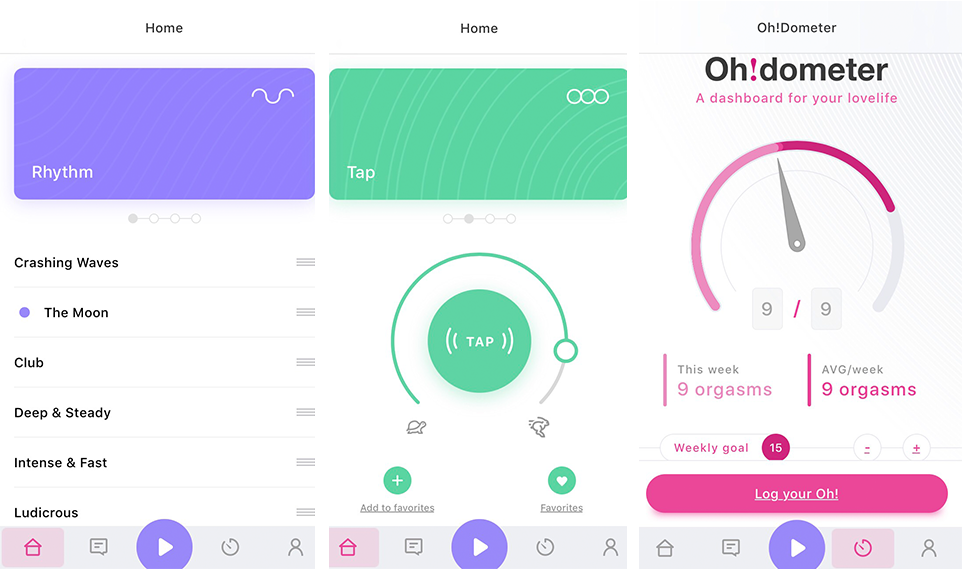 OhMiBod Remote App:
You can also pair your OhMiBod Esca 2 with the OhMiBod Remote App on your smartphone (over Bluetooth or over wifi). This lets you control your Esca 2 (ie, select different patterns, increase intensity, or sync it with the sound of any music in the room) and pair it with a partner anywhere in the world.
The volume on your phone/tablet controls vibration intensity.
I found the App fairly intuitive, but finicky when it came to pairing. The Esca 2 had no troubles pairing with my partner's Android phone, but it refused to pair with my iPhone.
One thing I did like was the Oh!dometer — an orgasm log within the App with "weekly goals" and stats. It's a cute idea.
Packaging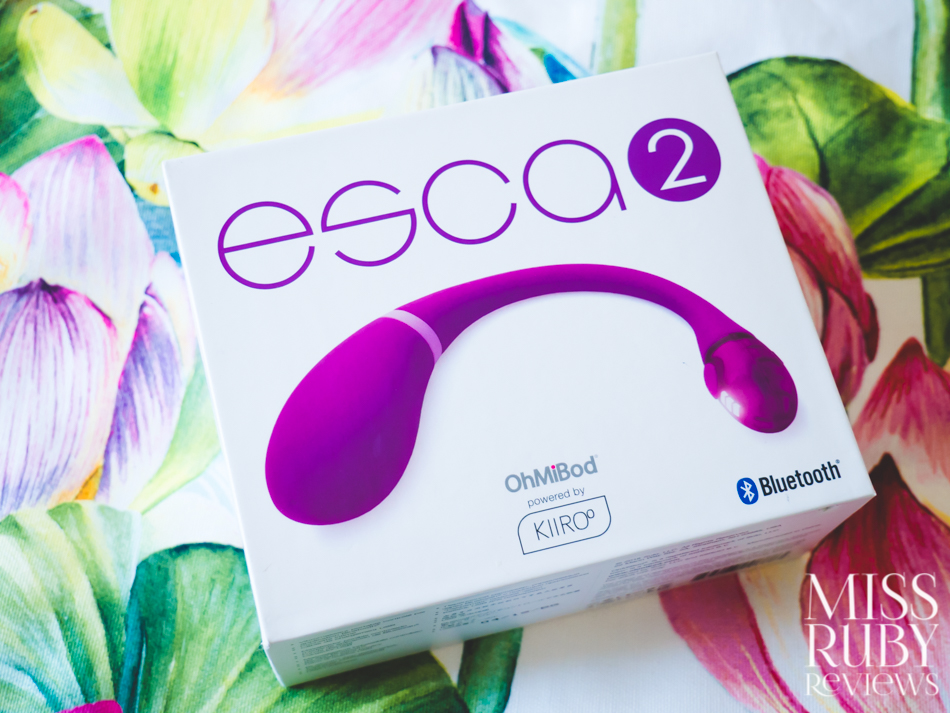 I've no complaints about the packaging for the OhMiBod Esca 2. It's tidy, bright, and to the point. In the box, you receive the Esca 2, a charging cable, a white satin storage pouch, and the manual. The white satin storage pouch doesn't fit the manual, so you'll need to tuck that away somewhere else.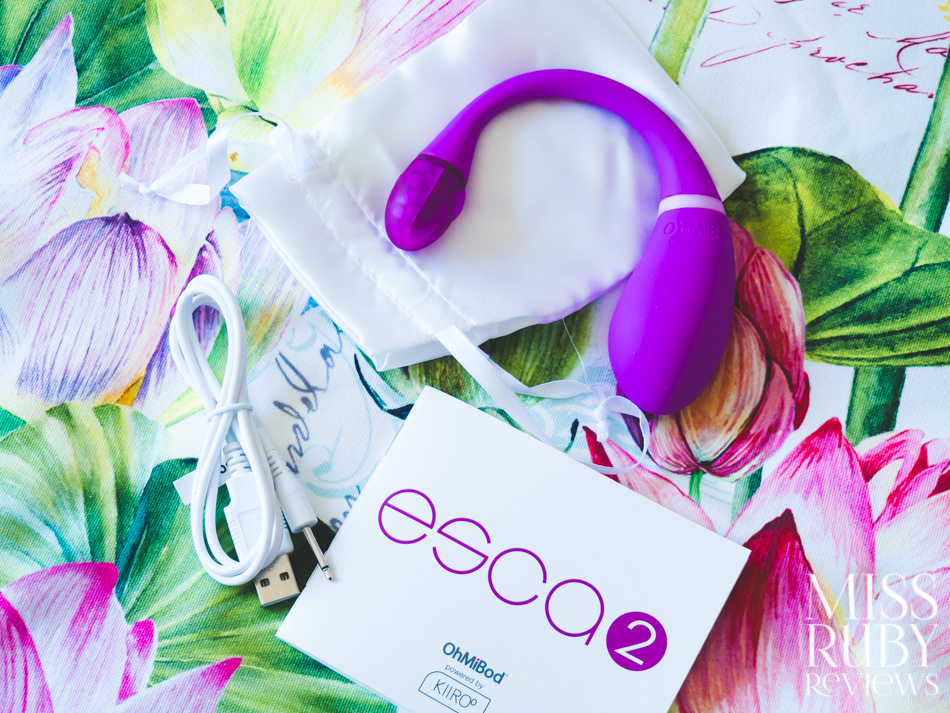 Material and Care
The OhMiBod Esca 2 is coated in a matte, silky silicone, making this toy bodysafe (free of toxins, non-porous). To clean, wash in warm soapy water before and after each use, and allow to air dry. Store it in the satin storage pouch provided.
To recharge, simply plug in the cable provided (it goes into a small, circular impression on the body of the Esca, close to the light purple band). Then plug into your computer or a USB wall outlet. While charging, the LED will blink until it's fully charged.
I highly recommend you use a good quality water-based lubricant with this toy, such as my favourite Sliquid H2O.
The OhMiBod Esca 2 comes with a 1-year manufacturer's warranty for defects. Details on that can be found in the manual.
My Experience with the OhMiBod Esca 2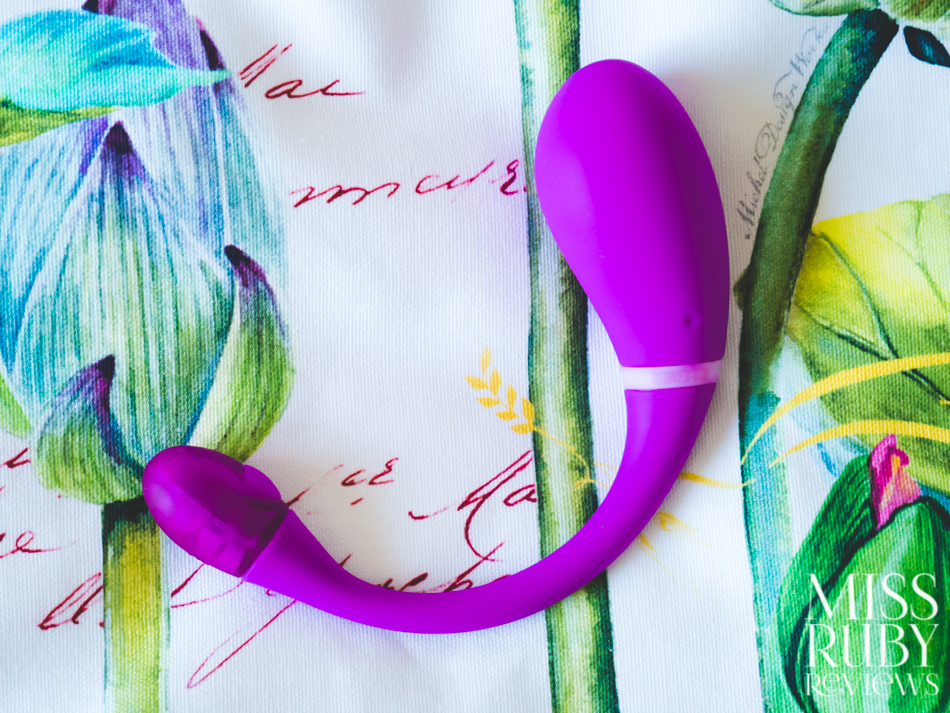 The most similar toy I've come across recently is the We-Vibe Jive, which essentially fills the same place in the market. They have similar designs, although the Jive is less bulky – the Jive's body is slimmer and longer, and the tail is flat. So I was skeptical of the OhMiBod Esca 2.
Like with the We-Vibe Jive, inserting the OhMiBod Esca 2 is easy (though you'll want to add some lubrication because the body is quite girthy). It immediately feels filling, though it takes a few moments to position so it doesn't slip out right away.
Wearing the OhMiBod Esca 2 is truly (and remarkably) discreet. It's SO quiet because any of its sounds are muffled by your body and clothing, and I have no fears of anyone overhearing my pants vibrating.
In use, you mostly feel the OhMiBod Esca 2 when you're walking or sitting, rather than standing still. But it's when sitting that the OhMiBod Esca 2 shines, because then it presses into your G-spot the most and starts feeling delicious (especially if you wiggle in your seat).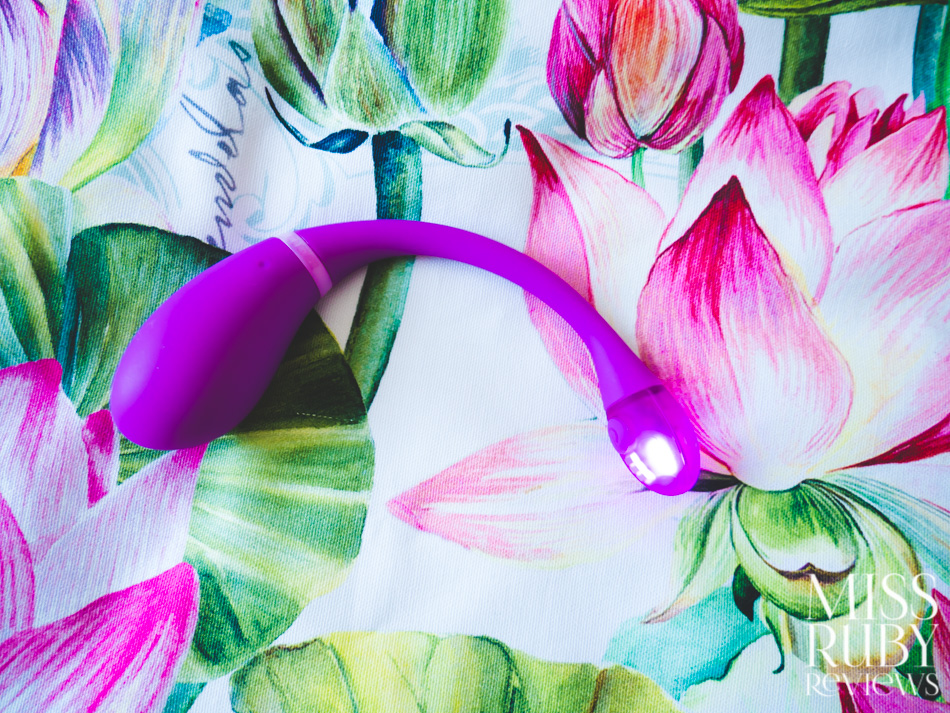 So does the Esca 2 fulfill all my wearable-vibe-dreams?
With this model, OhMiBod prioritized a quiet motor over a strong motor. The vibrations are pleasant and feel nice, but they're not what I'd consider strong. If I were able to have orgasms with G-spot stimulation alone, I don't think they'd be possible with this toy.
Although the vibrations aren't strong, they're still incredibly distracting and arousing — don't try to wear this during any exams. This is a great tool for foreplay.
How does it compare to the We-Vibe Jive? (review of the Jive is here). I found it a pinch weaker than the Jive, but quieter and more effective at hitting the G-spot. They're both the same price, so take your pick.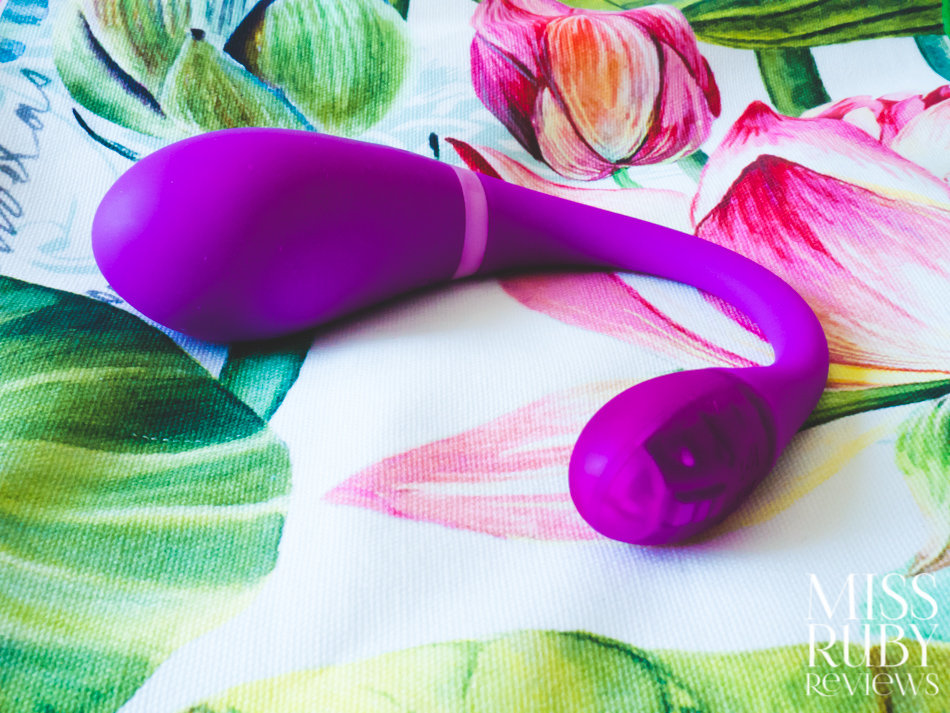 Overall – OhMiBod Esca 2 review
While I don't think the OhMiBod Esca 2 will win any awards for vibration strength, I'm a fan of this wearable vibe. It's very discreet, quiet, and hits the G-spot pretty well. If you have a long-distance partner, or just want to have your partner tease you from across the room, this makes for a great foreplay tool.
You can pick up the OhMiBod Esca 2 at Peepshow Toys. Why do I like Peepshow Toys? They ship internationally, only carry body-safe products, and you can get a 10% discount off your whole purchase with coupon code RUBY. 

See below for my OhMiBod Esca 2 review summary.
OhMiBod Esca 2 review summary
Overall Thoughts - 8.5
8.5
$119
PROS
Discreet/Quiet
Comfortable
Bodysafe
CONS
Not super strong
The Esca 2 can be finicky to pair
Shop Now