This month, you have the chance to win one of the most famous sex toys EVER, plus a silicone attachment!
The Sponsor: ComeNPlay.ca
ComeNPlay.ca is a Canadian-own online store that offers a TON of toys, including a great selection of silicone vibrators.They have over 6000 top of the line products including JOPEN, Le Wand, Jimmy Jane, and Liberator, and ship all over Canada and the USA. They've been great to talk to. Thanks so much ComeNPlay.ca for offering to sponsor my October 2018 giveaway!
The Prize Set
One winner will receive the following products:
Magic Wand Original

This is the famous one. Formerly known as the Hitachi, the Magic Wand is a corded wand massager with ridiculous amounts of power. I reviewed it here and this is definitely a staple for the bedroom.
The Magic Wand Original uses mains power, via a 6-foot cord, to deliver formidable, uninterrupted, power. No batteries, no recharging. It never runs out of oomph and it's always ready to go!
The Magic Wand has won numerous awards, including:
"Best Sex Toy for Women," 2015,
the SHE Awards"Favorite Sex Toy for Women," 2013, in the consumer-voted Sex Awards
Retails at ComeNPlay.ca for $103
Wand Essentials Nuzzle Tip Silicone Attachment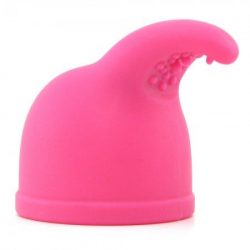 This is a silicone massage wand attachment for enhancing the experience with your wand.
This makes clean up easy — put this over your wand and use the blank surface for broad stimulation, or the nuzzle tip for pin-point stimulation. Either way, you can just remove it once you're finished and wash separately.
It features:
Firm tongue-shaped extension with nodules for pin-point stimulation
7 inch circumference so it can fit most massage wands
Retails at ComeNPlay.ca for $32.
Small Print
This contest will run from October 1 to October 31, 2018.
One (1) winner will receive one Magic Wand Original and one Wand Essentials Nuzzle Tip Silicone Attachment.
You must be 18 years or older to enter.
Open to USA and Canada only.
The prizes will be shipped from Canada. The winner is responsible for all border customs/duties fees if they occur.
Please, no giveaway accounts.
The winner will be randomly selected through Gleam and contacted by me by email within the 1st week following the giveaway. The winner has 48 hours to reply to me with their address otherwise a replacement winner will be drawn. The winner agrees to provide me with their name, email, and shipping address that I will forward to ComeNPlay.ca, who will ship directly to the winner.
Enter Below
Magic Wand Original and Nuzzle Tip Giveaway

Graphic Credits: Banner design elements by Freepik 
Update:
This giveaway is now over! A winner was drawn, contacted, and confirmed. Congratulations to Slink!