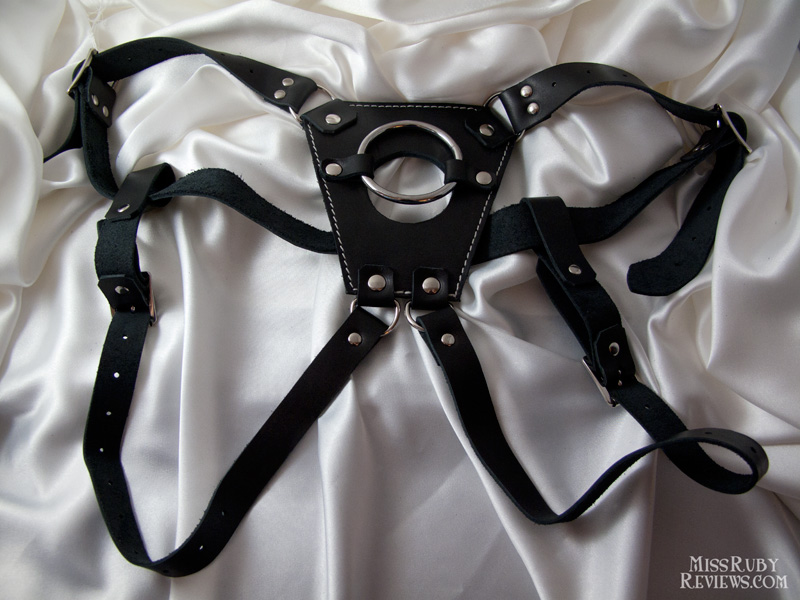 Look at it! It looks like a beeauutiful butterfly. 'Nuff said. Read on for my Kinky Monkey Black Harness review!
Physical Details
This product is one of Kinky Monkey's more standard harnesses. It's has a clean, simple jock-style design.  A broad triangular backing base has a hole punched through it for a dildo. In front of the hole is an o-ring to support the dildo. This O-ring is not removable. I haven't found a dildo that can fit perfectly between the harness backing and the O-ring, so the base of the dildo goes through the backing hole and sits directly against my skin unless I'm wearing underwear underneath.
The Kinky Monkey Black Harness came packaged in a clear plastic bag with a label to indicate its size.
The backing has four straps attached to it. Two straps wrap horizontally around your hips. The other two wrap down and between your legs (mine fit between my vulva and my thighs) and attach up at the horizontal straps across your bum.
This harness is made from leather. This leather is black, but the harness also comes in several other colors, including red (woo!). The backing is lined by white stitching. There are sexy silver buckles for all attachments and the buckles feel secure and well-made.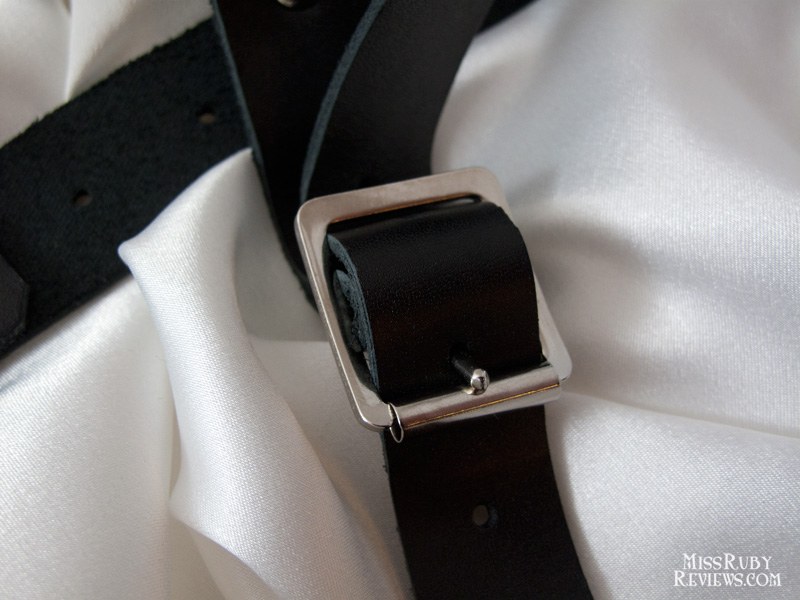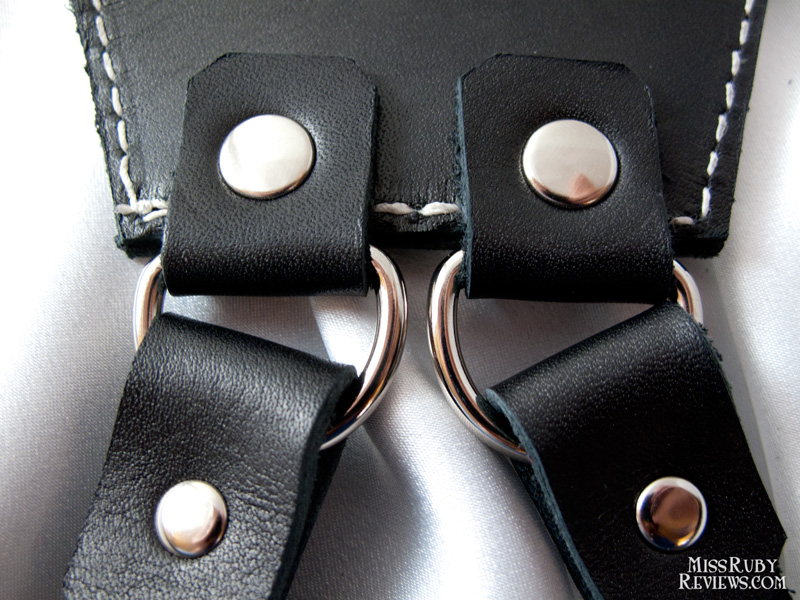 I haven't had anything leather in ages. This harness' leather smells like good leather (think the smell of well-made horse saddles).
My Experience with the Kinky Monkey Black Harness
This is my first strap-on harness. I'm used to my "firsts" (in terms of sex products) being cheap, so it's a real treat to be introduced to the world of strap-ons with such a high-quality item.
I wasn't even sure how to use this at first (yes, I am that new at all of this). I initially assumed that the O-ring comes off to allow you to place the dildo on top of the backing so that your dildo's base doesn't touch your skin, but it doesn't work that way. The O-ring can't be removed at all. Instead, I get the impression that the dildo must slip through the hole in the backing and then the metal O-ring itself just lends itself for additional support/aesthetics. Even if I can manage to fit the base of a dildo between the ring and the backing, it doesn't work out because the small straps attaching the ring to the backing are too short to allow for any excess base.  Leave a comment below if you think I've got the wrong end of the stick here.
I asked Kinky Monkey for this harness in size S/M because Kinky Monkey lists S/M as suitable for up to size 16. I'm a size 14, so I went with S/M, but what I forgot to consider is that Kinky Monkey sizes are in UK sizes. My US size 14 is a UK size 18, so technically this harness should've been too small for me. Luckily, the harness still fits! If my hips were any larger (they're 43 inches in circumference) this harness wouldn't have fit at all. I suggest that if your hips are 40+ inches in circumference, go with the Large size.
This harness feels very secure in use. It's also extremely comfortable. The leather straps are quite soft, meaning they're cozy around my hips. I wear the harness while wearing a pair of panties underneath. This way my skin isn't irritated by the sticky silicone of the dildo.  Even when I'm enjoying some vigorous activities, I'm able to completely forget that I'm wearing it. Except, ya know, for seeing the huge red dildo hanging between my legs when I try to cross my legs.
And for the cons? Well, comfort-wise, the only complaint I have is that, when I'm sitting down, the stiff leather backing presses into the corner where my thighs meet my pubic bone.  Another thing I've noticed is that the soft leather underside seems to crumble a bit into tiny leather granules. It was a lot at first (pictured below) but now it's tapered off a bit. I have no idea if this is normal or not for a leather harness, but otherwise this leather seems very good quality.
Lastly, I had sad feel-feels when I realized I couldn't access my clitoris when wearing the harness, but I discovered (with shameless glee) that I can slip my We-Vibe Tango in my underwear and the pressure of the harness and the dildo holds the tango in place quite nicely.
Overall – Kinky Monkey Black Harness
In sum, I'm pleased with my harness. It worked as a great introduction to strap on harnesses for myself, but I imagine that strap-on veterans will be pleased with this as well. It's comfortable and well-made. For my non-UK readers, remember to convert your size to UK sizes before ordering!
To buy the Kinky Monkey Black Harness, head on over to Uberkinky.
Review summary
Overall thoughts - 7.6
7.6
$70
PROS
Well made
Genuine leather
CONS
Would have liked the o-ring to be removable
Leather gives off small granuales
Firm leather backing digs into my thighs a bit
Shop Now
Last Updated on March 19, 2020 by Miss Ruby