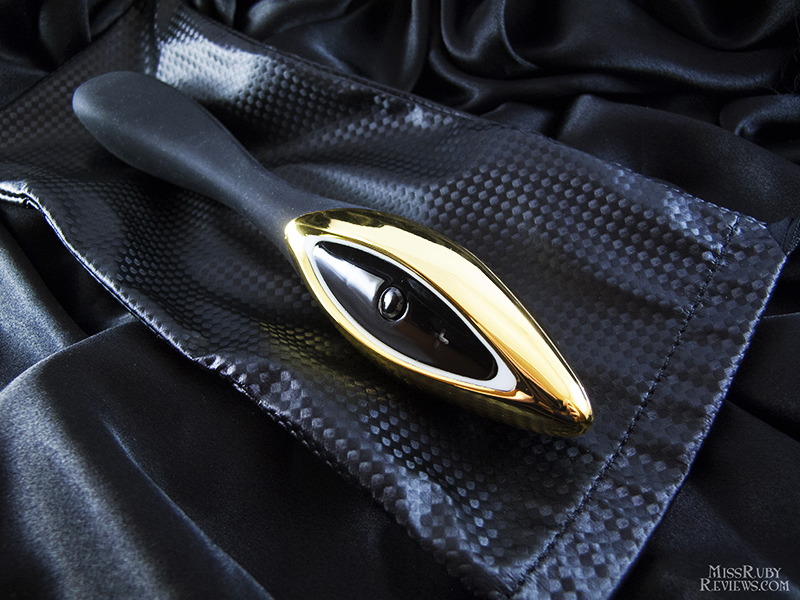 I was first attracted to the ZINI Ran by its black and gold design — it's a colour combination I've always loved, but it's hard to find in the market. Combined with the bulbous head, it looked like a solid addition to my collection.
But I was disappointed when I received the Ran. My expectations fell a bit short: I'd hoped for the gold to be metal plating, but it's a light plastic. Fair enough. However, I was more annoyed to discover that the plastic gold handle had wide seams/gaps where they shouldn't, which was a warning sign for me in terms of quality.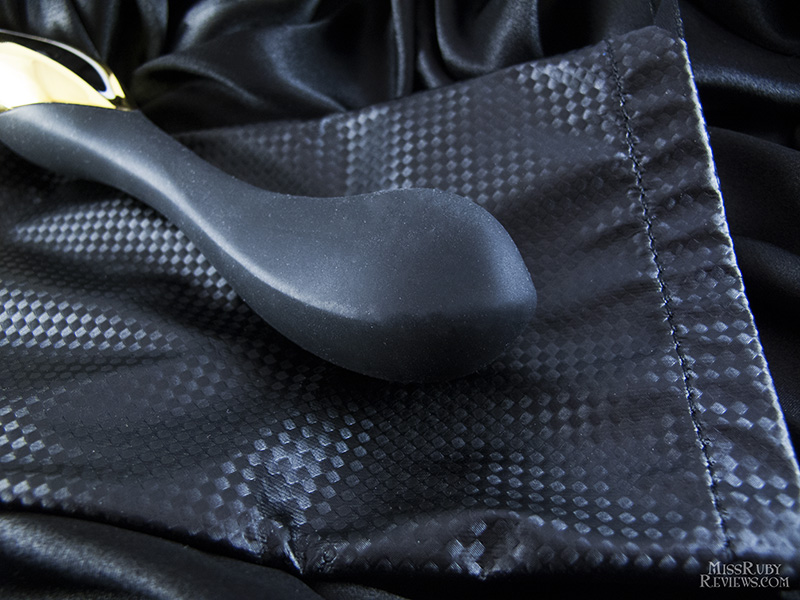 Open gaps as a result of poor quality control in factories isn't a great sign, especially not for a product of this price range. The ZINI Ran is a European vibrator. Priced at 99 Euros (or around $100 USD), its price falls in the lower end of the luxury sex-toy market.
So it's no $300 toy, but it's still pricey. I hoped that the rest of the toy would make up for it.
After charging this product, I found the vibrations to fall in the moderate zone (6/10). They're also fairly buzzy and surface level, which makes orgasm difficult for me. During use, I found it impossible for the ZINI Ran to give me a clitoral orgasm (– Strangely, the ZINI Seed, which has similar vibrations, could get me to orgasm, helped by its pin-point design.)
Okay, so clitoral orgasms were off the table. But this is a g-spot vibrator, anyhow.
As a G-spot toy, I had better success. The fairly weak vibrations didn't do much for me, but I enjoyed using it turned off. The bulbous head targets the g-spot fairly well, while the slim design appeals to me when I'm in the mood for something small.
Material and Care
The ZINI Ran is body-safe. It's made from a matte silicone and ABS plastic. The silicone (like many silicones) attracts dust a LOT. The pictures in this review were taken straight out of the box — yet it's covered in dust from being around fabric. Be sure to give your Zini Ran a good rinse before and after use.
Speaking of cleaning, the Zini Ran is supposed to be waterproof, which makes cleaning easy. I recommend rinsing it with warm, soapy water before and after use. As with any silicone product, be sure to only use a water-based lubricant. Lastly, store your Ran in the storage pouch it comes with to reduce the amount of dust getting to it.
Just to note, the ZINI Ran comes with a European charger. You'll need to get an american adapter. Fortunately, MEO also send me the ZINI Seed at the same time, which did include an adapter, so I was able to charge my Ran up without purchasing an adapter myself.
Packaging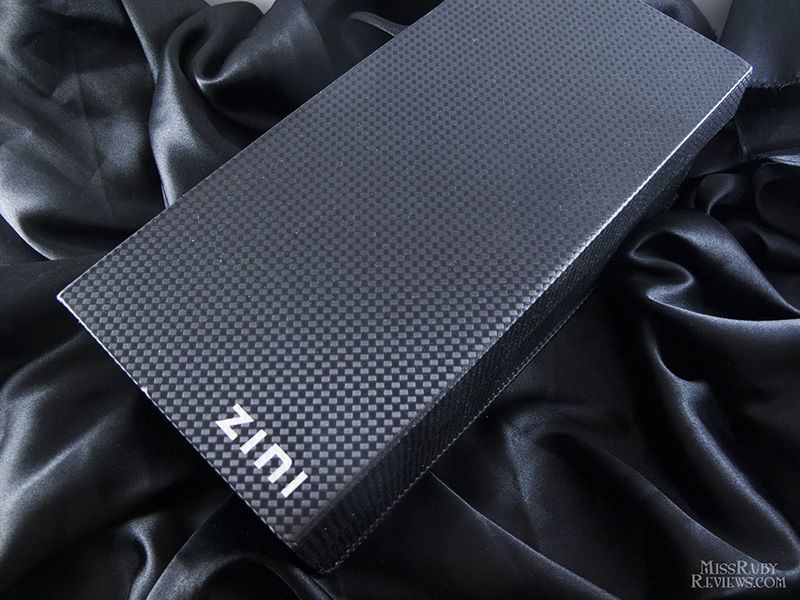 It seems like a lot of the cost of this toy goes into the packaging; ZINI has taken "appearances mean everything" quite seriously here. The outer box of the ZINI Ran is a firm, strong, checkered black box. It's sleek, opens up in a fancy way, and would make for fantastic gift-giving purposes. Inside the box, you receive the Ran,  a pretty black storage pouch, two instruction manuals, and a european charger.
Update: the charger broke pretty quickly, just by taking it in and out of the storage pouch.
Overall
I like the ZINI Ran as a G-spot dildo. I like the bulbous and slim design. Unfortunately, the moderate and buzzy vibrations don't do much for me, and I'm not a fan of the cheap-feeling plastic handle. This toy translates to around $100 USD: I expect a higher quality, more durable-looking toy for that price.
If you're still interested in the ZINI Ran, head on over to MEO.