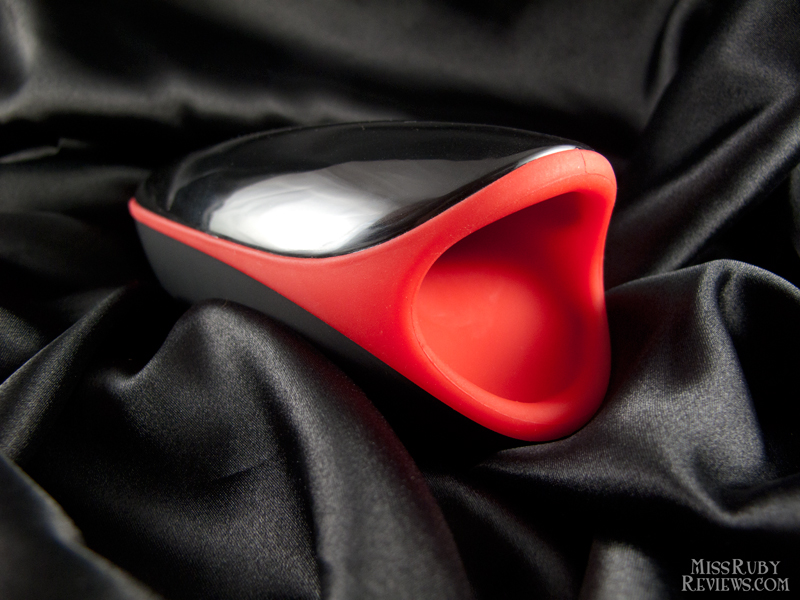 Really neat in concept, really pretty to look at, but not great in practice.
Physical Details | Material and Care | Packaging | My Experience | Overall
Physical Details
My partner and I have reviewed a couple of male sleeves so far. When IMTOY offered to send us a male vibrating sleeve, the PIU, our curiosity was piqued.
The IMTOY PIU is a standard-sized male sleeve, at least from the outside. When you actually peer inside, however, you realize that there's only a very shallow amount of internal room to squeeze into. At first glance, the opening looks wide, but it quickly narrows into a thin canal. The whole canal is only around 3.25 inches in depth, meaning that this isn't a toy to give overall stimulation: instead, this toy stimulates the upper portion of your head and shaft. This in of itself sounds appealing: a sort of insert and wait for orgasm, if you like.
Three motors that lie inside. Two lie below the penis, with the 3rd resting at the end of the canal.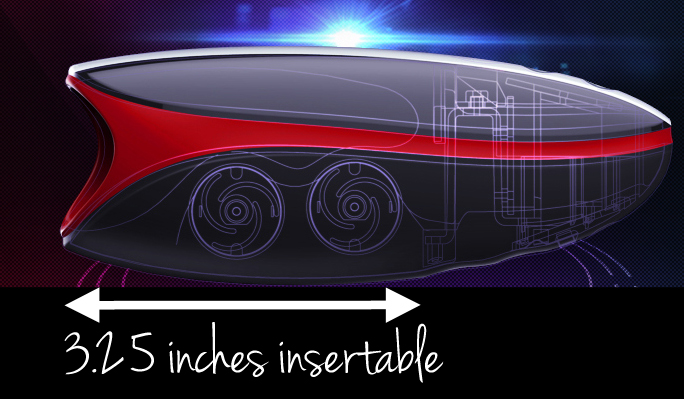 The product itself is quite stunning. The exterior is made from black ABS plastic, divided by the red silicone that encompasses the interior. It's a sleek, minimalist design, only broken up by the control buttons, an LED light, and the charging port.
Material and Care
This toy is made from bodysafe materials (ABS plastic for the case, silicone for the interior). The silicone interior has a smooth, silky finish, not sticky or rubbery at all.
You're really going to want to charge this before each use. You need to charge it for at least 6 hours before the first use, and I recommend charging it for at least 2-3 hours before use after that point. Leaving it in storage for a few days, even on a full charge, will mean that the battery is dead by the time you try turn it on.
Because the interior is silicone, definitely use a good non-silicone-based lubricant, such as a water-based lubricant. You can keep it stored in the faux-leather pouch that's included.
This toy is waterproof, which makes cleaning really simple. We wash ours under the tap with warm soapy water and leave on a counter to dry. Because the opening of the toy is stiff and held open, the inside is able to dry quite easily.
Packaging
Mr. Ruby and I were quite blown away by this toy's packaging. It was amazing. The exterior box was black and simple. Inside was a bright red box with a silicone cradle for the PIU. Instructions, the USB charging cord, and a black faux-leather pouch were hidden in a little drawer beneath the PIU. It seemed really well-thought out and luxurious.
Our Experience with the IMTOY PIU
Using it Manually:
To use this manually, you simply press your finger over the power button for about 2 seconds. It'll start up a high whirring noise. By pressing the ► (right) button, you can cycle through all vibration settings, pressing ◄ (left) to cycle backwards.  What's confusing is that this isn't what the manual states. The manual says that
► (right) button is the "Circular vibration mode button: Press the button repeatedly to adjust the intensity.
And that the ◄ (left) button is the "Constant vibration mode button: Press the button repeatedly to adjust the intensity."
So herein lay our first moment of frustration. This isn't how it works for us at all. It simply uses Right to increase the intensity and Left to decrease intensity. All in all, we can count 10 different modes (not patterns, just increasing intensity). Level 1 is just the high whirring of the back pin-point vibrator, which my partner barely registered. Levels 2-9 consist of the 2 deep-sounding motors that lie under the penis. Level 10 consists of all 3 motors, going at top speed.
So how did this actually feel for my partner? In short, Mr. Ruby just got bored. He was completely unable to orgasm. This wasn't because of a single issue, but rather because of several small ones.
The first issue is that it felt like a constant unpleasurable buzzing. The vibrations felt diffused all over the parts of his shaft that it touched. Although there is a motor where the frenulum lies (which is his most sensitive part), the vibrations were weak and buzzy. He kept on switching through different levels, unable to settle on one that felt good enough to stick with. In his words, "none of them felt good."
To try to make things work, Mr. Ruby tried thrusting. He could thrust somewhat (albeit in a shallow way). This also proved fruitless. Compared to other sleeves he has tried, like a Fleshlight and the Tenga 3D, the sensation of thrusting into this was utterly textureless. There was nothing interesting or particularly pleasurable because the silicone was entirely smooth and firm. Not only that, but it was a rigid, inflexible tunnel: it wasn't able to provide any sort of squeezing pleasure, despite attempts to squeeze the "lips" portion of the entrance.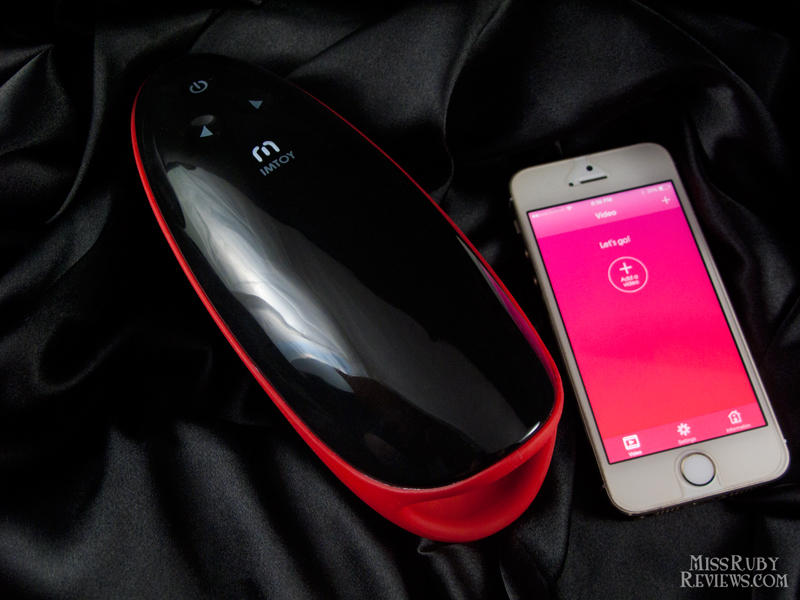 Using the App
The PIU has a unique function. There's a PIU app, which shows the battery status of your PIU and pairs up with your PIU. It plays a video (that you purchase) and communicates with your PIU (adjusting the vibrations up and down depending on what's being shown on screen). Somehow, the app is only listed as ages 12+ on the apple app store, which made us raise an eyebrow.
When you purchase this toy, you get 1000 credits ($10 worth) to purchase porn from a list inside this app (with the majority of videos costing between 350-500 credits each). The app itself isn't super easy to navigate. There's no way to filter results, and only a few results have English titles (generic phrases like "love boots delicious" and "the fetish of." From what I can see, the vast majority of porn available is either female solo masturbation or heterosexual coupled sex (so, currently, this app isn't going to appeal to gay users). Crotches are censored slightly with a blur.
You can preview each clip and decide to purchase it. Once you purchase it with your credits, you see your credits going down. Once you run out of credit, you are prompted to purchase more through PayPal.
You're also able to upload your own videos through iTunes.
My partner and I couldn't stand this app. We bought two videos and had no way of watching them. Each video gives you 2 options: play and purchase. Hitting play will only give you a 30-second preview, whether you've bought it or not. You can purchase it 2x. Once purchased, we couldn't find these videos anywhere, not in the homepage, nowhere.
A couple of months down the road, we downloaded a recent update. With our remaining 300 credits, we purchased a video that seemed to be able to download. The video was displayed as downloading for about 40 minutes (it was just a spinning wheel, no indication of how it was progressing). We checked the homepage to see if the video was there, but it was nowhere. We tried to download it again, but were only offered the chance to buy it again (which we couldn't because we used all our credits). There was no way I was spending $10 for more credits.
So I can't speak to how well the interaction (between the app and the PIU) works. However, I CAN link to this great reviewer, who stated that the app merely makes the PIU "vibrate in a completely random fashion."
Overall
Unfortunately, this was not a success for us. It's currently priced at $225, which is simply too much for what you get out of it. The app is glitchy and the vibrations are weak and buzzy. The packaging was nice and the PIU has great features like being rechargeable and waterproof, but that's not enough to justify this purchase.
If you're still certain that the PIU is for you, you can head on over to IMTOY's product page.