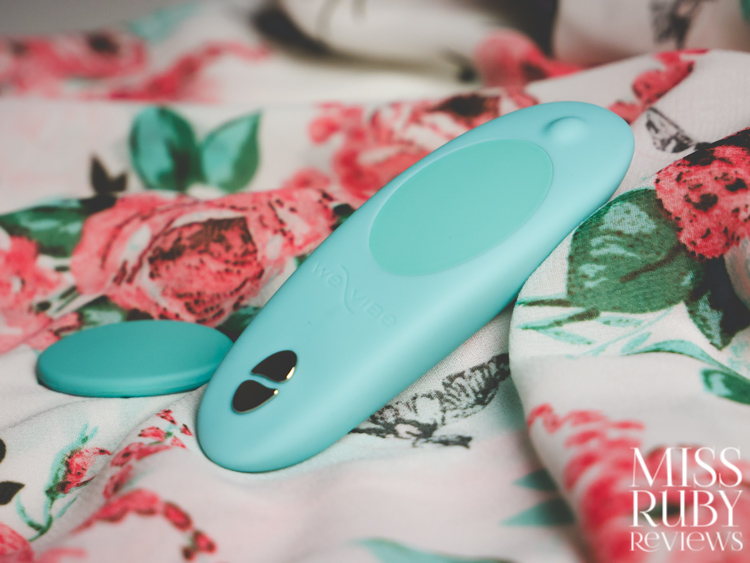 An update to the best panty vibe I've ever tried. Read on for my We-Vibe Moxie+ review!
---
Design | Accessibility | How to Use | Packaging | Material and Care | My Experience | Overall
---
Design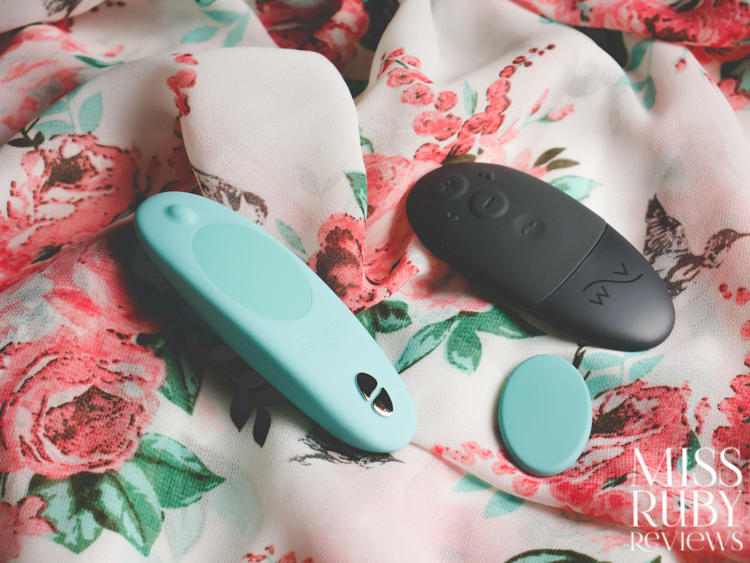 The We-Vibe Moxie+ (plus) is the new generation of the Moxie, a wearable panty vibe. I tried out the original Moxie (now discontinued) way back in 2019 and I decided it was the best panty vibe on the market — so, naturally, I was very curious about a new version.
Unlike the kinds of wearable vibes that you hold in place vaginally, the We-Vibe Moxie+ is an external panty vibrator. There's no internal stimulation — the focus is vulval and clitoral.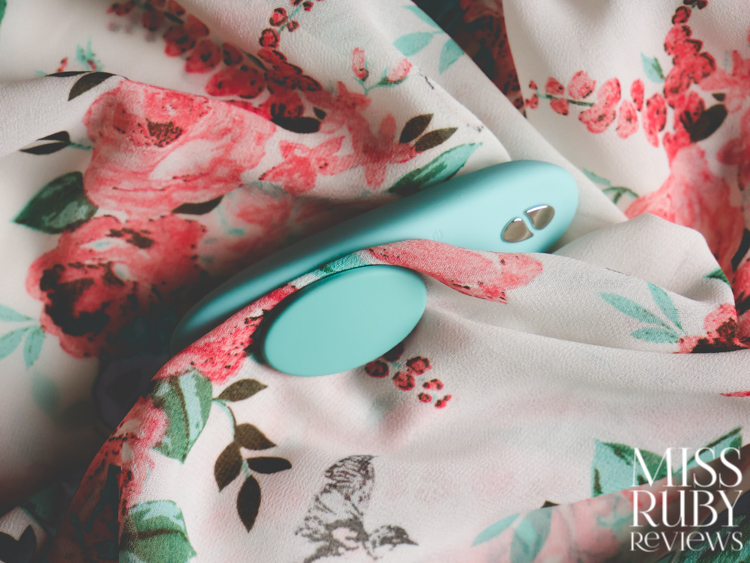 An external panty vibe has the tendency to move around a lot and fall out of place, but We-Vibe fixed this problem by adding a small magnetic clip. You place the Moxie+ in your underwear's gusset (crotch sling(?)) and then lock it into place by adding the magnetic clip on the other side of the fabric. In most panties, there's an extra layer… the magnetic clip sits inside there, so it's not at risk of rubbing directly against your thighs and falling off. (If you do lose one magnetic clip, We-Vibe included a spare in the box).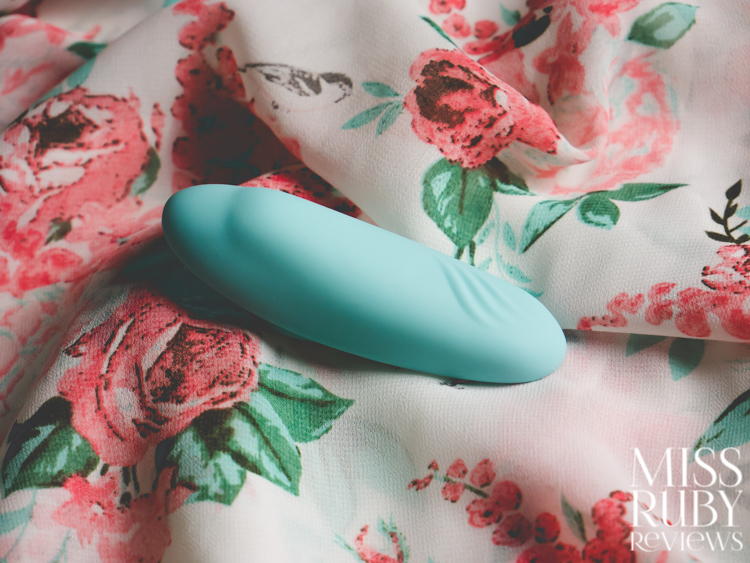 The We-Vibe Moxie+ also comes with a list of features you'd expect from a luxury sex toy. It's rechargeable, waterproof, and coated in silky smooth body-safe silicone. It can be controlled via its button, the remote, or Smartphone App.
Well, honestly, there's not much difference. They physically look identical and come in the same two colour options (teal or black). They both have a remote control and two magnetic clip-on clips to secure the Moxie to your underwear. The charging time is the same (90 minutes) and they still use the exact same charging cord.
The only differences I can see are minor and aesthetic. The remote control is now black (previously white). The storage pouch that comes with the teal Moxie+ is cotton linen (previously white satin). And the box features We-Vibes new logos and design.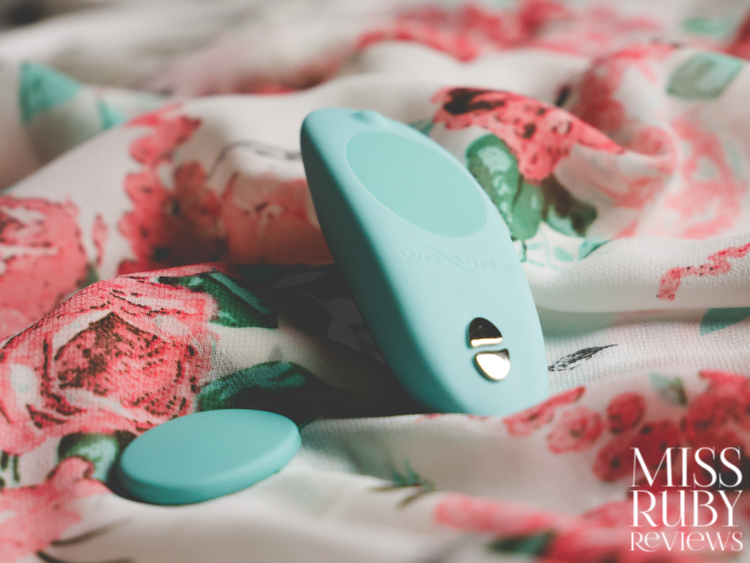 Accessibility
This section is to help folks determine if they might have any issues using/accessing this toy.
Size: The We-Vibe Moxie+ is relatively small. It's about 8.2cm long and 2.7 cm wide, and 2cm tall at the tallest point.
Weight: At approximately 30 grams, this is a very light toy.
Buttons: There's one oval button on the Moxie, about 8x5mm and 2 mm tall. There are 5 buttons on the remote control. The (+) and (–) buttons are 10mm round and 1mm tall, sitting 2mm away from each other. The > and < raised arrow buttons are about 3mm wide and 14mm away from each other. Lastly, the (~) button is about 7mm wide, 1mm depressed, and sits 8mm away from the (–) button.
Vibration transfer: N/A (this isn't a toy meant to be held by your hand).
Price: At $129 USD, We-Vibe has kept the same price for the Moxie+ as it was for the original Moxie. This is somewhat pricey for a panty vibe, but you're investing in a top-of-the-line product here.
How to Use the We-Vibe Moxie+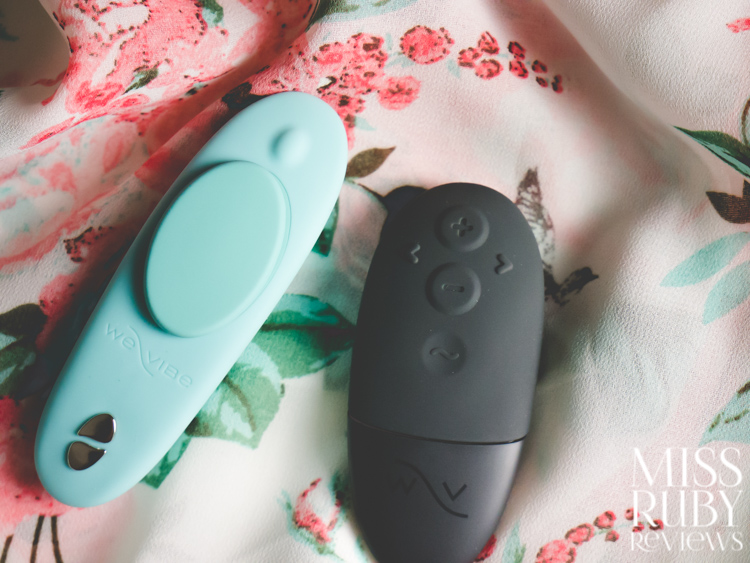 Button Control:
Simply tap the button on the underside of the Moxie+ to cycle through the 4 steady vibration modes and 6 patterns. Long press to turn it off.
Remote Control:
The remote control comes paired with your toy.
Tap the (+) button to turn the Moxie+ on, and keep tapping that button to increase strength.
Use the < and > arrows to cycle through the different patterns.
To turn it off, long press the (–) button.
App Control: 
By using the App, a partner (long distance or nearby) can control your device.
How to use it with your body:
Tuck the We-Vibe Moxie+ into your underwear and lock it into place using one of the magnetic clips (on the other side of your underwear).
The tallest part should be aligned with your clitoris.
Turn it on and enjoy stimulation. This is designed to be worn while walking around.
Packaging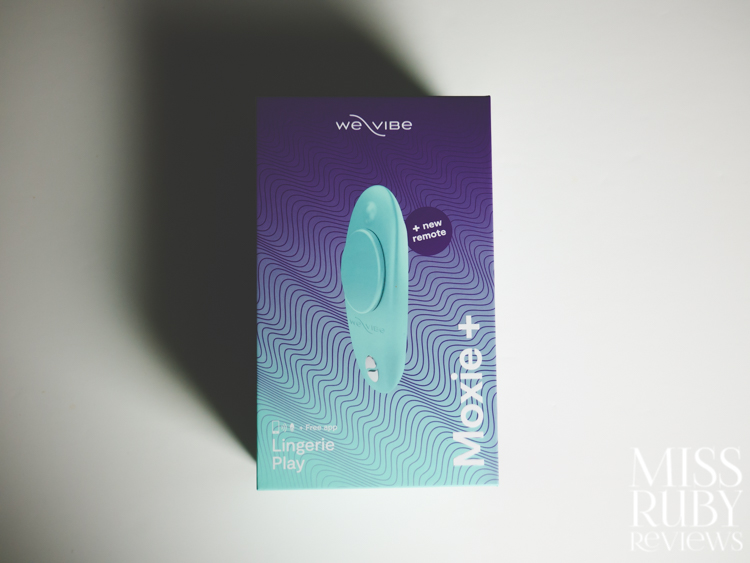 The teal We-Vibe Moxie+ comes packaged in a purple and teal box. It's fun and colourful and tidy.
Inside the box, you receive the Moxie+, 2 magnets, a remote control, the USB charging cable, a linen drawstring pouch, a quick start guide, and safety instructions.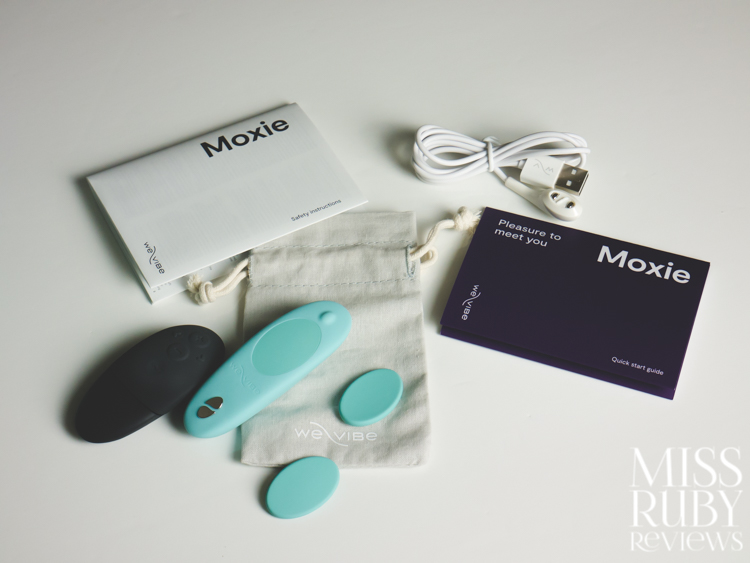 Material and Care
The We-Vibe Moxie+ is coated in silky silicone, making this toy bodysafe.
The Moxie+ is also waterproof, so cleaning is easy. We-Vibe recommends rinsing it with warm water and a toy cleaner. I wash mine with warm, soapy water before and after each use.
Note: While the Moxie+ itself is waterproof, the remote control is only splashproof, NOT waterproof. 
If you'd like to add lubricant (which I always recommend), try a good quality, water-based lube like my favourite basic Sliquid H2O (review here). Don't use any silicone-based lubricants as they could damage the silicone finish.
To charge, attach the charging cable to your Moxie and plug it into your computer or USB wall adapter. A full charge will take about 90 minutes and gives you up to 2 hours of playtime.
The remote control uses a CR2032 battery. One is included, and when that one runs out you can usually find these pretty cheap at a dollar store.
This comes with a 2-year warranty against defects through We-Vibe, so you have some peace of mind there.
My Experience with the We-Vibe Moxie+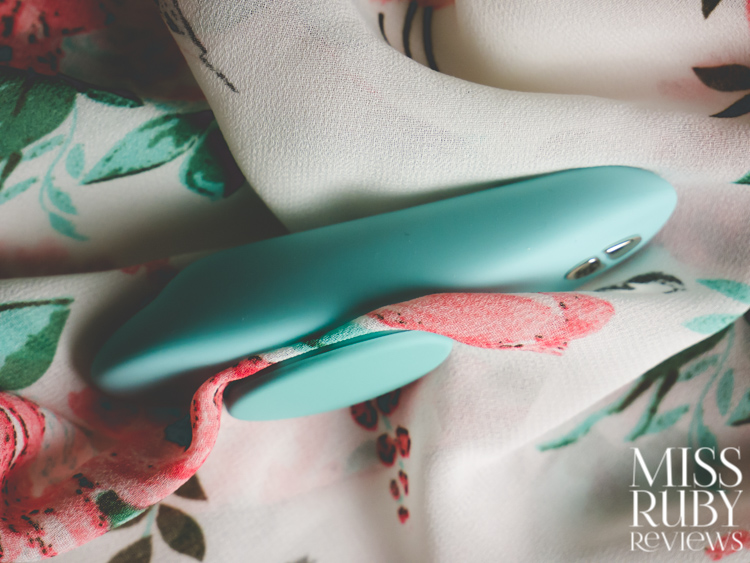 My experience with the We-Vibe Moxie+ was practically identical to my experience with the original model.
Let's get the bad out of the way first, shall we?
Cons of the We-Vibe Moxie+
First off, the We-Vibe Moxie+ is NOT as quiet as you might need it to be. If you plan to walk around with this outside, I'd stick to the lower levels… unless you're absolutely alone. I'd say anything past the first vibration strength would be able to be overheard by others in a crowded space. It's near impossible for a company to make a strong vibrator with a quiet motor, so I understand why it's noisy. Just a heads up.
Secondly, the We-Vibe Moxie+ can't apply firm pressure to your clitoris. This is because most people's underwear isn't designed to dig firmly into your vulva. So while it vibrates nicely in your underwear, it's not going to dig against your clitoris and firmly press (This assumes your clitoris is a bit buried… but an exception to this might be if you have a somewhat long clitoris?).
Of course, you might not need firm stimulation against your clitoris. That's just me!
On the plus side, if you're riding a bicycle and wearing the Moxie+, you'll definitely get that firm stimulation.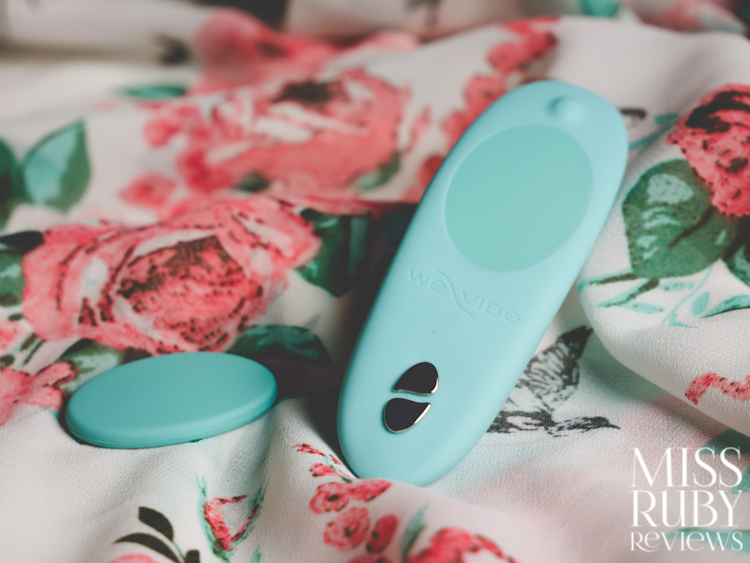 Pros of the We-Vibe Moxie+
The We-Vibe Moxie+ is decently strong! The vibrations are rumbly and powerful, so this doubles as a great standalone vibrator.
In my experience, this also stays in place really well. Assuming your underwear isn't baggy, the magnetic clip does a great job of keeping the Moxie+ locked in place.
I also adore the design — its profile is sleek and streamlined, but it's just big enough to find your clitoris. It's also discreet — if someone finds this, they may not immediately realize it's a sex toy unless they're in the know as well.
I also appreciate that it's waterproof (extra fun during lake day, anyone?), bodysafe silicone, and has multiple ways to control it.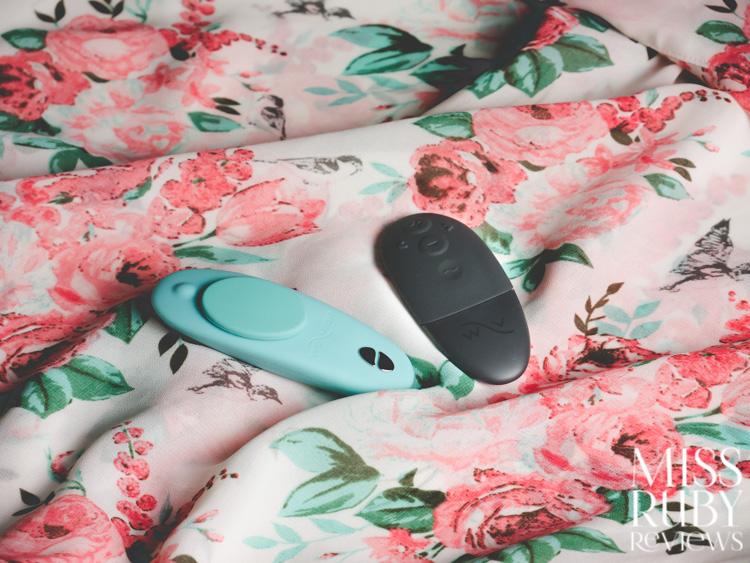 But is the Moxie+ an upgrade over the original?
I would say that the We-Vibe Moxie+ (plus) is merely a refresh over the original. We-Vibe changed their logo a little while ago, and so I suppose they decided to call the Moxie by a new name while they went ahead and changed the box. Asides from visual differences between the packaging and remote control, it's essentially the exact same sex toy. And that's okay! The original Moxie was fantastic, and the Moxie+ is no different. If it's not broken, don't fix it!
We-Vibe Moxie+ Review – Overall Thoughts
In my opinion, the We-Vibe Moxie+ is still one of the best panty vibrators on the market. If you already have the original Moxie, you don't need this one. There are no substantial upgrades or changes from the original Moxie (which is now discontinued). So basically, if you want a Moxie, your only option is to buy a Moxie+. Seeing as it's the same price as the original, I won't begrudge We-Vibe.
You can pick up your own We-Vibe Moxie+ here! Why do I like Peepshow Toys? They ship internationally, only carry body-safe products, and you can get a 10% discount off regular price products with coupon code RUBY. 

See below for my We-Vibe Moxie+ review breakdown.

We-Vibe Moxie+
Overall thoughts - 8
8
$129
PROS
One of the best panty vibes on the market
Stays in place well
Decently strong
Rechargeable vibrator
Waterproof vibrator
Control via button, remote, or App
Bodysafe silicone construction
Comes with an extra magnetic clip
2 year warranty through We-Vibe
CONS
Not super quiet -- be cautious outside the house!
Cannot press firmly against your clitoris unless you sit on something that does (ie, a bike seat)
No substantial upgrades from the original Moxie, so if you already have that one, you don't need this one.
Shop Now