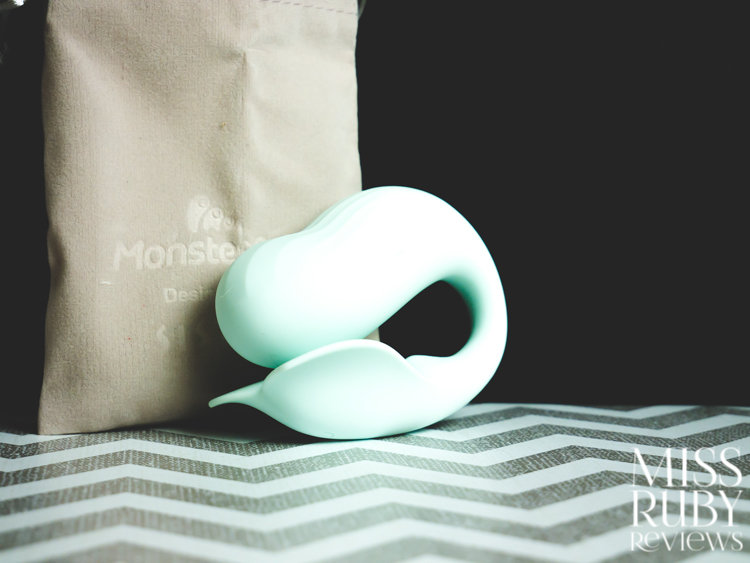 A big software update since my last MosterPub review! Read on for my Monster Pub 2 Dr. Whale review!

Design | Accessibility | How to Use | Packaging | Material and Care | My Experience | Overall
Design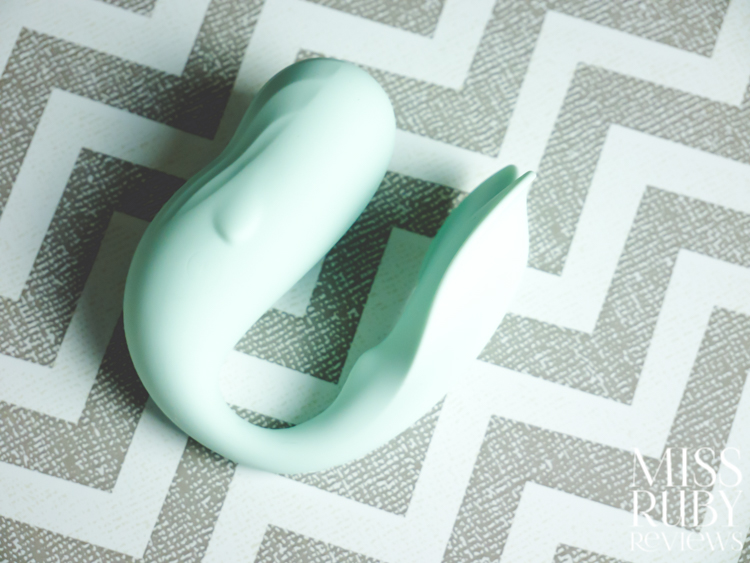 The Monster Pub 2 Dr. Whale is a wearable C-shaped vibrator for both G-spot and clitoral pleasure. There are two motors: one in the thicker G-spot arm and one in the thinner clitoral arm.
Though you can control this vibe with a manual button on the tail, something that sets this wearable vibrator apart is its smartphone app capabilities. Using the app (Android | iOS), you can control your vibrator yourself or with a partner (there are a bunch of neat features with the app but I'll get to those later).
Last year, I reviewed the MonsterPub 2 Master Gokilla, which came with older software that was, in my opinion, terrible. So when I heard that the company made significant upgrades to their software, plus lowered the pricepoint of their vibrators, I was curious to try the newer, revamped models.
The Monster Pub 2 Dr. Whale is one of three (version 2) vibes that this brand makes:
Dr. Whale – "Gentle wide tail for intense vulva & clitoral sensation, smooth body offers deep rumbly pleasures."
Master Gokilla – "Soft Bumpy back & tail for additional G-Spot pleasure & focused clitoral stimulation."
Mr. Devil – "Gentle horns for deeper penetrating experience & naughty orgasmic tail."
I like the Dr. Whale model because it has those wide flaps ("tail") to cover a wide part of the vulva.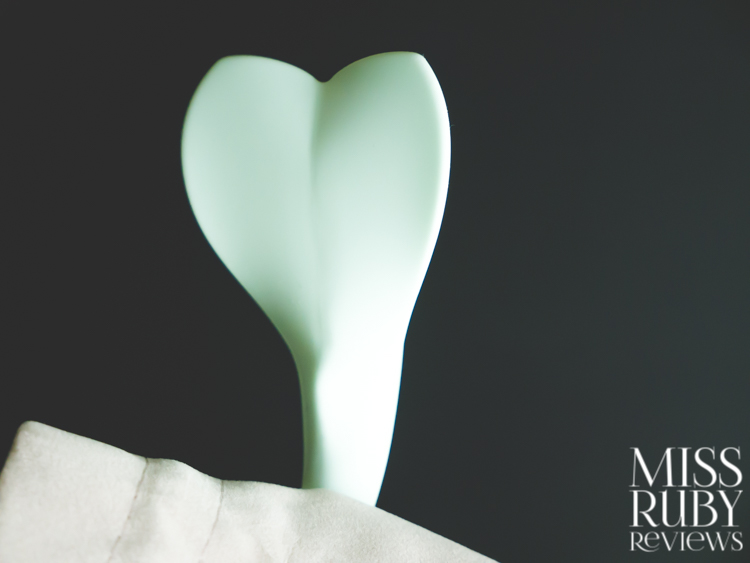 The Monster Pub 2 Dr. Whale comes in a beautiful pale seabreeze ocean blue. It's refreshing and subtle.
It also has a warming function and is 100% waterproof, USB rechargeable, and comes with a limited warranty.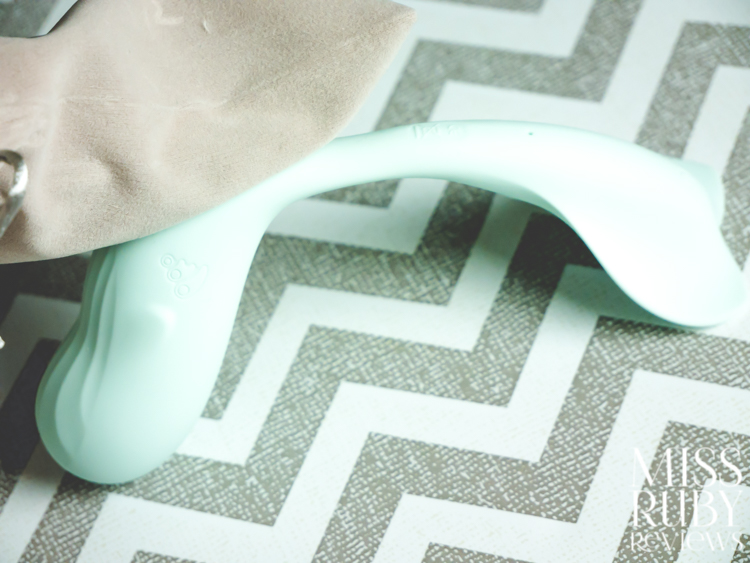 Accessibility
This section is to help folks determine if they might have any issues using/accessing this toy.
Size: In terms of size, the Monster Pub 2 Dr. Whale is a standard C-shaped wearable vibrator. The internal arm is about 3″ to the joint. The clitoral arm ("tail") runs about 3.25″ long to accommodate a wide variety of clitoral-to-vagina lengths.
Weight: At about 90 grams, this is quite a light toy.
Buttons: There's one button on the tail. It's about 5mm wide and sits flush with the surface. It doesn't take much pressure to press and makes a nice 'click' sound. You're required to press this button to connect your Dr. Whale to the App.
Vibration transfer: N/A. This is a wearable/hands-free vibrator so you don't need to use your hand to keep it in place.
Price: At $135 CAD, this is a typical price for a wearable silicone smart vibrator. It's much cheaper than it used to be (over $200 CAD).
How to Use the Monster Pub 2 Dr. Whale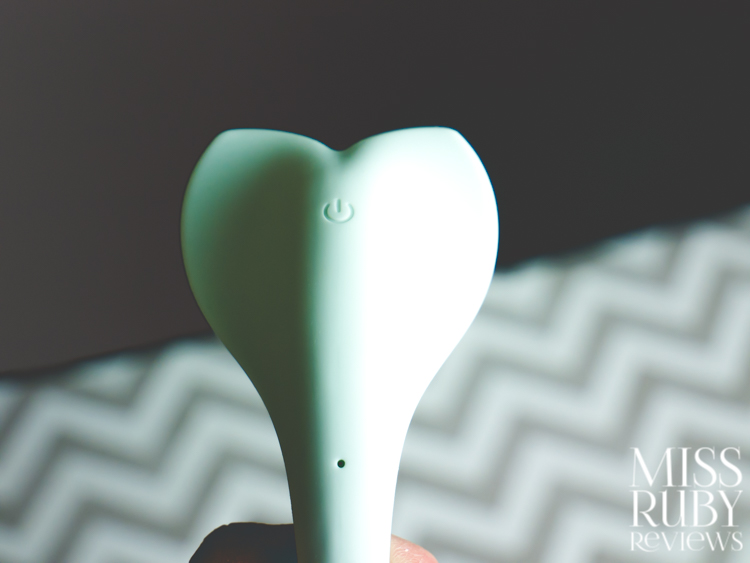 Press the button on the tail to cycle through the various patterns. Some patterns use both motors and some only use one motor at a time.
Download the App (Android | iOS) to control this vibrator with your phone or Apple smartwatch. With the app, you'll be able to create and share your own custom patterns, control it yourself or long distance with a partner, activate motion control, and optionally track your Kegels and menstrual cycle.
Packaging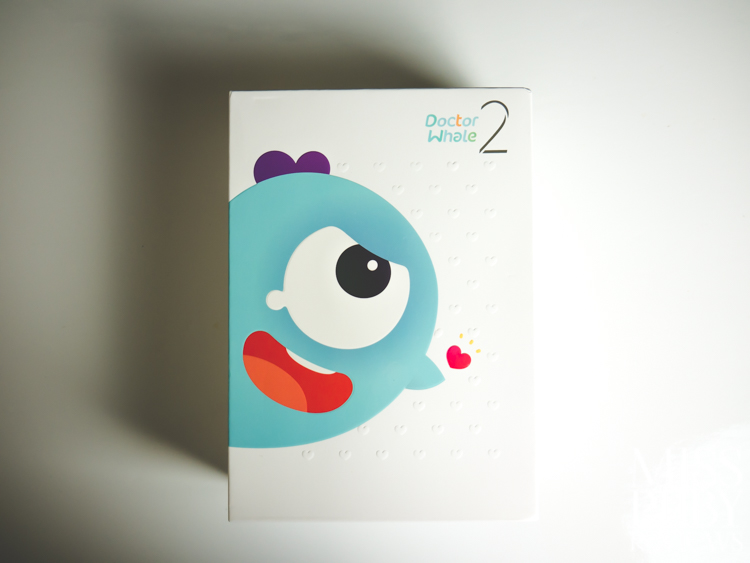 When you open the box, the Monster Pub 2 Dr. Whale is nestled under a clear plastic dome.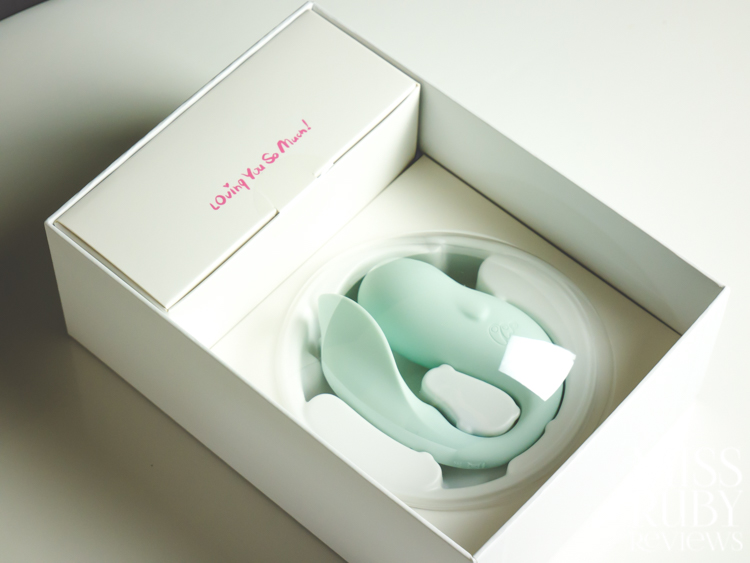 All in all, you receive the Dr. Whale, a fabric drawstring storage bag, some stickers, the manual, and the USB charging cord.
The packaging is tidy and gift-worthy.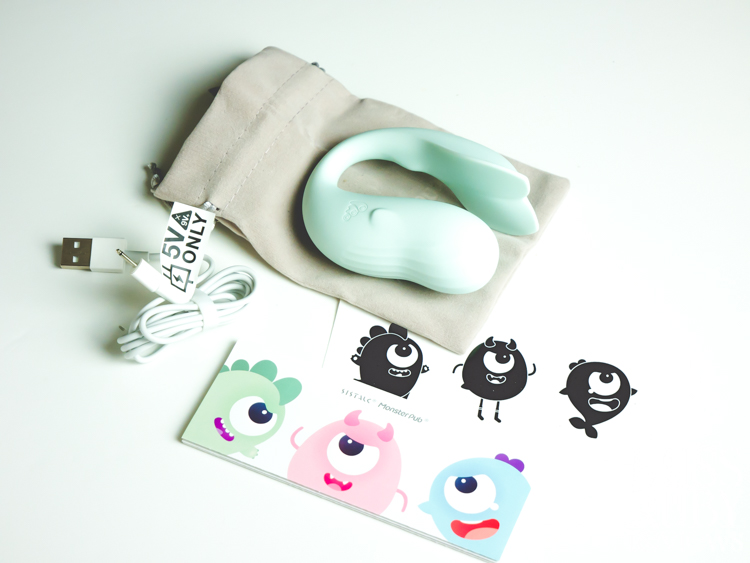 Material and Care
The Monster Pub 2 Dr. Whale is made from Silicone, making this a bodysafe toy. The silicone has a creamy, matte finish that feels soft.
Though Monster Pub does say that this toy is waterproof, they recommend that you don't soak it underwater for a long time, or use very hot water with it. Still, a quick trip to the bath or pool is fine.
To clean, I rinse the whole thing in warm, soapy water before and after each use. I allow it to air dry before I pack it away back in its bag.
If you'd like to add lubricant, only use a water-based lubricant.
To charge, insert the needle end of the USB charging cable (included) into the hole at the back of the smaller tail. Connect that to your computer or a USB wall adapter. I found I needed to press the needle in a bit more firmly than expected to make sure it made a final 'click' and got a proper connection. The indicator light will flash when charging and glow steadily when it's fully charged.
My Experience with the Monster Pub 2 Dr. Whale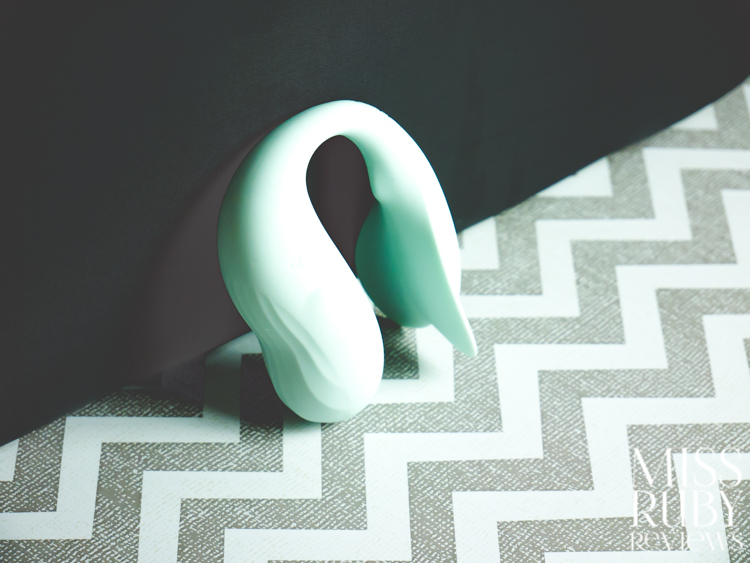 Before I get into the revised App, I'll go over how the Monster Pub 2 Dr. Whale functions by itself as a sex toy.
First off, as I found with the Master Gokilla, the Monster Pub 2 Dr. Whale does fit very comfortably in place. It popped in easily, felt girthy inside, and the long clitoral arm reached my clitoris easily. I love how the tail is wide enough to spread over your labia for some extra added sensation.
Though the C-shape angle looks narrow in these photos, there's a fair bit of flexibility to the joint in the middle, which has the advantage of fitting more body types/angles. However, because it doesn't clamp down on your pubic bone tightly by itself, you'll either want to already have fairly good Kegels, or simply wear tight-fitting underwear, to keep it in place.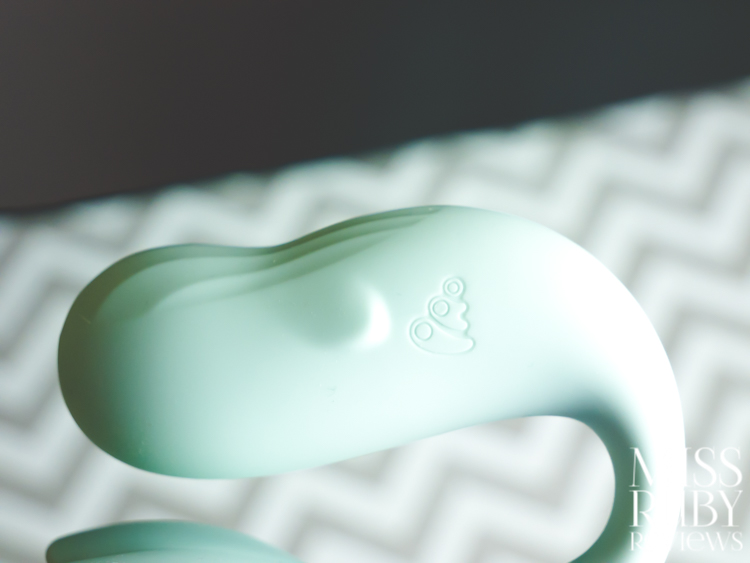 Motor-wise, I don't think there has been any improvement from last year's model. Both motors are still unfortunately pretty buzzy and moderately weak. I need moderately strong vibrations to orgasm, so couldn't with this toy; if you have a more sensitive body or just want some pleasant wearable sensations, this may not be disappointing to you.
However, there does seem to be an improvement in the self-warming function. Last year I couldn't find any discernable warming sensation. Maybe I had just gotten a wonky copy, but it was frustrating. This year, though, the Dr. Whale's feels distinctly warm after about 4 minutes of playtime, which adds a lovely internal boost.
Sound-wise, this is a pretty quiet toy. It's about 30 dBA from 1 meter away and 45 dBA from 0.5 meters away. You may not want to be in a quiet, crowded room, but you could certainly take a walk on the beach without worrying about someone hearing you.
Monster Pub App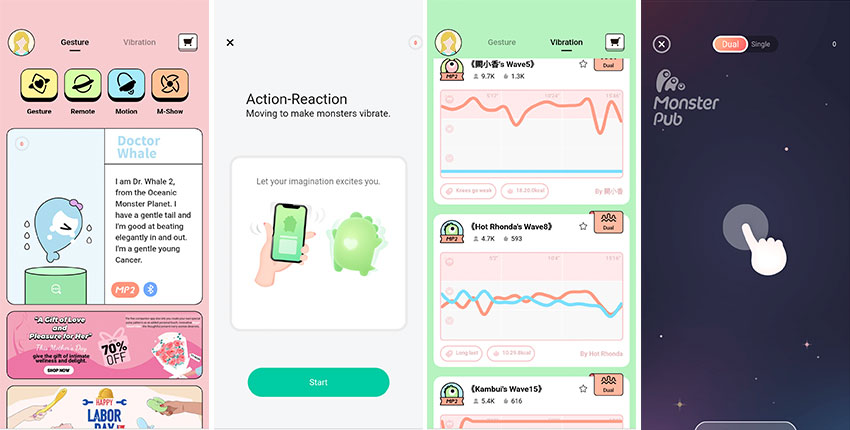 The Monster Pub app has been completely redone since my review last spring. The app last year was weird and clunky. This app is clean, snappy, and totally functional/easy to use.
You can also create and save your own custom patterns, or anonymously share them online in the app. You can also download other people's patterns if you'd rather.
Using the App, you can connect with your phone or Apple Watch via Bluetooth. You (or your partner) use your fingers to slide on the screen to control the vibrations in your Dr. Whale.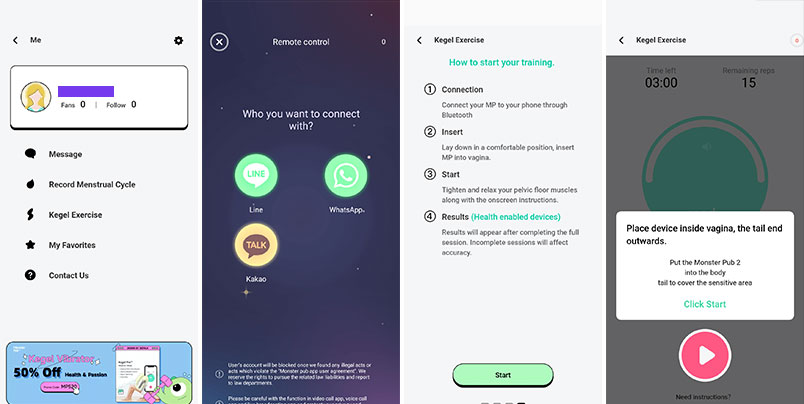 (For long-distance partners — you can send your connection invitation via WhatsApp, KakaoTalk, or Line.)
There's also a neat motion-activated mode now. When you (or your partner) jiggle their phone, your vibrator will vibrate accordingly. This worked surprisingly well.
There's a whole Kegel section that verbally walks you through Kegel exercises and vibrates during certain portions. (Monster Pub also sells a special Kegel Pro version of this toy, which includes biofeedback sensors on the device to make Kegel exercises more immersive).
Lastly, there's also a handy built-in feature to record your menstrual cycle.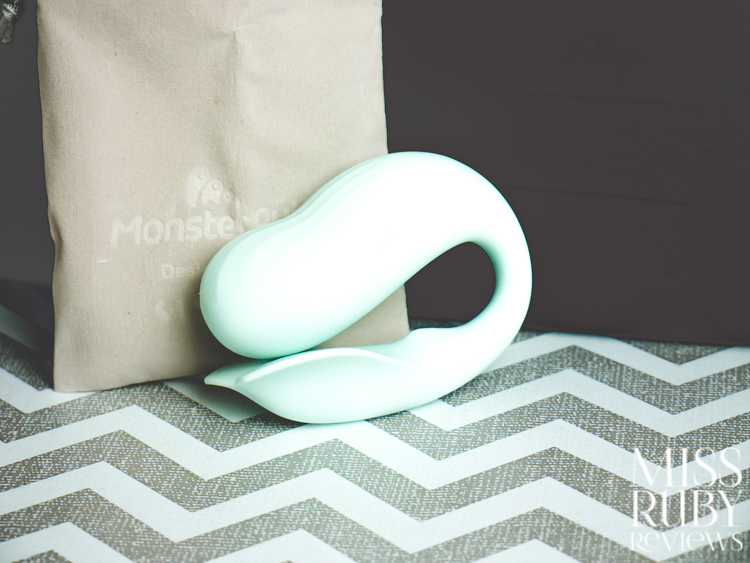 Monster Pub 2 Dr. Whale Review – Overall Thoughts
I enjoyed the new version of theMonster Pub 2 Dr. Whale MUCH better than last year's version. The App has been significantly improved and is quite useful. I enjoyed the shape of the Dr. Whale and the warming function. I wish the vibrations were stronger or rumblier, as personally I couldn't orgasm from this level of vibration, but if you have a more sensitive body you might have better luck.
You can pick up your own Monster Pub 2 Dr. Whale here for $135 CAD!

See below for my Monster Pub 2 Dr. Whale review breakdown.
Monster Pub 2 Dr. Whale review
Overall thoughts - 7
7
$135
PROS
App improvements
Price point has been lowered to $135 CAD
Warming function is pleasant
Dual motor stimulation
Stays in place well
Bodysafe silicone structure
USB rechargeable
Waterproof
CONS
Motors are still moderately weak and buzzy
Shop Now