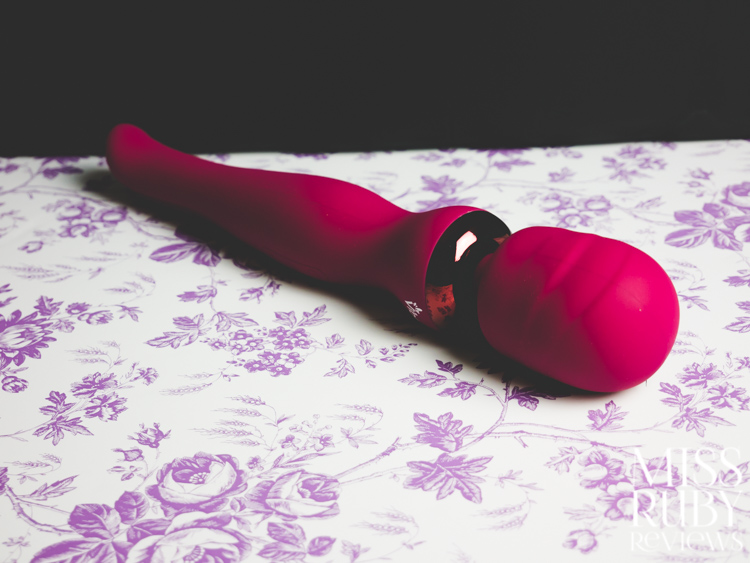 Look at that colour. Look at those curves! Read on for my Viben Sultry Wand review.

Design | Accessibility | How to Use | Packaging | Material and Care | My Experience | Overall
Design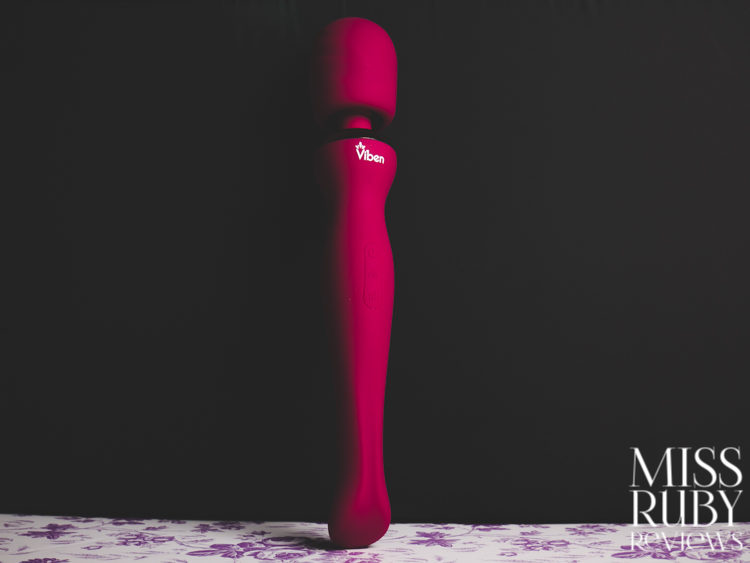 The Viben Sultry Wand is a brand new wand with a lot of luxury features.:
It's full-size, with a large, broad head. This means it delivers very broad stimulation against your clitoris, vulva, penis, etc!
It's rechargeable and delivers up to 3 hours of playtime on a single charge, so you're not messing around with a long cord during use.
It's waterproof, so it's easy to clean and you can bring it with you into the shower.
It's made from silicone, making this a bodysafe wand. This particular silicone is very silky and smooth to the touch.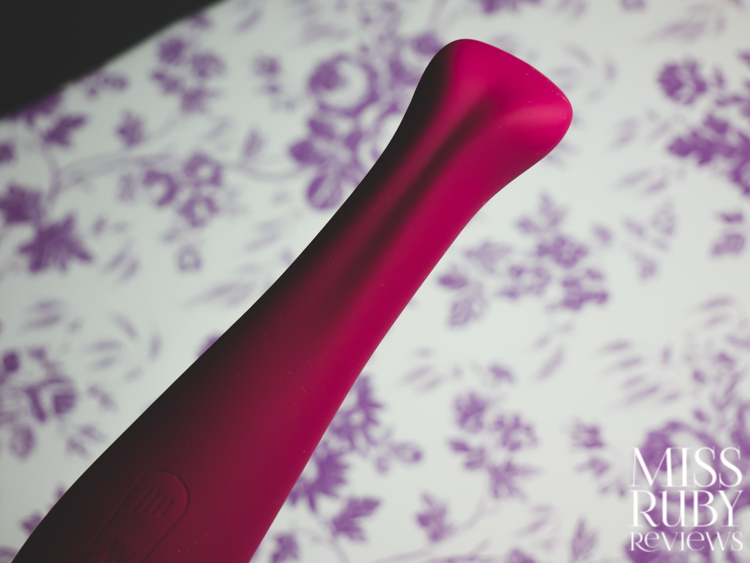 Perhaps the best feature, though, is that the Viben Sultry Wand is serious about limiting vibration transfer to the handle.
If you've used a vibrator before, you'll have noticed that the vibrating motor (which vibrates the stimulating area that should vibrate) often has vibrations escaping and travelling throughout the body of the entire toy. The stronger the motor, the more the handle might rattle. This may not sound like a big issue at first, but if your wrist is rattling with high-frequency vibrations for 20-40 minutes in a given playtime, it becomes uncomfortable. It can be an especially big issue for anyone with joint sensitivities (such as a history of carpal tunnel syndrome or arthritis).
The Viben Sultry Wand caught my eye because the packaging specifically stated "No Vibration Transfer in the Handle." It's rare that brands prioritize and highlight an attempt at this, so I was curious.
To my surprise, the Viben Sultry Wand does an exceptional job at limiting vibration transfer. There's still a light hum, but it is truly minimal. Considering the strength of the motor, I would have expected much more. So this is a BIG plus point in my opinion.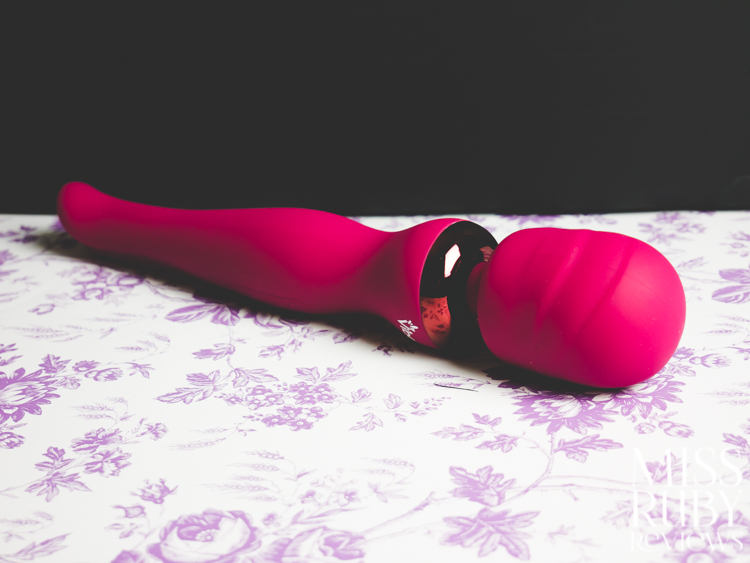 Aestetically, the Viben Sultry Wand also does a good job at just lookin' good. The head is oblong with some light ridges for added texture. Below the flexible neck, there's a ring of shiny metallic ABS plastic for some added shimmer. The body/handle is long and curvy and narrow for an ergonomic grip. I have medium-to-large women's hands and found this very comfortable to hold.
The Viben Sultry Wand comes in one colour: Ruby Red. It's a rich berry red with a slight raspberry hue. It's flirtatious, yet sophisticated. Unfortunately, if you're not a fan of this colour you're out of luck. If you hate this colour, you might consider the Viben Obsession Wand which comes in black or purple but is heavier than the Sultry.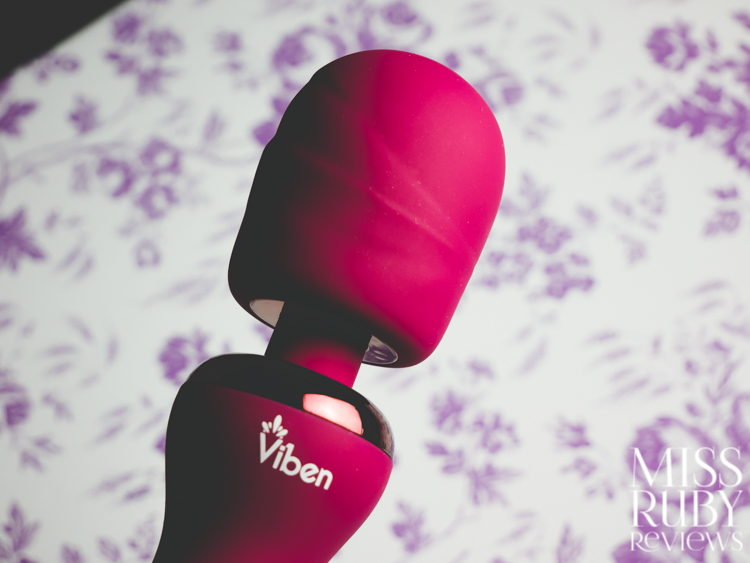 Accessibility
This section is to help folks determine if they might have any issues using/accessing this toy.
Size: The Viben Sultry Wand is a full-size wand. Though full size, it's thinner, less bulky, and lighter than other brands like the Doxy Wand or Magic Wand. It's approximately 12.5″ long and 2.25″ wide at the head.
Weight: My scale says this weighs 350 grams.
Buttons: There are 3 buttons on the side of the body. They are engraved in the silicone and sit flush with the surface of the toy. They're approximately 7mm wide and sit 5mm away from each other. They require only light pressure to click and make a loud 'click' sound.
Vibration transfer: The Viben Sultry Wand's packaging boasts that there is "no vibration transfer in the handle" and, to my surprise, they are pretty well close. Very little vibration transfer reaches the handle (only a light hum) which is impressive given the strength of the head.
Other: The charging port is one of those tiny self-sealing holes that is VERY difficult to see or feel. If you have visual restrictions, you may have challenges inserting the needle-end of the charger into this hole.
Price: At $85 USD (minus 10% off when you use coupon RUBY here) this is a reasonable price. It's on the less expensive end compared to other wands with similar strengths and features.
How to Use the Viben Sultry Wand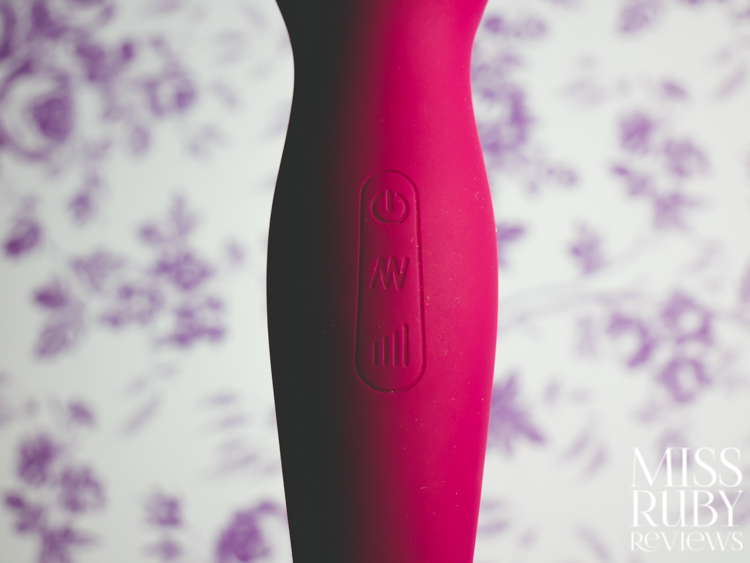 The Viben Sultry Wand is controlled by 3 buttons on the body of the wand.
To turn it on, press and hold the top power button for a few seconds.
Apply it to your body. Though designed for clitoral pleasure, this can be used on other parts of your body like the shaft of your penis or your nipples. However, do not use this internally.
Press the bottom button to cycle through the 8 vibration strengths.
Press the middle ~ button to cycle through the 20 patterns.
To turn it off, press and hold the power button for a few seconds again.
Packaging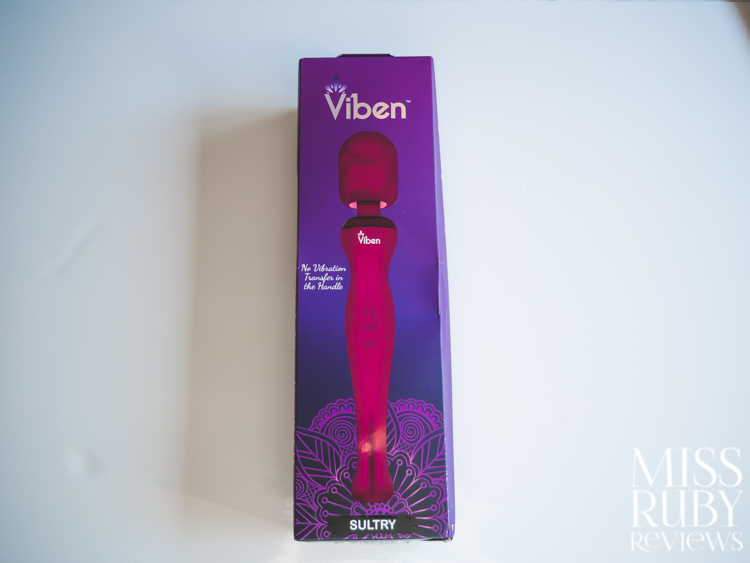 The Viben Sultry Wand is packaged simply in a purple box. The wand is pictured on the front, along with branding.
Inside the box, you receive the wand, a USB charging cable, a small sheet of instructions and a long block storage pouch.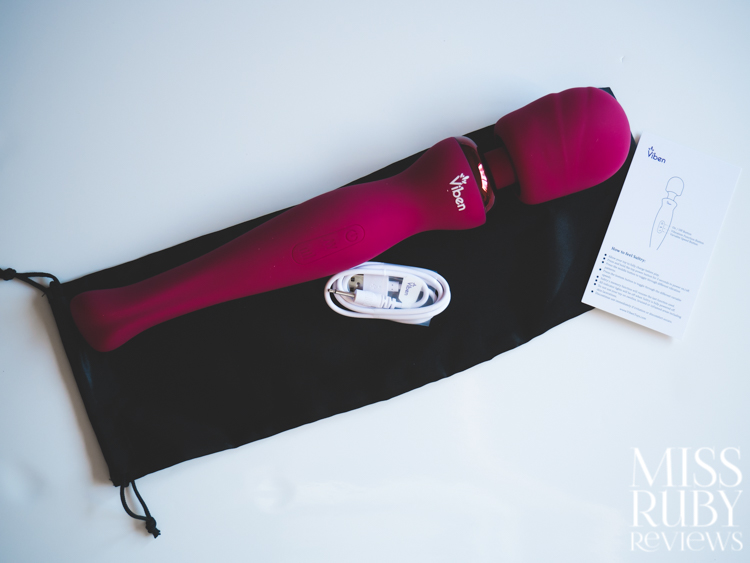 Material and Care
The Viben Sultry Wand is made from silicone with a silky smooth finish. Silicone is a fabulous material for sex toys because it's effectively nonporous (so cleans well) and nontoxic.
The Viben Sultry Wand is waterproof. To clean, I rinse the whole thing in warm, soapy water before and after each use.
If you'd like to add lubricant (which I always recommend), try a good quality, water-based lube like my favourite basic Sliquid H2O.
To charge, insert the needle end of the charging cable into self-sealing (nearly invisible) hole near the bottom of the handle (on the underside). Connect that to power via your computer or a USB wall adapter. A full charge takes about 3.5 hours and gives you up to 3 hours of playtime.
My Experience with the Viben Sultry Wand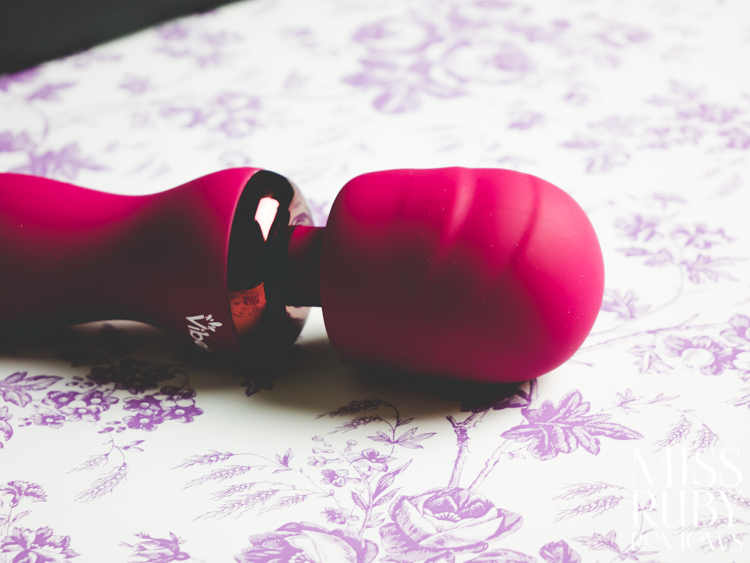 Maybe I'm just getting jaded, but for the $84 price tag I wasn't expecting a whole lot from the Viben Sultry Wand. I've tried plenty of wands in this price range that are okay, but not great. And, while curious, I wasn't expecting a whole much in Viben's claim that there's no vibration transfer in the handle.
To my pleasant surprise, the Viben Sultry Wand is a nimble beast. The vibrations are actually strong. Case in point: I orgasmed within 60 seconds during my first test of the Viben Sultry, which is saying a lot. It feels incredible. The vibrations have a rumbly foundation with just the right amount of buzz. And with that long, broad head you can cover most of your vulva at once or just use a small side for a more pin-point feel.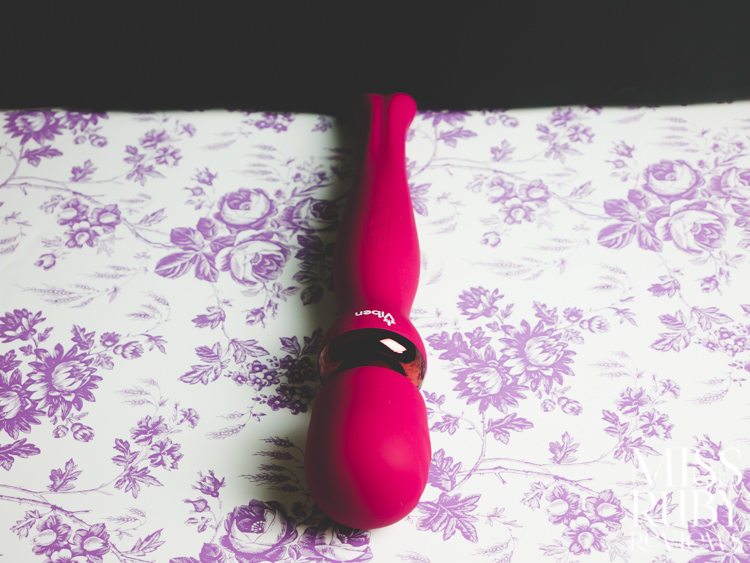 For people who usually need to skip wand vibrators because they can't risk their joints on vibration transfer, the Viben Sultry Wand is probably your best bet. While not 100% vibration-free, the transfer to the handle is very negligible… perhaps only 5-7% of the overall vibrations. This was pretty astonishing to me. I've owned dozens of wands, cheap and expensive, and I've never come across one with such little vibration transfer.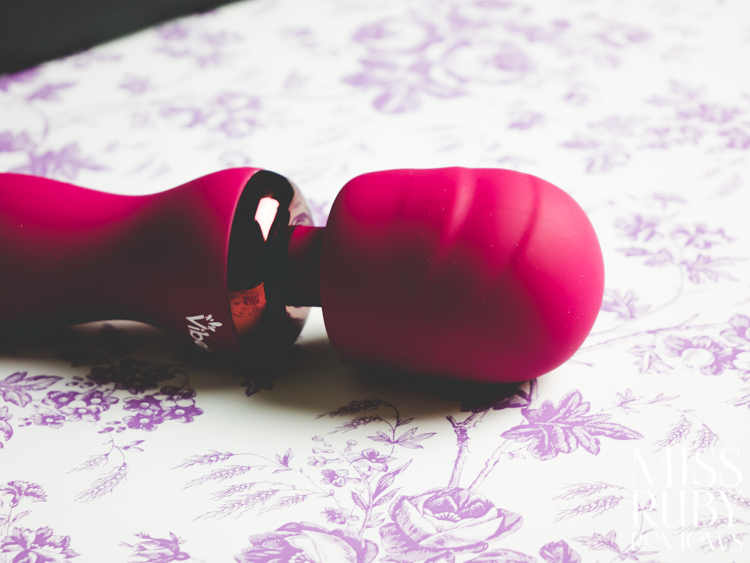 Any cons? The only thing that comes to mind is the sound. While it's certainly on the quieter side for a full-size wand, it's still noisy enough to make me nervous about it being heard through a closed door. If you have roommates, I'd be sure to close the door and turn on some music to muffle the sound.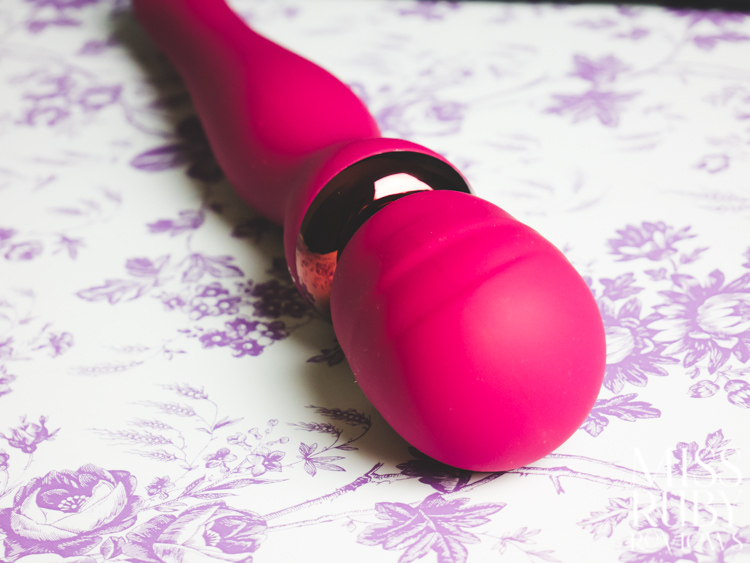 Viben Sultry Wand Review – Overall Thoughts
The Viben Sultry Wand is a great buy. For $84 USD, you're getting a waterproof, rechargeable, and full-size wand vibrator that delivers strong vibrations focused in the head. This is a particularly good option for people with joint sensitivities because the vibrations are very effectively limited in the head (rather than escaping to the handle).
You can pick up your own Viben Sultry Wand here! Why do I like Peepshow Toys? They ship internationally, only carry body-safe products, and you can get a 10% discount off your whole purchase with coupon code RUBY. 

See below for my Viben Sultry Wand review breakdown.

Viben Sultry Wand Massager
Overall thoughts - 9.3
9.3
$84
PROS
Strong
Waterproof
Vibrations don't transfer to the handle
Bodysafe silicone construction
Visually pleasing design
CONS
Only comes in 1 colour
Somewhat noisy
Shop Now
Last Updated on March 18, 2023 by Miss Ruby