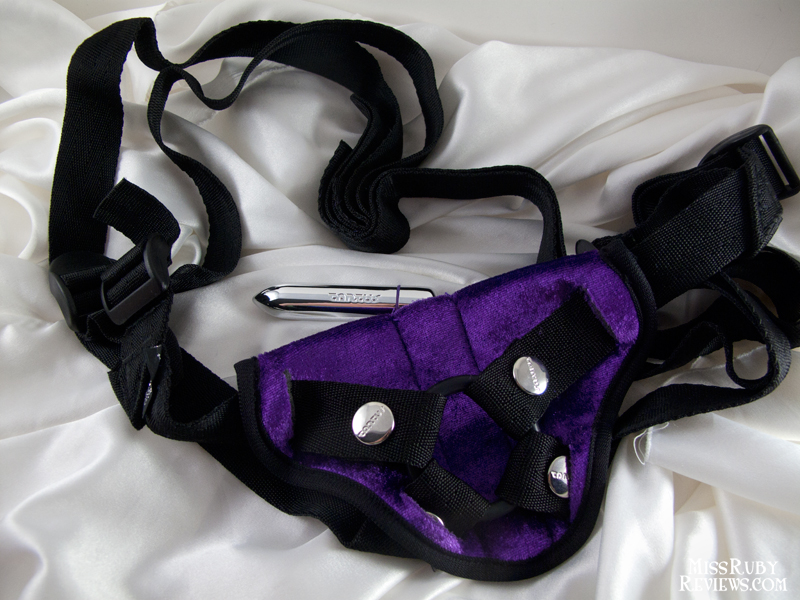 Sturdy, reliable, and gets the job done.
Physical Details | Shipping and Cleaning | My Experience | Overall
Physical Details
The Tantus Vibrating Velvet Harness  is Tantus' basic starter strap-on harness. Marketed towards beginners, this O-ring harness follows a jock type design. There's a belt strap that fits around your hips. This belt is connected to two straps that circle around each thigh. On the front, there's a velvet triangular backing, which sits behind the O-ring. Mine is purple, but it also comes in black. This velvet backing is removable, but I like it because it prevents the base of the dildo from rubbing against my skin.
This design leaves you still very accessible, with your bum and vulva in the clear. This isn't just for vagina-owners though…People with penises can also wear this if they're not erect. Tantus suggests wearing underwear if you plan to do this though, just to make sure everything stays in place.
The O-ring that's included with this harness has a 2 inch diameter, and will fit toys with a maximum diameter of 1.6″ to 1.8″. The O-ring on this harness is removable, which is a huge plus factor for me. Having a removable O-ring allows you to use dildos with varying girth. So, for example, if your favourite dildo has a diameter of 2.3 inches, you can grab Tantus' Silicone O-ring Set and adapt this harness for that dildo.
This harness differs from most jock-style harnesses in that it accommodates a bullet vibrator. The velvet backing has a vertical slot in it. In this space, you insert a bullet vibrator for clitoral stimulation. Tantus includes a one-speed bullet vibrator with the harness. This bullet is buzzy and fairly weak (3.5/10), which isn't at all surprising, given that this harness set is so inexpensive to begin with.  The harness also fits the We-Vibe Tango, so I highly recommend using the Tango instead if you can.
Overall, the quality of materials is what I'd expect for something in this price range. The black straps look solid, though the velvet backing is prone to fraying, as there's a few loose strings already after a month of use. Nothing about the fraying looks like it'll impact the performance of the harness, though, so this is just a minor quibble.
The straps are also adjustable. The  straps fit up to 60 inch hips, which is good news for people who aren't tiny. My hips are around 45″ in circumference and there's plenty space left to spare. I recommend tightening everything to a comfortably-snug level to keep the dildo secure and controlled.
Shipping/Packaging/Cleaning
Although you can buy Tantus products in just about any online sex toy shop, you can also buy directly through them. If you do, you're guaranteed fast and discreet shipping. My order was placed on June 16th and I received my package on June 22.  "Tantus" wasn't listed anywhere on the package. For international customs declarations, the contents were listed as "Massage Accessories" (Note that I also received dildos in this package, so if you buy the harness alone, you may get a different customs description).
The Vibrating Velvet Harness is packaged cleanly in a plastic container. Inside the package, you receive the harness and the bullet vibe.
This harness is machine washable(!!!), which makes cleaning so much easier. I suggest throwing it in gentle cycle along with all your underwear.
My Experience with the Tantus Vibrating Velvet Harness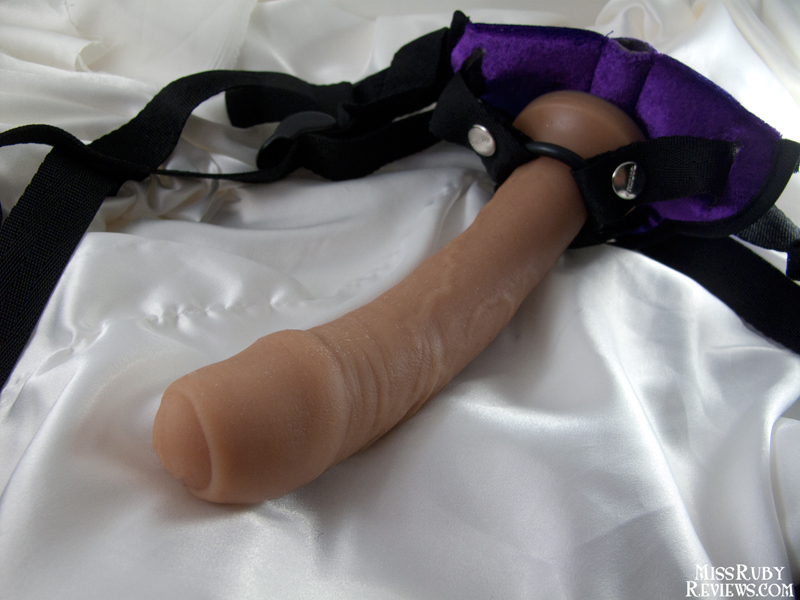 Setting up the harness takes only about 3 minutes. Removing the O-ring is quick, and sliding the O-ring around the base of my dildo is very easy, thanks to that the O-ring is made from a stretchy (yet firm enough) silicone. The hardest part is simply attaching the O-ring back to the straps because the little clasps need to fit underneath the O-ring before they can close — depending on how tightly the O-ring fits around the dildo, this can be challenging. In any case, I tried it with several different dildos. Anything over 2 inches diameter just won't do, but below 2 inches fits well. Again, if you'd like to use dildos with a larger or smaller diameter, definitely pick up the Tantus' Silicone O-ring Set.
I'm pretty new at strap-on harnesses, my only previous experience being with a Kinky Monkey model, so I speak as a strap-on harness novice. But, even in my novice state, I can say that this harness is comfortable. Its design allows you to control the dildo well, and the straps don't dig into me or chafe against my skin. When I'm wearing the harness, it's easy to forget that it's even there.
As a strap on harness, this thing functions great. The dildo is held very close to my pubic bone (over my clitoris), and feels secure. There's nothing loose or clumsy — I'm able to stay in control of the dildo because the harness fits so snugly against my body. I've no complaints.
I'm surprised by how well the bullet vibe stimulates me. To be honest, I didn't have high hopes because my clitoris is finicky, often requiring *just* the right angle of stimulation. When the harness is in place, the end tip of the vibrator falls parallel against my clitoris. It can't dig against my clitoris to provide me with pin-point stimulation, so I can't orgasm this way, but it certainly provides me with a pleasant, mild stimulation that adds some zing to my experience.
I don't recommend pulling out and reinserting bullet vibes when you're already wearing the harness, though. I kept on switching the Tantus bullet with my We-Vibe Tango and doing so required a lot of pushing and tugging because the velvet platform was squished between my body and the dildo it held. After a few uses, I realized that this was slowly wearing down at the velvet harness, and the fabric around the slot is frayed now. So choose your bullet vibe, insert it, then put on your harness and don't switch it up.
Overall
I'm satisfied with this harness. It fits snugly against my body, keeps the dildo secure and controlled, and feels comfortable.  Does it feel like a luxurious fancy harness? No, but it works well and it's inexpensive…so inexpensive that this is a bit of a no-brainer purchase. The current price is listed at $29.70, which makes this an affordable option for someone who's looking to explore strap-on play for the first time or simply add one to the collection. For people looking to start with something basic and functional, definitely add this one to the wishlist.
To buy the Tantus Vibrating Velvet Harness, head on over to Tantus!