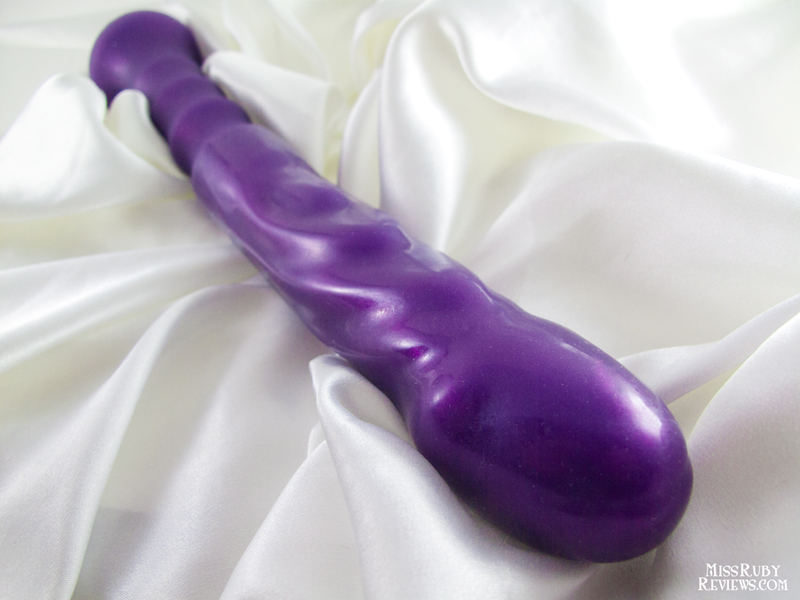 The Tantus Goddess Handle. AKA, the dildo for people who want to make their lives easier.
Physical Details | Material and Care | Shipping and Packaging | My Experience | Overall
Physical Details
The Tantus Goddess Handle is a dildo that strives for convenience. Have you ever read reviews where I complain about gripping onto a tiny base? Tantus' bases are good about this sort of thing, but some brands have the thinnest, puniest base, where during mid-thrusting, I have to pause to try get a better grip on a tiny, slippery disk. It's horrible. Not the end of the world, but it's certainly annoying and it gives my hand cramps.
Enter the Goddess Handle. Not to be confused with the Tantus Goddess, the Goddess Handle is the Goddess dildo with a handle. Does that make sense? Goddess + Handle = Goddess Handle. Having a handle on a dildo is really useful, especially if you have any mobility issues including arthritis and carpal tunnel. Thrusting is made easier. It's basically magical.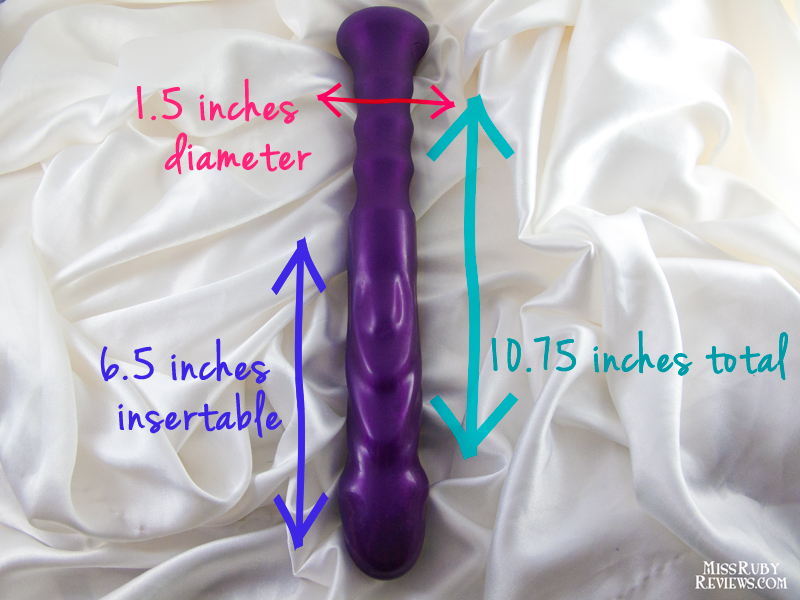 As such, it's a really long dildo. There's 6.5 inches of insertable length, but the whole dildo reaches 10.75 inches. With a diameter of just 1.5 inches though, the Goddess Handle is certainly one of the narrower dildos I own.
This isn't a realistic dildo, but the design still retains the semblance of the head of a penis, complete with a stylized coronal ridge. The body of the dildo is covered with this really neat rippling effect, creating wavy swoops along the shaft. In other words, this is a textured dildo. If you know you don't like texture, you may be happier with the Tantus Anaconda.
Below the body of the dildo, the shaft narrows into the handle. It comfortably fits even my somewhat-large female hands, and there are even grooves for your fingers for the ultimate-comfy grip.
The whole thing is fairly bendy. I can't bend it in half, but the handle is fairly flexible so that, during thrusting, you don't need to position the handle in an absolute straight line. It'll bend as you thrust to conform to what position is most comfortable for you.
Despite its relative bendiness, the silicone used here is very firm. If you've only ever experienced Tantus O2 dual density silicone, this is very different. There's very little give to it, meaning that you will easily feel the texture. This also means that, if you thrust too far into yourself, you will punch your cervix. Due to the length, this is really easy to do, so take care to avoid that.
(Repeat: this is very firm. I may have clobbered myself on the head with it. Ouch.)
Due to the flared base, this is safe for anal use. However, this isn't O-ring harness compatible, nor can it be used with a suction cup. Also, for those of you who don't like pink or purple, you're out of luck: the Goddess Handle only comes in these two colors. That being said, if you're okay with not choosing your colour, you could always get one in a grab bag.  The Goddess Handle is currently available in grab bag form for nearly 50% of the full price.
Material and Care
Tantus products are made from 100% silicone, making them extremely bodysafe, hygienic and durable. They're non-toxic, free of phthalates, and will last years. To sterilize your Goddess Handle, you can boil it or toss it in the dishwasher. For regular everyday cleaning, I simply wash mine with warm water and a gentle anti-bacterial soap. I store my Goddess Handle separately in a large ziplock bag.
Remember to only use water-based lubricant with this toy, and I actually recommend grabbing a bottle if you don't have one already. Even if you generally produce enough lubricant for sex, silicone has a certain drag that skin simply doesn't, and a good drizzle of a lube is mandatory. This lubricant is superb.
Shipping and Packaging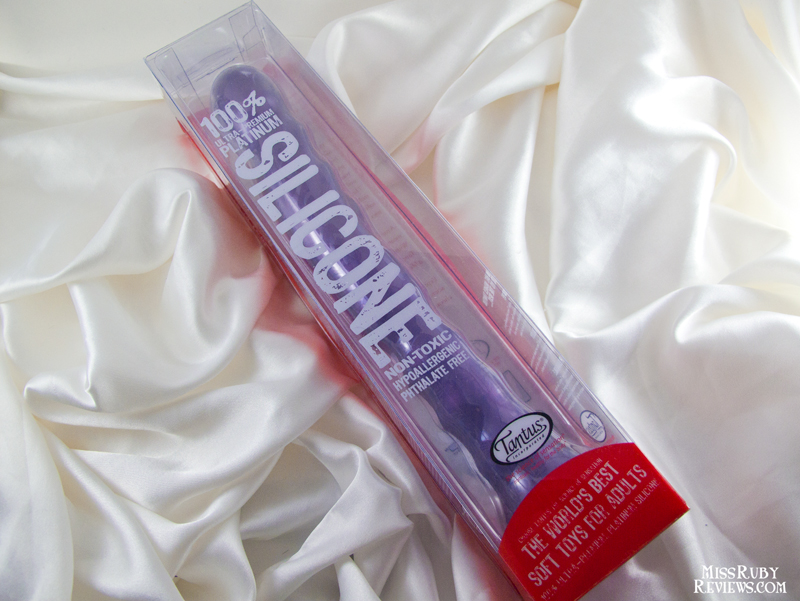 Although you can buy Tantus products in just about any online sex toy shop, you can also buy directly through them. If you do, you're guaranteed fast and discreet shipping. My order was placed on June 16th and I received my package on June 22. "Tantus" wasn't listed anywhere on the package. For international customs declarations, the contents were listed as "Massage Accessories."
Tantus packs their products in fun, non-pornographic packaging. The Goddess Handle comes in a clear plastic box.
My Experience with the Tantus Goddess Handle
I feel that every dildo should come on a stick. For me, it really truly makes life easier and more fun. Like how caramel apples on a stick are instantly more fun, amiright?
But in all seriousness, I think that the Goddess Handle's handle is superb. When I'm thrusting, my hand doesn't get tired or fatigued the same way it does when I'm desperately grasping on for something to hold. It also makes this dildo more versatile. When I'm doubling up with a clitoral vibrator (even one as large as the Magic Wand), my thrusting doesn't get in the way of holding my vibrator because my hand can be several inches away. I can manage to reach around and thrust myself from behind, which I definitely can't do with a regular dildo.
During couples play, the handle also means that my partner can thrust it inside of me when I'm on my back and he's kneeling upright by my head. Generally speaking, my pelvis is too far away for him to reach in this position. Now I know exactly which dildo to grab for those moments.  😀
As for the actual insertion, things are still pretty peachy. You may have heard me complain about fine texture before. I know that a lot of people love fine texture, but for me, it just doesn't work. At best,  I won't notice fine texture. But I often find it disconcertingly distracting and, at worst, sometimes it feels like my insides are being softly grated away. Not sexy.
At first, I was worried that the Goddess Handle's swoopy wavy texture would give me that fine, distracting sensation. But no! The contours of this toy are gentle enough that the texture, while discernible, simply makes for a more interesting sensation.
Also, the waves on the top side of the shaft are heaven to my G-spot. They jut out just enough to give my G-spot considerable stimulation. But for me, the best G-spot pleasure actually comes from the head of the toy, as it's a rather bulbous (I have a weakness for bulbous heads). So good job, Tantus. You've found a way to stimulate my G-spot once again.
Despite my adoration for this dildo, the Goddess Handle does have a couple of drawbacks.
First, this is not a girthy toy. It won't give you that stretch sensation if that's something you love. If you enjoy girth and you want the best of both worlds, I recommend the Tantus Anaconda which has both girth and a handle.  Of course, on the plus side, its relative lack of girth will appeal to you if you aren't looking for a girth challenge and you just want something easy to insert.
Secondly, I wish this dildo wasn't so firm. I'm so used to Tantus' O2 dual density dildos that I'm pining for it when I use the Goddess Handle. I'm definitely biased in favour of squishy toys, but I feel that it would just give my cervix a break if/when I accidentally thrust this Goddess in too far, which is all too easy to do given the length.
Overall
The Goddess Handle is a very versatile toy. I think that Tantus' idea of adding an extra-long handle to a dildo is a fabulous one, one that's been executed well. Handle aside, the dildo itself delivers strong, pleasurable G-spot stimulation, especially at the head. Plus, the shaft's gentle contours make for a toy that doesn't feel overly textured, which I personally prefer. That being said, I wish that the silicone itself was softer, as my vagina always craves squishy, dual density silicone.
To buy the Goddess handle, head on over to Tantus.