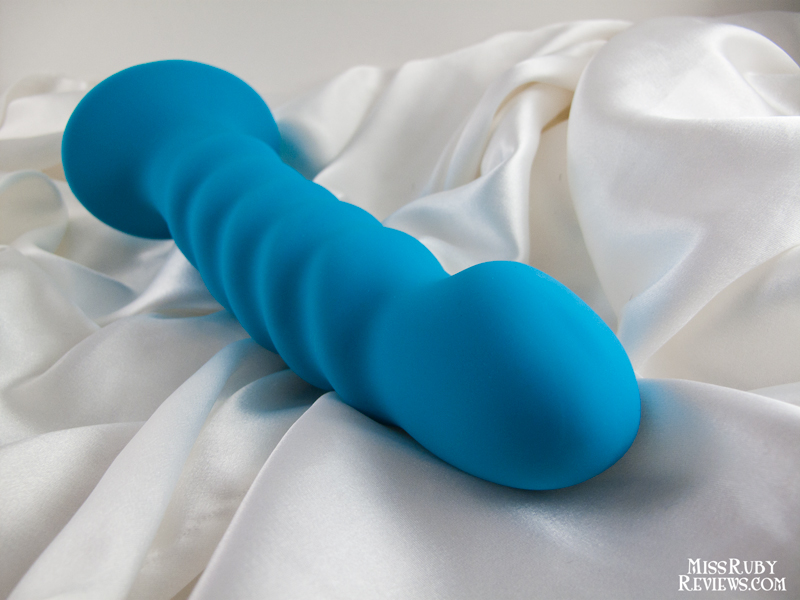 Part of the reason I like this dildo so much is because it adds even more colour to my blog.
Physical Details | Material and Care | Shipping and Packaging | My Experience | Overall
Physical Details
Design: The Maia Astral D3 Silicone Dildo has one of those eye-catching designs that really draws the eye. As far as unrealistic dildos go, it's a real beauty (though I'm probably a bit biased because I love blue toys).
The body of the toy sings, "I'm textured and you know it." The whole shaft is covered in these huge spiraling wavy bumps, giving it a really ribbed texture. As it draws near the base, however, the bumps subside and it extends out into an ovular flared base.
I don't know if you can tell from my pictures, but the head of this dildo is actually raised to a hook (much like the LELO Ella). It isn't immediately obvious because the hooked tip blends in well with all the ribbing, but it's certainly there when you notice it. This sort of shape is fabulous for G-spot stimulation, as it tends to jut out to press firmly against the G-spot.
And this isn't a small toy. At 7 inches of insertable length and 1.6 inches diameter, this isn't my smallest dildo by any means. It's actually a tad larger than what I generally go for in solo sessions, and I wouldn't recommend this size for people who are particularly anxious using a dildo with a large girth.
But can I just rant about the colour for a moment? This dildo is stunning. The colour is a super vibrant sky blue and I love it. It also comes in purple, but I *highly* recommend the blue because purple dildos can be found anywhere; blue dildos are relatively rare.
Firmness: 
This dildo is for people who enjoy a firm toy. There's a *tiny* bit of give to it when I squeeze it with my fingers, but not a whole lot. There's also really no bend.
Other features:
Because it has this flared base, this dildo is safe for anal use and can be used in an O-ring harness. The diameter of the shaft above the base is around 1.75″, so be sure to have an O-ring around that size if you'd like to use this dildo in strap-on play.
EEK I almost forgot. The suction cup. It works great. I can stick this onto my fridge and open/close my fridge door with it. Enough said.
Material and Care
The Maia Astral D3 is made with super silky silicone. It's seriously so smooth and lovely. Not *quite* as silky as LELO's products, but pretty close. Despite this matte and silky finish, it can still attract some lint and dust, so make sure to rinse off your dildo before use.
Speaking of silicone, this is a really stellar material for a toy. Unlike porous materials like PVC or jelly, silicone won't grow bacteria within any micropores of the material itself. Silicone is also non-toxic, being free of phthalates and latex.
It's also sterilizable, which means that you can safely use it for both anal and vaginal use, and even share it between partners IF you sterilize it between uses. To sterilize this toy, you can wipe it down with a 10% bleach solution, boil it for 15 minutes, or toss it in the dishwasher. For regular every-day cleaning, I simply wash mine with warm water and anti-bacterial soap.
Always use a water-based lubricant with this toy and store your Maia Astral D3 in its storage pouch.
Shipping and Packaging
Fun packaging! This dildo comes in a neon-blue box. It's clean and not explicit and you wouldn't necessarily guess there was a dildo inside UNLESS you looked at the sides of the box. The dildo is visible there. Also, you can open the front-flap to take a peek inside.  Within the box, you receive a couple of information pamphlets, a storage pouch, and the dildo. The storage pouch is awesome, made from a super-stretchy material. It's large enough to store a couple of my other toys too, which is a perk.
My Experience with the Maia Astral D3 Dildo
I've had the Maia Astral D3 for several months now. My review for it is really delayed as I've been working on other reviews for AfterDarque, but I'm finally able to get this one done. Woo!
Despite having not yet published an official review for this item, I've been recommending this dildo for a while now.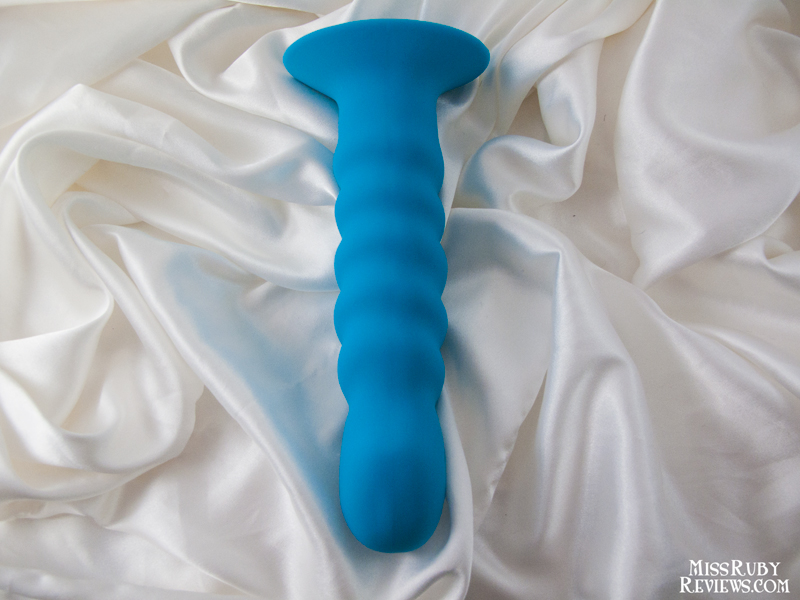 Simply put, this is a great purchase for people that are looking for a textured and girthy dildo.
When I use this dildo, I need to make sure I'm warmed up because that head seems even bigger when I'm actually about to insert it. Once I'm warmed up enough to comfortably use it, I'm then greeted by lots and lots of texture. Those bumps don't hide.
And it's super easy to get off with this toy. Remember when I pointed out how the head kind of hooks upwards like the LELO Ella? That shape is ideal for G-spot stimulation, and this dildo definitely delivers. I can quickly get very intense, loud G-spot stimulation from this toy, made more intense by the wide girth / bulbous nature of the head. The G-spot can't hide, in other words.
I don't have G-spot orgasms, but I really appreciate toys that can deliver good G-spot stimulation like this, as they really speed up and intensify my clitoral orgasms. Thanks, Maia.
G-spot stimulation? Check.
So what about deeper penetration?  When I thrust this dildo more fully in, I need to be careful not to hit my cervix. At 7 inches long, this dildo is a couple of inches longer than my vaginal canal, so cervix-hittin' is regrettably easy. Plus, because this dildo is so rigidly firm, it can be really uncomfortable if it hits my cervix. So that's something to be aware of.
That being said, as long as I avoid hitting my cervix, this dildo still feels great when I'm using it deeper. The wide girth gives me a very full sensation, and the textured shaft adds an extra kick to any G-spot stimulation.
It's also hella cheap. At $35, this is one of the cheapest silicone dildos you can find, especially when it comes to large-ish silicone dildos. Silicone dildos this size are often priced at around $60-$110. At $35, this makes it a solid contender for people who simply can't afford to invest a ton of money on a dildo. I'd especially recommend this one to people who routinely buy porous or toxic toys just because they're cheaper than the average silicone dildo. You don't have that excuse here: this silicone toy is priced similarly to several porous toys.
Overall
Personally, I'm not always in the mood for texture. I like smooth sensations. But when I am in the mood for texture, this dildo is great. I think that you'll enjoy this toy if you:
Love texture
Love girth
Want an inexpensive body-safe toy
Enjoy extra features, such as O-ring harness compatible, anal-safe, and suction-cupped.
To buy the Maia Astral D3, head on over to SheVibe!
Last Updated on November 17, 2020 by Miss Ruby