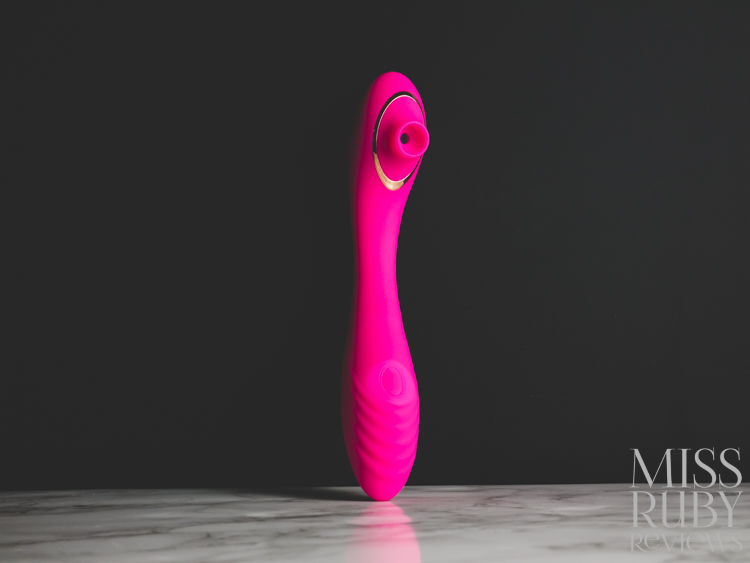 I love testing multi-function toys. This one attempts to do A LOT! Read on for my PHANXY Bendable Sucking & G-spot Flapping Vibrator review!

Design | Accessibility | How to Use | Packaging | Material and Care | My Experience | Overall
Design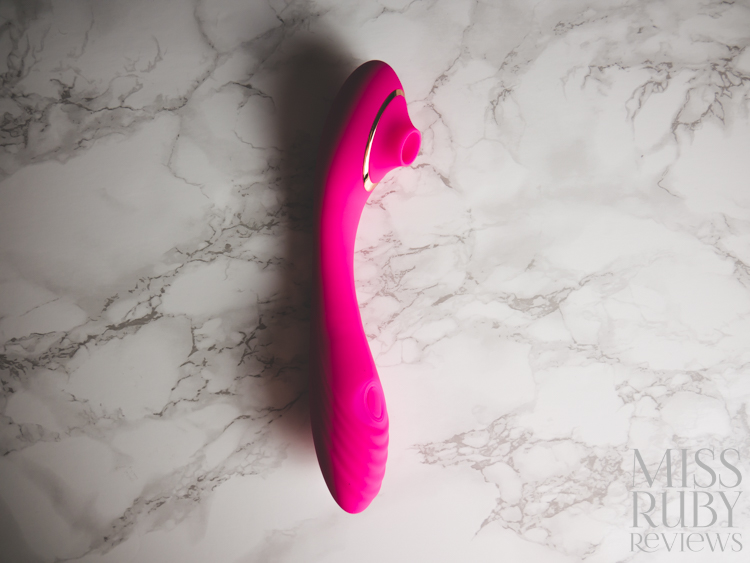 The PHANXY Bendable Sucking & G-spot Flapping Vibrator has a very long name because it does a lot of things. As its name states, it is indeed:
Bendable: The shaft bends in half so it becomes a C-shaped rabbit vibrator.
Sucking: The suction nozzle on one end has pressure wave technology to suck your clitoris.
G-spot: The girthy, textured end curves slightly for G-spot pleasure. This end vibrates.
Flapping: There's a little oval-shaped area on the G-spot shaft that flaps wildly in a tapping motion. This can be used against your G-spot or your clitoris.
There's a lot going on here!
All functions are independently controlled by 3 buttons, so you have precise control over the type of stimulation you receive. You can have just one or two of the functions turned on, or all three at once.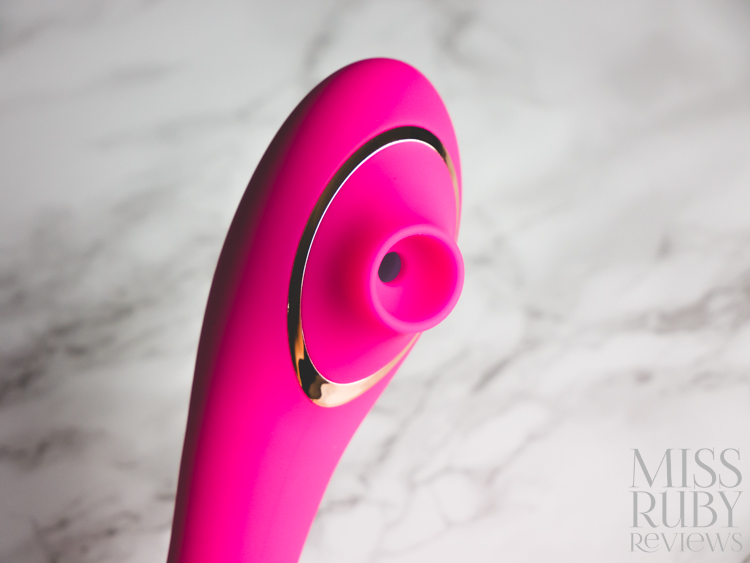 The suction nozzle is petite and thin-lipped, giving it an elegant appearance.
---
WHAT IS PRESSURE WAVE TECHNOLOGY? Pressure wave technology provides touchless clitoral stimulation, which makes your clitoris feel like it's being sucked by air. This sex tech first emerged around 2016, and since then I've witnessed (and reviewed) the technology spread across the industry. I was skeptical at first, and the technology is pretty bizarre, but it can be SUPER effective if done well.
---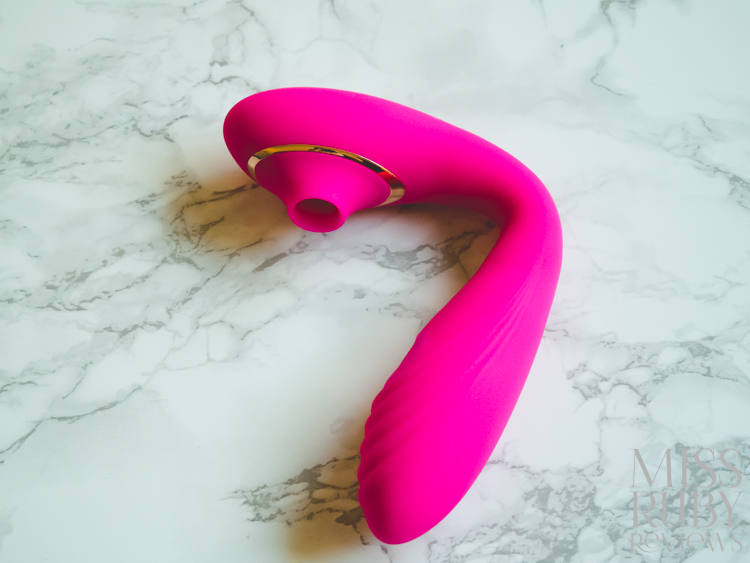 Pictured above is the PHANXY Bendable Sucking & G-spot Flapping Vibrator in its bent form. It's quite easy to bend it into (and out of) shape. When it's bent, it mimics the C-shape rabbit vibrators that have grown so popular (like this one). The middle of the suction nozzle is about 2 inches away from the bending joint, so if you want to use it as a C-shaped dual stimulator, your clitoris will need to be about 2″ away from your vaginal opening.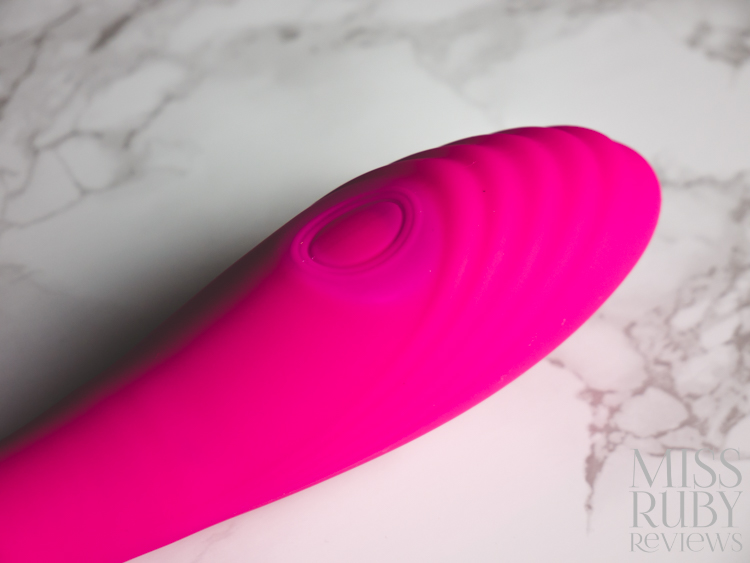 Pictured above is the vibrating G-spot end. You can choose to have the whole end vibrate, or you can turn on the flapping portion.
The "flapping" is really a tapping — the surface of the oval portion bounces up and down very fast. This can be used against your G-spot or clitoris.
I got my PHANXY Bendable Sucking & G-spot Flapping Vibrator in Pink colour. It's a vibrant Barbie pink. It's also available in Purple.
Accessibility
This section is to help folks determine if they might have any issues using/accessing this toy.
Size: This is an average-sized insertable vibrator and a large-sized suction toy. It's 9″ long (total), has about 5.5″ of insertable length, and the insertable portion's width is 2.59″. The clitoral nozzle is 15mm across and its lip is 2mm wide. The flapping section is an oval 16mmx10mm. If you want to use this as a rabbit, the suction nozzle (which goes over your clitoris) is about 2″ away from the bend in the shaft, so is best suited to people whose clitoris is about 2″ away from their vaginal opening.
Weight: By my measurements, this weighs 190 grams.
Buttons: There are 3 circular buttons on the flip side of the nozzle. They're approx 8mm wide and 1mm tall. You can feel the buttons with your fingertips but not the engraved indications on them. They each take little pressure to press and make a loud 'click' noise.
Vibration Transfer: When using the vibration mode, many of the vibrations reach the handle. If you have joint issues, you may want to keep the internal vibrating motor turned off. The flapping and suction modes don't transfer vibrations, so you'll still be able to use those modes.
Visual notes: The buttons are the same colour as the body, but they do have high contrast gold rings around them.
Price:  The PHANXY Bendable Sucking & G-spot Flapping Vibrator is $49, which is very cheap for a product with these features.
How to Use the PHANXY Bendable Sucking & G-spot Flapping Vibrator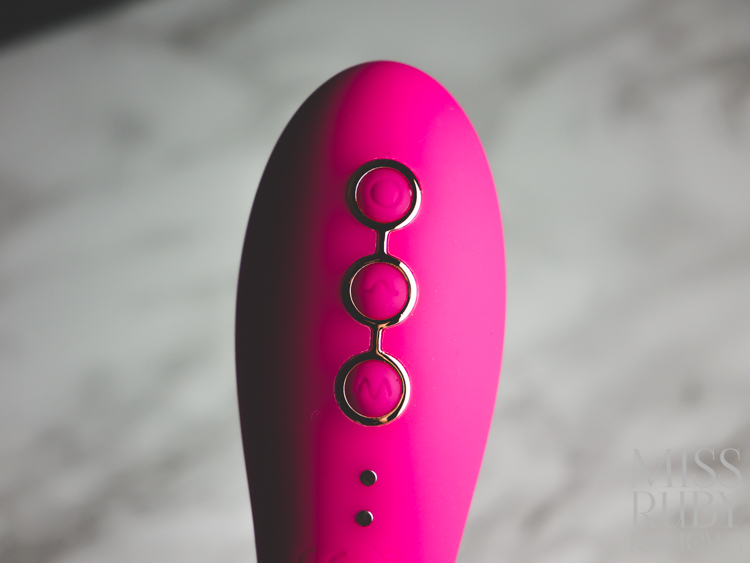 Uses: 
For clitoral stimulation, you have the choice of the suction nozzle, the flapping part, or conventional vibration.
For G-spot stimulation, you can insert the textured shaft and/or hold the flapping part over your G-spot.
For dual stimulation, you can bend the body so that the textured shaft is against your G-spot and the suction nozzle is right up against your clitoris.
Button controls: 
The PHANXY Bendable Sucking & G-spot Flapping Vibrator has 3 buttons. The first button has a circle engraved, the middle button has a single bump engraved, and the third has two humps engraved.
To turn it on, press and hold any of the keys on for 1.5 seconds. The first (circle) button turns on the suction nozzle. The middle button turns on the flapping, and the third button turns on the shaft vibration.
Tap the first (circle) button to cycle through the 7 suction modes. There is some difference in intensity strength between the modes, but most of them feel the same.
Tap the middle button to cycle through the 7 flapping modes. There are 3 intensities and 4 patterns.
Tap the third button to cycle through the 7 vibrating modes. Again, there are 3 intensities and 4 patterns.
To turn off any of the modes, press and hold the corresponding button for 1.5 seconds.
Packaging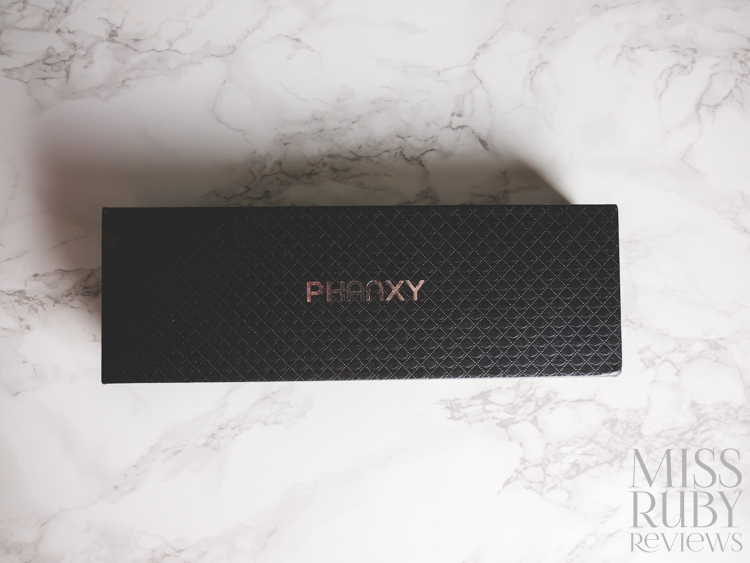 The PHANXY Bendable Sucking & G-spot Flapping Vibrator is packaged smartly in a sturdy, textured box. It's black and very tidy.
Inside the box, you receive the Flapping Vibrator, an instructions card, and the USB charger.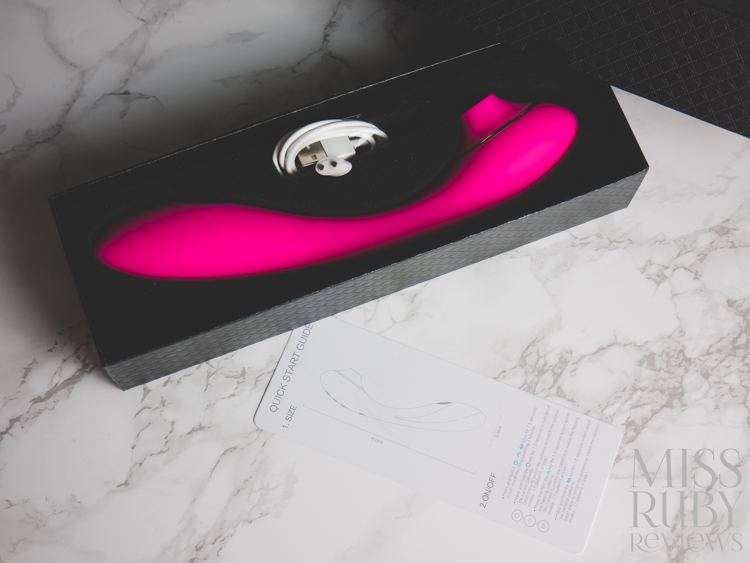 Material and Care
The PHANXY Bendable Sucking & G-spot Flapping Vibrator is coated in silicone, making this non-porous, non-toxic, and free of phthalates. There is also a non-porous gold-coloured ABS plastic ring around the head for decor.
This toy is waterproof and can be submerged up to 1 meter for 30 minutes.
To clean the body, I wash in warm, soapy water before and after each use. To clean the nozzle, I submerge it in water and turn it on for a few seconds, then take it out and shake the water out.  I allow air-drying before storing.
To charge, attach the magnetic end of the USB charging cable to two metal pins below the buttons. Then plug your cord into your computer or a USB wall adapter. An LED light will come on while charging (flashing during charging, and solid when fully charged). A full charge takes about 2.5 hours and will give you up to 1 hour of playtime.
If you'd like to add lubricant (which I always recommend), choose a water-based one. This is one of my faves though PHANXY also sells a lubricant.
My Experience with the PHANXY Bendable Sucking & G-spot Flapping Vibrator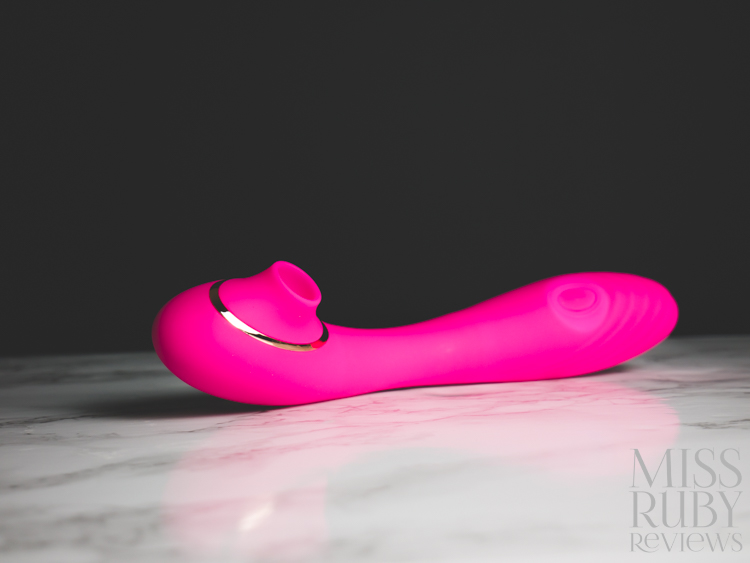 The PHANXY Bendable Sucking & G-spot Flapping Vibrator attempts to be a jack-of-all-trades sex toy. Whether G-spot and dual stimulation or vibrations/flapping/sucking, there's a lot it has to live up to.
Whenever I come across toys that have so many functions, I am immediately hopeful and skeptical. Are any of the functions good, when considered by themselves? Are all of them?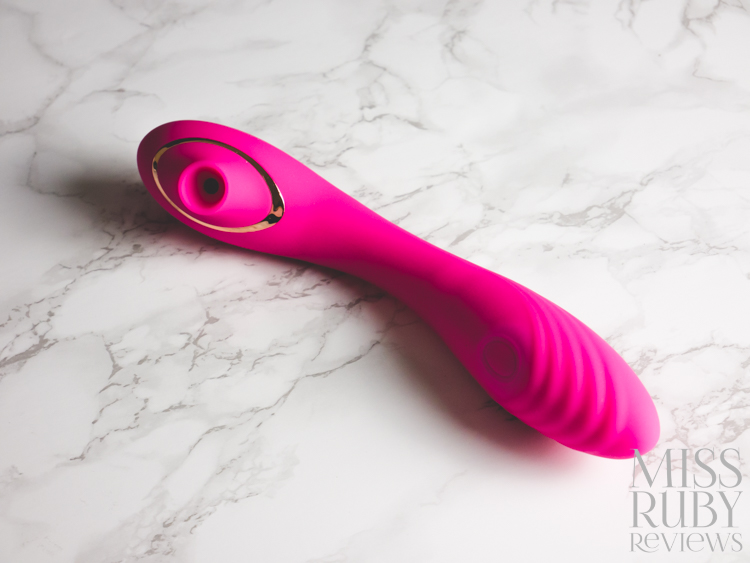 Suction feature
Let's start with the suction feature.
Pressure wave technology is ALL the rage in the sex toy industry and has been for a couple of years now. Clitorises (including my own) tend to respond really well to the touchless suction and — in my experience — this technology can give very fast and strong orgasms.
Unfortunately, the PHANXY Bendable Sucking & G-spot Flapping Vibrator does not have strong suction. Suction is probably its worst-performing feature. Levels 1-7 are relatively weak compared to other brands I've tried (such as luxury Womanizer products or less expensive Satisfyer and FuneJoy). The seven levels are quite similar to each other (level 7 is not considerably stronger than level 1).  This was disappointing.
If your clitoris is quite sensitive, or if you're just trying to see what the fuss is all about, this may still be pleasurable to you. But if you are trying to find a toy solely for its suction feature, I'd look elsewhere.
Flapping feature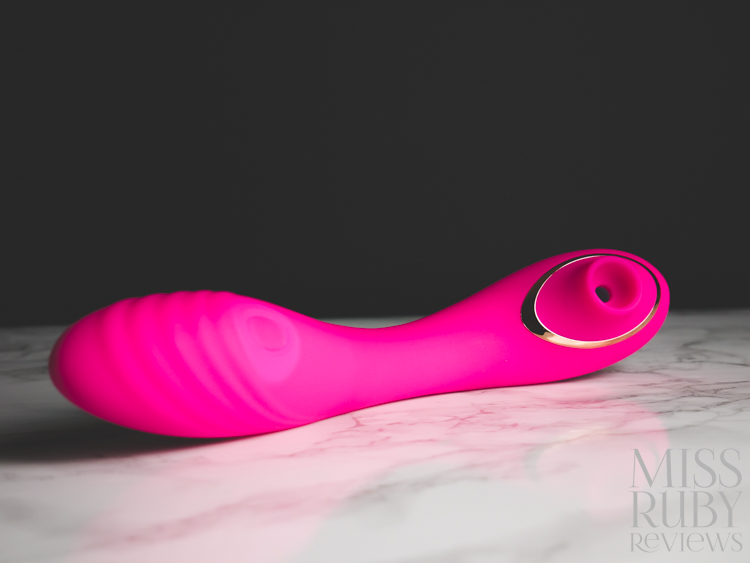 I've got to admit — I was really impressed with the PHANXY Bendable Sucking & G-spot Flapping Vibrator's flapping feature. This is the first time I've experienced a flapping/tapping sensation that I've really enjoyed. Even the lowest flapping speed is great, but then you ramp up to the strongest speed and WOW.
When using it against your clitoris, you'll want to hold it lightly against you — that makes it most effective (if you press hard, it'll slow the motor). I found the sensation to be quite strong and couldn't even get up to the top speed before reaching orgasm.
I could also feel this against my G-spot when I used it internally. The placement on the shaft is great — the furious tapping against the G-spot adds quite the 'zing' of stimulation.
So I'm pretty impressed with this feature!
Bending Feature vs G-spot Thrusting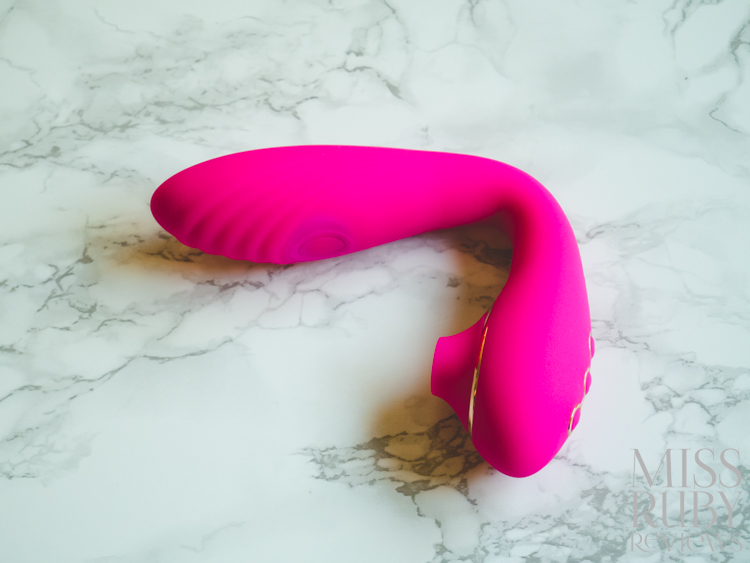 I'm often nervous when it comes to toys that can bend. The way many people use sex toys requires a firm, rigid shaft, which obviously this can't give.
The PHANXY Bendable Sucking & G-spot Flapping Vibrator's shaft is VERY bendy. It doesn't take much force to bend it.
Unfortunately, being so bendy becomes a problem when you're trying to use this for G-spot pleasure.
G-spots require pressure. But when I apply pressure with this toy, it bends backwards so far that it starts to curve the wrong way. Not only does this make it hard to get firm pressure against the G-spot, but it also makes me nervous about breaking the shaft because it's not meant to be bent that way.
When it comes to the C-shape dual stimulation feature, I feel like the internal shaft still can't get enough pressure against my G-spot. I like the flapping feature during this mode, but I personally find it not snug enough.
Honestly, I'd prefer this toy if it didn't bend at all.
(To add — theoretically, if you have a partner with a penis, you may be able to attempt PIV sex with this inside you in a C-shape, but I personally think the internal shaft is way too big to allow for a penis inside your vagina at the same time).
Vibrations
The PHANXY Bendable Sucking & G-spot Flapping Vibrator's vibrations are moderate. Very buzzy, but strong enough that I personally can orgasm from them. They're not too loud. Note that the vibrations do travel down the handle, though, so if this is a pet peeve you'll want to skip this function.
PHANXY Bendable Sucking & G-spot Flapping Vibrator Review – Overall Thoughts
The PHANXY Bendable Sucking & G-spot Flapping Vibrator has a lot of functions. It flaps, vibrates, sucks, and bends into a C-shape. In my experience, toys that attempt to do a wide variety of functions rarely excel in all of them, and this product is no exception. In my opinion, this toy is GREAT at flapping, but the rest of the features pale in comparison. It's too bendy for firm G-spot stimulation, and the suction nozzle was not strong enough to please me.
If you're looking to trial a bunch of different kinds of sex toy stimulation, though, this could be an inexpensive way to do so. For only $49, you can try out pressure wave technology, vibration, flapping, and C-shape dual stimulation.
You can pick up your own PHANXY Bendable Sucking & G-spot Flapping Vibrator here for only $49!

See below for my PHANXY Bendable Sucking & G-spot Flapping Vibrator review breakdown.
PHANXY Sucking & G-spot Flapping Vibrator
Overall thoughts - 6.5
6.5
$49.99
PROS
Great at flapping
Lets users try out different types of stimulation
Bodysafe silicone construction
Rechargeable
Waterproof
Inexpensive
CONS
Weak suction
Vibrations are quite buzzy
Shaft is much too bendy
Shop Now