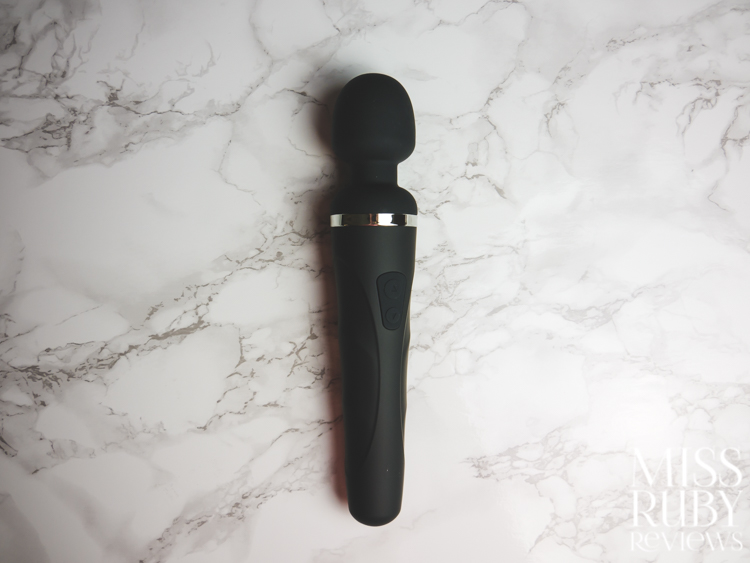 A sleek, petite smart wand with some good rumbles! Read on for my Lovense Domi 2 Bluetooth Wand review!

Design | Accessibility | How to Use | Packaging | Material and Care | My Experience | Overall
Design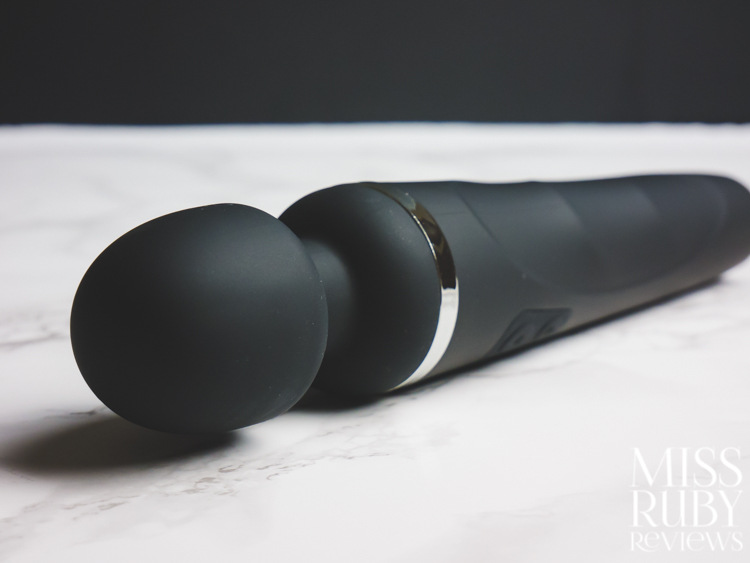 The Domi 2 Wand is a stylish wand from Lovense, a teledildonics company that focuses on smart sex products. The Domi 2 is also quite petite — at 9″ long, it's much tinier than big full-sized wands (ie, the Doxy Die Cast or the We-Vibe Wand).
Small wands don't always mean less power. I'm always on the lookout for another small wand. Petite wands mimic the broad stimulation that full-sized wands give, but with half the footprint. This makes it a lot more practical in terms of storage or travel — the Domi 2 is definitely small enough to fit in most purses.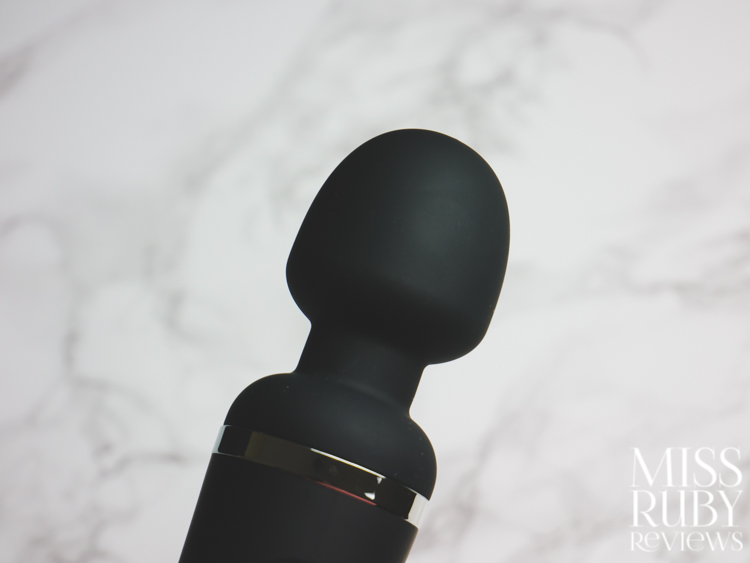 The Lovense Domi 2 Bluetooth Wand has a fairly simple, streamlined design.
The head is classically ovoid. The neck is flexible (though reinforced so it's still strong — I tested it!). There's a silver-coloured band below the neck for decoration, and then the body tapers gently narrower towards the base. The body, which is decorated with stylized depressed areas for your fingers, also houses the two control buttons and a charging port.
The Lovense Domi 2 Bluetooth Wand is Bluetooth enabled. This means you can control it with your phone, or your long-distance partner can control it from afar. The app even includes music/sound syncing, messaging, and video chat.
This wand is also water-resistant, USB rechargeable, and bodysafe.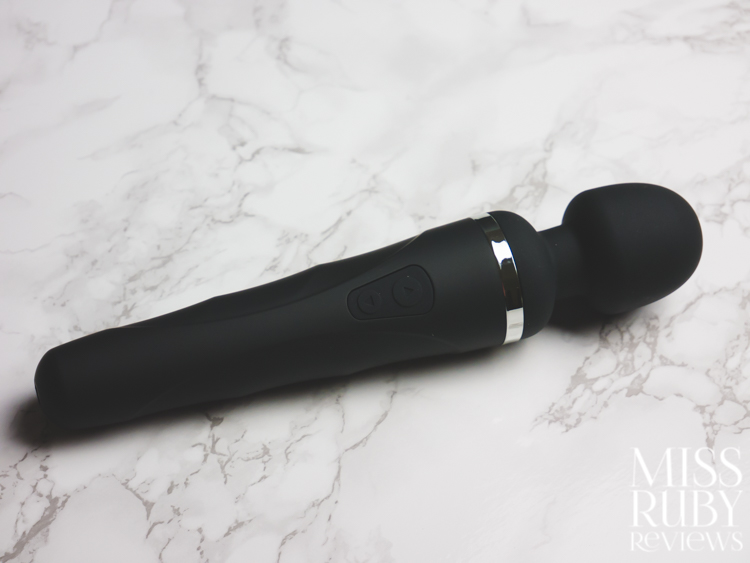 Accessibility
This section is to help folks determine if they might have any issues using/accessing this toy.
Size: The Lovense Domi 2 Bluetooth Wand is a petite wand. By my measurements, it's about 23cm tall. The head is 4.3x5cm and the body is around 4cm wide at the handle.
Weight: My scale says this wand weighs 301 grams.
Buttons: The 2 control buttons are located on the handle. They are round and engraved with small ▲ and ▼ impressions. The ▲ (increase) button is 10mm wide and ▼ (decrease) button is 8mm wide. They sit about 4mm apart and are about 1mm tall. They don't take much pressure to push down and don't make any "click" noise.
Visibility: There are no high-contrast colours for the buttons, so if you have any visual difficulties you will need to use your fingers to feel the button. The increase (▲) button is the one closest to the head.
Handle buzz: Considering the strength of the vibrations in the head, I was impressed to see that not many vibrations transfer to the handle. If you have arthritis or carpal tunnel, this may affect you, you'll be glad to hear this. There are some vibrations, but it's minimal.
Price: At $154.99 USD, this is somewhat expensive for a petite wand, though average compared to wands with Bluetooth features.
How to Use the Lovense Domi 2 Bluetooth Wand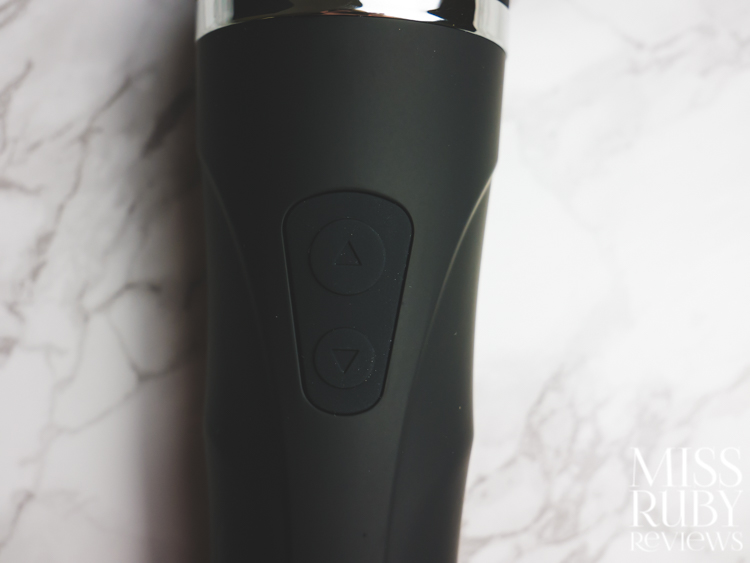 The Lovense Domi 2 Bluetooth Wand can be controlled via buttons on the body or via Bluetooth
Buttons on the Body
There are two buttons on the body: ▲ and ▼.
To turn it on, hold the ▲ button for 3 seconds. Keep tapping ▲ to cycle through the preset vibrations. There are 3 steady states and 4 patterns.
To go back to a previous option, tap ▼.
To turn it off, press and hold the ▼ button for about 3 seconds.
Controls via App
You can also connect it to your PC if you purchase a Lovense Bluetooth Adapter, but these are sold separately.
Using the app, you can do things like:

Control it with your phone (close range)
Get your partner to remotely control your wand (long distance)
Customize your vibration patterns
Vibrate according to your acceleration speed.
Sync the vibrations to music and sound
Change the LED light colour.
Packaging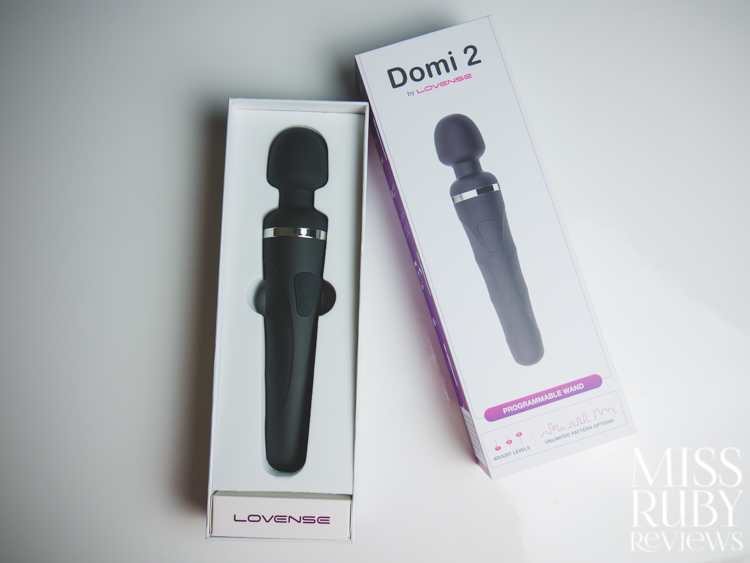 The Lovense Domi 2 Bluetooth Wand arrives packaged simply in a white box. The package quality is average — nothing super fancy, but not too shabby either.
Inside the box, you receive the wand, the USB charging cord, a user manual and a quick setup guide.
No storage pouch is included. If you'd like to invest in a lockable storage system, you can always pick up something like the Joyboxx.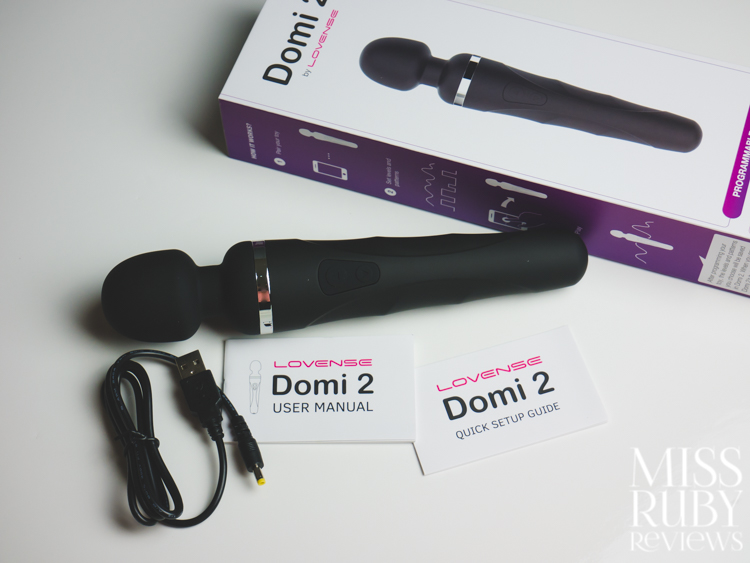 Material and Care
The Lovense Domi 2 Bluetooth Wand is a bodysafe vibrator made with silicone (the head) and ABS plastic (the body). These are great materials for a sex toy, particularly silicone because it's nonporous and hypoallergenic. This particular silicone has a silky, smooth finish.
This toy is fully water-resistent (level IPX6), which means it can resist high-pressure, heavy sprays of water such as rinsing. The manual asks you take care that water doesn't drip inside the charging port. To clean, I rinse mine in warm, soapy water before and after each use. You can also use a toy cleaner (my general go-to cleaner is Sliquid Shine). Allow it to air dry before packing it away for storage.
To charge your Lovense Domi 2 Bluetooth Wand, insert the needle end of the charging cord into the hole at the base of the toy.  Connect it to a USB port in your computer or a wall adapter. A full charge takes about 2.6 hours and gives about 5-6 hours of playtime (which is fantastic).
If you'd like to use lubricant, I suggest opting for a water-based lubricant (I particularly like the ones by Sliquid).
My Experience with the Lovense Domi 2 Bluetooth Wand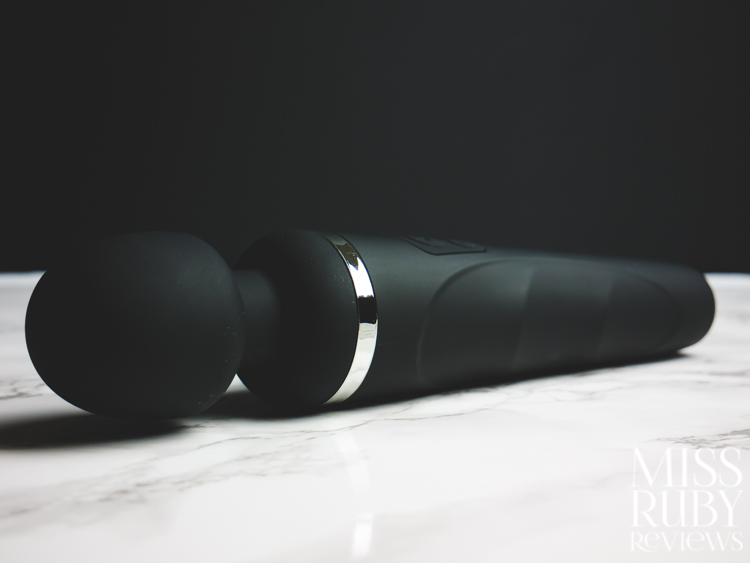 Okay, let's start with the standard non-smart/Bluetooth stuff. Just the technical performance.
Performance (Non-Smart Aspects)
Strength
The Lovense Domi 2 Bluetooth Wand is surprisingly strong. Petite wands can sometimes be underwhelming, but that wasn't the case here. This thing packs a punch.  Not quite Doxy Die Cast or We-Vibe Wand levels, but those are full-sized wands after all. For a petite wand, this delivers impressive strength, plus has all the perks of being smaller.
The vibrations are deep and rumbly too. They reach deep, and don't feel surface level or irritating to the skin. This is exactly the kind of stimulation I (and many other people!) need for satisfying clitoral orgasms.
I was particularly impressed by how few vibrations transfer to the handle. It's VERY hard to find a wand whose handle isn't buzzing your hand numb (which is very important for people with arthritis or joint issues).
Sound
Okay, the sound might be an issue for some. This toy is loud. Not as loud as a full-sized wand, but loud nonetheless. If you have roommates or kids in the house, you'll want to wait until they're out of the house or fast asleep in their own rooms.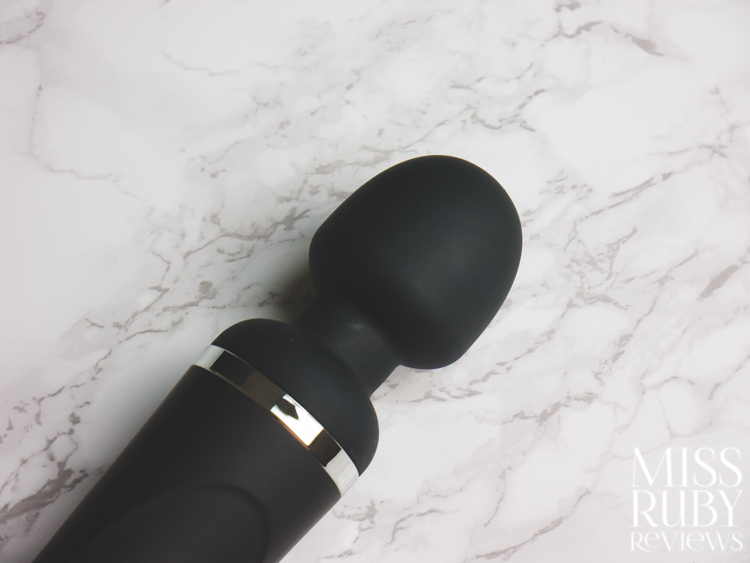 Body shape & Ease of Use
You can't go wrong with the Lovense Domi 2 Bluetooth Wand's classic ovoid head shape. It gives you a lovely broad surface that, depending on the angle you use, can cover big areas of your vulva at once.
The flexible neck does annoy me — I think almost every wand out there has one, and it's always frustrating because it bends the heads away and makes me nervous about them snapping. But, Lovense does say the neck of the Domi 2 is reinforced. I've tried pressing this VERY hard against me and there's no sign of damage. That's something at least.
The buttons are placed well. They're just below the shoulder, and easy for my thumb to reach when the vibe is in position. No complaints there.
Performance (Smart Bluetooth Aspects)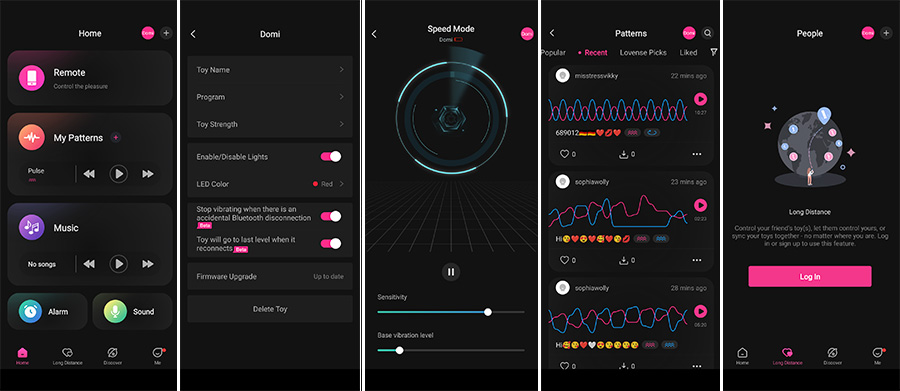 I'm old school so I generally avoid using apps for my sex toys, but I tinkered around with this one. I was not immediately a fan — I had significant issues with connectivity at the start of most play sessions.
Once I was paired though, I did find the patterns enjoyable. If you're not feeling creative to design your own patterns, you can browse through other people's patterns and try them, which was pretty fun. There's also a fascinating new mode called Speed Mode. Your wand vibrates harder the faster you're travelling (though DO NOT do this if you yourself are driving, for obvious reasons).
The sound/music mode didn't seem to work as well as it should, though I suppose that could partly be my phone's speaker's fault. 
The app lets you even change the LED light color, woohoo.
Overall, the app seemed neat, but again I wasn't impressed with my initial connectivity issues. 
Cam Site Compatibility
If you're a cam performer, you'll be pleased to hear that Lovense toys can connect to cam sites for tip-based vibrations. You can set the number of tokens your fans need to tip to make your toys vibrate. There's even a "Vibe with Me" mode which allows your fans to connect their Lovense toys to vibe with you, allowing them to feel what you feel when you receive a generous tip. This is pretty unique, and to be honest I've never heard of this kind of capability in a sex toy before. There are extensive guides on Lovense's website on how to set this up.
This alone should put this sex toy on cam performers' wishlists!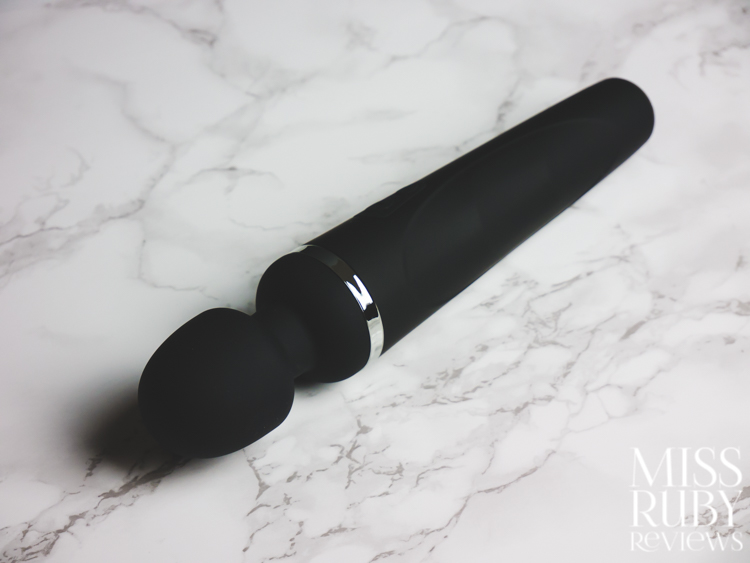 Lovense Domi 2 Bluetooth Wand Review – Overall Thoughts
The Lovense Domi 2 Bluetooth Wand impressed me. It's petite, yet powerful. You can control it with Bluetooth, but you're not constrained by that if you just want to use the buttons on the body instead. And once you get it securely connected to your Bluetooth device, there are so many features at your fingertips.
You can pick up your own Lovense Domi 2 Bluetooth Wand here at XOXToys! Why do I like XOXToys? There's free shipping in Canada/USA when you spend $49+, all orders are shipped and billed discreetly, and they have an XOX Cash Rewards Program so you can earn coupons for your next order!

See below for my Lovense Domi 2 Bluetooth Wand review breakdown.
Lovense Domi 2 Bluetooth Wand Review
Overall thoughts - 8.6
8.6
$154.99
PROS
Strong and Rumbly
Petite for easy storage and usability
Clean design
Bluetooth capabilities
Integrate it into cam sites
1 year warranty
CONS
Noisy
Some connection issues
Shop Now