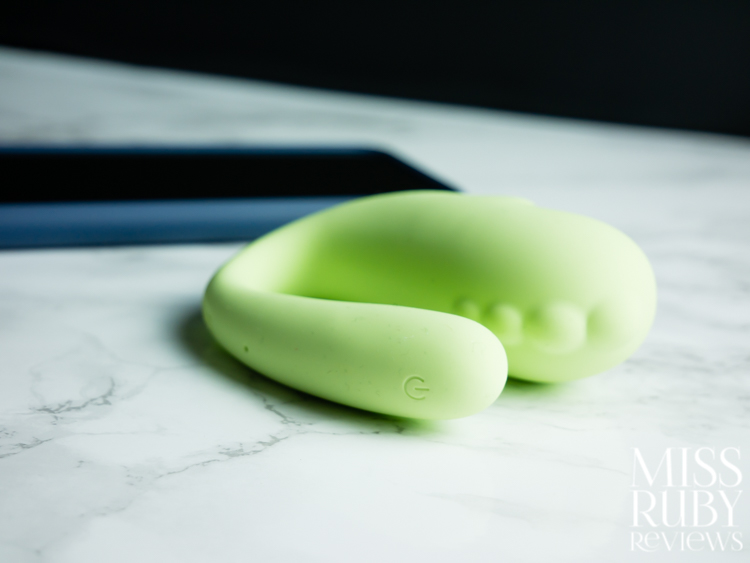 A smart wearable vibrator with an interesting appearance and name. Read on for my Monster Pub 2 Master Gokilla review!

Design | Accessibility | How to Use | Packaging | Material and Care | My Experience | Overall
Design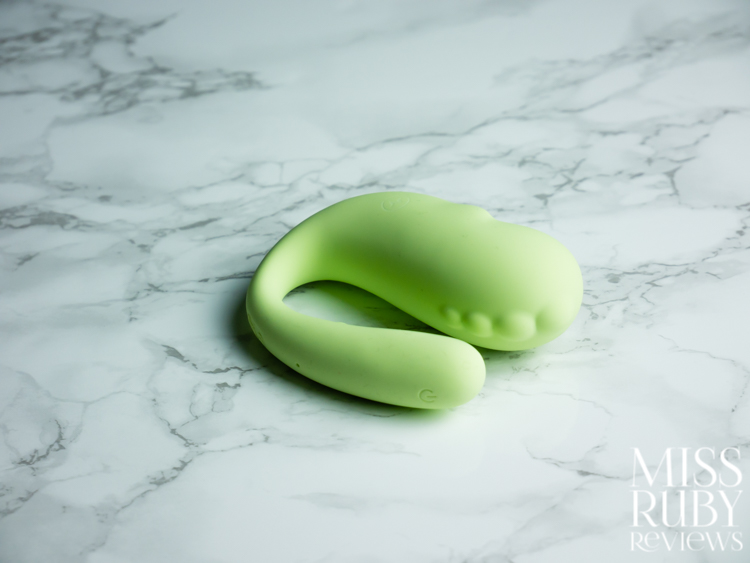 The Monster Pub 2 Master Gokilla is a C-shaped vibrator designed for G-spot and clitoral stimulation. And just look at that design! Its name immediately makes me think of "Godzilla," which I suspect may have been its design muse — it is a big green monster, after all.
As a C-shaped vibrator, the Master Gokilla is designed to be worn. The larger arm is inserted vaginally and rests against your G-spot. The smaller arm curves upwards towards your clitoris.
Each arm has bumps for added texture and stimulation.
Unlike most C-shaped vibrators I've come across, the Master Gokilla isn't designed to be worn during penis-in-vagina sex. The internal arm is over 3 cm in diameter, nearly the diameter of the average penis, so suffice to say there's little chance of you fitting your partner's penis inside you at the same time. But a partner can be involved regardless (via the app).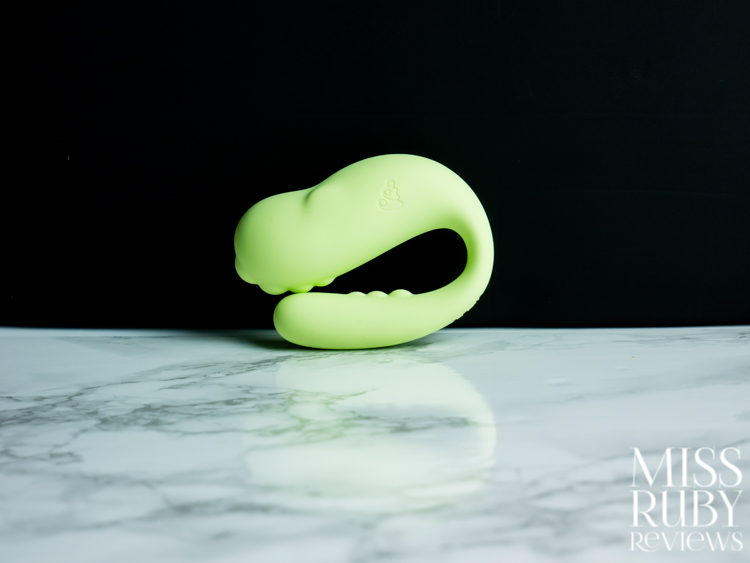 The Monster Pub 2 Master Gokilla features two motors (the main one is in the G-spot arm, with a smaller one in the clitoral arm). It also has a heating system, is waterproof and rechargeable, and is coated with bodysafe silicone. It also boasts an automatic heating feature and a Motion Control" feature through the smartphone app.
This is the more basic of two available versions, the other being the premium model that has pressure sensors for biofeedback Kegel exercises.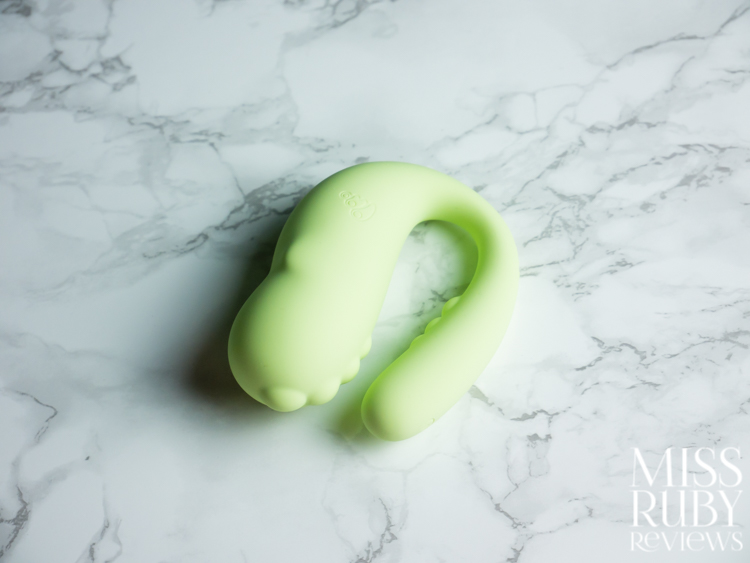 The Master Gokilla comes in "Monstrous Green." It's a cool, pastel green that's quite pretty.
Accessibility
This section is to help folks determine if they might have any issues using/accessing this toy.
Size: The Monster Pub 2 Master Gokilla is a petite wearable vibrator. It's about 9cm long. The wider tail is about 3.5cm in diameter.
Weight: At 85 grams, this is a very lightweight toy.
Buttons: There is one control button on the smaller tail. It's about 5mm wide and sits flush with the surface of the toy. It takes little pressure to press and makes a loud 'click' sound.
Vibration transfer: Some vibrations do transfer to the external tail. As this is a wearable toy, you won't need to use your hands to hold it in place, so your hands should not be affected by any vibrations that transfer down the handle.
Price: At $220 CAD (currently $119 CAD on sale), the full price is on the expensive end compared to similar products on the market. At its current sale price, it is a fairly typical price.
How to Use the Monster Pub 2 Master Gokilla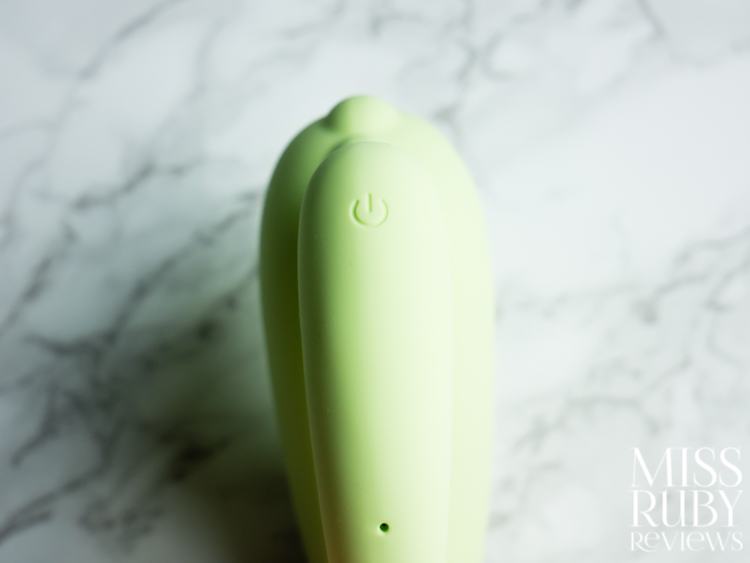 The Monster Pub 2 Master Gokilla can be controlled via the button on the smaller arm, as well as your smartphone.
Press and hold the power button to start the motor.
Briefly tap the power button to change modes. There are 2 steady speeds and 6 patterns.
To turn it off, press and hold the power button again.
To control it via your smartphone, search your app store for "Monster Pub". Using the app, you use preset patterns, make your own patterns, and share control over your toy.
Packaging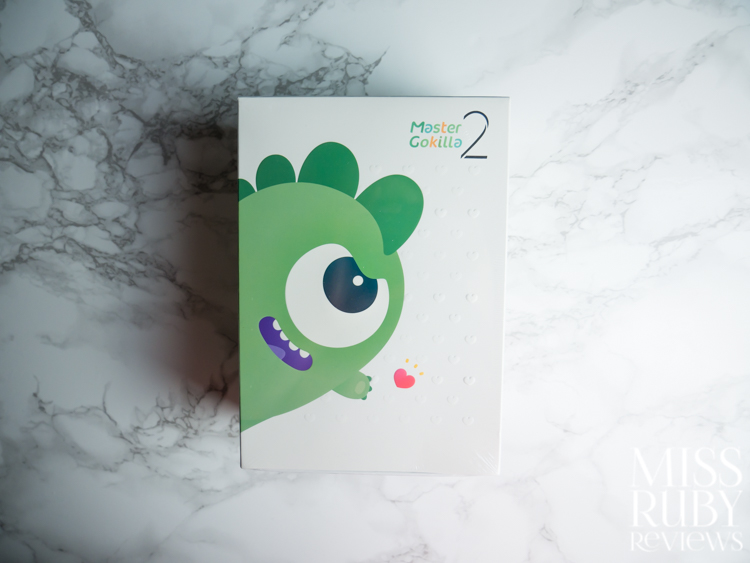 The Monster Pub 2 Master Gokilla comes packaged beautifully in some funky packaging. At first glance, you certainly wouldn't assume this is a sex toy. A green, cartoonish monster is visible on the cover sleeve.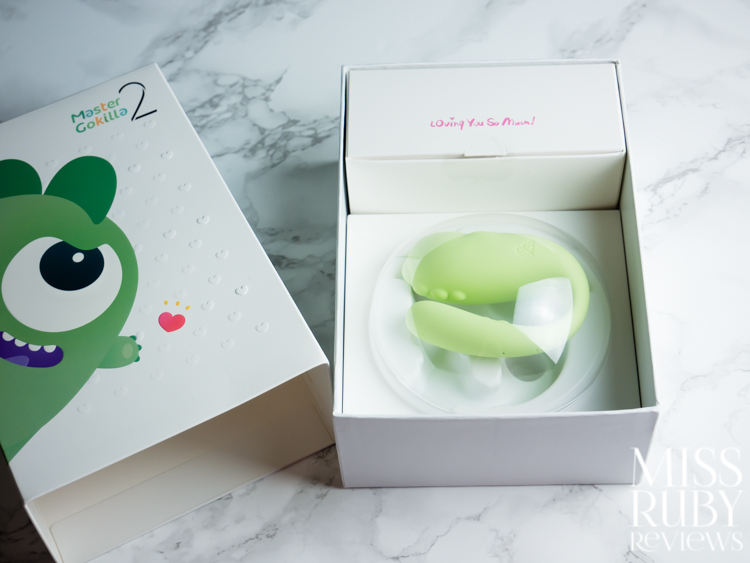 When you open the box, the Monster Pub 2 Master Gokilla is nestled under a clear plastic dome.
All in all, you receive the Master Gokilla, a fabric drawstring storage bag, some stickers, the manual, and the USB charging cord.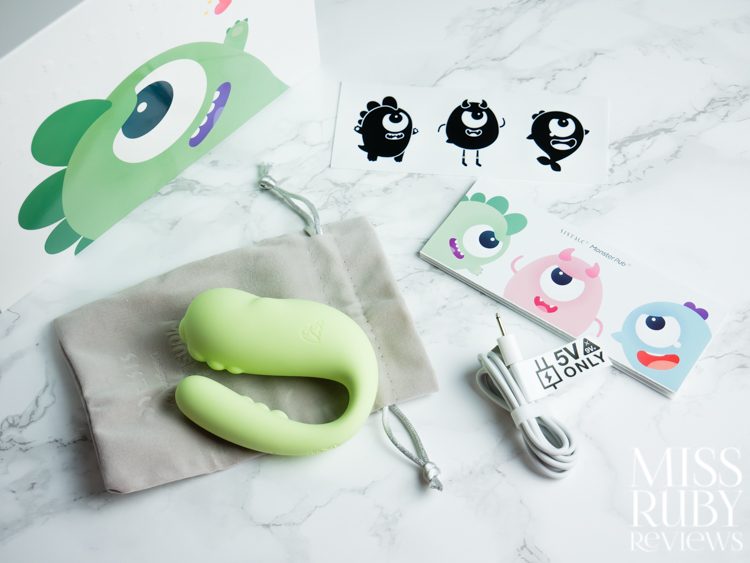 Material and Care
The Monster Pub 2 Master Gokilla is made from Silicone, making this a bodysafe toy. The silicone has a creamy, matte finish that feels soft.
Though Monster Pub does say that this toy is waterproof, they recommend that you don't soak it underwater for a long time, or use very hot water with it. Still, a quick trip to the bath or pool is fine.
To clean, I rinse the whole thing in warm, soapy water before and after each use. I allow it to air dry before I pack it away back in its bag.
If you'd like to add lubricant, only use a water-based lubricant.
To charge, insert the needle end of the USB charging cable (included) into the hole at the back of the smaller tail. Connect that to your computer or a USB wall adapter. The indicator light will flash when charging and glow steadily when it's fully charged.
My Experience with the Monster Pub 2 Master Gokilla
I really wanted to be impressed by the Monster Pub 2 Master Gokilla, and some things I do like.
I like the shape of the internal arm — it fits snugly and effortlessly in place against the G-spot. I like the little textured nubs. I like how flexible the joint between the arms is — that helps it fit my body comfortably.
I like that it's waterproof, rechargeable, and bodysafe.
But unfortunately, overall, I was fairly let down by this toy.
Monster Pub App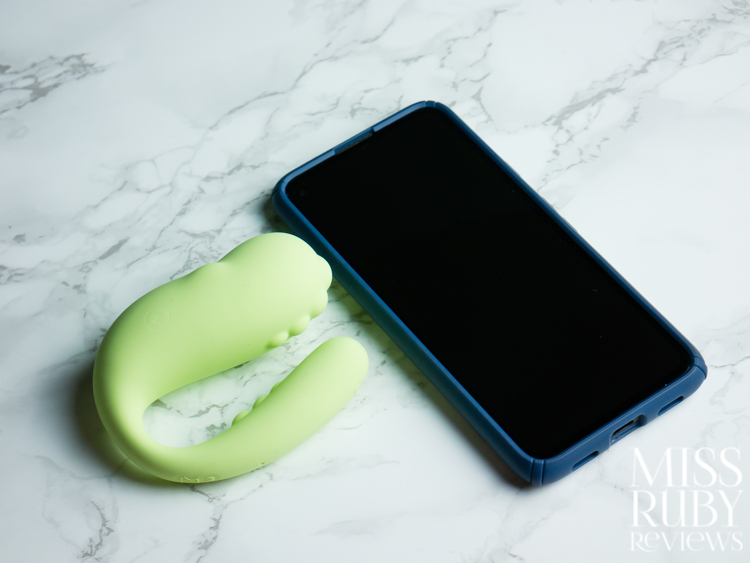 I didn't have a good experience with the phone app. When you open the app, you're given a questionnaire — I found the questions jarring and strange and honestly they made me uncomfortable. Once you get past that point, you can control your toy, but I found the controls in the app clunky. There's also a significant language barrier, which created some uncomfortable and awkwardly worded phrases. I was just left confused and uncomfortable. Overall, I think this app needs a major overhaul, and I do not recommend buying this toy if its main draw is the app compatibility.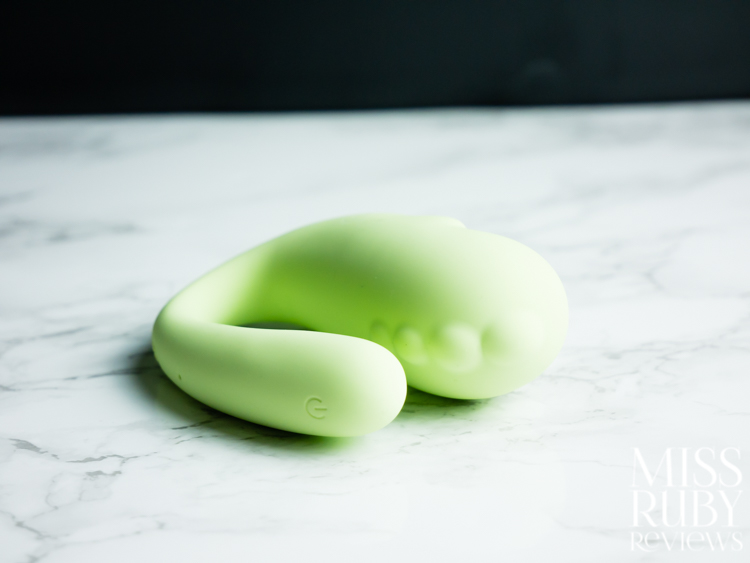 Vibrations and Sound
You can give a vibrator a million bells and whistles but, at the end of the day, for any vibrator to be good, it needs great vibrations.
To my disappointment, in my opinion, the Monster Pub 2 Master Gokilla has incredibly buzzy vibrations. The website promised 'rumbly,' but they are anything but that. They are categorically surface-level. Sometimes buzzy can feel good, but only if there's a huge amount of power behind them… these vibrations are not powerful either. They are fairly weak and I personally could not find any pleasure in them.
The vibrations also pause in-between speeds. For example, if you're stepping up from Speed #1 to Speed #2, there's about half a second where the motor does nothing. I kept thinking I accidentally turned it off. This isn't a dealbreaker, but it's odd and a bit annoying.
Other features
The Monster Pub 2 Master Gokilla has a heating function near the top of the G-spot arm. This comes on automatically when you turn on the toy. I thought might was broken or I was missing something, but it very barely actually heated. Sex toy heating functions typically give off a distinct warmth, but mine only just warmed up slightly.
Monster Pub 2 Master Gokilla Review – Overall Thoughts
I like the Monster Pub 2 Master Gokilla's appearance. I like that it's made of bodysafe silicone and is waterproof and rechargeable. But unfortunately, my experience goes downhill from there. I personally found the vibrations to be weak and buzzy. The heating function barely changes the temperature of the body. And the app left me confused and uncomfortable.
This is just my experience with this toy, and as always I encourage you to search for more online reviews to get a well-rounded picture before deciding if this is the toy for you or not.
If I haven't dissuaded you yet, you can pick up your own Monster Pub 2 Master Gokilla here!

See below for my Monster Pub 2 Master Gokilla review breakdown.
Monster Pub 2 Master Gokilla review
Overall thoughts - 3
3
$220
PROS
Bodysafe silicone construction
Waterproof
Rechargable
CONS
Expensive
Weak and buzzy vibrations
Awkward phone app
Shop Now