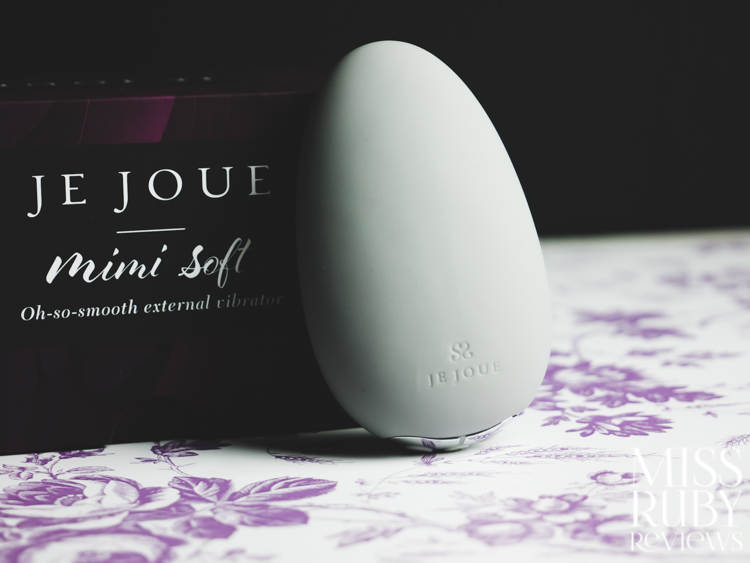 I'm loving this neutral soft gray colour palette! Read on for my Je Joue Mimi Soft review!

Design | Accessibility | How to Use | Packaging | Material and Care | My Experience | Overall
Design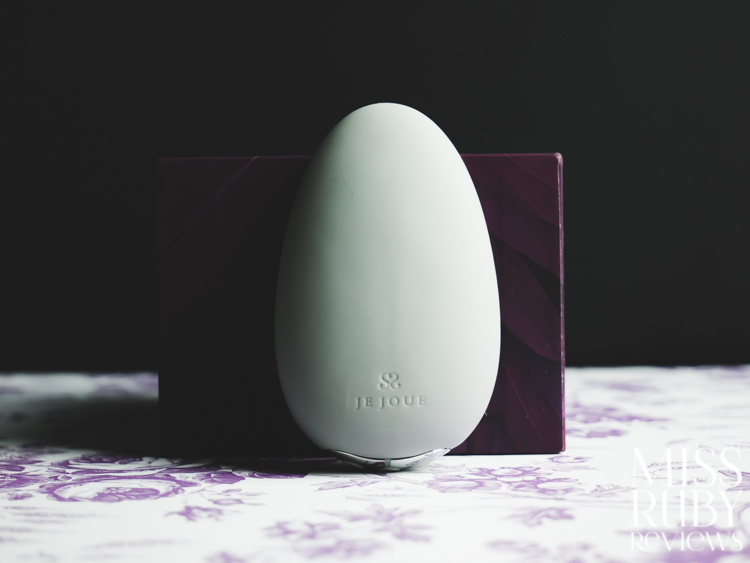 The Mimi Soft is a gorgeous pebble-shaped vibrator from Je Joue. If you haven't heard of this brand before, Je Joue is a London UK-based brand that launched way back in 2005. I generally love their products and love their design aesthetic, so I was excited to finally get my hands on the Je Joue Mimi Soft.
When I say "pebble-shaped," I mean it. The Je Joue Mimi Soft is oval, broad, and flat, giving it a distinct river pebble appearance. This specific shape is surprisingly rare in the sex toy industry, and I don't know why; it's very comfortable to hold and very versatile for pleasure. Using the broad side, you're able to give yourself broad stimulation across wider parts of your vulva. Using the narrow sides or end, you can give yourself pin-point pleasure right against your clitoris. It's a fantastic idea.
I got my Mimi Soft in slate gray. It's a modern, warm, neutral gray. If you haven't noticed, gray is absolutely the current in-vogue colour for house decor — this shade feels modern yet timeless.
If you're not a fan of gray, you can also opt for something like Lilac, which is a soft pastel lavender.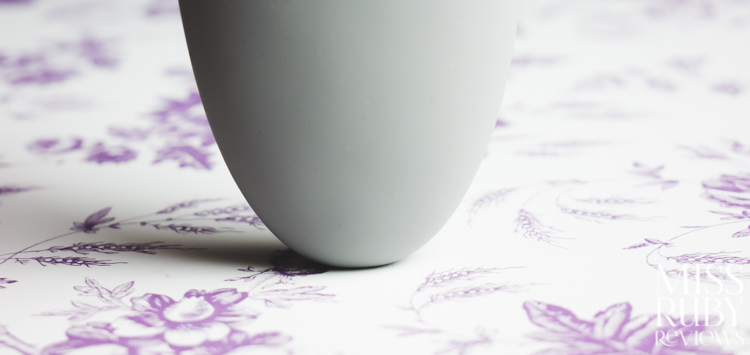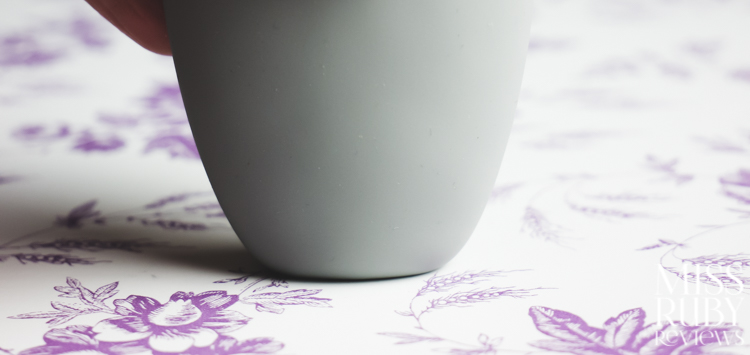 The Je Joue Mimi Soft differs from the Je Joue Mimi Classic in the pointy, tapered tip. Whereas the Classic has a firm, hard body throughout, the Mimi Soft features a deliciously squishy tip. This makes it a great option for people who don't necessarily want unrelenting, rock-hard pressure against their clitoris, but instead prefer something gentler and cuddlier rumbling against their skin.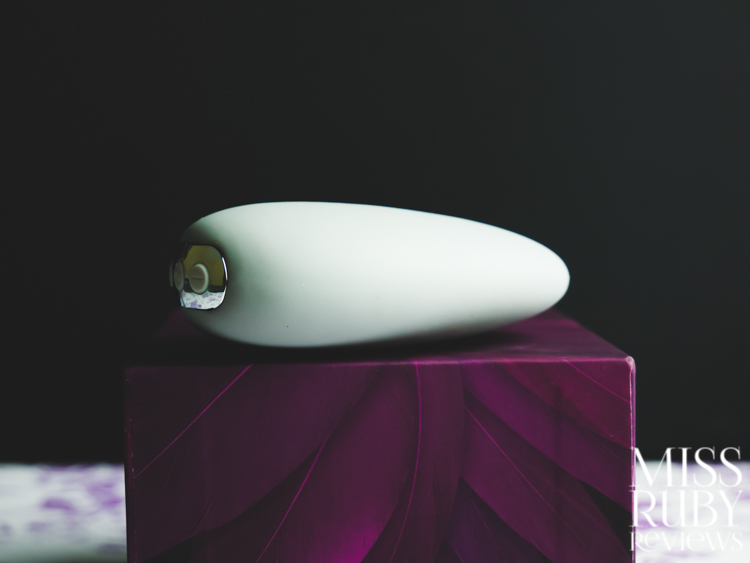 The Je Joue Mimi Soft is 100% waterproof and submersible, so you can take it to the pool or bath (and clean it easily!). It's also waterproof, features 5 vibration speeds, 6 vibration patterns, and is coated in premium silky silicone.
Accessibility
This section is to help folks determine if they might have any issues using/accessing this toy.
Size: The Je Joue Mimi Soft is a petite clitoral vibrator. By my measurements, it's 8.5cm long, 5cm wide, and 3cm tall.
Weight: At 74 grams, this is a lightweight toy.
Buttons: There are three round buttons at the base of the toy. They are 6mm wide and 1mm tall. They sit 2mm away from each other. They require firm pressure to press and make a quiet 'click' noise. Given their small size and the pressure required to press, if you have difficulty with fine motor skills you may need assistance pressing the buttons.
Vibration transfer: Given the small size of this toy, there is a moderate amount of (expected) vibration transfer to the handle. If you have joint issues (ie, arthritis) you may find this uncomfortable for your hands.
Price: At $99 USD, this is moderately expensive for a clitoral vibrator with similar features. You are paying for an established brand, and the quality of the motor, workmanship, warranty, and aesthetics.
How to Use the Je Joue Mimi Soft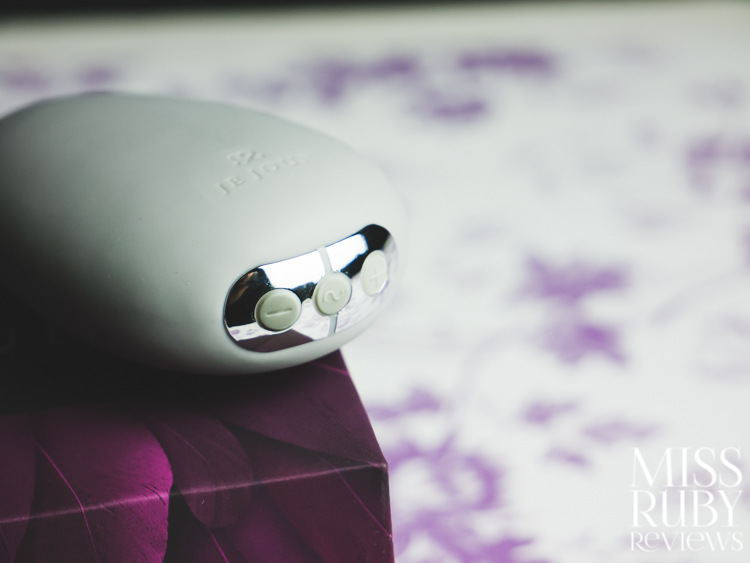 To turn on the Je Joue Mimi Soft, press and hold the (+) button for 3 seconds.
Apply this to your body. Though designed for clitoral use, this could also be used against nipples or the shaft of a penis. I do not recommend this for internal use, though, given the shape.
To increase vibration, tap the (+). Keep tapping to cycle through the 5 steady speeds.
To switch to pattern mode, press the middle (~) button. There are 6 different patterns to choose from.
To decrease vibration, tap the (–) button.
To turn it off, hold the (–) button for 3 seconds.
Packaging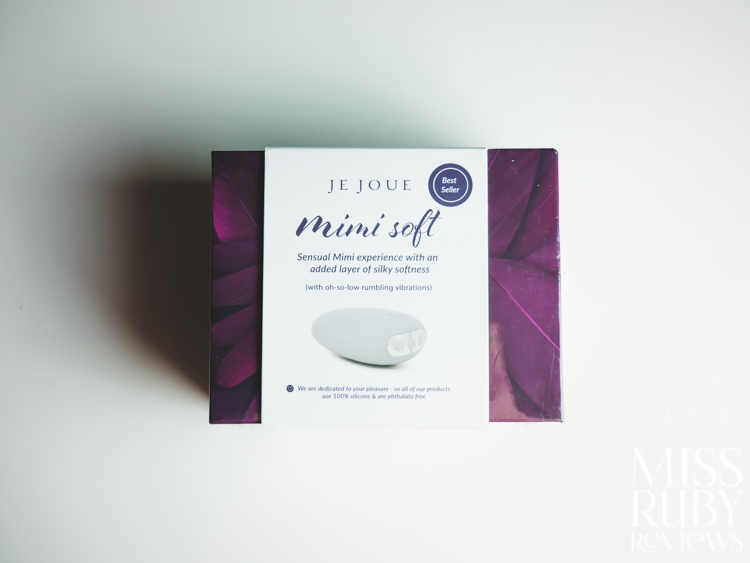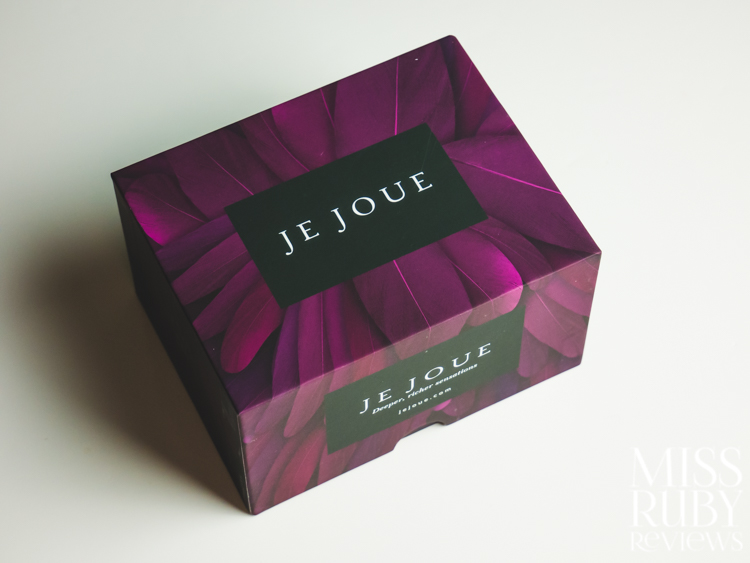 The Je Joue Mimi Soft comes packaged beautifully. When you remove the outer white sleeve, you're greeted by a gorgeous purple box with a feathered design. The texture of the box is matte and silky.
When you open the box, the Mimi Soft is nestled in a cushion and the accessories are neatly stored in a black compartment.
All in all, you receive the Je Joue Mimi Soft, the USB charging cable, the instructions, and a brochure of all Je Joue products. No storage pouch is included, so I've been storing my Mimi Soft in the purple box it came with. If you'd like a dedicated fabric drawstring pouch, you can shop for one here.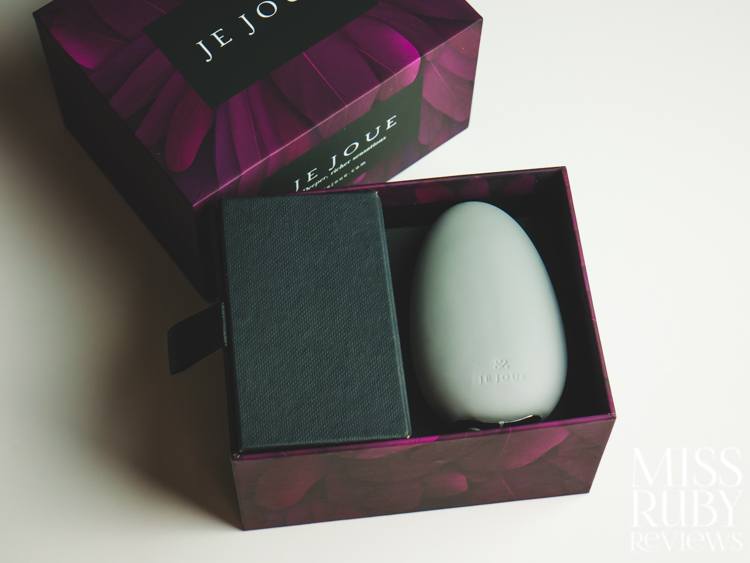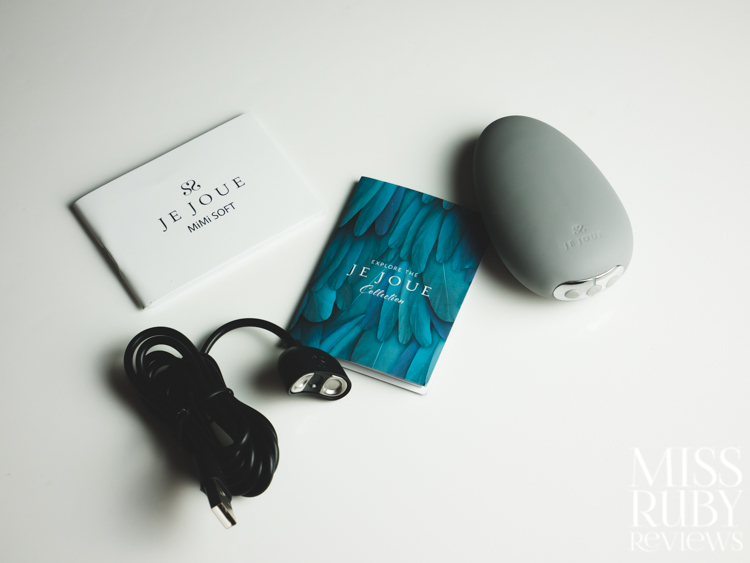 Material and Care
The Je Joue Mimi Soft is made from silicone. This makes it bodysafe. This particular silicone finish is matte and silky to the touch, and it doesn't attract dust too badly.
To clean, I simply wash with warm, soapy water before and after each use. This toy is fully waterproof, which is fantastic.  You could also add a dedicated sex toy cleaner if you like. Allow to air dry before storing it away.
To charge, attach the magnetic end of the USB charging cord (included)to the metal pins at the base of the vibe. Plug the other end into your computer or a USB wall adaptor. A light will flash when charging and grow steady when fully charged. Two hours of charging will give you approximately two hours of playtime.
If you'd like to use lubricant with this toy, choose a good quality water-based lube like my favourite basic Sliquid H2O or vegan Wicked Simply Aqua.
Je Joue products come with a 1-year limited warranty through the manufacturer for any defects, so remember to keep your online receipt from Peepshow Toys!
My Experience with the Je Joue Mimi Soft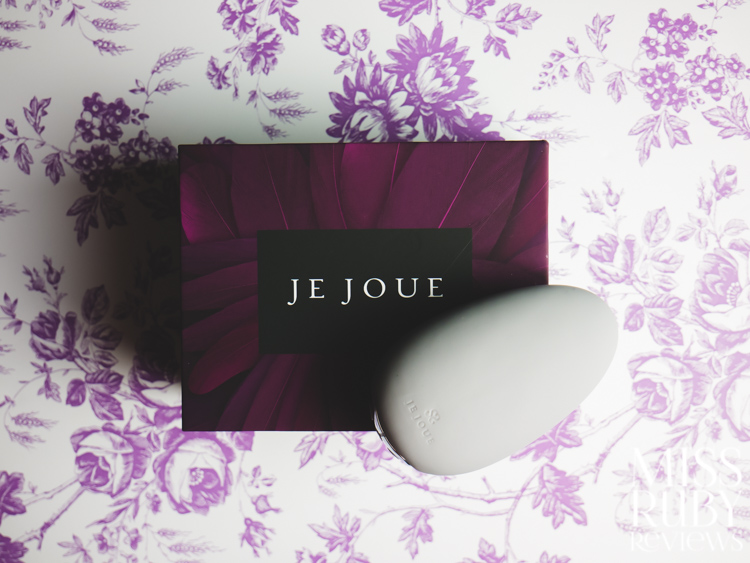 The Je Joue Mimi Soft performs solidly and isn't shy when it comes to giving me pleasure.
In terms of vibrations, the Mimi Soft gives deep and penetrating rumbly vibes — it's a quality that the clitoris responds quickly to, and I can orgasm embarrassingly easily using it.
But it's not the quality of the motor that makes the Je Joue Mimi Soft a uniquely good purchase. It's that shape. It's not often that a small clitoral vibrator has the versatility of both broad AND pinpoint stimulation in one.
I'm usually in the "pin-point pleasure" camp, and if you are as well, you'll enjoy using the narrow sides. But I appreciate broad stimulation as well, and so I just flip it to the flat side and use that.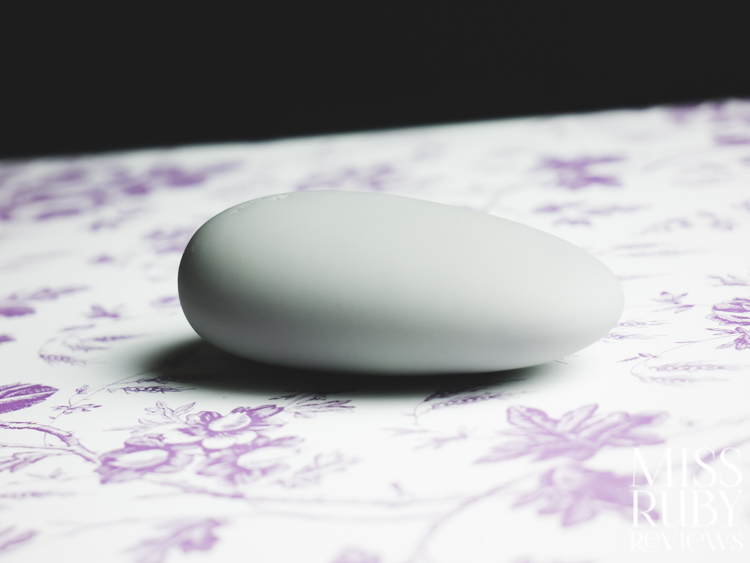 The vibrations are focused in the top third of the body. The strongest vibrations lie in the broad area right below the pointed tip, but the upper edges also produce strong vibrations.
This also has the convenient ability to be a panty vibe — it fits snugly inside my panty and vibrates along the whole vulva quite happily.
Overall, this is strong and orgasmic enough to make it into my bedside drawer (a place of honour I reserve only for my regular sex toys). In short: it gets the job done, all while looking great.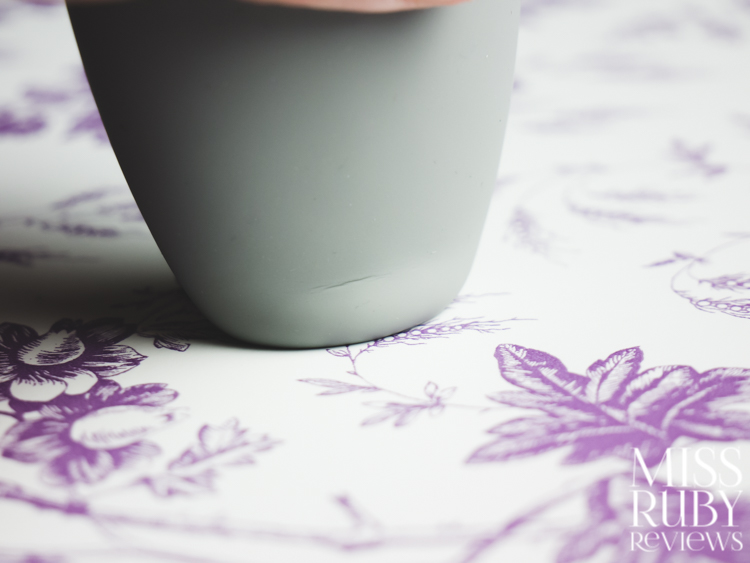 So should you choose the Je Joue Mimi Soft or the Je Joue Mimi Classic?
I quite like the soft, squishy tip on the Mimi Soft. It's cuddly, glides along my skin comfortably, and feels unique. I don't think it dissipates the vibration strength (which surprised me). In comparison, the Mimi Classic does seem almost uncomfortably hard but — then again — that might be your thing if you prefer firm stimulation. So if you know you need something hard, choose the Mimi Classic, but if you want your clitoris to have a somewhat more cuddly, squashy experience, grab the Mimi Soft.
Je Joue Mimi Soft Review – Overall Thoughts
I really like the Je Joue Mimi Soft and think it would make a charming gift for yourself or your partner. It ticks all the luxury boxes (fancy packaging, waterproof, rechargeable, and silicone) but it's also aesthetically gorgeous and has such a unique pebble-shaped design. Its motor strength is orgasmic, but it's that shape that will make it suitable for a wider range of bodies; whether they need pin-point stimulation or broad stimulation, this little vibrator offers both.
You can pick up your own Je Joue Mimi Soft here! Why do I like Peepshow Toys? They ship internationally, only carry body-safe products, and you can get a 10% discount off your whole purchase with coupon code RUBY. 

See below for my Je Joue Mimi Soft review breakdown.

Je Joue Mimi Soft Review
Overall thoughts. - 8.7
8.7
$99
PROS
Offers broad and pinpoint stimulation
Strong, rumbly vibrations
Made of bodysafe silicone
Waterproof and rechargeable
1-year warranty through the manufacturer
CONS
Buttons are hard to press
Shop Now
Last Updated on March 18, 2023 by Miss Ruby