Physical Details | Material and Care | Shipping and Packaging | My Experience | Buy
Physical Details
This dildo is all about shininess and simplicity.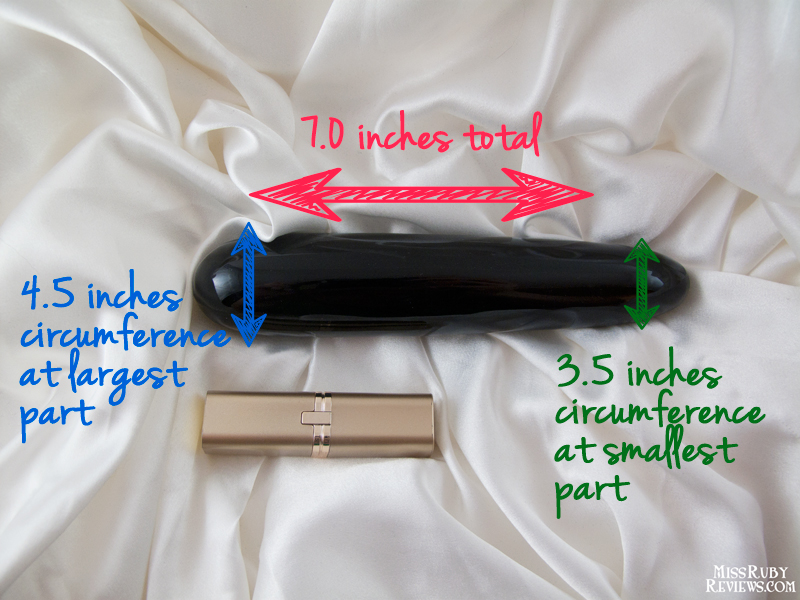 The Polar Jade Obsidian Shakti Wand is a fair-sized dildo. It's actually kind of hard to tell it's a dildo if you don't know what you're looking for, actually, because its design is so simplistic and stylized. Basically just a tapered rod, this is one you could probably get away with leaving on your mantelpiece.  It could, easily, be mistaken for a piece of stylized rock art. Straight, smooth, and inconspicuous.
At the largest end, it's 4.5″ in circumference (or about 1.5″ diameter), making this an average-sized dildo. If that sounds like a bit too much for you, you can switch to the smaller 1″ diameter end.
Just a side note, please remember that this dildo is not anal safe, as it doesn't have a flared base.
Material and Care
Notice how this toy looks like it's made from black glass? It's actually obsidian, a glass-like mineral. Obsidian is a very natural material, as it's a volcanic substance that forms when lava comes into contact with water. The lava cools so quickly that it doesn't have any time to crystallize into bumpy bits, which is why we get to enjoy something so shiny and glassy. And, after being polished (without any chemical treatment), it's very smooth.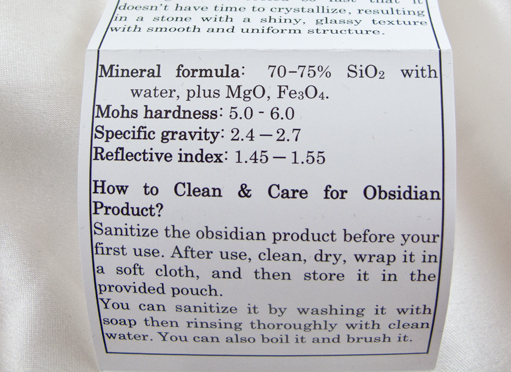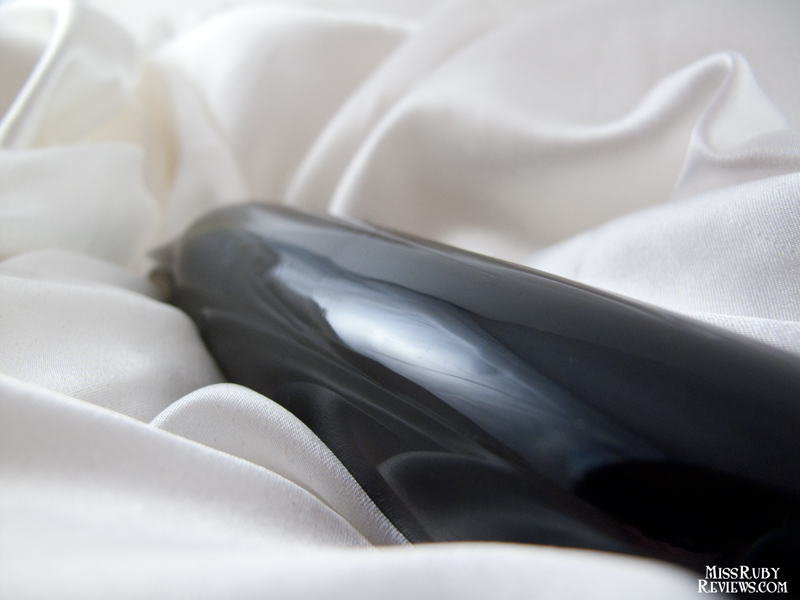 The black color is also its natural coloring, as there's been no added chemical dyeing. So if you're looking for a natural product material, this is a contender.
To clean this toy, I wash with warm soapy water, but you can also boil it to be extra safe.  You can use water-based and silicone-based lubricants with this toy (though be careful to not get silicone lubricant on any additional silicone toys you might be playing with.
To add, you might be interested in an obsidian dildo for more spiritual reasons. Obsidian is said to shield against negativity and give off grounding vibrations, making it a choice for those who wish to use it for spiritual and healing purposes.
Shipping and Packaging
Shipping from Genuine Jade LLC was fast. The products were sent on Friday, July 3rd and I received them on Monday, July 6.
I received a plain brown box. The return address listed the company name. Inside the box, my Shakti Wand yay inside a pretty black velvet pouch. There was also an information pamphlet, including a certificate of authenticity.
My Experience
A while back I reviewed a rose quartz wand. The biggest issue I had with that product was that it was tiny. Somewhat long enough, but only the width of my finger.
With this wand, I don't have to worry about that. It's not a massive obelisk or anything, but it's definitely not tiny, safely staying the smaller end of the "average" scale. I think this size would satisfy most, though perhaps not size-queens.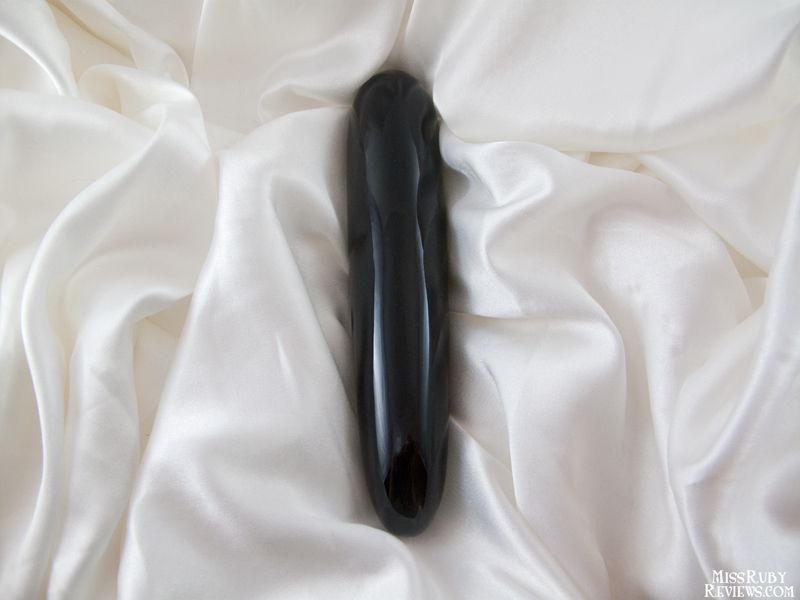 In use, this dildo provides me with texture-less and subtle sensations.
Because it's so straight, I definitely have to work harder to get solid G-spot stimulation. Dildos with a hooked/curved end can easily target the G-spot, but all straight dildos need to be positioned specifically so that they rub up against it. To do this, I need to shift my hand downwards so that the dildo's tip angles upwards and presses into my G-spot. Even with this technique, I can't get really intense G-spot stimulation, but this isn't a flaw specific to this dildo…no straight dildo can do this. In other words, G-spot stimulation with this toy tends to be more subtle.
Texturewise, this dildo is great for me. Most of the time, I prefer a lack of texture (ie, no ridges) because I find it easier to focus on clitoral orgasms that way. So in that sense, this is a good dildo to turn to when I want a small kick to my clitoral orgasms.
For regular thrusting stimulation, this dildo also performs well. I definitely prefer using the larger end, as if gives a more filling and blunt feeling than the smaller/pointier end.
One thing I found a bit difficult was that, as this dildo is so smooth, any lubricant I'm using tends to slip down the length of the shaft and make my hands slip on the handle (which, depending on how short the length of your vagina is, will probably be around 2 inches).  Due to the short, slippery handle, I can't help but wish this dildo was just a little bit longer, perhaps an inch or two, to make it easier on my hands.
That being said, the shiny/glassy nature of this dildo means that any lubricant you do use will last a long way.
In sum, I think this dildo would work best for women who:
enjoy subtle G-spot stimulation
want an average-sized toy
would like a product made from a natural material
are interested in the spiritual aspects of obsidian
To Buy
To buy the Polar Jade Obsidian Shakti Wand, head on over to Genuine Jade LLC.
And if you're interested in toys made from jade, obsidian, or rose quartz, I encourage you to check out Genuine Jade's other products. The market for stone products is diluted with fake/cheaper stone materials, but I'm confident that if you purchase from this company, you'll receive genuine products. It certainly helps that they include a certificate of authenticity with all their products.