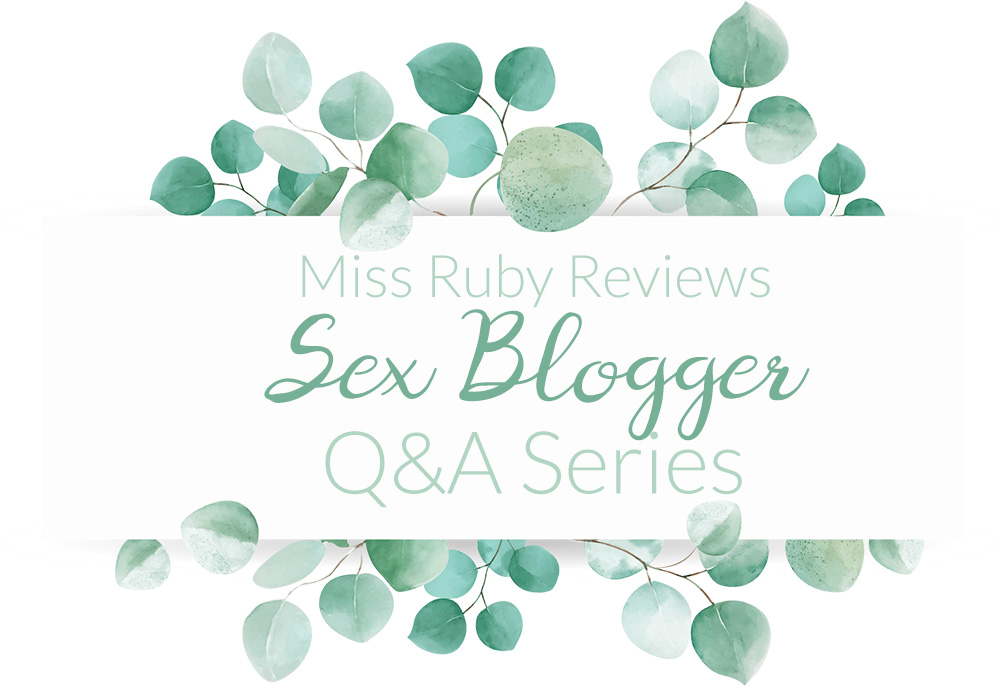 Currently closed!
Open call to sex bloggers!
After a long hiatus, I'm re-opening this Q&A series to highlight and support members of the sex toy blogging community. This is a chance to share a bit about yourself and your blog with my readers.
I will be scheduling these sparsely throughout the year (no more than 1-2 per month), so get your email to me quickly so I can schedule you! (Don't worry if I don't respond right away… it may take me some time to get the schedule sorted).
Previous entries can be found here.
If you'd like to be featured, please:
Email me at missrubyreviews[at]gmail[dot]com (Subject: Sex Blogger Q&A Series).
Include an image or an avatar for me to add to the post.
In the body of your email (not an attachment), paste your answers to the following questions.
Answer as many (or as few) questions as you'd like.
Which sex-related blog(s) do you run and how long have you been at it? By what name may we call you? Pronouns?
Where are you from? (please be vague)
Where can we find you on social media?
Sum up your blog (such as its theme, focus, quirkiness, uniqueness).
What is your blog's creation story? Why was it born? Did any already-established bloggers inspire you? 
What do you do full time? Blog? Or do something else? 
Do you consider yourself an advocate/supporter of any particular group(s)? And/Or, are you a member of a group whose voice is often suppressed?
What are your short and long-term goals for your blog? Aiming to stay for years, or is this a short-term hobby? 
What is your favourite post on your blog to date? Why? (Include a link) 
What does "sex-positive" mean to you?
Have you found any friends (or heroes) in the sex blogging community?
Who is the single biggest supporter of your blog? I.e., moral support, tech skills, resources, anything. 
How important (or unimportant) is anonymity to you?
Have you ever had anything bizarre or horrible or funny or amazing happen as a result of blogging? 
For sex toy users: If you could only have one sex toy for the rest of your life… what is it? 
Has sex blogging shaped/influenced you in a broader "real-life" sense? (i.e., your worldview, your personality, your confidence?)
Introvert or extrovert? Cats or dogs? Coffee or tea? 
If you could magically and instantaneously change something about this community (i.e., sex toy industry, blogger politics, erotica, porn, sex education, etc), what would you change?
What are the top 1-3 reasons that keep you blogging? 
Lastly, what advice would you give to readers considering starting a sex blog of their own?
Notes:
This series is to support independent bloggers, not blogs linked with online stores.
Commercial magazine-style sites are not eligible.
I reserve the right to remove parts (or all) of your Q/A that I feel violate my morality clause. This also applies to your blog itself: I will not promote a blog that is oppressive in any way (i.e, sexist, degrading, transphobic, homophobic, racist, condone non-consent, etc.). Acceptance of submissions is entirely at my own discretion.
I am also a grammar-fanatic so I may lightly edit your answers for spelling/grammar.
As I only promote body-safe toys, I would not be comfortable promoting your blog on Miss Ruby Reviews if you tend to review toys that are not body-safe.
(While I don't expect this to happen) I of course reserve the right to remove your post from my blog in the future. For example, if your blog becomes inactive, I may remove your feature from my blog.
Graphic Credits: banner designed by Freepik